Amazing 400gallon reef aquarium lighted by 5 units of Orphek Atlantik V4
Today we are very excited to bring this awesome 400 gallon tank belonging to Brad Blakenship from Ohio,USA. He has also sent us great photos and told us all about his passion for the hobby. We hope you will all enjoy like we did!
"Hi, my name is Brad Blankenship and I along with my wife Maryann and son Cory share a love for coral reefs and the ocean.  My wife has always been supportive of my sometimes "Over the Top" ideas, "Hey honey, what if we put a 400-gallon aquarium in the middle of the entryway of our home?"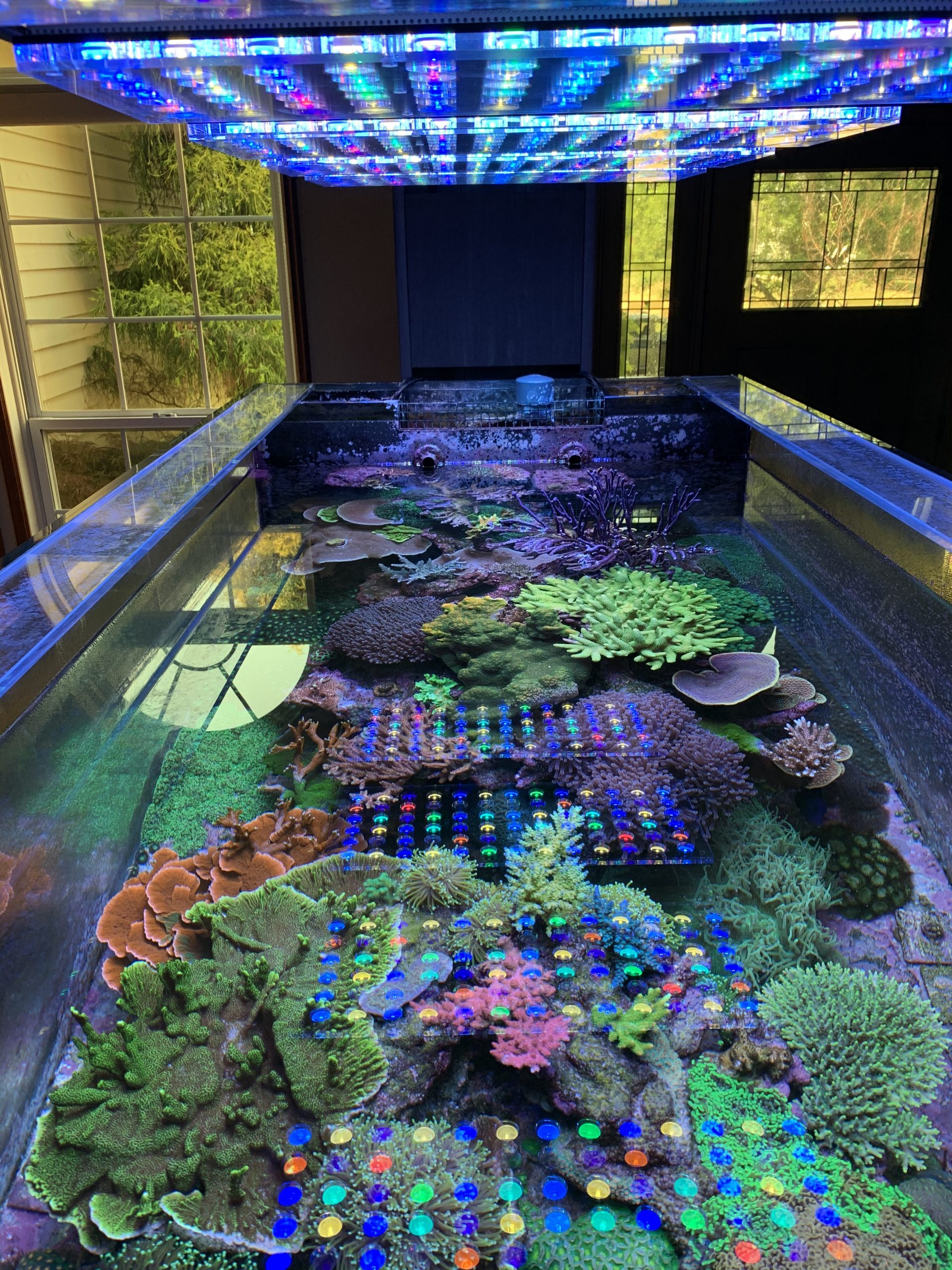 He continues:
"For as long as I can remember I have been fascinated by the sea. Considering I live in Ohio, my interest was not always the easiest to pursue.
My original reef tank was a 120 US gallon corner aquarium, and for the time (early 90's) was fairly successful.  I have been in this hobby for over 30 years, well before the birth of the internet. Back then I read everything I could get my hands on, including Martin Moe, Julian Sprung, and Charles Delbeek. These authors all gave me a good base of knowledge. This hobby is first and foremost about quality information".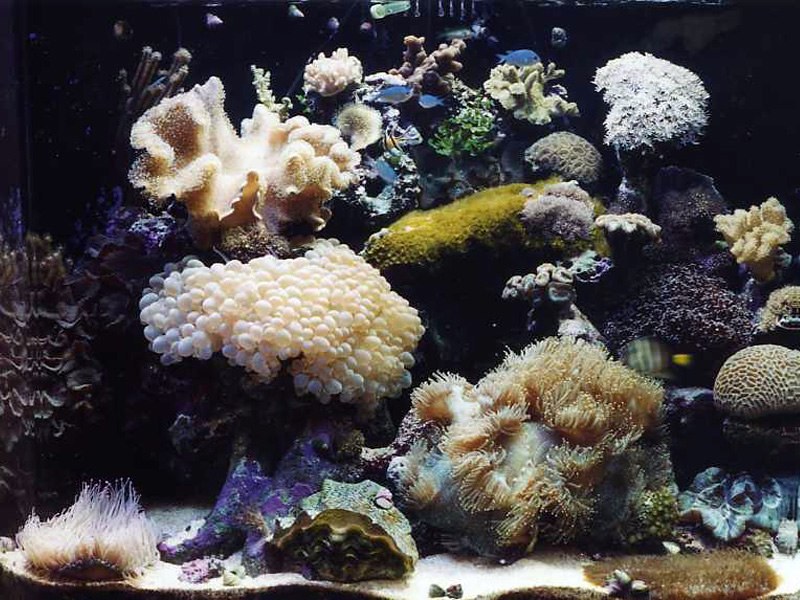 About the aquarium
"I spent a lot of time planning out my current system. I knew that I wanted a large display aquarium, peninsula style viewable on 3 sides, with suspended lighting.
I wanted it to be as clean looking and quiet as possible. The aquarium was custom made of 3/4" low-iron glass. It measures 80" x 40" x 30" and has a volume of 400 US gallons. 
The aquarium is rimless on the short viewable side while on the opposite short side I have my overflow and my "Wall'O'Pumps".
The overflow is built into the center and surrounded on both sides of the overflow are built in custom designed dual wave boxes that contain large propeller style pumps that I keep on a random flow schedule".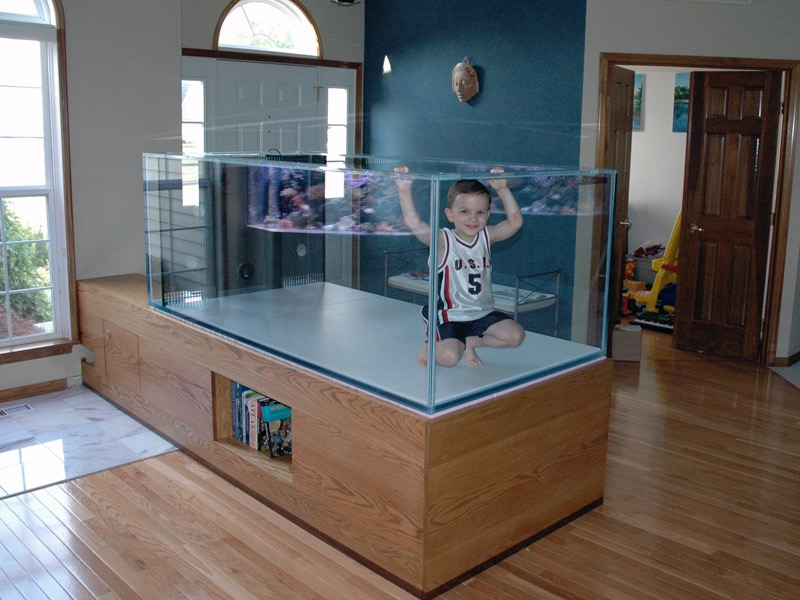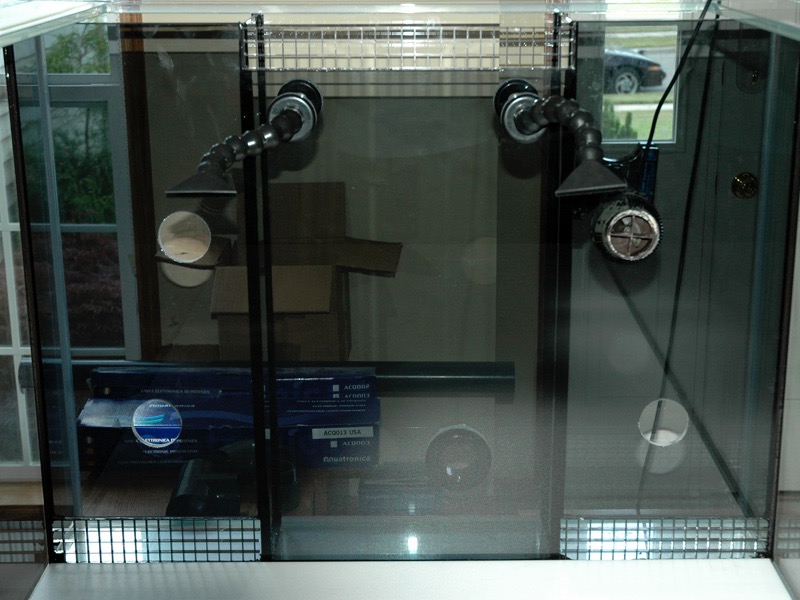 Lights and mounting system:
I made the suspended canopy for the Orphek Atlantik V4's out of 80/20 T-Slot Aluminum rails. 
I found stainless steel T-Slot nuts that I attached to the Atlantik's and slid into the Aluminum rails for a super clean look.  This makes access to the aquarium for cleaning, maintenance, and feeding very easy. 
By suspending the canopy it opens up the top of the aquarium so looking down on the tank inhabitants is an option and offers a different perspective not normally available on most tanks.
The front rimless side is especially nice for looking down.  On the overflow end of the tank, I made a tower out of composite decking material to support my light rails.
The other end of the canopy is suspended by stainless steel chains attached to the ceiling.
Orphek's performance according to Brad:
The Orphek Atlantik's lights are performing even better than I expected and I could not be happier.  Growth rate and color of the corals is excellent, and the super clean contemporary look is exactly what I was going for.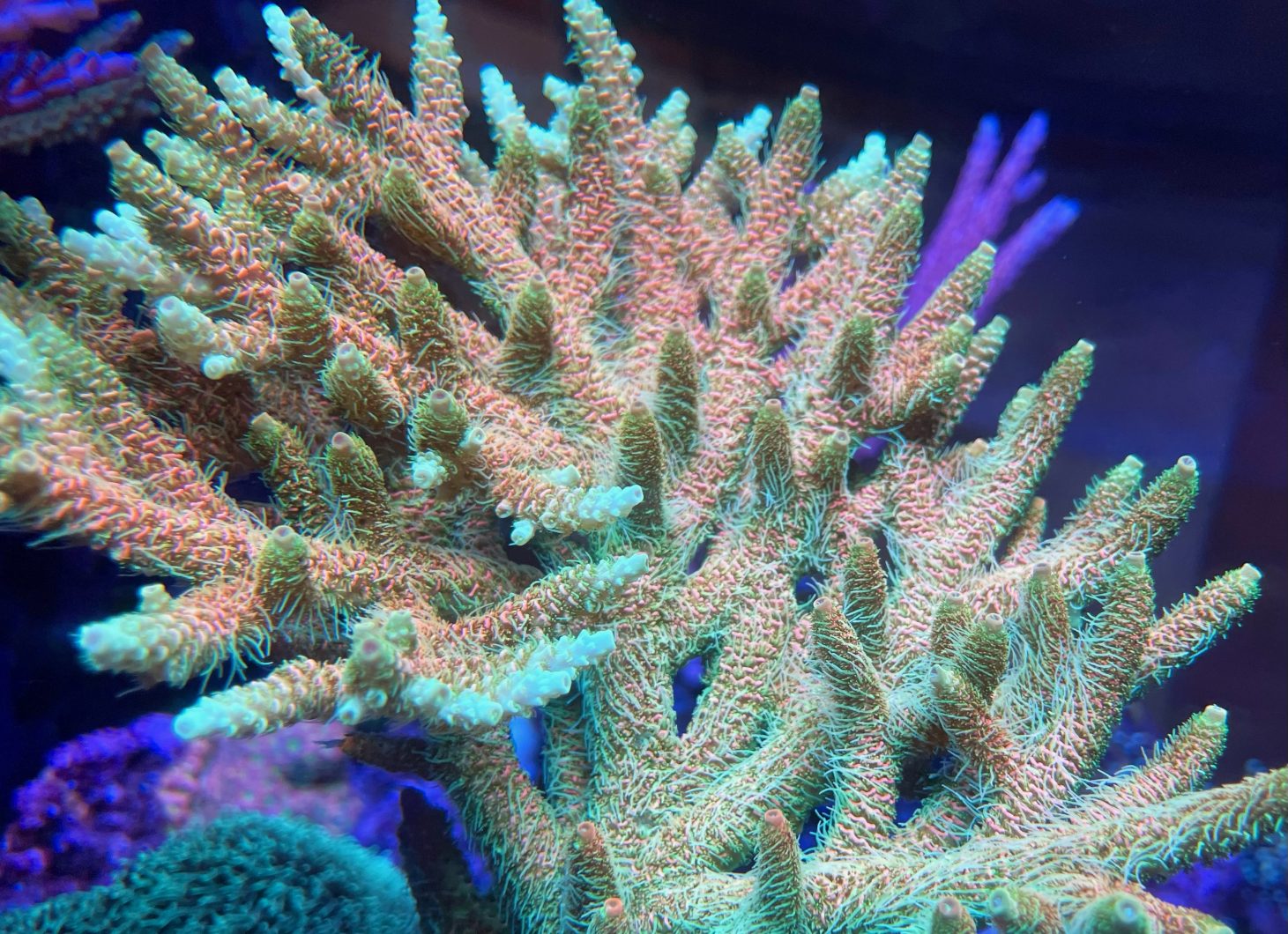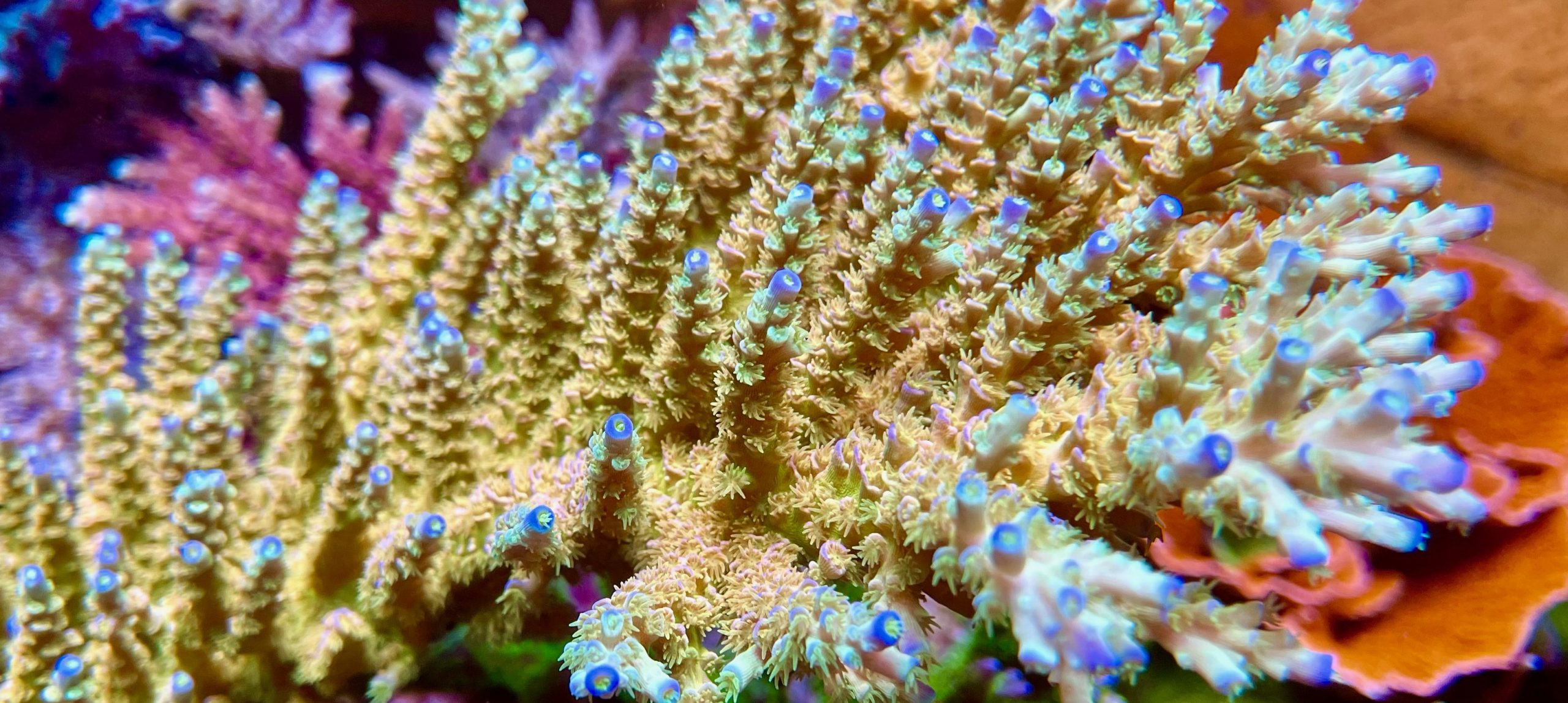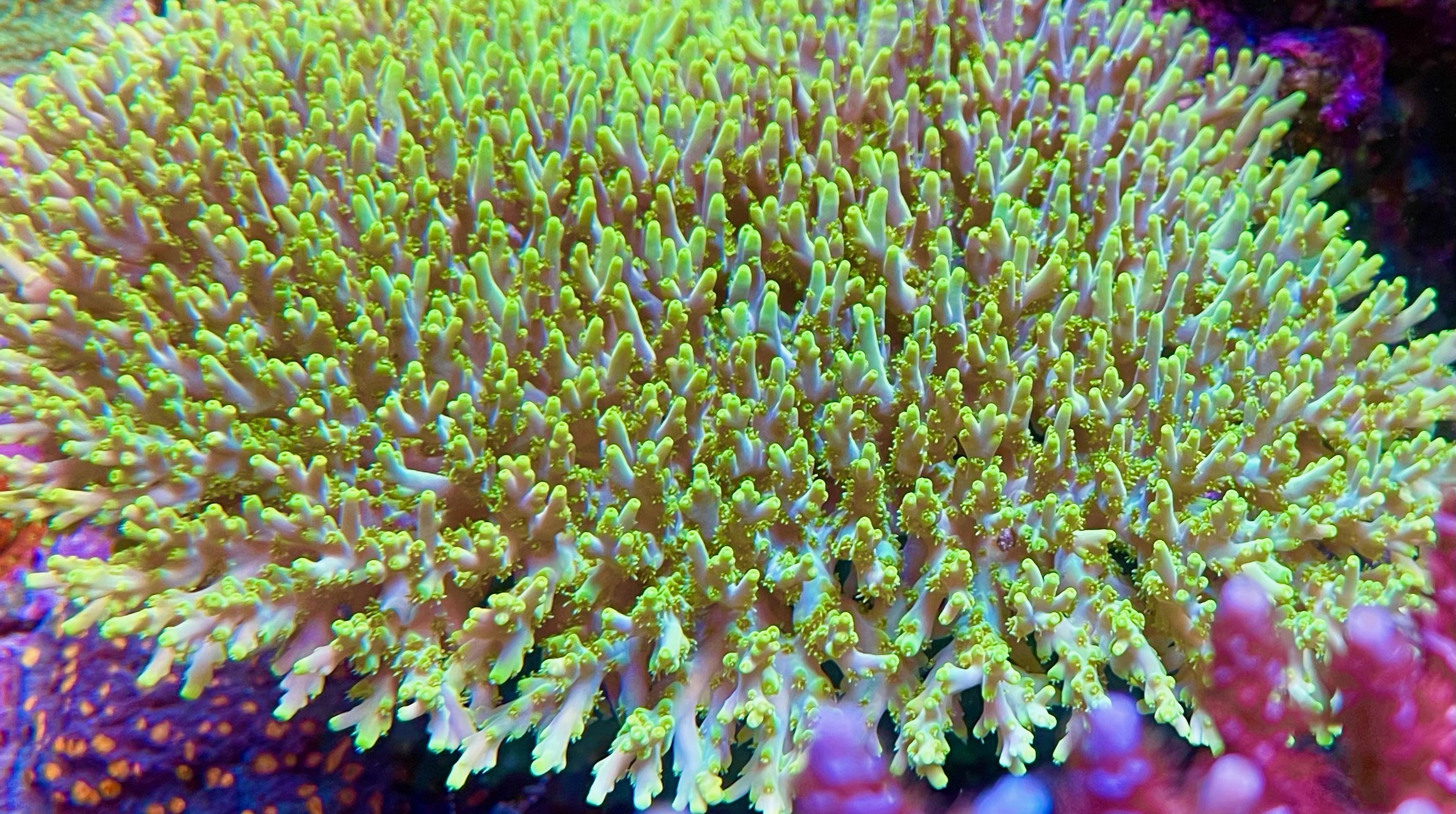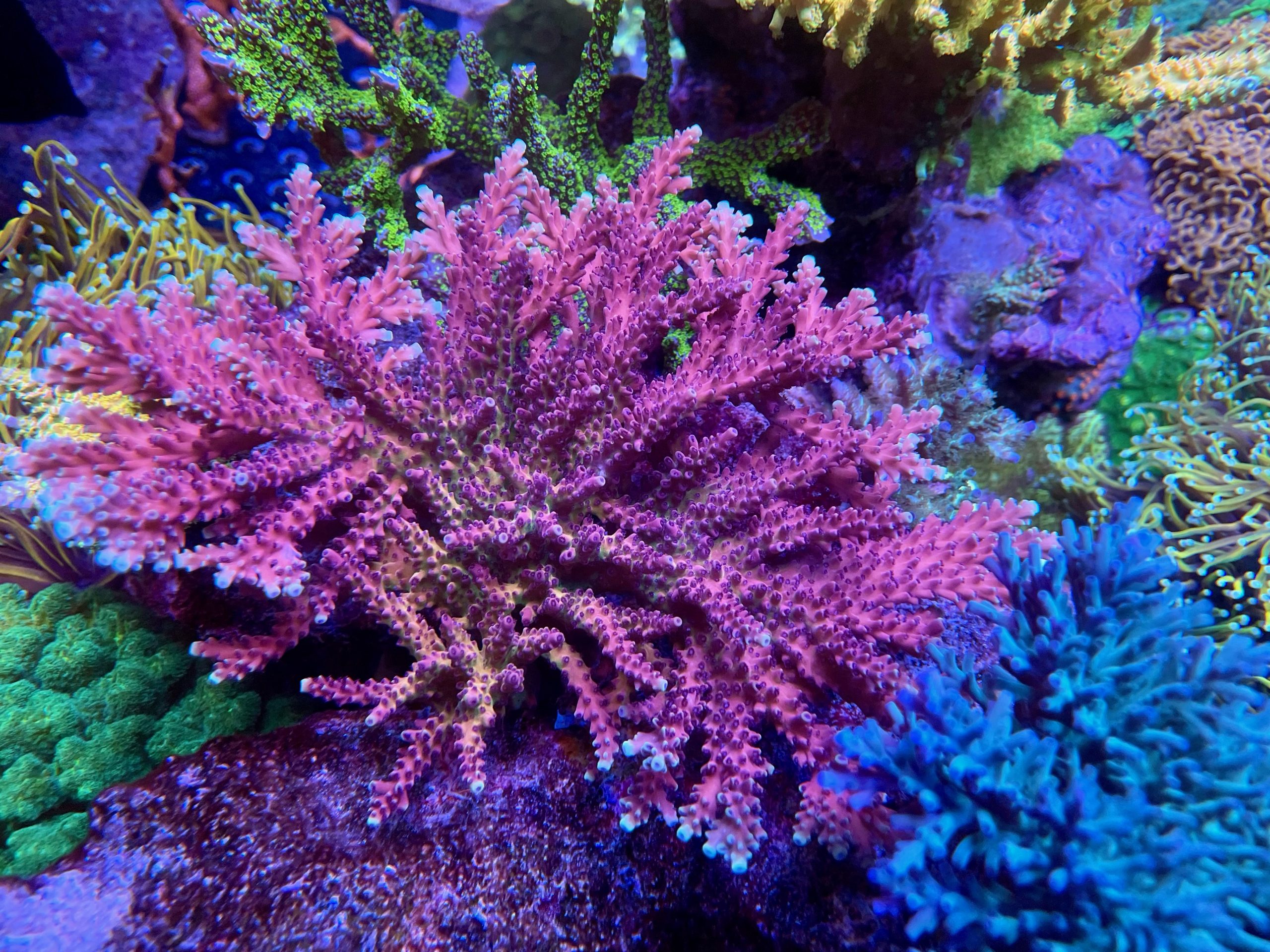 A must read about Orphek and its products – Don't miss these 2 institutional videos!!
Best LED Light that make Coral Pop!
Come check all about this product in our ATLANTIK V4 Gen 2 PRODUCT PAGE
More reviews:
We have more for you to read:
Layouts that we love – Orphek OR3 Reef Aquarium LED Bars combined with other brands and other Orphek LED Lighting solutions:
Great posts you might have missed:
Orphek OR LED Bar highest economic efficiency in the market (euro per watt)!
*Pls notice that OR3 Reef Aquarium LED Bars is an improved version of the OR2, but these articles with OR2 are worth checking because it says a lot about the current product!
The Best 2020 Reef Aquarium LED Bar with Dual core 5Watt !
ABOUT OR3 – 2020
Our new model OR3 – 2020 comes with NEW LEDs! Orphek is worldwide recognized by being the leader in LED Aquarium lighting solutions capable of delivering products that provide perfect intensity/efficiency.
What does it mean?
It means you are getting the same LEDs we are offering in our Atlantik V4 fixtures! It means you are getting new customized high efficiency 5w Dual-Chip power LEDs that are even more technologically advanced, therefore more efficient!
Our new LEDs will last longer than the previous Orphek LEDs because we have improved its life span!! Running at 50% our new 2020 model 5w Dual-Chip advanced LEDs are more resistant to higher heat and it offers the highest PAR longevity with really minimum loss over the years.
Not only that, we have also improved internal lens to make sure you are getting the best Orphek LEDs!
More to read about OR3 – 2020 – The ultimate hybrid LED solution!
OR2 150/120/90/60 Reef LED Lighting X T5
Orphek has been offering panel style LED lighting solutions for the last 10 years, providing a highly diffused light source and delivering the perfect intensity and spectrum to the reef aquarium in the form of the Atlantik series.
Now combined with our OR3 you can get the ultimate spectrum as if you were using T5s!
The idea was to develop an affordable LED, offering a T5 – like coverage length of the tank, but has all the efficiency, spectrum choice and power associated with LED technology with the following benefits:
OR3 bar LEDs typically use 50% less power consumption than T5.
Unlike T5 bulbs, which need to be replaced very 6-12 months, LEDs require no maintenance.
There is no new acclimation period required for corals – there is with T5 replacement for new bulbs.
OR3 bar LEDs have an output of around 2 x that of a comparable T5 bulb – meaning less units are required to fully illuminate the aquarium.
OR3 heat sink is around 41C and the heat is dispersed upwards rather than heating the aquarium water.
Each OR3 bar has multiple LED color chips providing a balanced spectrum for each bar.
OR3 LEDs penetrate the water column giving better performance at depth, providing a shimmer effect to give the aquarium a sharper, colorful visual appearance.
OR3 bar LEDs come as standard in 2 spectrum choices with customized options available for special order.
Just 2 x OR3 bars, a combination of 1 x Reef Day Plus and 1 x Blue Plus will deliver PAR of ~400 at the surface and ~250 + mid aquarium mounted 20cm above the water level.
If you wish to read about/buy our Orphek AURA High End Acrylic Mounting Arms for Aquarium:
If you wish to read about/buy our Orphek Universal Fixing Bracket Kit:
If you wish to read about/buy our Orphek Coral Reef Aquarium Lens Kit:
Thank you all for sharing your passion for the hobby and for Orphek products with all of us!
We like to thank Brad for sharing your photos with us!
Follow him at:
*All photos credits and video credit – Brad Blakenship
We would love to publish yours! Send us feedback!
If you are a distributor, shop, online shop, Public Venue we are ready to take your order!! We have stock! Don't miss the opportunity!