Today we showcase adding OR3 Blue Plus LED Bars in 240 gallon SPS dominant aquarium.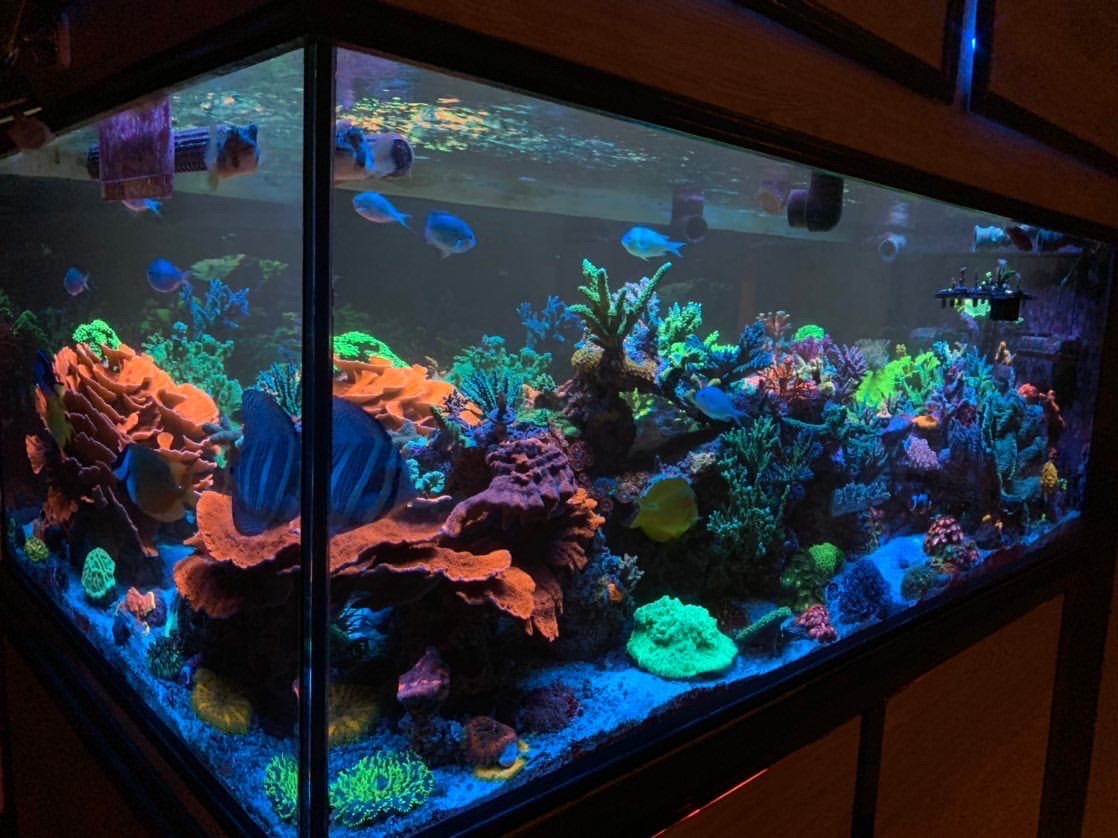 The Orphek OR3 Blue Plus Reef Aquarium LED Bar will render coral pop color to your tank like you have never seen before!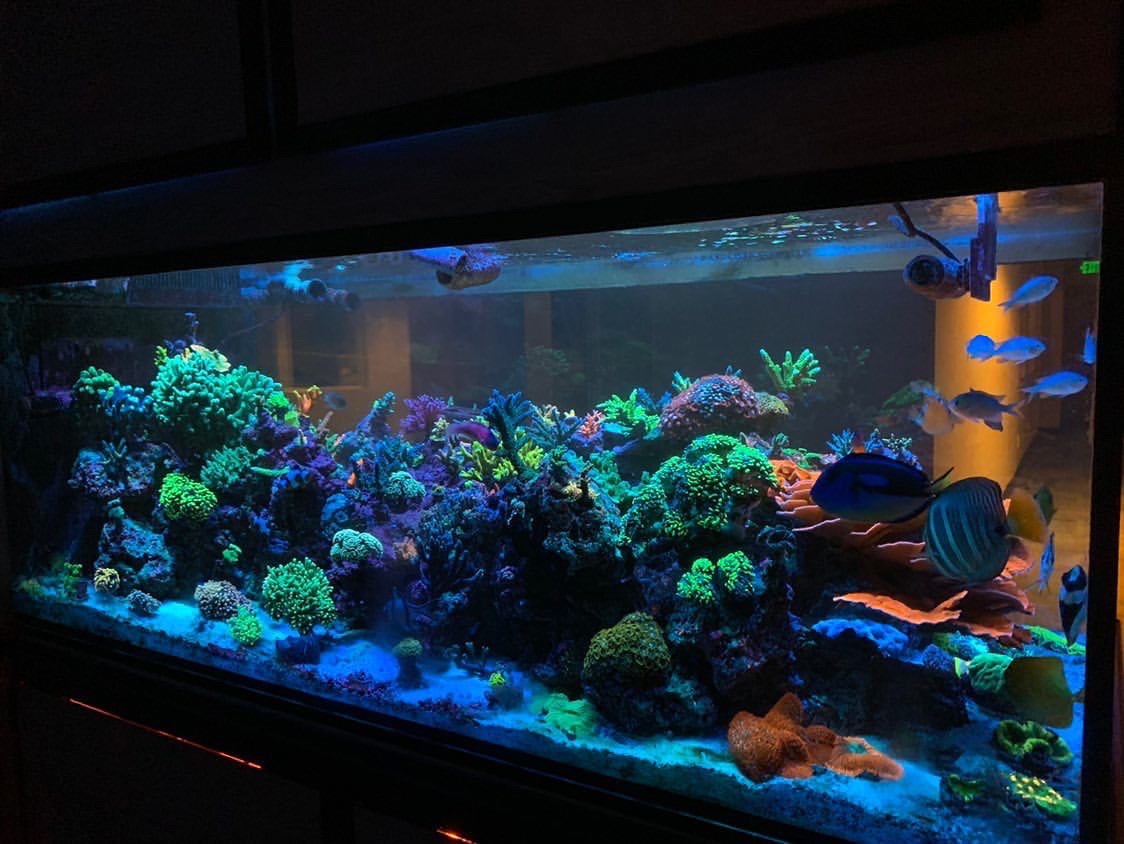 As we have been posting lately, our OR3 Blue Plus LED Bar for coral pop color is already a must-have among reefers and we are very thrilled with the feedback we have been receiving in our Orphek facebook group and personal messages from our clients!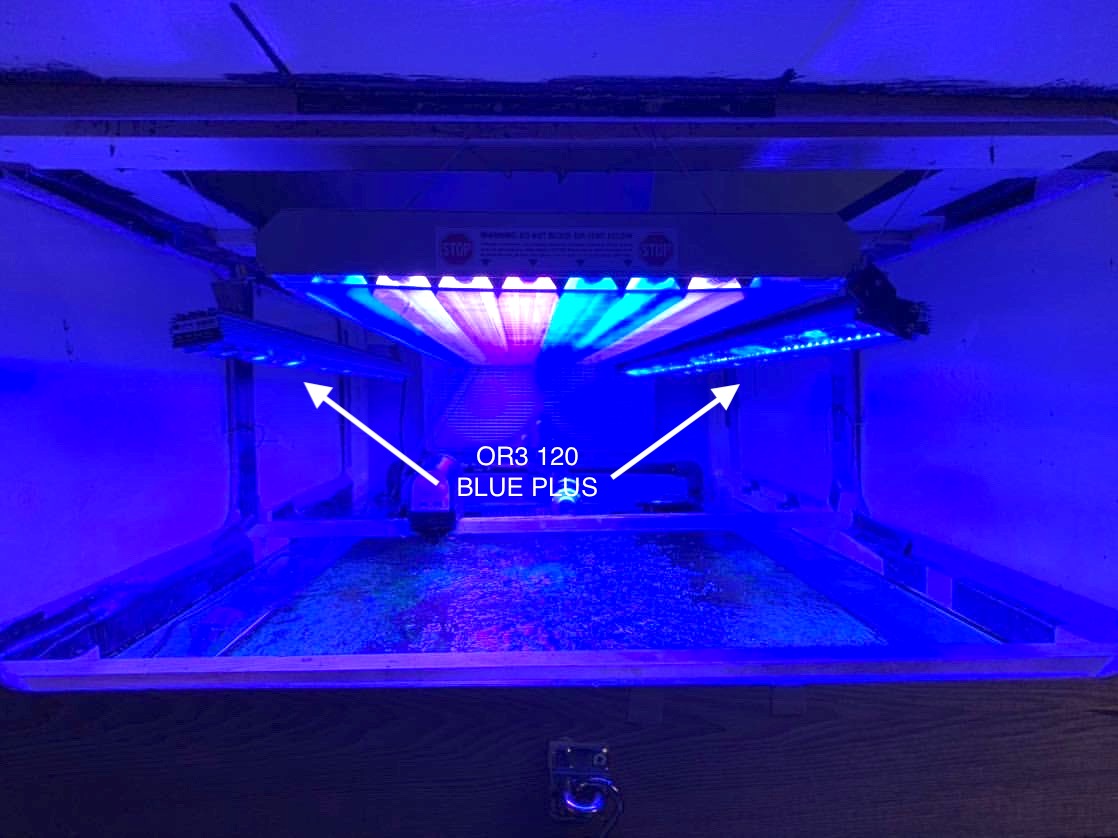 Orphek OR3 LED BAR are solutions that you can combine with Orphek Atlantik /Compact to have an even more amazing tank; You can combine your OR3 LED Bars with other brands for extra coral pop, health and grow!; or You can combine or completely substitute the old T5s!
So, with no further due…
in today's post we are bringing a detailed badass tank construction with of our Orphek OR2 LED Bars combined with T5's that the client previously owned. Here he added 2 units of Orphek OR2 120's 48″ Blue Plus for color pop and to enhance health and beauty of his SPS corals.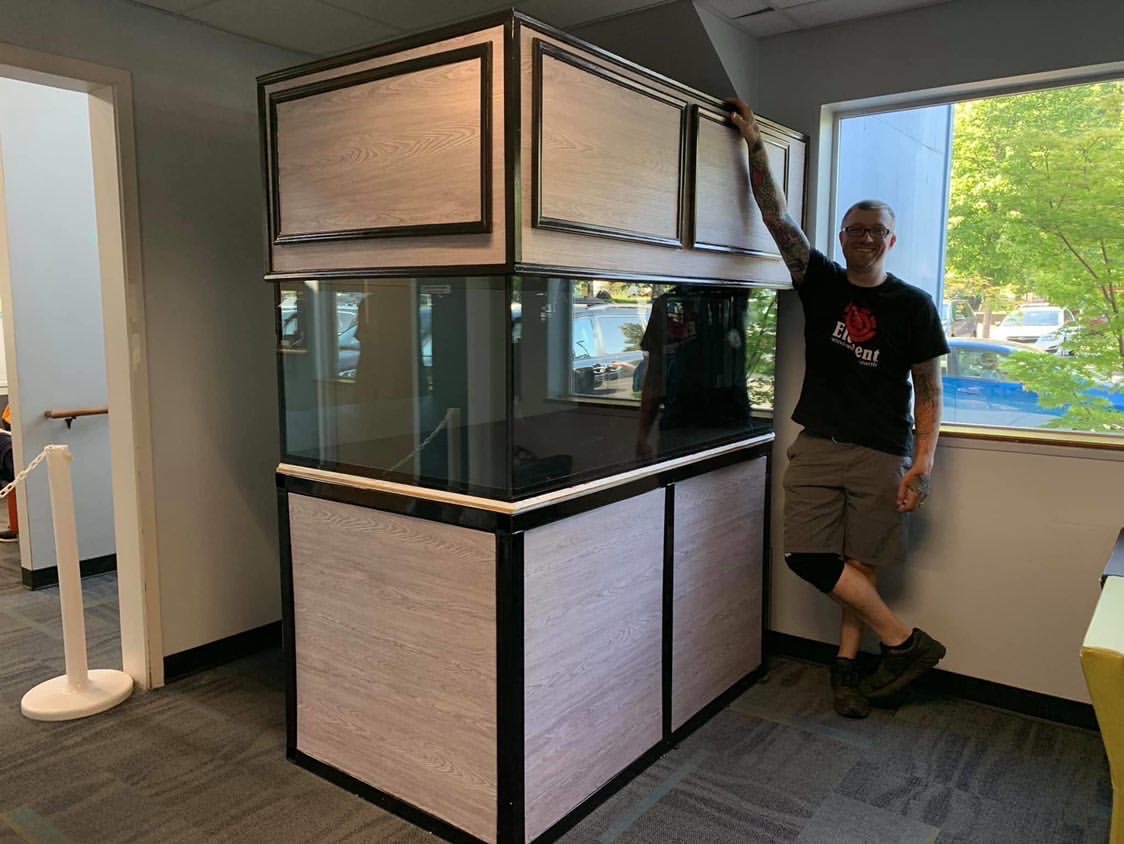 @pnw_reef_86 shared with us the entire construction of his awesome tank and we are proudly sharing with you guys here:
"This tank just turned a year old on June 3rd 2020. For starters the tank is a 240 Gallon SPS dominant Peninsula Aquarium. It has an External Coast to coast overflow (dimensions are 60×36"26" tall)
I started this tank with dry rock cycled in a couple Rubbermaid's for a month.
and he continues…
I used Seachem seed and Live rock enhance to cycle the tank. The stand is built out of 2" Square tubing. I built the stand from the hood to all the wood panels.
This stand has gussets, the Wood panels magnetize to. Stand is all powder coated Black. Wood panels and hood I did in a vinyl wrap. Was very easy to install the wrap.
For the sump I have a custom built 137 gallon acrylic tank. This was built by clear fabrications. It has a 40 gallon Refugium that runs 24/7 and a 25 gallon Built in ATO run by The APEX ATK.
The skimmer that I use is a RedSea RSK600 with a custom 2.5 gallon DIY Skimmate container, this has a float valve so when it's full it alerts my apex via BOB(break Out Box).
To keep Po4/Algae in check I have a Custom DIY Algae Scrubber it runs 24/7. Also use an Aqua UV 80 watt UV sterilizer, this makes my water crystal clear.
and to amaze us more…
I have built everything on this build the stand the hood, all the plumbing etc.. Only thing was not built/DIY. Is the glass tank."
We would like to thank @pnw_reef_86 for sharing extensive information about his tank and sending us many many photos of the construction of his tank.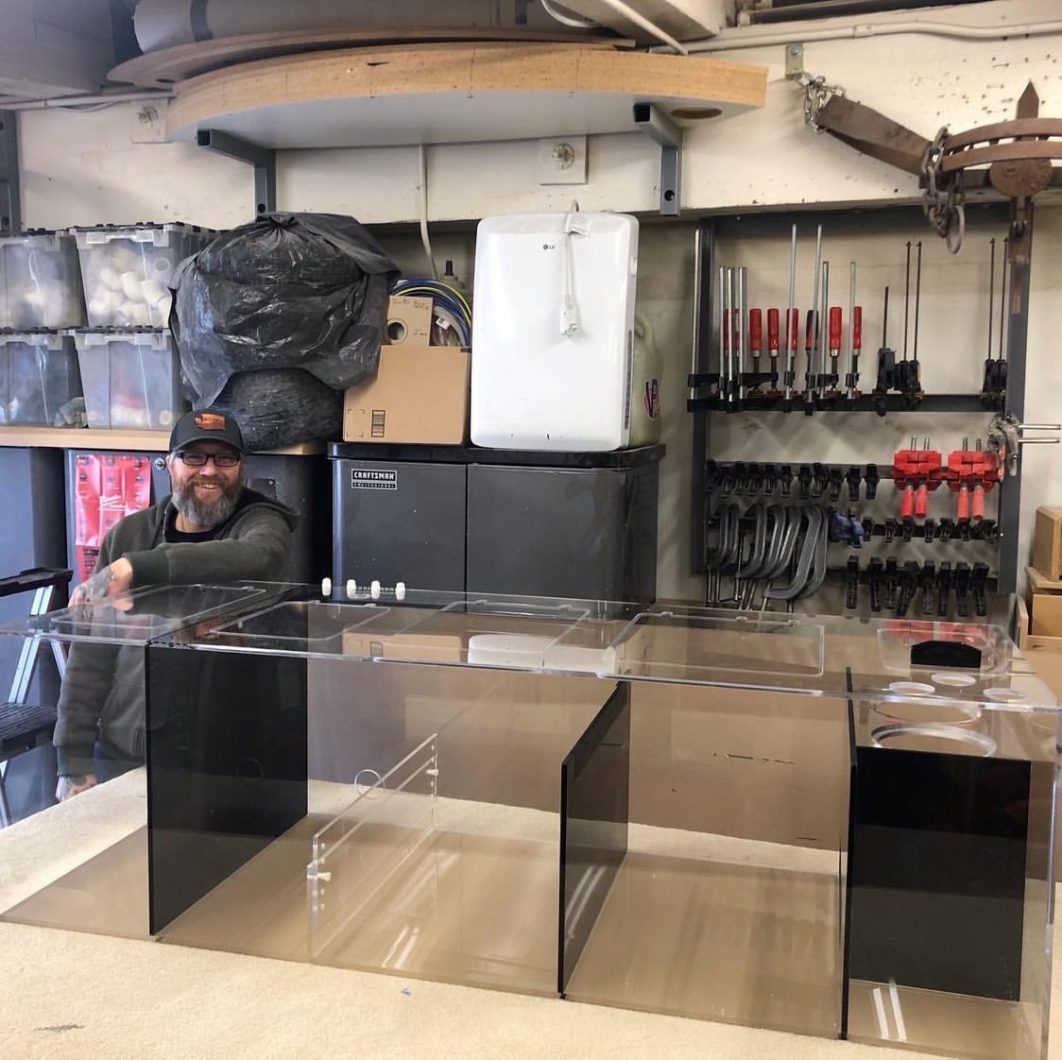 Not to mention, the love, passion for this hobby and the awesome clients that we have is what makes us constantly move forward, to impress them as they impress us with their commitment to perpetuating endangered marine species! KEEP REEFING!
About this tank:
Lighting:
2 units of Orphek OR2 120's 48″ Blue Plus
ATI Sunpower 8 Bulb T5 60" XHO Blue 60"

Equipment:
2016 Apex
3 EB832s
Apex Trident
Apex ATK
3 Ice cap Gyre 3ks
3 BRS 1.1ml doser.
80 watt Aqua UV Sterilizer
Red Sea RSK600 skimmer
BOB
Reeflow Hammerhead Return pump 6,000GPH
2 1" sea swirls
9 gallon dosing container. 3 gallons each for 1-2-3+
Daily Dosing:
Acropower 15ml
Brightwell coral aminos 15ml Phytoplankton 1-2oz
Aquaforest Baling Methoed
420ml calcium (component 1)
420ml Alkalinity (component 2)
420ml Magnesium (Component 3)
Aquaforest ABVE every other day.
Fish food and coral food:
LRS Nori
LRS reef Frenzy
LRS Fish FrenzyLRS chunky
LRS Fertility Frenzy LRS Herbivore TDO pellets
Hikari Mysis
Hikari Krill Reefroids
Benereef
Live rock enhance Reef enhance.
Fish List.
Sailfin Tang
Blue Hippo tang Yellow tang
Orange shoulder tang Fox face Lo
Spiny box puffer
Labouti wrasse
Melanarus wrasse
Blue leopard wrasse
Radiant wrasse
2 fire fish
2 spot goby
Pink spot goby
5 clown fish
4 pipe fish
6 blue green chromis Copperband butterfly 2 Benghai cardinals
2 sunburst anthias

Posts you might have missed about the OR3
*Pls notice that OR3 Reef Aquarium LED Bars is an improved version of the OR2, but these articles with OR2 are worth checking because it says a lot about the current product!
ABOUT OR3 – 2020
Our new model OR3 – 2020 comes with NEW LEDs! Orphek is worldwide recognized by being the leader in LED Aquarium lighting solutions capable of delivering products that provide perfect intensity/efficiency.
What does it mean?
It means you are getting the same LEDs we are offering in our Atlantik V4 fixtures! It means you are getting new customized high efficiency 5w Dual-Chip power LEDs that are even more technologically advanced, therefore more efficient!
Our new LEDs will last longer than the previous Orphek LEDs because we have improved its life span!! Running at 50% our new 2020 model 5w Dual-Chip advanced LEDs are more resistant to higher heat and it offers the highest PAR longevity with really minimum loss over the years.
Not only that, we have also improved internal lens to make sure you are getting the best Orphek LEDs!
Why you will fall in love with our OR3 LED Bars
You can combine the OR3 LED Bars with Orphek Atlantik /Compact to have an even more amazing tank!
You can combine your OR3 LED Bars with other brands for extra coral pop, health and grow!
You can combine or completely substitute the old T5s!
You can add as many as you wish!
You can mount them with our fixing brackets for a sleek layout!
More to read about OR3 – 2020
OR2 150/120/90/60 Reef LED Lighting X T5
Orphek has been offering panel style LED lighting solutions for the last 10 years, providing a highly diffused light source and delivering the perfect intensity and spectrum to the reef aquarium in the form of the Atlantik series.
Now combined with our OR3 you can get the ultimate spectrum as if you were using T5s!
The idea was to develop an affordable LED, offering a T5 – like coverage length of the tank, but has all the efficiency, spectrum choice and power associated with LED technology with the following benefits:
OR3 bar LEDs typically use 50% less power consumption than T5.
Unlike T5 bulbs, which need to be replaced very 6-12 months, LEDs require no maintenance.
There is no new acclimation period required for corals – there is with T5 replacement for new bulbs.
OR3 bar LEDs have an output of around 2 x that of a comparable T5 bulb – meaning less units are required to fully illuminate the aquarium.
OR3 heat sink is around 41C and the heat is dispersed upwards rather than heating the aquarium water.
Each OR3 bar has multiple LED color chips providing a balanced spectrum for each bar.
OR3 LEDs penetrate the water column giving better performance at depth, providing a shimmer effect to give the aquarium a sharper, colorful visual appearance.
OR3 bar LEDs come as standard in 2 spectrum choices with customized options available for special order.
Just 2 x OR3 bars, a combination of 1 x Reef Day Plus and 1 x Blue Plus will deliver PAR of ~400 at the surface and ~250 + mid aquarium mounted 20cm above the water level.
To take a look in layouts integrating our OR3 LED Bars and fixtures go to:
Orphek Reefscaping Showcases Beautiful Tanks
OR3 Blue Plus Reef Aquarium LED Showcase
To a large exquisite tank display go to:
2,000gal SPS Dominant Reef Tank in Minnesota
To see even more interesting pictures go to our:
If you wish to read about/buy our Orphek Universal Fixing Bracket Kit:
If you wish to read about/buy our Orphek Coral Reef Aquarium Lens Kit:
If you are a distributor, shop, online shop, Public Venue we are ready to take your order!! We have stock! Don't miss the opportunity!