Spectacular mix reef aquarium from Singapore under OR3 120 Reef Day and Blue Plus
This week we are really excited to bring this amazing story of David's aquarium. This Singaporean reefer has been growing SPS and LPS corals over a year and although he says he is not an experienced reefer, he is excelling in the hobby! Not only he accomplished to grow his corals beautifully, he also made a journal to keep track of this wonderful project!
We were amazed to learn that he has keeping his aquarium with the same water since day one, not changing the water of the tank even a single time! Feeding method also has blow or minds away (find out in the excerpts of his journal here)!
Type of tank: Redsea 350
Type of corals: SPS and LPS
Lighting: Orphek OR3120 Reef Day and Blue Plus (2 units of each) mounted with Orphek's mounting arms.
Photos worth a 1000 words, and these amazing photos of his tank is just the case!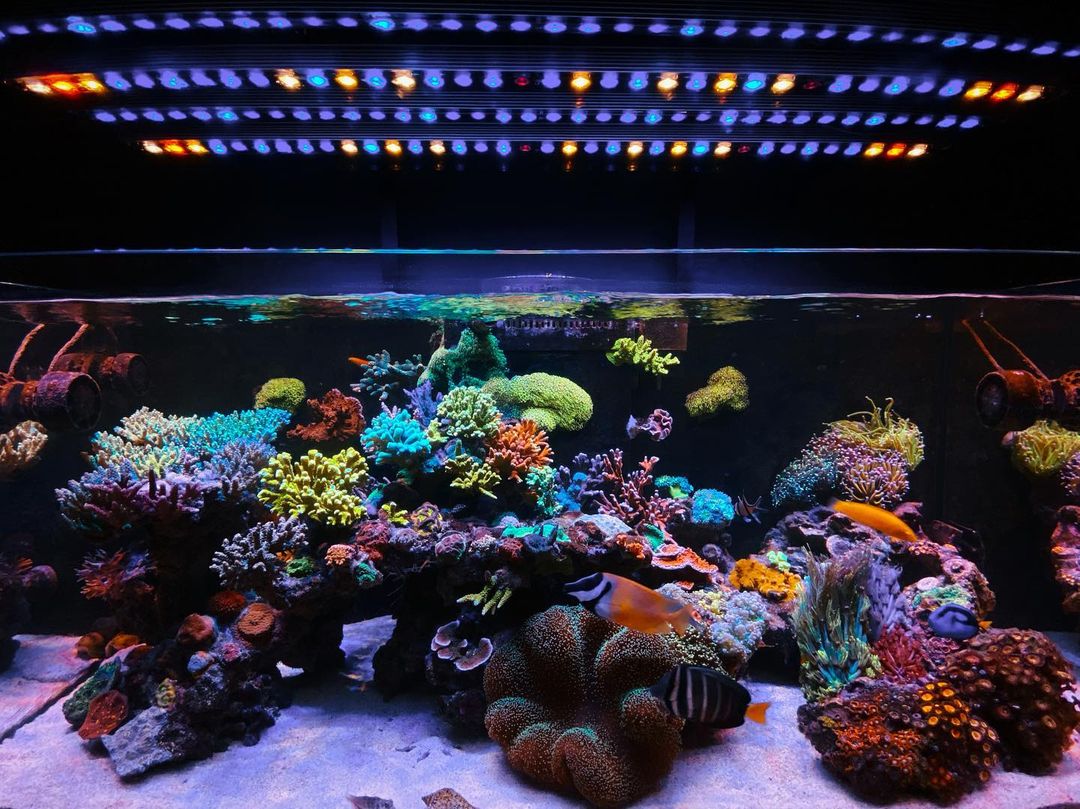 If you wish to read all the details about his tank here are the links:
David's reef: https://www.instagram.com/quantumreefer/
By BlueOnBlue : https://www.sgreefclub.com/forum/topic/176931-seafloor-cavern/
We brought here some excerpts of his journal
If you also wish to have an amazing reef tank without having to spend a lot of money you will learn here how to do so. David succeeded to find solutions that were in his budget and he is sharing with all of us how to do it:
"Finally after months of contemplating, I've decided to write about my reefer 350's journey. Made the move on this tank about four months ago and was kinda nervous because all along I've only been dealing with nano tanks and feel like I was not ready for a huge one. Nevertheless, I read, read & read countless of forums and watched tons of videos just to stock up my knowledge on reefing as I did not want anything to go wrong. I bought the redsea reefer 350 from SAS while they had a promo so I think it can be considered as a pretty good buy."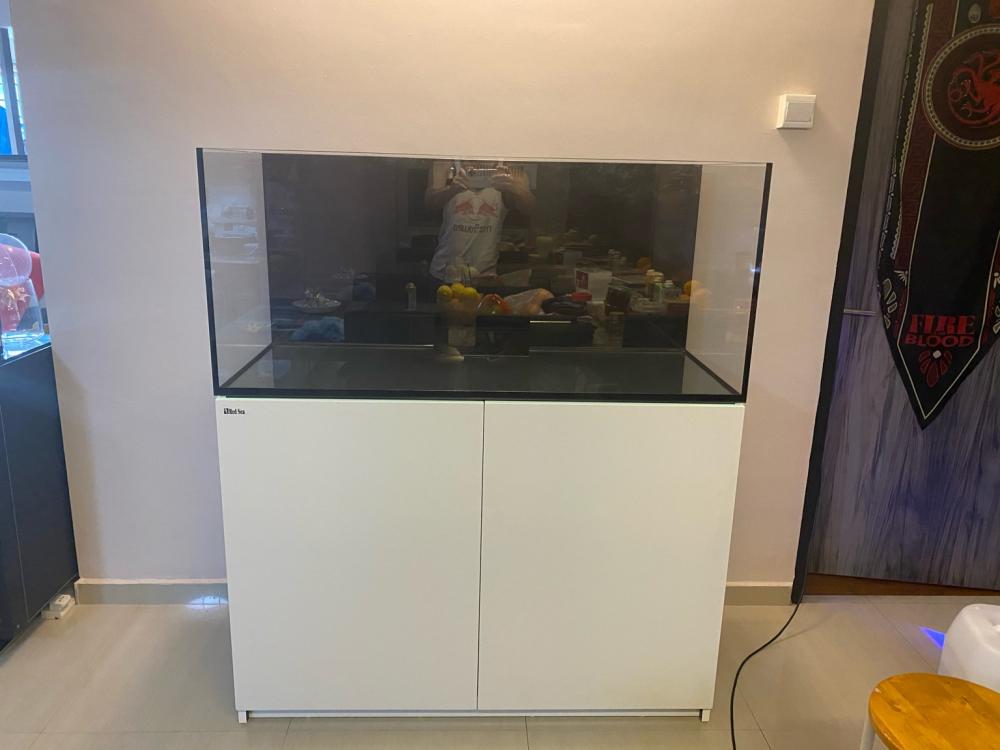 Borrowed a par meter from a friend and realized that I wasn't really getting a good enough evenly spreaded out par due to the AI Prime being a spotlight led. The edge of the tank was getting a mere 25-50 par but in order to increase the par I had to bump up the whites which gave the tank a very washed out look which I did not like. Read many reviews online about the brand Orphek and came across these bars called Orphek OR3 Led bars. Was contemplating whether to use the 90cm or 120cm bars as I did not want light spilling outside of the tank or the whole house would be blued out. I initially wanted to go with two Atlantik V4 compacts but the price was too steep compared to having 4 bars over my reef. Although they are meant to be supplementary lights, as I was thinking to go with the A360X kessil lights, I decided to use them as my main lights because the color was so beautifully and evenly spreaded out when I saw them at the lfs. Had a very good deal so I went ahead and bought 4 (deciding to add another blue plus soon) OR3 120 Bars consisting of 2 blue plus and 2 reef day along with the orphek universal mounting kit.
Here's a picture of just the OR3 Blue pluses turned on. Turns out the light spill wasn't that bad when mounting them at a height of 10″. Using the lights, I immediately saw corals open up more and having a more fluorescent highlight compared to the AI Prime.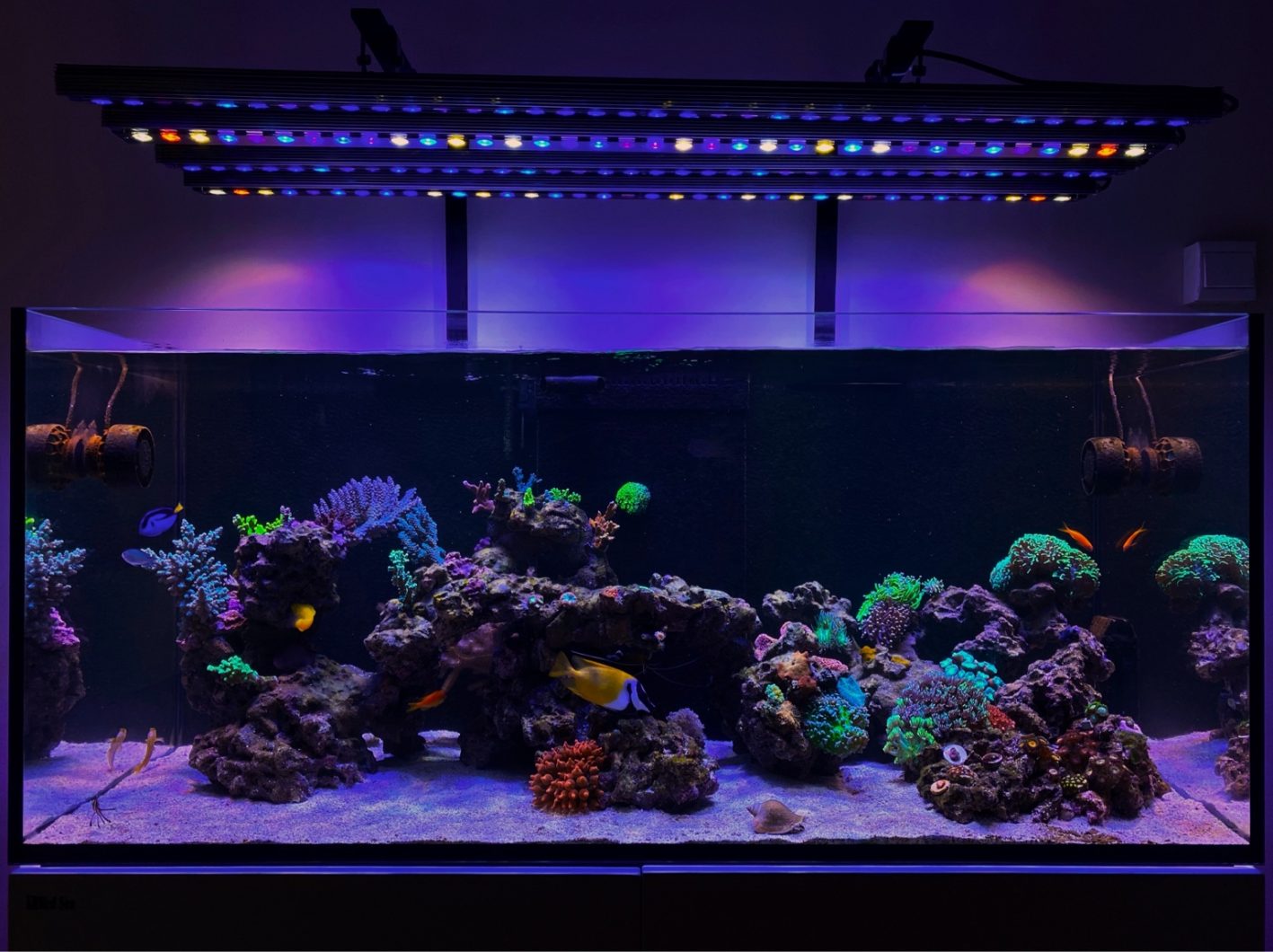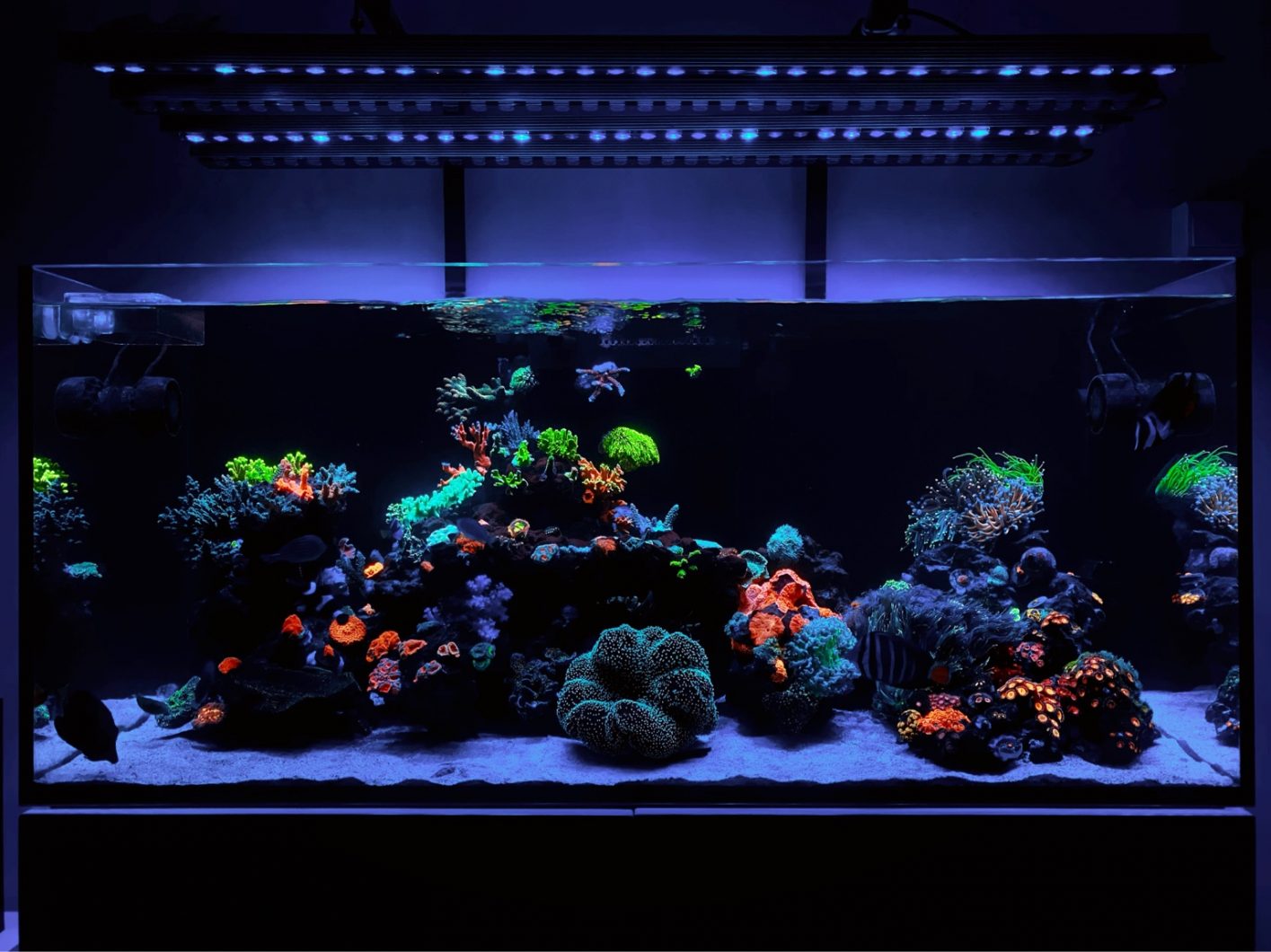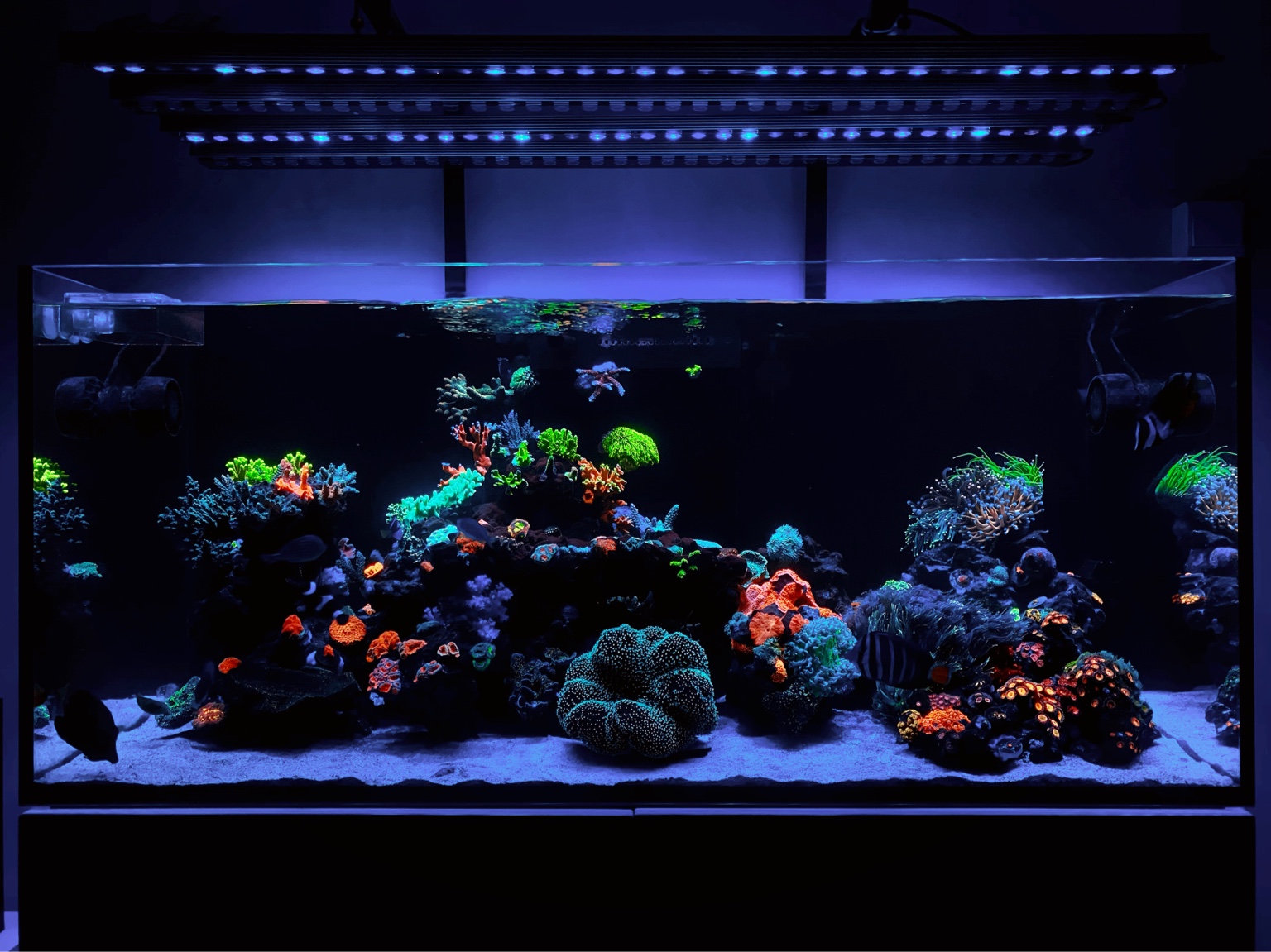 Tank has been doing really well the past month. So far 9 months already without water changes. Water is still crystal clear without any tint of yellow or green. Topping up trace elements with Tropic Marin's A and K elements together with balling method. Here are some pictures of the corals flourishing. I don't really spot feed my corals, except I do throw in coral frenzy once a week for the corals to have a treat, the rest is just nature taking its own course 
We put up a gallery of photos of his color to showcase the color pop and the fast growth of his corals.
The pictures David sent us shows vibrant health color hues of the corals and skeletal mass accumulation improvement:
Orphek OR3 Reef Aquarium LED Bars combined with other brands and other Orphek LED Lighting solutions:
Great posts you might have missed about the OR3
Orphek OR LED Bar highest economic efficiency in the market (euro per watt)!
*Pls notice that OR3 Reef Aquarium LED Bars is an improved version of the OR2, but these articles with OR2 are worth checking because it says a lot about the current product!
The Best 2020 Reef Aquarium LED Bar with Dual core 5Watt !
ABOUT OR3 – 2020
Our new model OR3 – 2020 comes with NEW LEDs! Orphek is worldwide recognized by being the leader in LED Aquarium lighting solutions capable of delivering products that provide perfect intensity/efficiency.
What does it mean?
It means you are getting the same LEDs we are offering in our Atlantik V4 fixtures! It means you are getting new customized high efficiency 5w Dual-Chip power LEDs that are even more technologically advanced, therefore more efficient!
Our new LEDs will last longer than the previous Orphek LEDs because we have improved its life span!! Running at 50% our new 2020 model 5w Dual-Chip advanced LEDs are more resistant to higher heat and it offers the highest PAR longevity with really minimum loss over the years.
Not only that, we have also improved internal lens to make sure you are getting the best Orphek LEDs!
More to read about OR3 – 2020 – The ultimate hybrid LED solution!
OR2 150/120/90/60 Reef LED Lighting X T5
Orphek has been offering panel style LED lighting solutions for the last 10 years, providing a highly diffused light source and delivering the perfect intensity and spectrum to the reef aquarium in the form of the Atlantik series.
Now combined with our OR3 you can get the ultimate spectrum as if you were using T5s!
The idea was to develop an affordable LED, offering a T5 – like coverage length of the tank, but has all the efficiency, spectrum choice and power associated with LED technology with the following benefits:
OR3 bar LEDs typically use 50% less power consumption than T5.
Unlike T5 bulbs, which need to be replaced very 6-12 months, LEDs require no maintenance.
There is no new acclimation period required for corals – there is with T5 replacement for new bulbs.
OR3 bar LEDs have an output of around 2 x that of a comparable T5 bulb – meaning less units are required to fully illuminate the aquarium.
OR3 heat sink is around 41C and the heat is dispersed upwards rather than heating the aquarium water.
Each OR3 bar has multiple LED color chips providing a balanced spectrum for each bar.
OR3 LEDs penetrate the water column giving better performance at depth, providing a shimmer effect to give the aquarium a sharper, colorful visual appearance.
OR3 bar LEDs come as standard in 2 spectrum choices with customized options available for special order.
Just 2 x OR3 bars, a combination of 1 x Reef Day Plus and 1 x Blue Plus will deliver PAR of ~400 at the surface and ~250 + mid aquarium mounted 20cm above the water level.
If you wish to read about/buy our Orphek AURA High End Acrylic Mounting Arms for Aquarium:
If you wish to read about/buy our Orphek Universal Fixing Bracket Kit:
If you wish to read about/buy our Orphek Coral Reef Aquarium Lens Kit:
Thank you all for sharing your passion for the hobby and for Orphek products with all of us!
We like to thank David for sharing your photos with us!
Follow him at:
*All photos credits David's reef: https://www.instagram.com/quantumreefer/
If you are a distributor, shop, online shop, Public Venue we are ready to take your order!! We have stock! Don't miss the opportunity!