Atlantik iCon vs Atlantik V4 why it is worth upgrading
Orphek has been over the years progressively introducing new benefits and fine tunning to your Atlantik and Atlantik Compact fixtures.
Orphek takes a leap into the future and presents the new Atlantik iCon Compact – Intelligent Connectivity, so let's take a look NOW and THAN!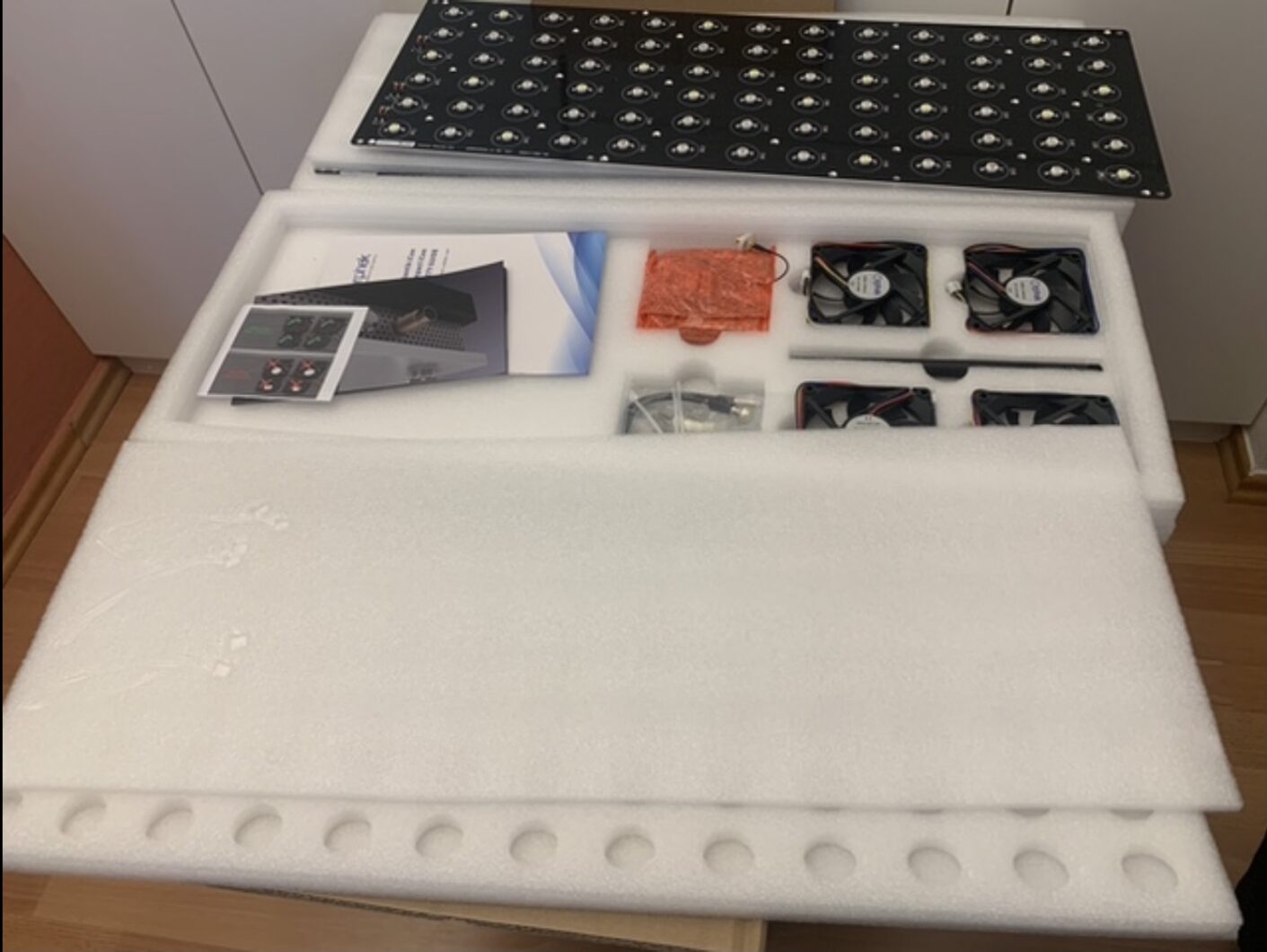 The Atlantik iCon is a total new experience of Orphek Atlantik series!
This time, more than ever, we are launching a new Atlantik LED Light with a number of significant improvements and valuable changes! You will get access to our new app; improved air flow and cooling system; faster connectivity like never seen before; an amazing dimming control of your light never offered in the market; the best spectrum ever developed by us, better color control, new modes… and much, much more!
We don't know if you are aware but contrary to other brands, Orphek Solutions offer UPGRADE possibility. (read about Orphek Reef Aquarium LED Lighting thinks green!)
Orphek products are built to last
If you have an older version of the Atlantik fixture (Atlantik V1 V2 V2.1 V3 V3+ V4) you can upgrade to: Atlantik iCon or Atlantik iCon Compact
So, with no further due, let's get to it!

Here is a list of what we have upgraded.
1. LEDs:
All LEDs been changed.
We have changed both LED chip and the encapsulation manufacturer.
There are also some internal improvements in the internal lens with supporting UV radiation for all LEDs. (Even for the white ones). By the way, Orphek is the only company proving glass lens for its UV/violet LEDs. You already have the glass lens in the Atlantik V4!
2. LED PCB:
The new LED PCB comes in black and with a new LEDs' design.
While the Atlantik V4 had 4 channels Atlantik iCon has 6 channels (now you get 2 more channels!)


3. Cooling system:
We added a high quality surface treated alloy top, tapering from 6mm to 2mm at the corners.
We have also added a brass sleeve over the screw post to conduct the heat to the top aluminium covering.
Now all speed fans work as one and they change speed following the intensity of the light.
Fans have a control system to stop under 30%. So the new Atlantik iCon is completely silent during the lunar cycle. In fact, there is a significant noise reduction in this new fixture.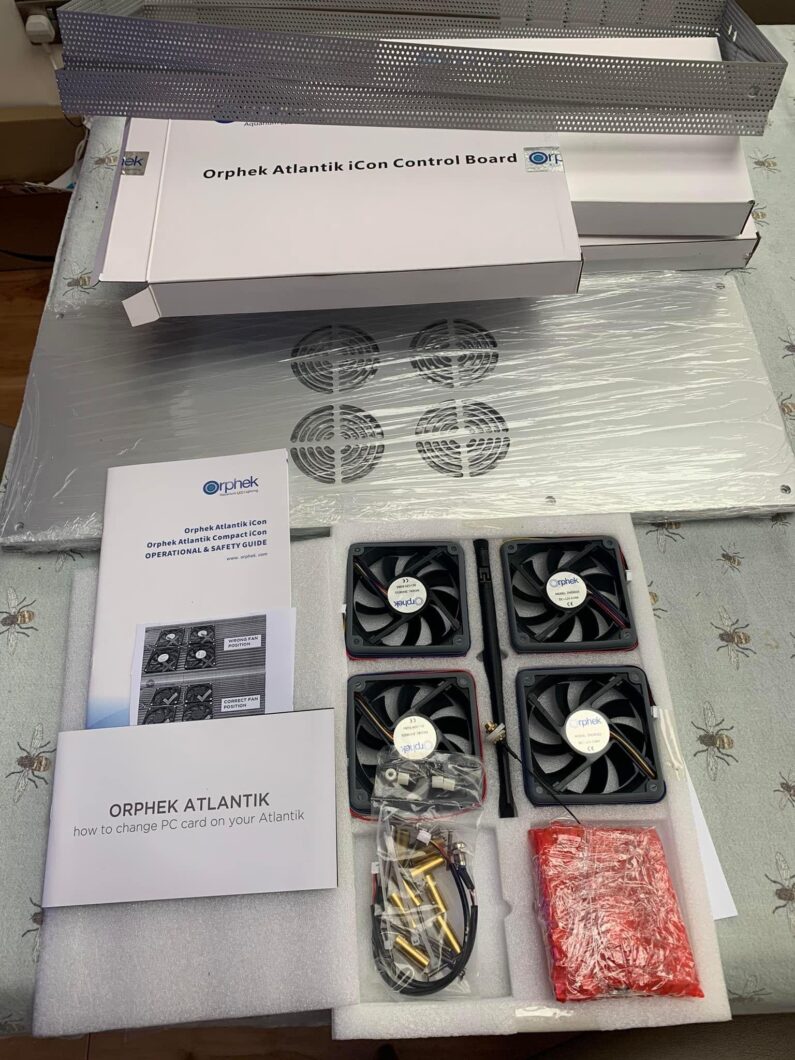 4. Atlantik iCon control system:
The new Atlantik iCon comes with an awesome new Orphek App.
Although the Atlantik V4 comes already with IoT technology, the Atlantik iCon is developed with a friendly technology both easy and fun to use, and the new Orphek App. is compatible with both IOS and Android, with iCloud support and many other cool features that the V4 does not provide.
In fact, the new Orphek App. is not just an app, it is also a new operating system!
Now you will have Smart communications – WiFi/Bluetooth and hotspot sharing, so you can connect the light to the internet from your phone, without the a gateway/router. That means a higher level of security.
And more…
While the Atlantik V4 has 0 to 100% progressive dimming control, the Atlantik iCon comes with advanced 10,000% dimming control system – Orphek now offers in Atlantik iCon full progressive dimming capacity in all channels.
By the way, we are the first and only company in the world offering 10,000% dimming control system (0-100% and 0.001-1% for Moon Cycle)!
5. Spectrum:
Being a company in continuous development, Orphek has taken its decade of research and testing to achieve an evolutionary spectrum that is based on the Atlantik V4 spectrum, but intelligently improved, offering now the new Atlantik iCon, with not only a new spectrum, but we have also reorganized the entire LED array, so you can control each color bandwidth separately, allowing you to have more control of the color appearance (check the new 6 channels chart above).
While the Atlantik V4 spectrum research resulted into bringing to you an amazing balance between the light corals need and the overall appearance you want to see in your tank. , the new Atlantik iCon comes with the fine-tuning that Orphek researched and developed over these last years.
Finally we developed each channel with a combination of LEDs colors and quantity based on the needs of corals; respecting their natural response to light wavelengths; and to provide the best color pop, health and growth spectrum, while giving your tank the natural look, mimicking nature at its fullest.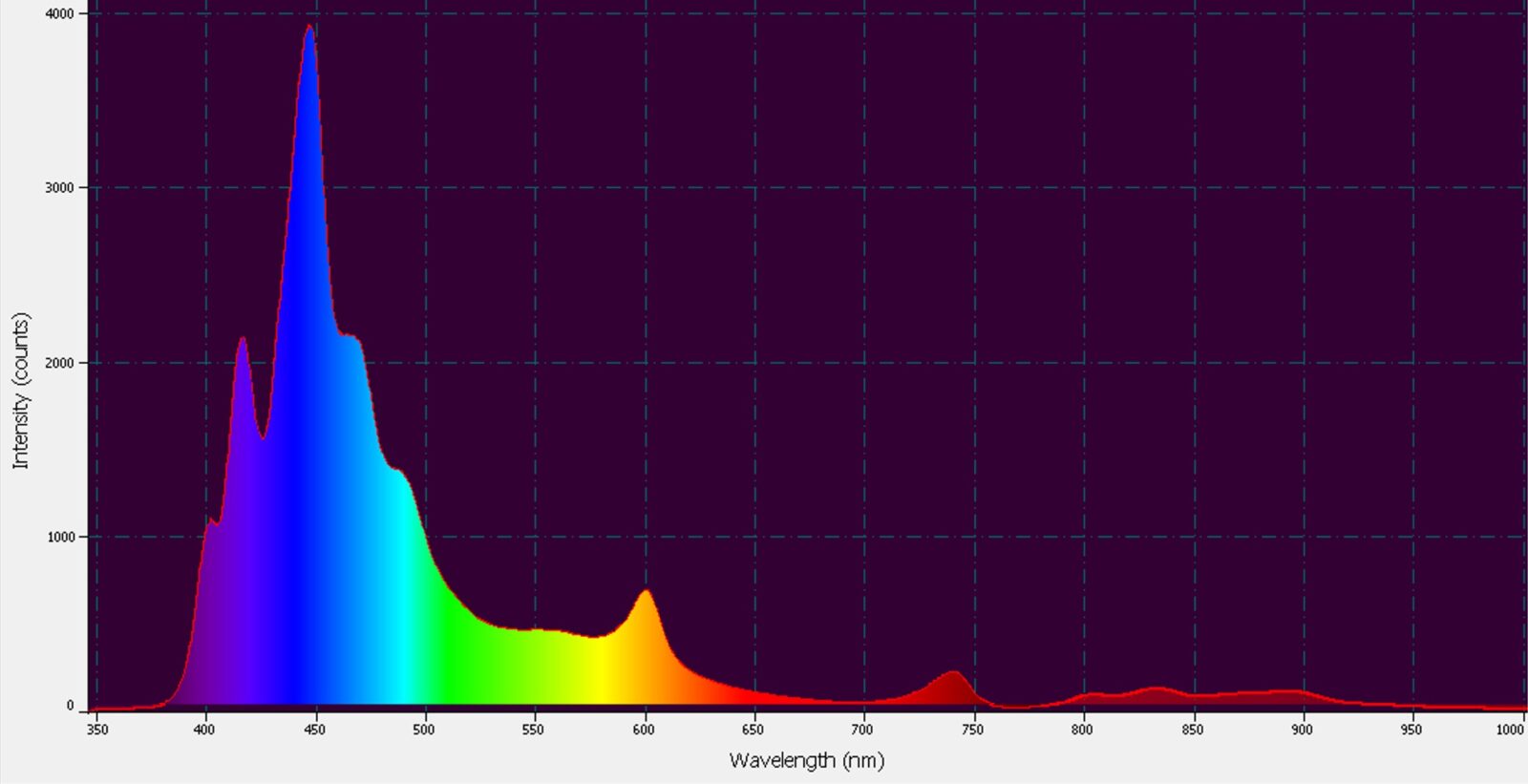 More new improvements…
PAR: Atlantik iCon is truly one of a kind and stands out from the rest with a Highest PAR value, it is certainly in a league of its own. The peak value is incredibly high, as it is close to 1000 PAR !!!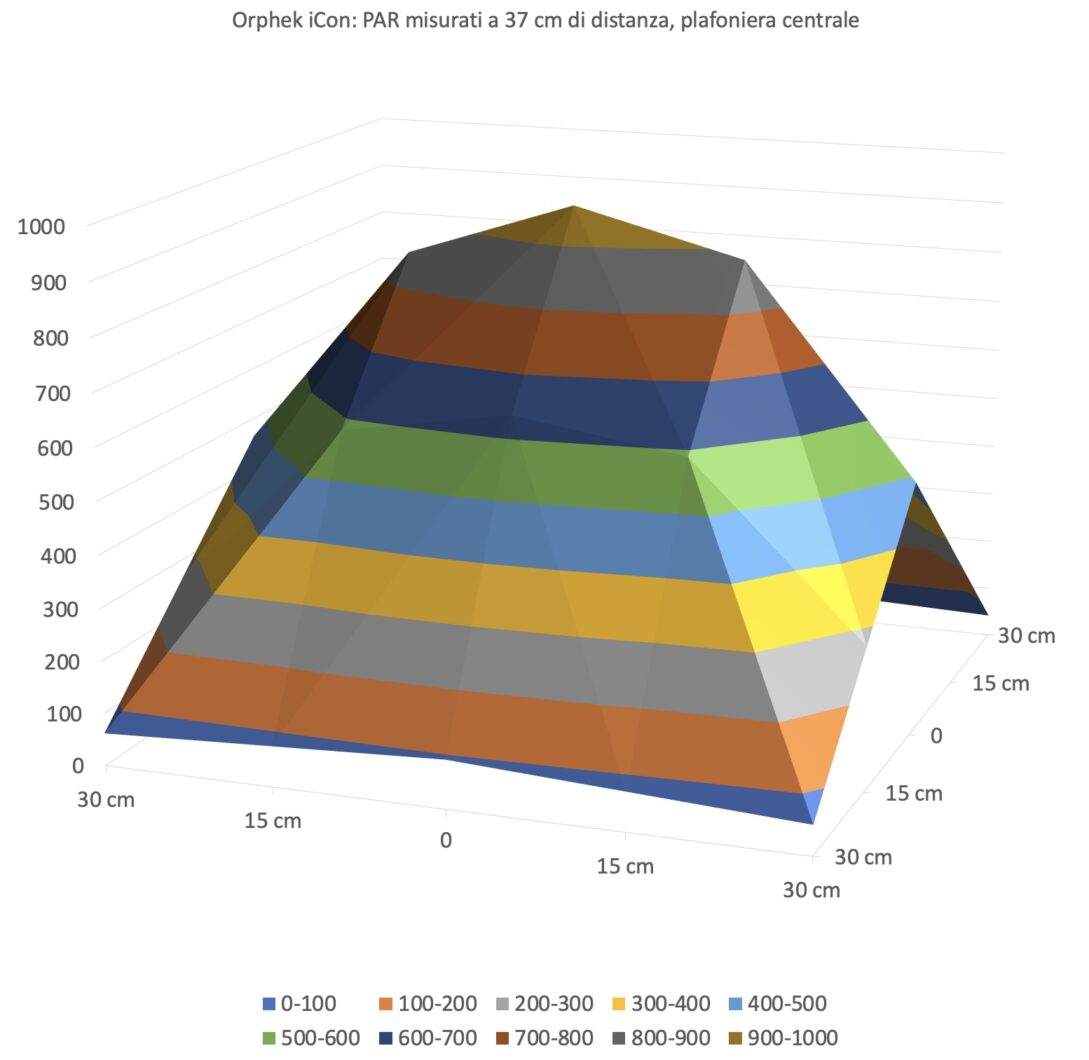 Reseting procedure: Now there is no need to open or disconnect the power supply. The new Atlantik iCon can be reset just by clicking the reset button 4 times.
Improved signal: The new Atlantik iCon can be connected at very long distance and even pass through walls. So the router can be further away in your home.
Atlantik iCon does not need a gateway.
Orphek Atlantik iCon is a Cloud based program, so even if you delete the Orphek Appall your setting are saved. Now it is also available both automatic update for the App and the light system.
Orphek new App. for the Atlantik iCon will continue to be updated and improved for better functionality.
How to upgrade any older version of Atlantik to the newest launch, the Atlantik iCon control system.
We are very excited to share the news today – the launching of another awesome Orphek product that will change your Orphek experience and take it to a higher level!

YES! Like we have been saying all these years, Orphek products are really built to last!!
Orphek Reef Aquarium LED Lighting thinks green! – In this article you will learn about all about Orphek's idea behind the Atlantik upgrades and WEEE certificates.
Orphek offers UPGRADE possibility of its systems. With that said, you should know that when you buy an Orphek LED light solution, such as the Atlantik, you will use the light's body over and over again! It means that if you have the previous versions of Atlantik and Atlantik Compact you can upgrade today to our newest Atlantik model: The Atlantik iCon – Atlantik with intelligent connectivity system.
In the long run you have Orphek Atlantik is the best investment of your money!
Financially speaking, in the end of the day you will notice that by purchasing Orphek products you will be saving money considerably because you will be using the same body over and over again.
How to do it:
Watch video and learn how to upgrade it.
2. Do not forget ! to unplug your unit from the electricity before upgrading your system. We also recommend that you read our electric safety guide again (the one you already have that came with your Atlantik / Atlantik Compact light).
What is the price of the upgrade kit and what included:
iCon System Upgrade Kit – USD$180
1 Pc Board with Wireless/Bluetooth iCon system
4 Speed Controllable fans
1 Reset button
1 Antenna kit
1 Temperature sensor
Screws included
Does the price include shipping?
Yes – Free shipping worldwide express door to door
Do you accept PayPal or Credit Card?
Yes – we will send you a PayPal invoice and you can pay with your PayPal account or credit card.
How can I Order?
Click : Buy Orphek Aquarium LED lighting
Why Orphek recommends to upgrade the unit(s):
Besides the fact that you have already made an excellent choice of being a owner of an Orphek Reef Aquarium LED Lighting Solution, you will now have the best product in the market of reef lighting today!
By upgrading to the new icon system you will be able to use the new free Orphek iCon App., compatible with both IOS and Android.
Your new upgraded Atlantik iCon will have now 6 channels instead of 4.
It will be compatible with both Wi-Fi with Bluetooth support – no Orphek gateway needed.
You will have the first 10,000% dimming control system of the world (0-100% and 0.001-1% for Moon Cycle).
The new system will control the speed of the new fans according to the light percentage for better control cooling.
The new system will give you moon cycle, clouds, acclimation, pre installed program and jelly fish mode.
How to purchase the upgrade kit:
With our Door to Door Express Delivery, your Orphek solution(s) will arrive any place you are!
Ordering / Assistance:
Want to place an order or assistance in finding the best Orphek LED solution?
E-mail us to contact@orphek.com or fill this quick form (all fields required).
Online step by step manual on how to upgrade your PC card (control system):
VERY IMPORTANT – Always unplug your Orphek Atlantik /Atlantik Compact unit from the electricity to upgrade it. Read the electrical safety manual before doing it. And never upgrade your light while functioning.
Installing the Reset Button
You might be also interested in knowing:
ORPHEK'S GROUNDBREAKING INNOVATIONS!
We are the first company:
Commitment to quality & efficiency:
Orphek's quality control systems are developed to guarantee that all our LED lighting solutions will provide extraordinary energy efficiency, minimum environmental damage, and outstanding results (illumination, color & growth).
Come check Orphek Acessories!
Orphek offers solutions for hanging your Atlantik, Atlantik Compact and OR3 Reef LED Lighting Bars and also great lens Kit to take awesome photos of your corals!
If you wish to read about/buy our Orphek Aura Mounting Arms:
Aura High End Acrylic Mounting Arms for Aquarium (Product Page)
If you wish to read about/buy our Orphek Universal Fixing Bracket Kit:
If you wish to read about/buy our Orphek Coral Reef Aquarium Lens Kit: