Lighting the Aquarium Part 7: Photosynthetically Usable Radiation
By Dana Riddle
Photosynthetically Usable Radiation (PUR) is a portion of the spectrum that promotes photosynthesis. It is generally considered to be a subset of Photosynthetically Active Radiation (PAR, defined as that light between 400 and 700nm), but this is only partially correct as some Ultraviolet-A wavelengths, and in some cases, infrared radiation, are useful in the promotion of photosynthesis.
We are taught in grade school that blue and red wavelengths are most useful for use in the photosynthetic process. While true, we tend to discount the importance of other wavelengths. Symbiodinium species (zooxanthellae) contain an accessory pigment called peridinin. Peridinin absorbs light up to about 550 nanometers, thus extending the useful wavelengths well into the green portion of the spectrum.
Figure 1 shows an Action Spectrum of a Symbiodinium species (likely of the pandemic generalist Clades C1 or C3) isolated from a Favia stony coral. An Action Spectrum is a physiological reaction (usually oxygen production) plotted against wavelength of light.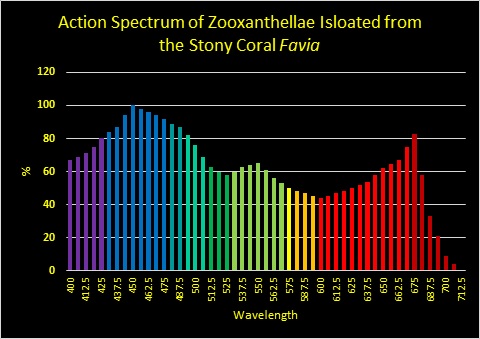 Figure 1.
This Action Spectrum show that blue and red light is important for photosynthesis in a zooxanthella isolated from a stony coral. It also shows the absorption of green light by the accessory pigment peridinin.
In another case – that of the red alga Myriogramme – we see the Action Spectrum is drastically different from that of a Symbiodinium species. See Figure 2.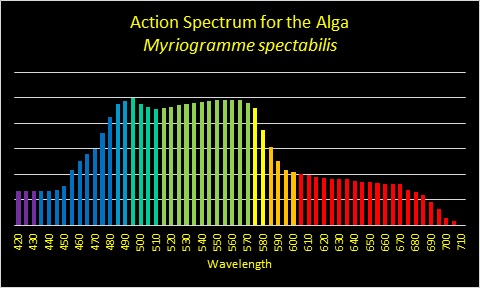 Figure 2.
Figure 2. A quick comparison of the Action Spectra shown in Figures 1 and 2 shows light requirements of two photosynthetic organisms can be very different.
It becomes apparent that there is no universal 'best' light for the promotion of photosynthesis. Thus, aquarium lights that offer spectral tuning are most desirable. LED lights with multi-channel tuning offer the best option of any currently available.
As good as this Action Spectrum information is, we should view it with caution. Action Spectra are determined through use of a device called a monochromator. A monochromator splits broadband radiation into narrow bandwidths hence the procedure using this instrument does not demonstrate the Emerson Enhancement Effect. Discovered by Robert Emerson and colleagues in the 1950's, the Emerson Enhancement Effect found there were two photosystems (I and II), and rates of photosynthesis were highest when plants were simultaneously exposed to red and far-red light.
This begs the question – How do photosynthetic organisms in deeper water, where there are few, if any, red and far-red wavelengths, benefit from the Emerson Enhancement Effect? The answer is they don't.
Fortunately, some of today's LED lighting systems are incorporating diodes that produce broadband spectra that far exceed that of early units that produced only blue and white light (as a result of blue light exciting tri-band phosphors.)
Next time, we'll look at Photosynthetically Usable Radiation produced by individual LEDs in Orphek's Atlantik V4 luminaire. Since PAR and PUR must be considered in tandem, we'll look at that as well.
Lighting the Reef Aquarium Part 6 – Coral Coloration – A Primer
Subscribe now for more news !
fill this quick form (all fields required).
[contact-form-7 id="1397″ title="Contact form 1″]
read more:
Lighting the Reef Aquarium Part 3- The Myth of Corals Requiring Unlimited Amounts of Light