Australian Minderoo Foundation and The Flourishing Oceans Initiative and Atlantik iCon Reef LED upgrade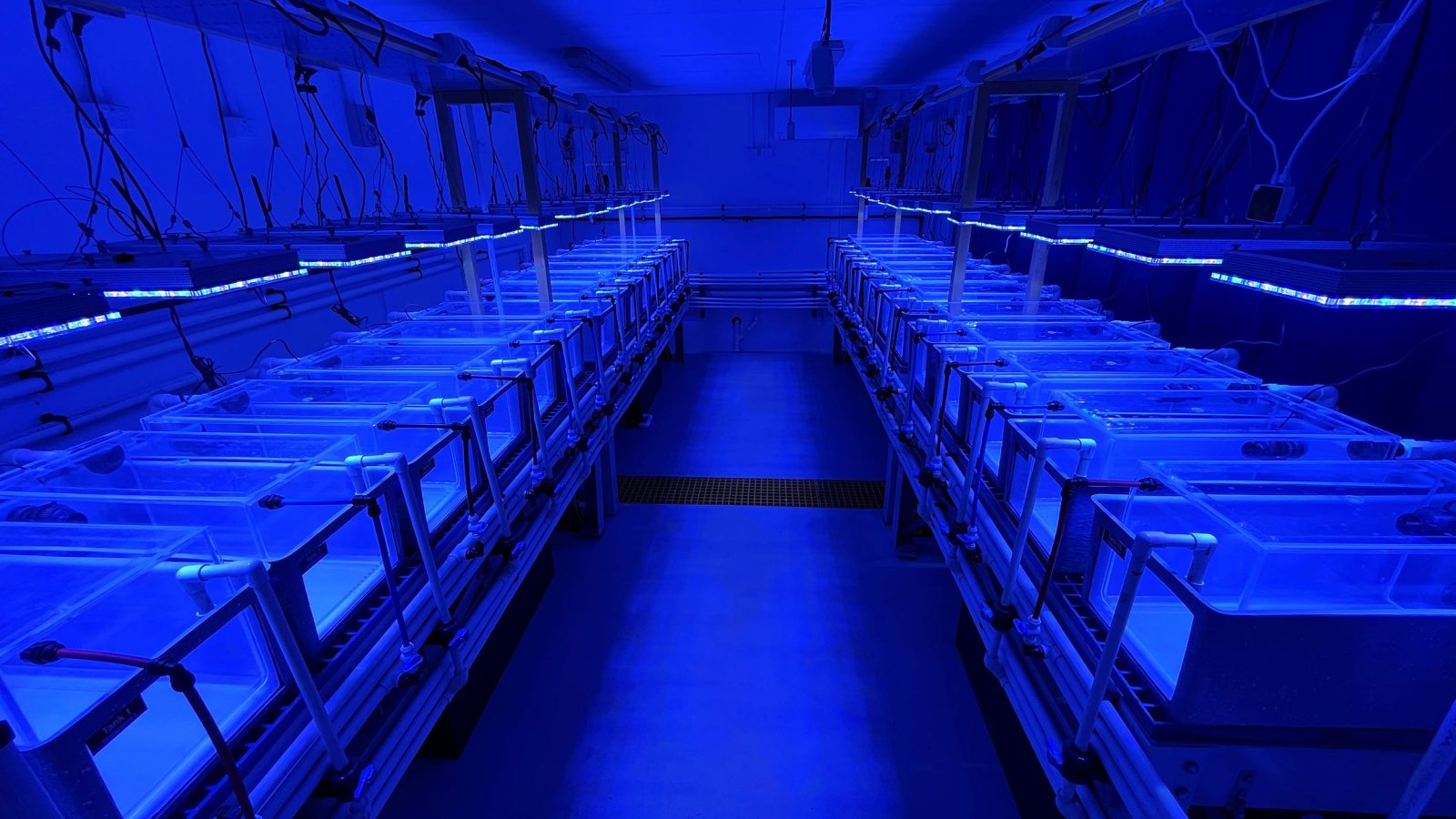 Orphek has established a dominant presence in Australia for many years and has been chosen as the LED lighting supplier for numerous significant projects, research centers, public venues and coral farms, due to Orphek's exceptional quality products and cutting-edge technologies.
Our last article took us to the waters of Darwin, Cairns, and Bundaberg, where we had the privilege of exploring the esteemed facilities of Monsoon Aquatics. As we embarked on this journey, it became evident that Australia's leadership in various areas of ocean research is unparalleled.
In continuation of our exploration, we are excited to introduce an Australian initiative called The Flourishing Oceans (MERL) by The Minderoo Foundation.
Within this context, we will delve into their impactful contributions to marine research and examine their valued partnership with Orphek, including our groundbreaking Atlantik iCon LED lighting solution.
About the Minderoo Foundation, The Flourishing Oceans initiative & Orphek expertise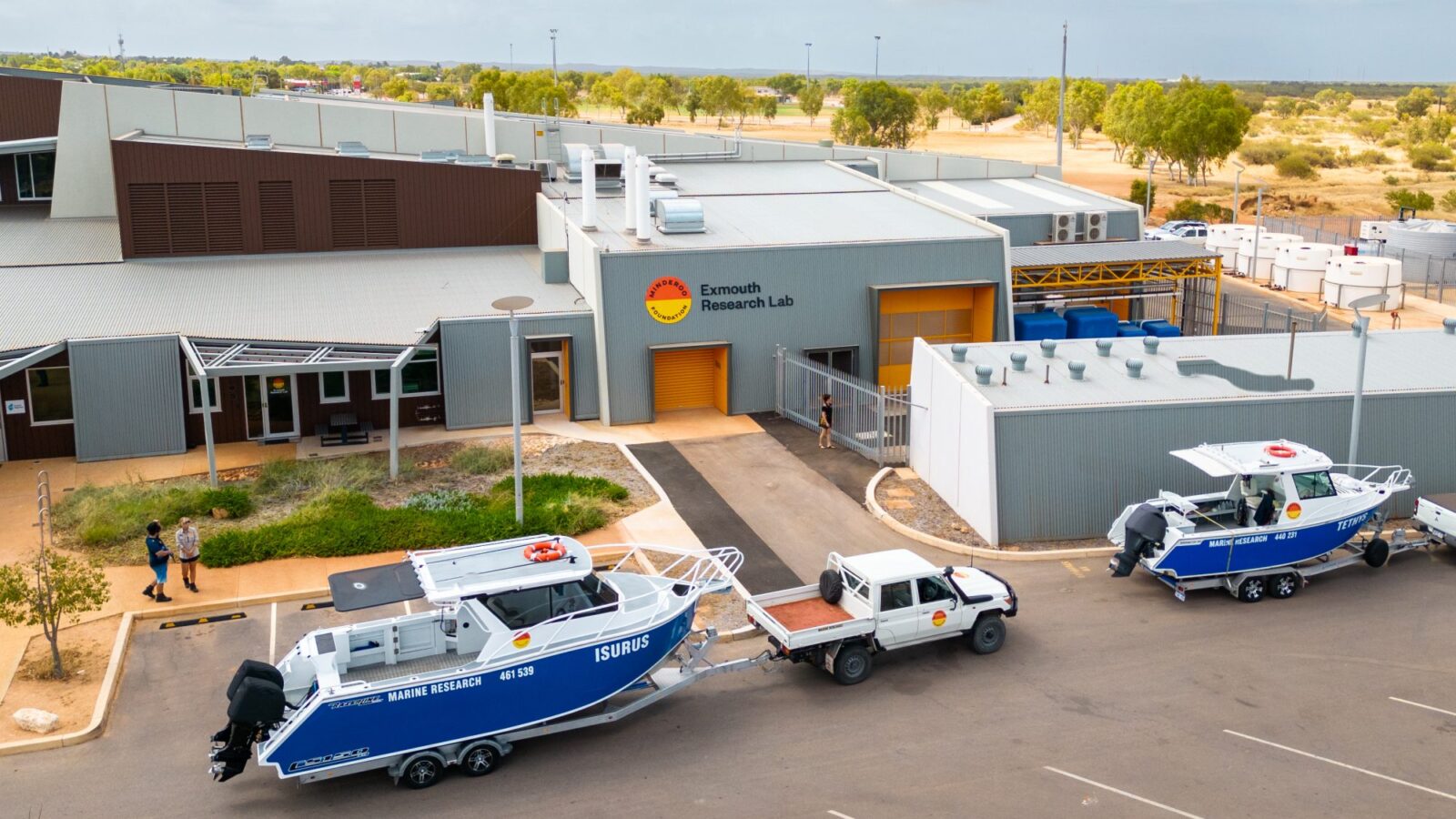 What is the Minderoo Foundation

The Minderoo Foundation is a modern philanthropic organization. Independent, forward thinking and seeking effective, scalable solutions, through a collaborative, evidence-based approach, striving to solve major global challenges through their key initiatives.
What is the Flourishing Oceans Initiative
The Flourishing Oceans initiative was launched at Minderoo Foundation to engage the best science and latest technologies to halt damage and support our ocean to recover.
What and how they do it
Using the best existing data sources, and with an investment in new data and methods, the Minderoo Foundation is developing a Global Fishing Index to help understand the problem of overfishing and the driving forces behind it.
They are committed to a clean ocean, advocating for a circular economy, and an industry-led economic solution to advance a future with no plastic waste and excess heat.
They advocate for protecting areas critical to ocean recovery and work with international allies to conserve key habitats across the globe.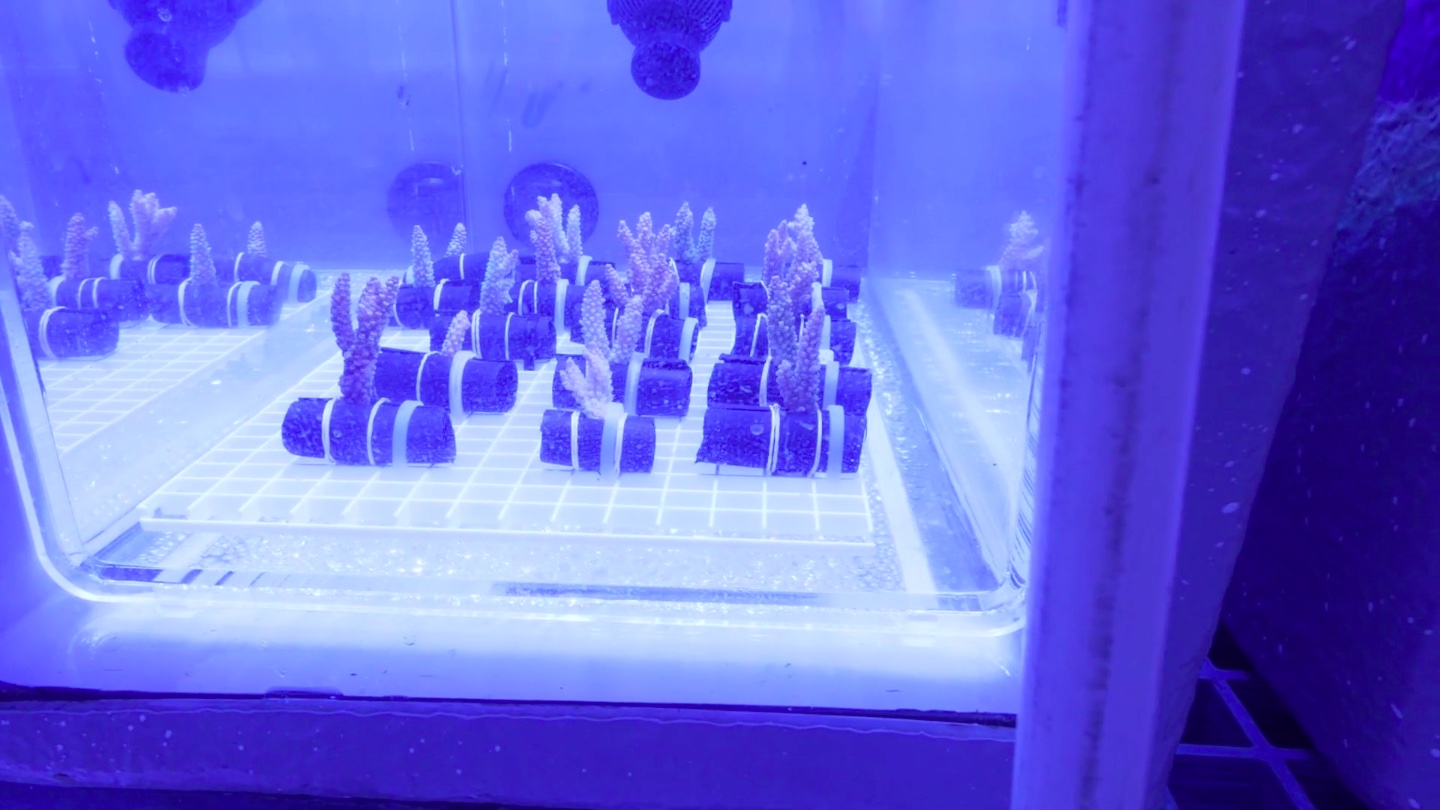 Most importantly, they are committed to making Western Australia a hub for world-class marine conservation research, by providing state-of-the-art facilities to Australian and international scientists.
Orphek technologies
Orphek was chosen as the main supplier of LED lighting solutions to The Flourishing Oceans project due to its long settled worldwide reputation (and in the Australian continent) and because this project demands the most advanced technologies available in the market.
And Orphek Atlantik iCon LED lighting solution relying on decades of academic research, developed and engineered with The One and Only Real Moon Cycle in LED Reef lighting Solutions reproducing Nature at its fullest.
Atlantik iCon is also the best LED lighting technology for coral growth, health, color, spawning and biological clock correction.
Additionally, Orphek develops products and solutions that answer to the needs of the living creatures in captive aquariums, delivering perfect integration of light sources with Nature and all architectural elements of any project, no matter how complex they are and the challenges they face.
Where you will find Orphek LED Lighting Solutions
So, let's dive into their tanks and explore their facilities!
THER EXMOUTH RESEARCH LAB (MERL)
The Minderoo Foundation Exmouth Research Lab provides scientists with state-of-the-art facilities enabling high quality, high-impact marine research, on the doorstep of the World Heritage listed Ningaloo Reef.
The lab is attracting the world's best marine researchers and scientists to the Ningaloo coast to study and improve ocean health and resilience.
This unique facility achieves the level of sophisticated environment control required to simulate conditions associated with climate change from temperature and acidification. It also supports the latest molecular testing equipment. Combining the aquaria and genetics lab under one roof has already allowed critical research into identifying heat-resilient coral that can survive damaging heatwaves. The molecular laboratory is also enabling environmental DNA fingerprinting to monitor endangered sea snakes and wedgefish, and unlock forensic techniques to reveal the movements and behavior of whale sharks.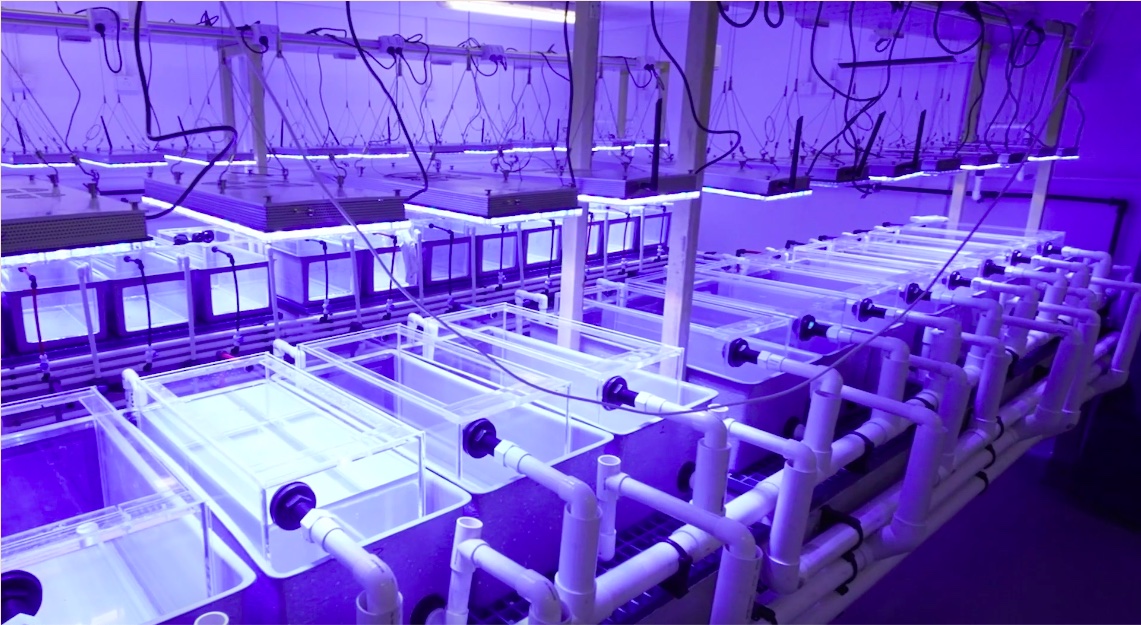 Orphek Atlantik iCon LED Lighting solution at MERL
Their facilities were using our previous Atlantik version, the Atlantik V4, that was upgraded to our latest generation of the Atlantik series – The Atlantik iCon (to understand about upgrading you will find in the end of this article all about it – don't miss it!).
In the following photographs you will see our Atlantik iCon units installed over their research tanks.
What is important to highlight is that Atlantik iCon LED lighting solution offers cutting-edge technology with impressive PAR reading, perfect spread and minimum spillage of light.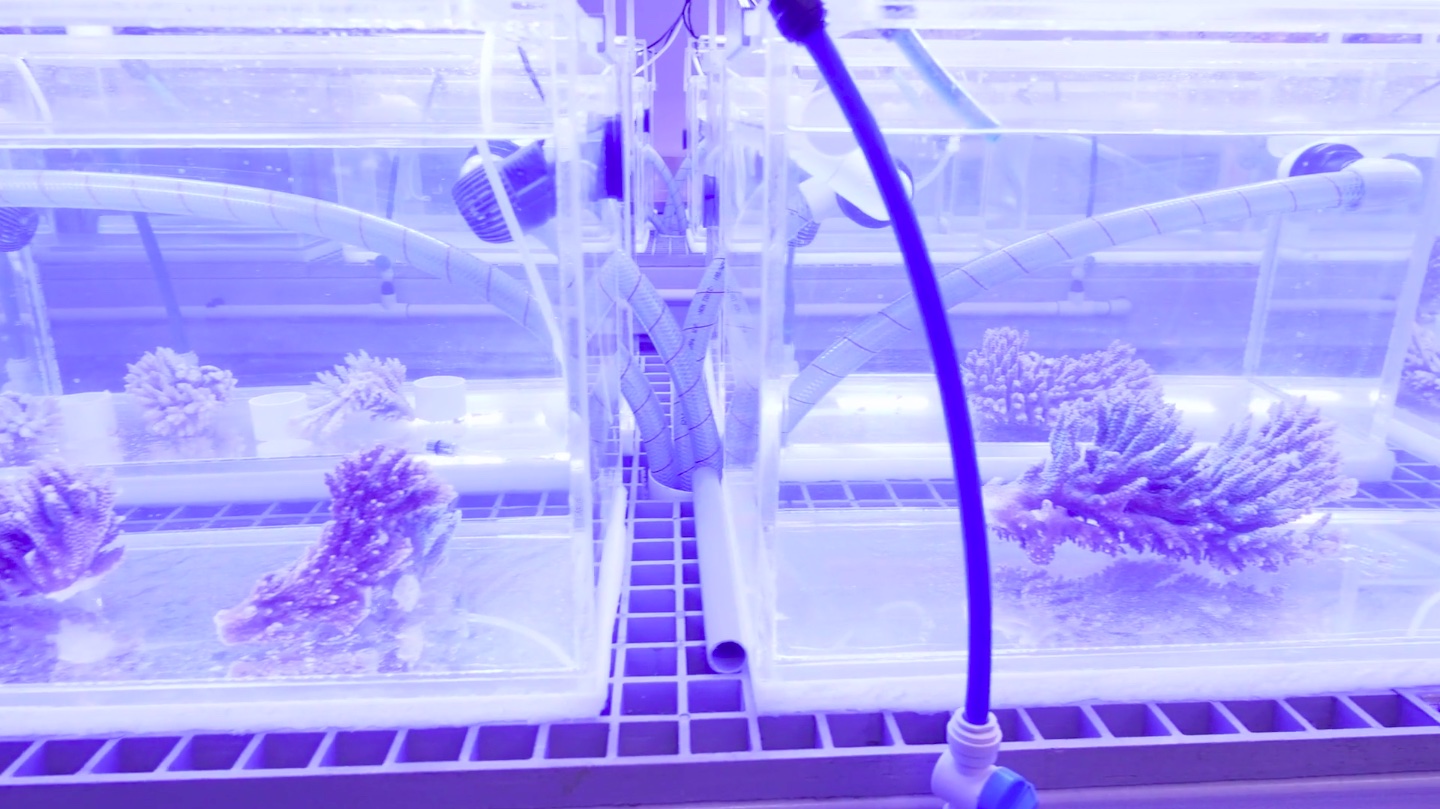 Most importantly, The Atlantik iCon is equipped with the most advanced features and intelligent control, offering unparalleled control over lighting parameters.
From color temperature adjustment to customizable intensity and timing, researchers all over the world can fine-tune the lighting to mimic natural conditions and optimize health and growth of marine creatures.
Alternatively, researchers can tailor the lighting settings to align with their specific research goals.
Facilities at MERL:
Controlled Environment Room
Open Laboratory
Outdoor Experiment Area
Molecular (or Dry) Laboratory
Wet Laboratory, Workshop and Office
Accommodation
Boat
Vehicle
Take a video tour in their facilities by clicking on the link and watch our Atlantik iCon units too.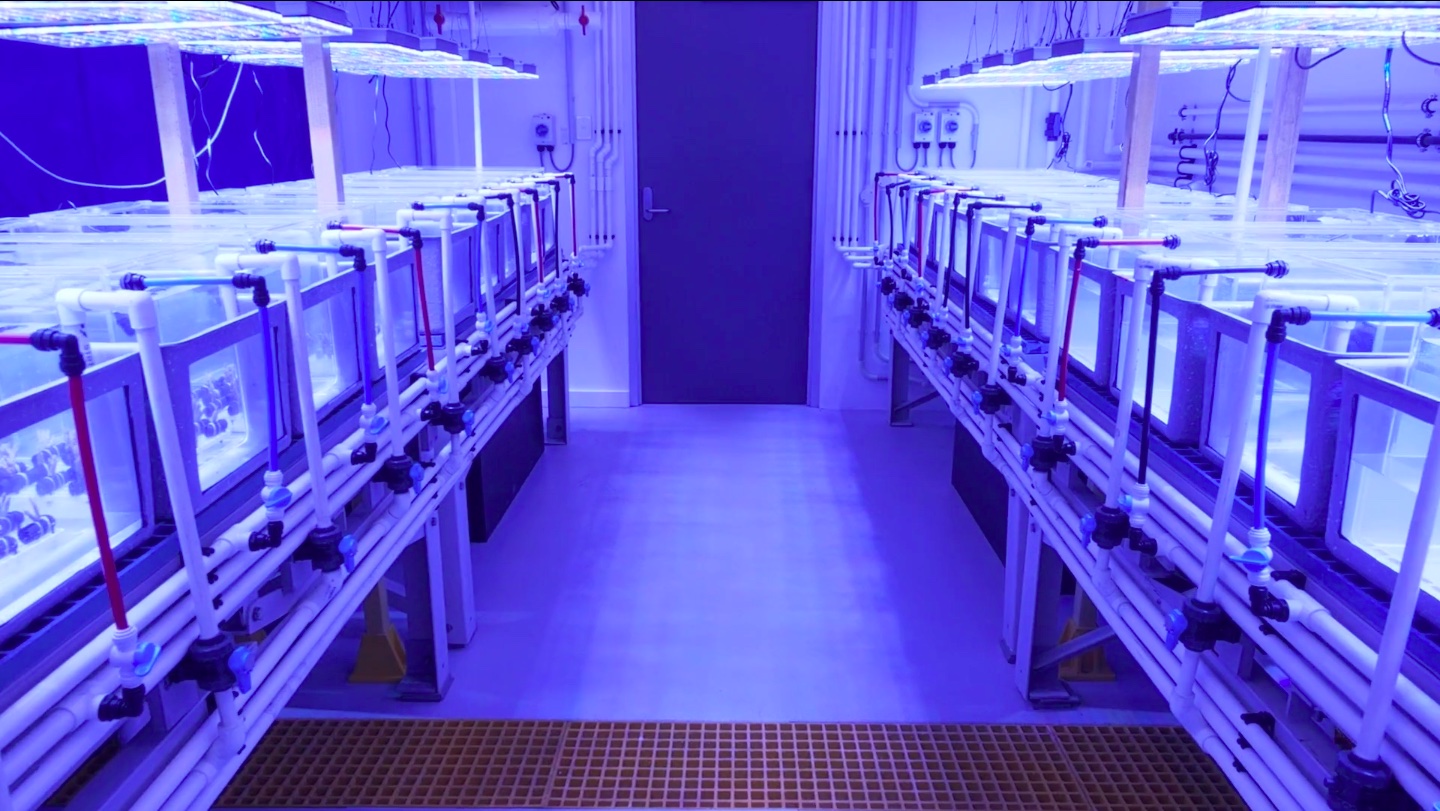 Controlled Environment Room
The controlled environment room (CE room) has flow-through temperature-controlled water and is configured into two separate rooms containing:
1. A multi-factor experimental room comprised of 27 x 50L aquaria. The room has three temperature control systems each with nine tanks, allowing a second three level factor to be implemented while retaining three replicates in each temperature factor combination (i.e., a 3 x 3 x 3 design).
Aquaria are housed in temperature controlled water baths, allowing in tank temperatures to be maintained at ±0.25°C (or better) of the set value, within the range of 22°C to 36°C. Each aquaria has an in tank wavemaker and an Orphek Atlantik V4 LED light Upgrade to Atlantik iCon situated above. These lights provide the capacity to program light regimes.
2. Larval rearing room comprising of 2 x 500L and 4 x 80L conical larval tanks. A temperature control system provides water at a set temperature to the entire room. There is also a work bench with multiple seawater outlets.
Orphek Atlantik iCon at Experimental room at the MERL.
Open Laboratory Area
The open laboratory area comprises two separate areas:
1. Three 1200L holding systems. Each holding system is temperature controlled to an accuracy of up to ±0. 5°C of the set point with a recirculation flow of 4000L per hour and three full water exchanges a day (water exchange can be increased but this decreases temperature accuracy). The system has programable wavemakers to create changing turbulent flow and 4 x Orphek Atlantik V4 lights Upgraded to Atlantik iCon, with the capacity to program light regimes.
2. 8 x benches that can each hold:
8 x 50L aquaria
4 x 100L aquaria
2 x 200L aquaria
8 x 60L kreisal aquaria
or any combination of the above
All benches are set up as flow through systems supplied by 38°C, ambient water temperature and 20°C seawater that can be manually mixed to a desired temperature manually. There are wavemakers and programmable lights suit all tanks.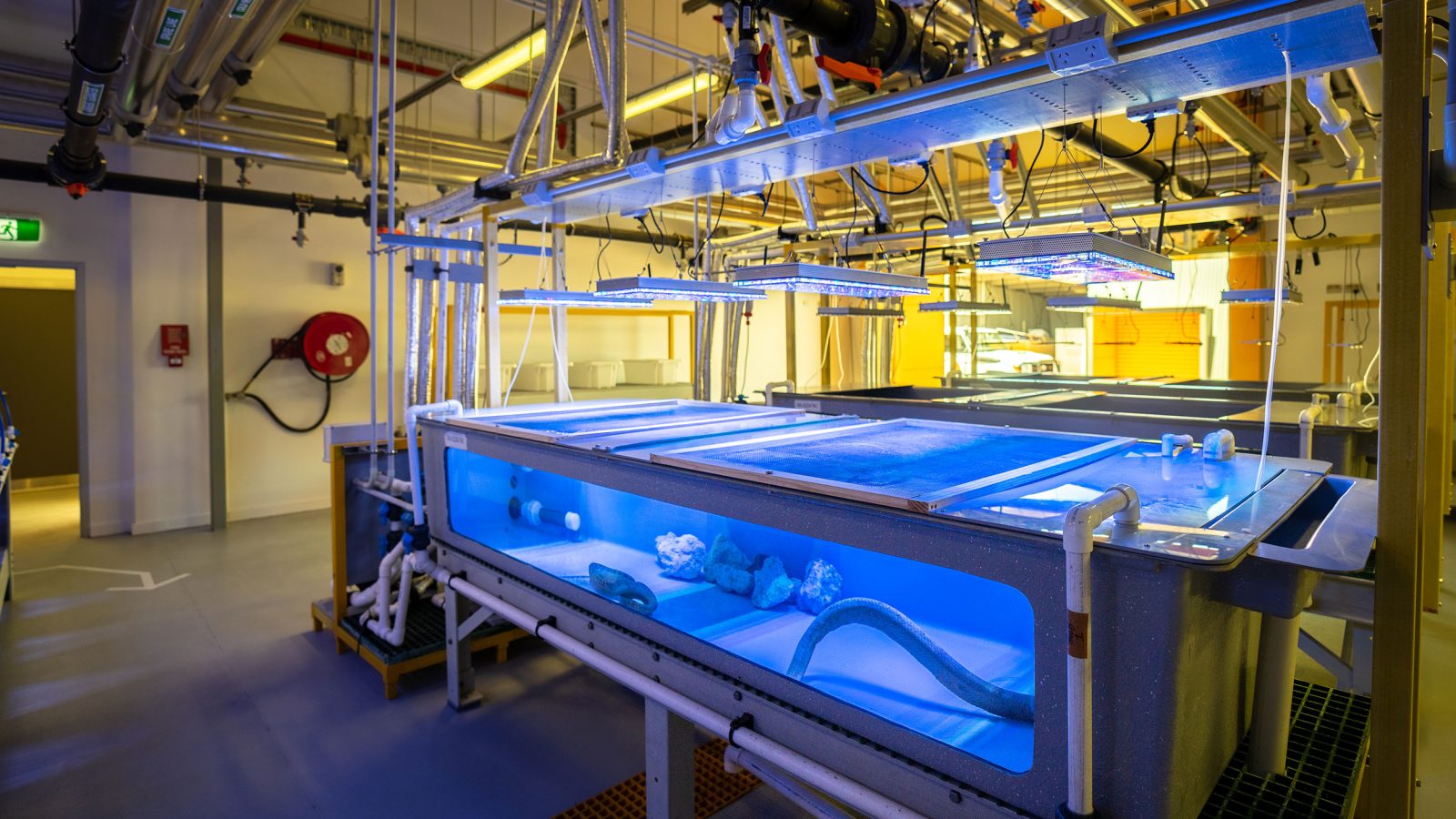 4x Atlantik iCon Over 1200L holding systems in the open laboratory area at the MERL.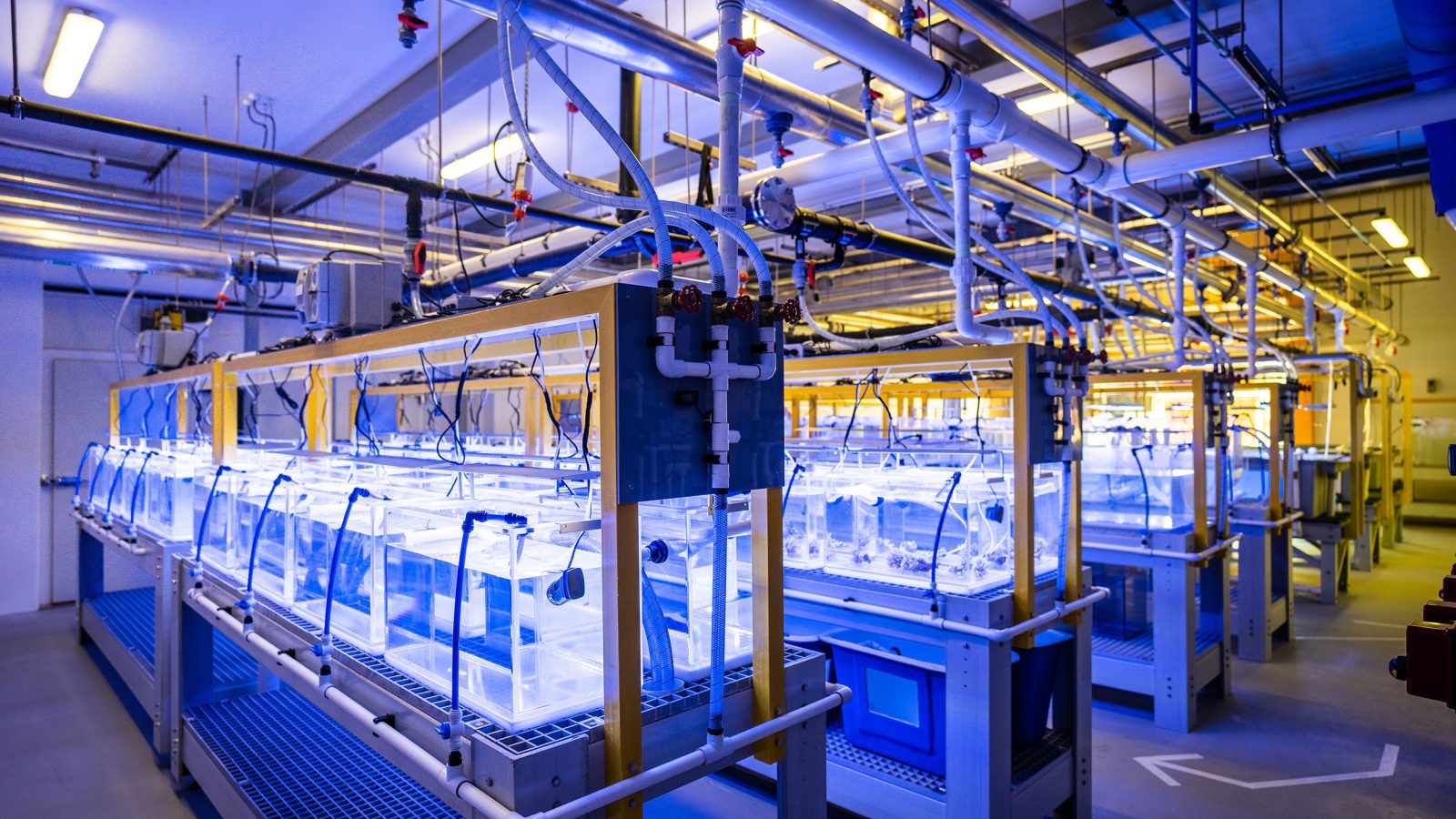 Molecular (Dry) Laboratory
Zeiss Stemi 305 dissecting and Ziess Primo Star compound microscopes, both with Axiocam 208 colour camera attachments.
DNA extraction, quantification and amplification capabilities (instruments including QuantStudio, nanodrop spectrophotometer, eGel electrophoresis and imaging).
PCR thermal cycler (ProFlex PCR machine).
Eppendorf pipettes, 10 microl, 20 microl, 200 microl and 1000 microl, plus 10 microl multichannel pipette (8 channels).
Lab coats, gloves, safety glasses provided.
General consumables provided (plastic ware, glassware, ethanol, millipore water).
Sample storage available (fridge, -20 freezer and -80 freezer).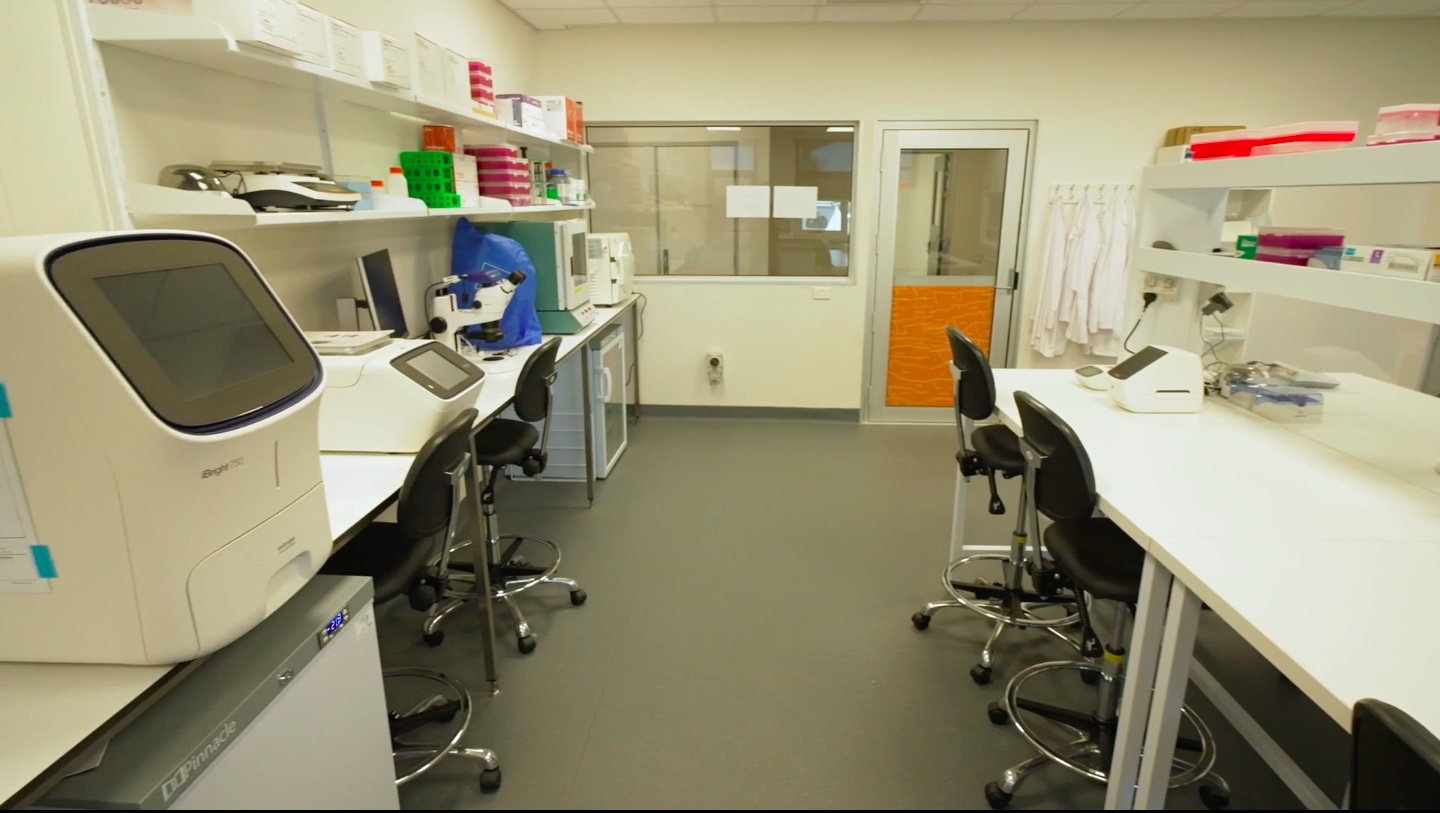 The Minderoo Foundation, The Flourishing Oceans & Orphek dedication to environmental conservation

We all have an obligation to ensure the vast seas under Australian control are managed sustainably.
With the motto Together we protect Nature's Biodiversity for generations to come, Orphek exemplifies a deep love for nature and a strong commitment to the environment.
Our product development is driven by a sincere desire to make a positive and meaningful impact on people's lives.
In line with this philosophy, Orphek takes great pride in being a trusted supplier of The Minderoo Foundation / The Flourishing Oceans initiative and is thrilled to contribute as a team player in preserving marine life for future generations.
Special thank you note
Orphek wishes to express its gratitude to The Minderoo Foundation and MRL researchers, marine scientists, engineers and philanthropists for trusting Orphek's expertise*.
* Orphek expertise is to develop, customize and deliver LED lighting solutions for lighting designs projects involving any biological need of a wide range of organisms coming from different types of habitat and geographic zones, while meeting both the architectural aesthetics desired and entrepreneurship budgets and goals.
Latest articles about Atlantik iCon:
Latest articles Orphek in Australia
How can I order Orphek Atlantik iCon lights?

Orphek offers you two ways of ordering your Atlantik iCon:
Go to STORE to buy in our online shop

Orphek online shop that is a brand new shopping experience for Orphek products in many languages, many currencies and forms of payment. Our online shop offers free consultancy from our sales representative near your location. We offer Free shipping – With our Door to Door worldwide Express Delivery.
Atlantik iCon Applications:
SPS/LPS coral reef salted water tanks
Designed to enhance beauty of both natural and synthetic compositions!
Public venues / Private aquariums
Indoors
One unit is perfect for 48″ x 30″, 120cm x 75cm SPS/LPS Corals reef aquariums
Perfect for giving your tank the natural look, mimicking nature at its fullest
Perfect for coral farming
Atlantik iCon comes with incredible features:
Intelligent Connectivity – friendly technology, operating through Orphek awesome new App., compatible with both IOS and Android, voice control and many other cool features.
Wi-Fi / Bluetooth – with iCloud support, 5G internet connectivity, high speed response, extra data security.
10,000% dimming control system – never offered in the market before!
78 customized high quality, high efficiency 5w Dual-Chip power LEDs – total of 156 individual LEDs Chip.
10 optimized different types of Dual chip 5W wide range LEDs for maximum photochemical efficiency.
26 glass lens for all UV/violet LEDS – no yellowing over the time!
Plug and play technology – effortless part's replacement for simple and easy light maintenance.
Pre-installed program for optimal coral pop color & growth
Wide convex 120 degree lens
Customization: For Deep Aquarium 90 / 60 / 45 / 15 / and 5 degree lens
Mean well Fan-less IP65 power supply
New additional awesome features for your corals and jellyfish
Six separated control and programming channels
Pre-installed program for optimal coral pop color & growth
New improved heat dissipation and cooling system & 4 fans
Improved internal lens to make sure you are getting the best Orphek LEDs!
Extra data security

Combine Orphek products with Atlantik iCon:
Atlantik iCon Upgrades
YES! Orphek products are built to last!!
Orphek offers UPGRADE possibility of its systems. That means that you will use the same Atlantik body over and over again! It means that if you have the previous versions of Atlantik you can upgrade to our newest Atlantik model: The Atlantik iCon.
What can you upgrade?
Orphek hanging solutions
Orphek offers many options for hanging/mounting its LED Solutions. Click HERE / HERE and HERE to get to know them!
---
Check our groundbreaking innovations!
We are the first and only company in the world offering 10,000% dimming control system (0-100% and 0.001-1% for Moon Cycle)!
First and only company relying on decades of academic research to develop and engineer the the One and Only Real Moon Cycle in LED Reef lighting Solutions reproducing Nature at its fullest.
First and only company developing the best technology for coral growth, health, color, spawning and biological clock correction.
First and only company offering lens adjustment and LEDs substitution without loosing waterproof protection/ customized power supply for best electricity transfer and stability – Orphek patented technologies.
First and only company developing LED lighting solutions focused on enhancing virtual and augmented realities.
First and only company developing and offering a smart device that allows aquarists to create their own fixture.
First and only company developing and offering a smart device that allows aquarists to allows you to program, control, monitor, dim and integrate all Orphek iCon LED solutions together at the same time.
We are the first company to develop "pop it up" spectrum technology for coral color enhancing.
First company to introduce Aquarium LED lighting Internet of Things (IoT) technology.
First company to develop solutions to deliver light spectrum for depths over 15 meters.
First company to develop and offer true UV/violet LEDs in reef aquariums (since 2012!).
First company that provides a wide spectrum red without using normal 660nm and 640nm LEDs.
First company making its own wide spectrum blue LEDs.
First and only company to make its own proprietary white UV LEDs.
First company to use high Kelvin white LEDs.
First company to make 100-watt matrix multicolor LED chips and first to have the technology to customize the chip to any Kelvin temperature desired.
---
We would like to invite you to browse our website and participate with your Orphek experience.
Let us know about your tank and share it with other hobbyists in Orphek Facebook Group and Instagram!
Sharing is very easy! All you have to do is to send us the basic information about your tank, usually starting from the beginning (when you started your tank), what are you running in the tank, the living creatures you have in your tank and of course, pictures of the tank and of your corals.