How to upgrade an older version of Atlantik to the Atlantik iCon control system
YES! Orphek products are built to last!!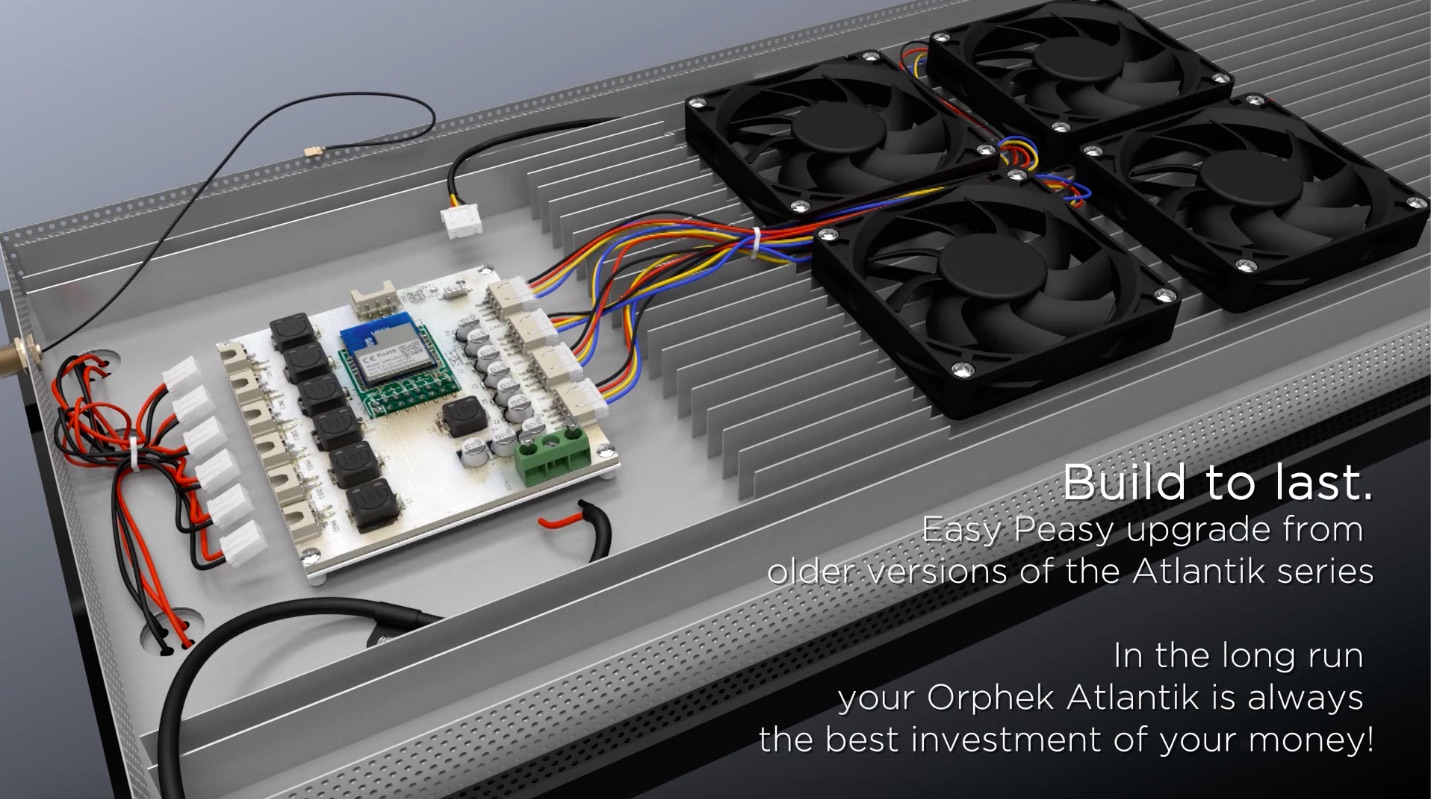 Orphek offers UPGRADE possibility of its systems. That means that you will use the same Atlantik body over and over again! It means that if you have the previous versions of Atlantik and Atlantik Compact you can upgrade to our newest Atlantik model: The Atlantik iCon.
WHAT'S NEW
NEW TECHNOLOGY COMES WITH AN AWESOME NEW ORPHEK APP.
Developed with a friendly technology both easy and fun to use, the new Orphek App. is compatible with both IOS and Android, with iCloud support, voice control and many other cool features!
Wi-Fi Supported by Bluetooth
CONNECTIVITY FASTER THAN EVER BEFORE
Now you can now connect, monitor and program your light(s) in an effortless and faster way via Wi-Fi system having Bluetooth support, without the need of a gateway, from any place in the world!
Compatible with Wi-Fi/5G internet connectivity
With high speed light response to the commands given by the App.
Extra data security – your information extremely secured!
Advanced Dimming Control
THE FINE TUNING YOU HAVE NEVER EXPECTED!
Orphek offers in Atlantik iCon full progressive dimming capacity in all channels and it is the first and only company in the world offering 1000% dimming control system (0-100% and 0.1-1% for Moon Cycle)!
Six separated control and programming channels – Orphek is giving you 2 more channels control than the previous generation!
Moon cycle, clouds, acclimation, jelly fish modes in addition to your own programming – New additional awesome features for your corals and jellyfish!
Pre-installed program for optimal coral pop color & growth – now you have THE program. Orphek brings you one program offering a decade of researches combine to one single most advanced program for color pop & coral growth. Of course we believe in custom made products and preferences, so you can also create your very own programs.
AND MORE…
Built- in wireless worldwide remote and Local programming, control and monitoring
Ability to program multiple Atlantik iCon units individually, in groups or in unison.
Large storage with capacity for additional programs.
Watch this video and learn how to upgrade to Atlantik iCon control system.
Do not forget to unplug your unit from the electricity before upgrading your system.
What is the price of the upgrade kit and what included:
iCon System Upgrade Kit – USD$180
1 Pc Board with Wireless/Bluetooth iCon system
4 Speed Controllable fans
1 Reset button
1 Antenna kit
1 Temperature sensor
Screws included
Does the price include shipping?
Yes – Free shipping worldwide express door to door
Do you accept PayPal or Credit Card?
Yes – we will send you a PayPal invoice and you can pay with your PayPal account or credit card.
How can I Order?
Click : Buy Orphek Aquarium LED lighting
Why Orphek recommends to upgrade the unit(s):
Besides the fact that you have already made an excellent choice of being a owner of an Orphek Reef Aquarium LED Lighting Solution, you will now have the best product in the market of reef lighting today!
By upgrading to the new icon system you will be able to use the new free Orphek App., compatible with both IOS and Android.
Your new upgraded Atlantik iCon will have now 6 channels instead of 4.
It will be compatible with both Wi-Fi with Bluetooth support – no Orphek gateway needed.
You will have the first 1000% dimming control system of the world (0-100% and 0.1-1% ).
The new system will control the speed of the new fans according to the light percentage for better control cooling.
The new system will give you moon cycle, clouds, acclimation, pre installed program and jelly fish mode.
How to purchase the upgrade kit:
With our Door to Door Express Delivery, your Orphek solution(s) will arrive any place you are!
Ordering / Assistance:
Want to place an order or assistance in finding the best Orphek LED solution?
E-mail us to contact@orphek.com or fill this quick form (all fields required).
Online step by step manual on how to upgrade your PC card (control system):
VERY IMPORTANT – Always unplug your Orphek Atlantik unit from the electricity to upgrade it. Read the electrical safety manual before doing it. And never upgrade your light while functioning.
You will learn how to upgrade your Atlantik unit in 13 steps including how to place correctly all the fans and how to install the reset button in 3 steps (optional).
STEP 1: Before upgrading your light, please disconnected it from the electricity.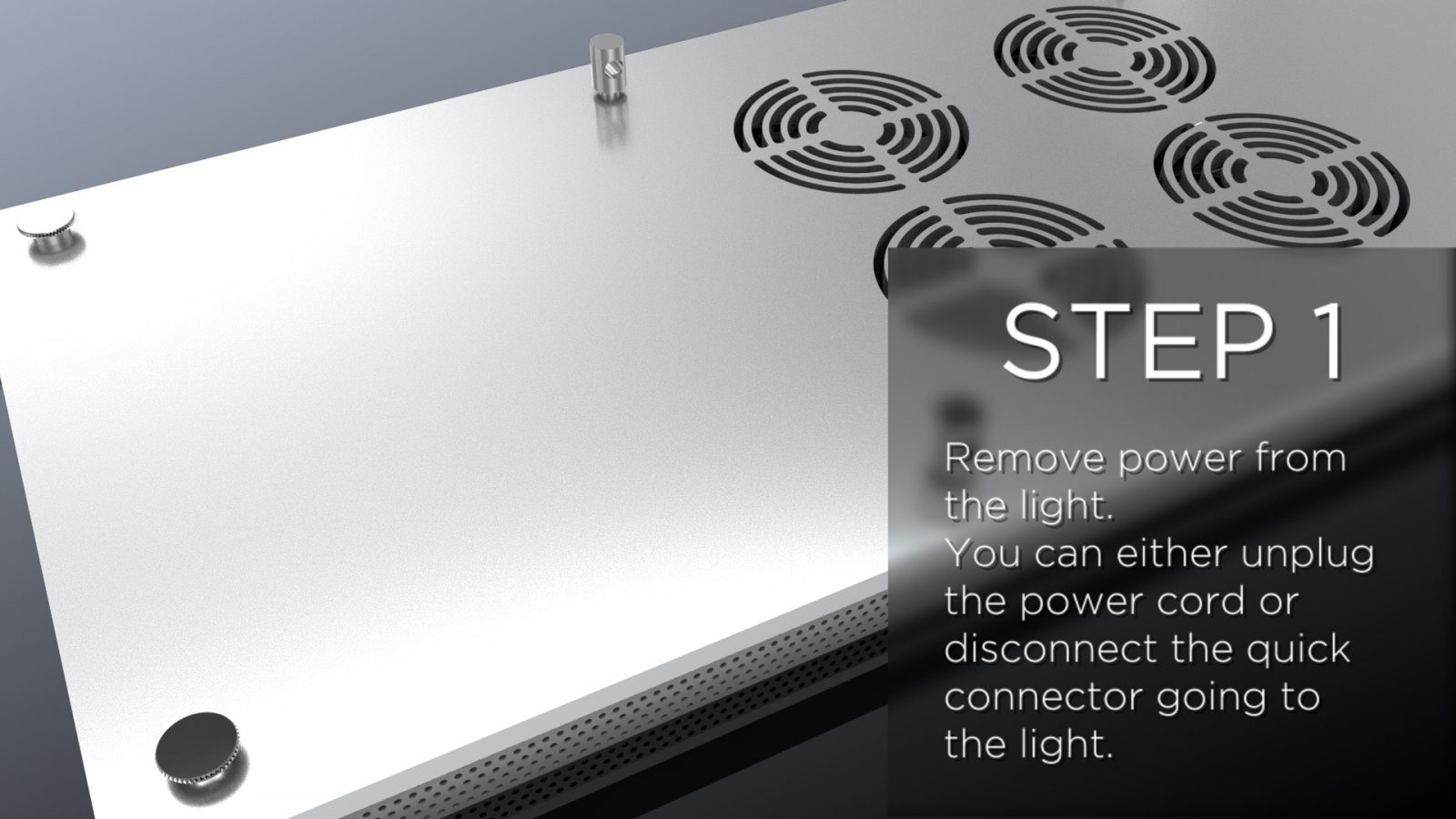 STEP 2: Remove the antenna wire from the wi-fi module by carefully detaching the small wire plug from the wi-fi module.
Please notice that Orphek has shipped you a new antenna kit. Replace your antenna with the new Atlantik iCon antenna.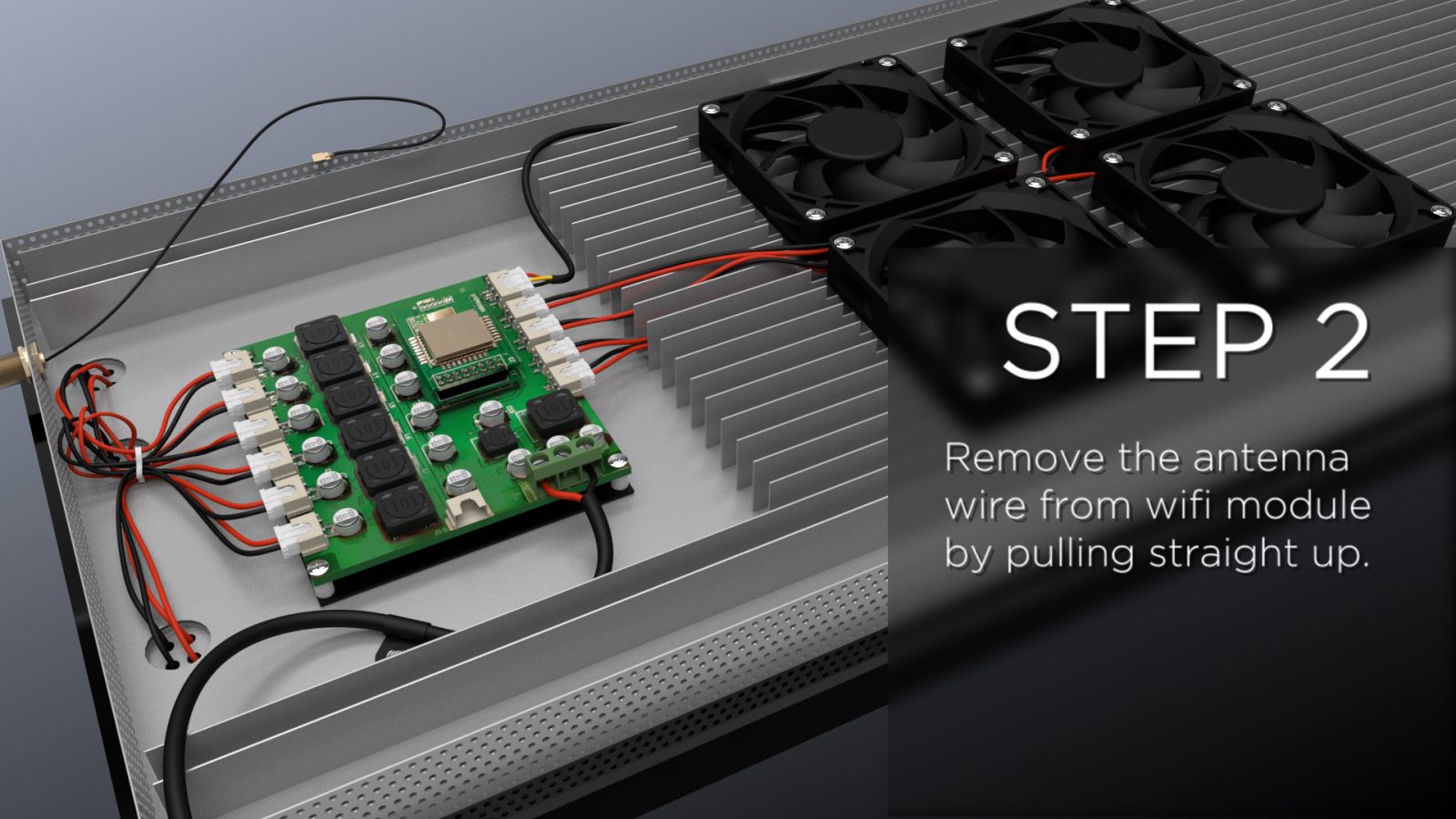 STEP 3: Remove the power wires from the PC card.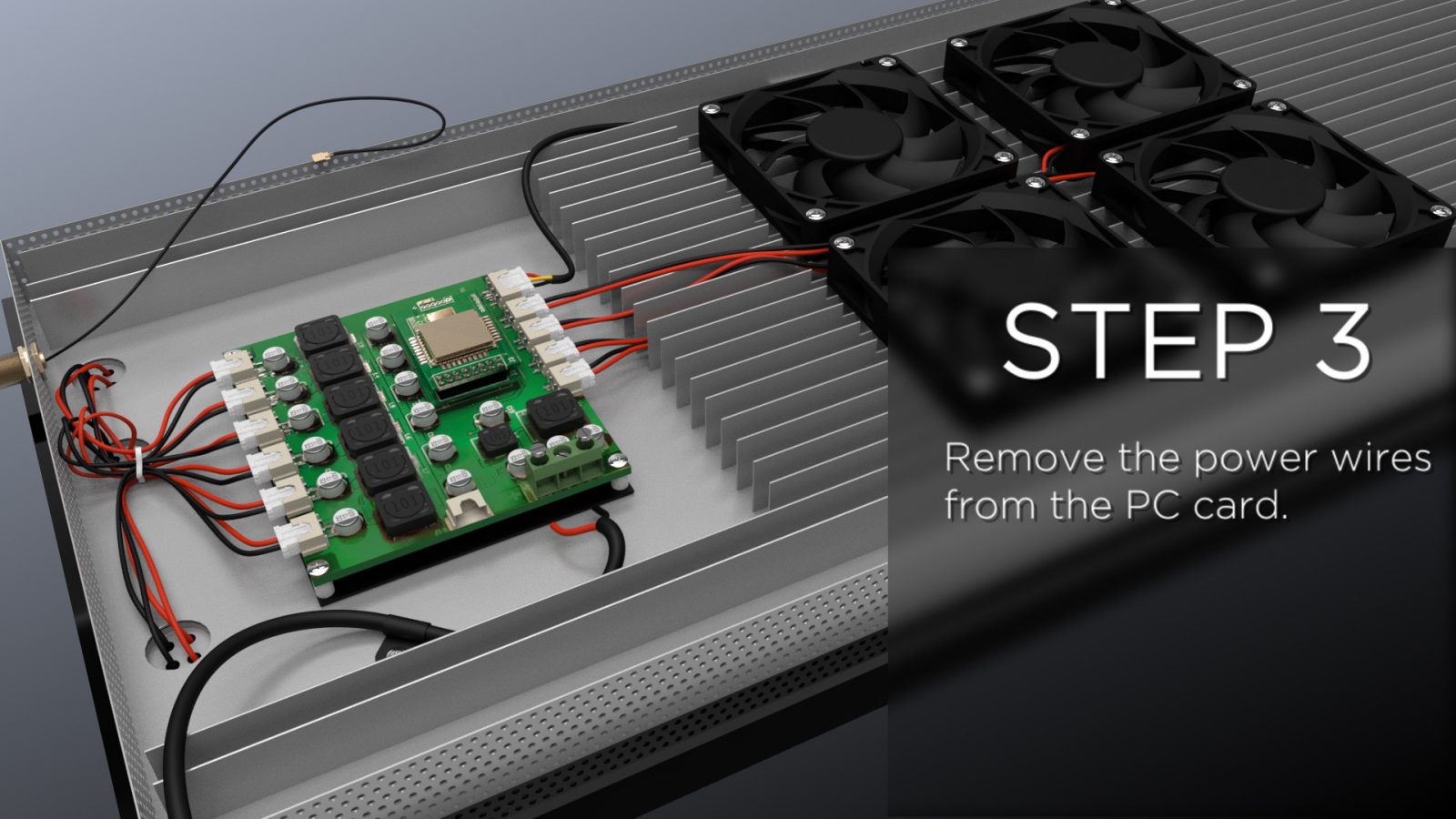 STEP 4: Remove the temperature sensor connector from the PC card.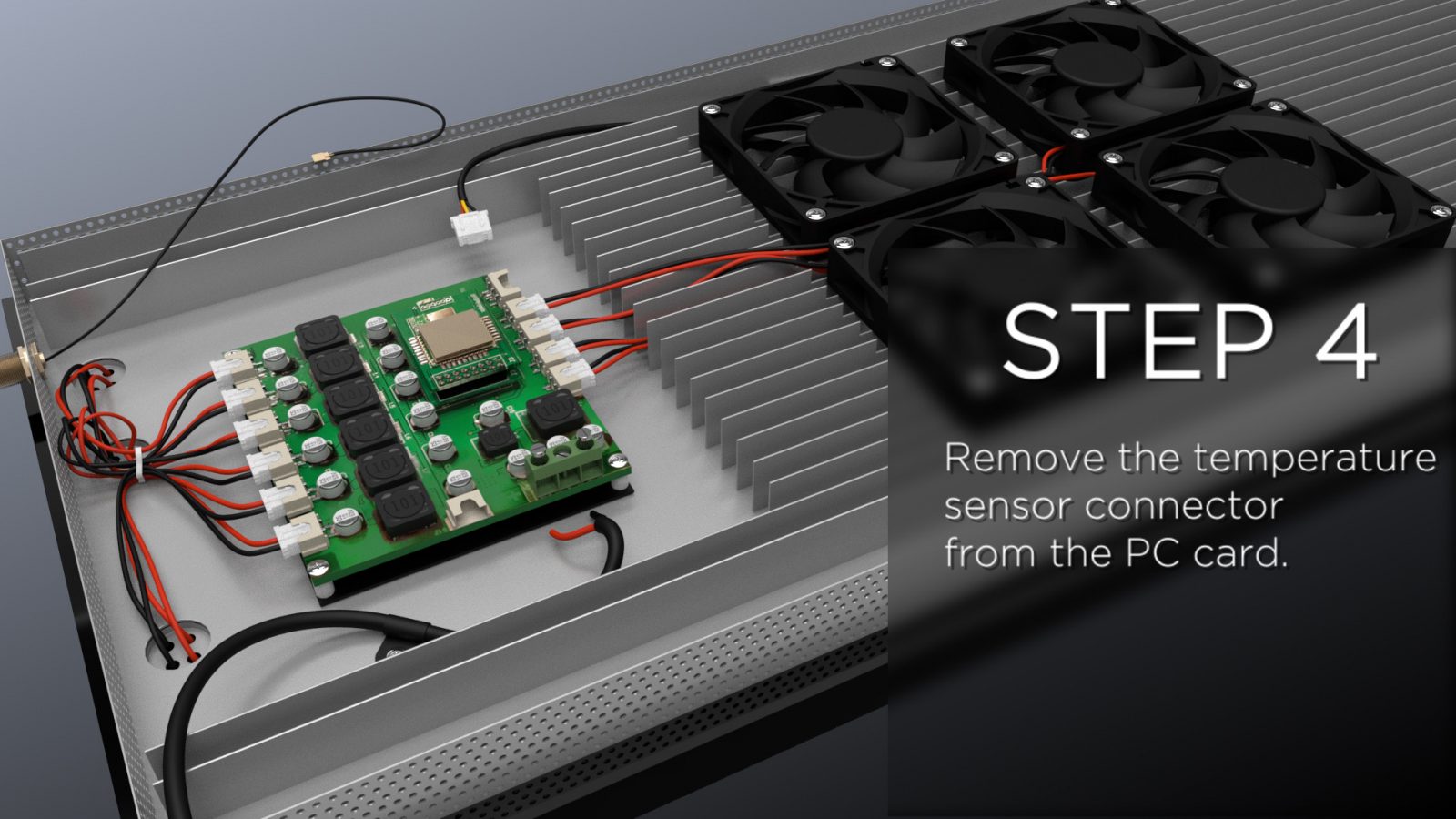 STEP 5: Remove all four fan connectors from the PC card.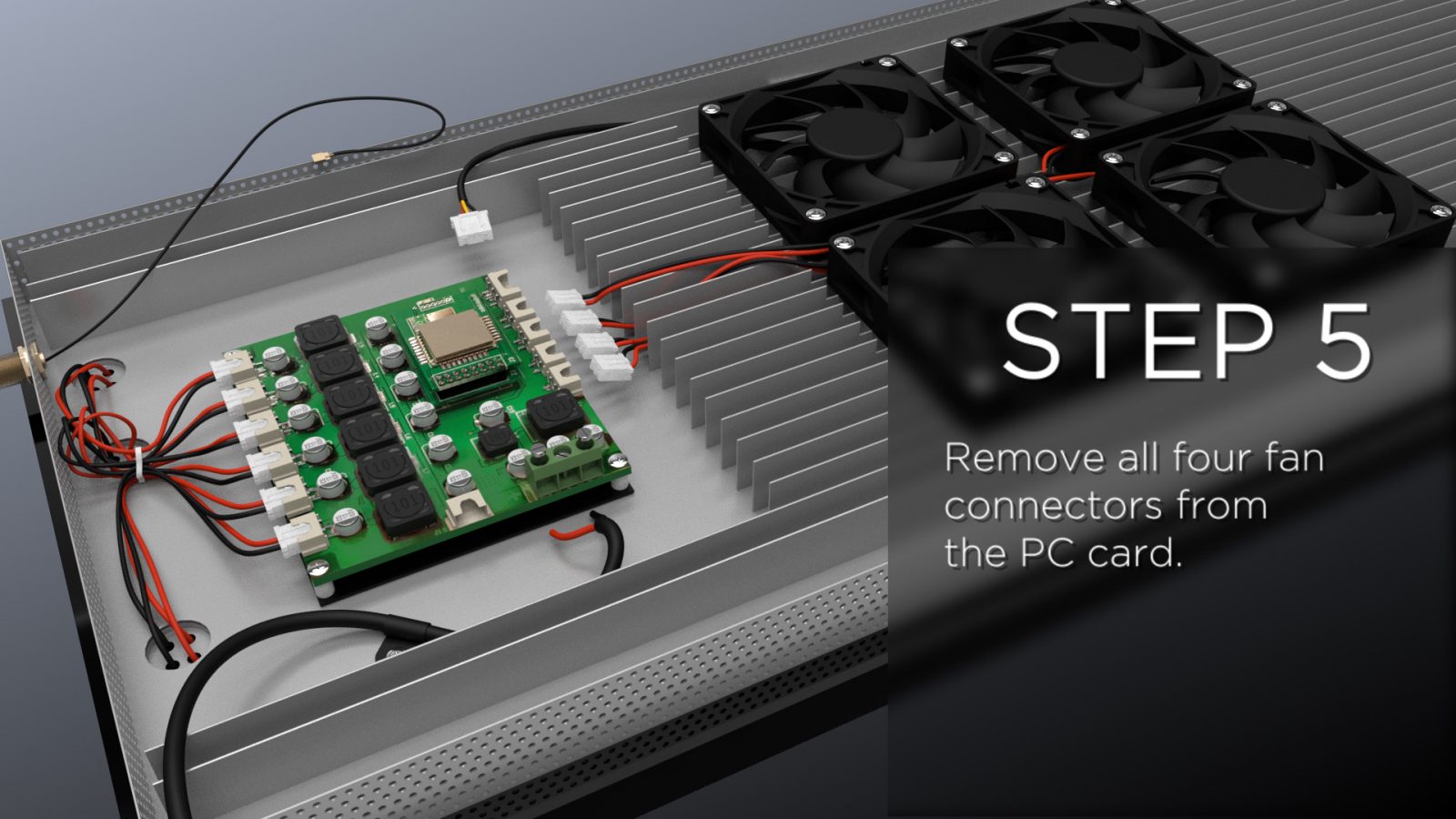 STEP 6: Remove the six white connectors that goes to the LEDs. To make it easy for you to install it back after please number the connectors with a marker and sticker.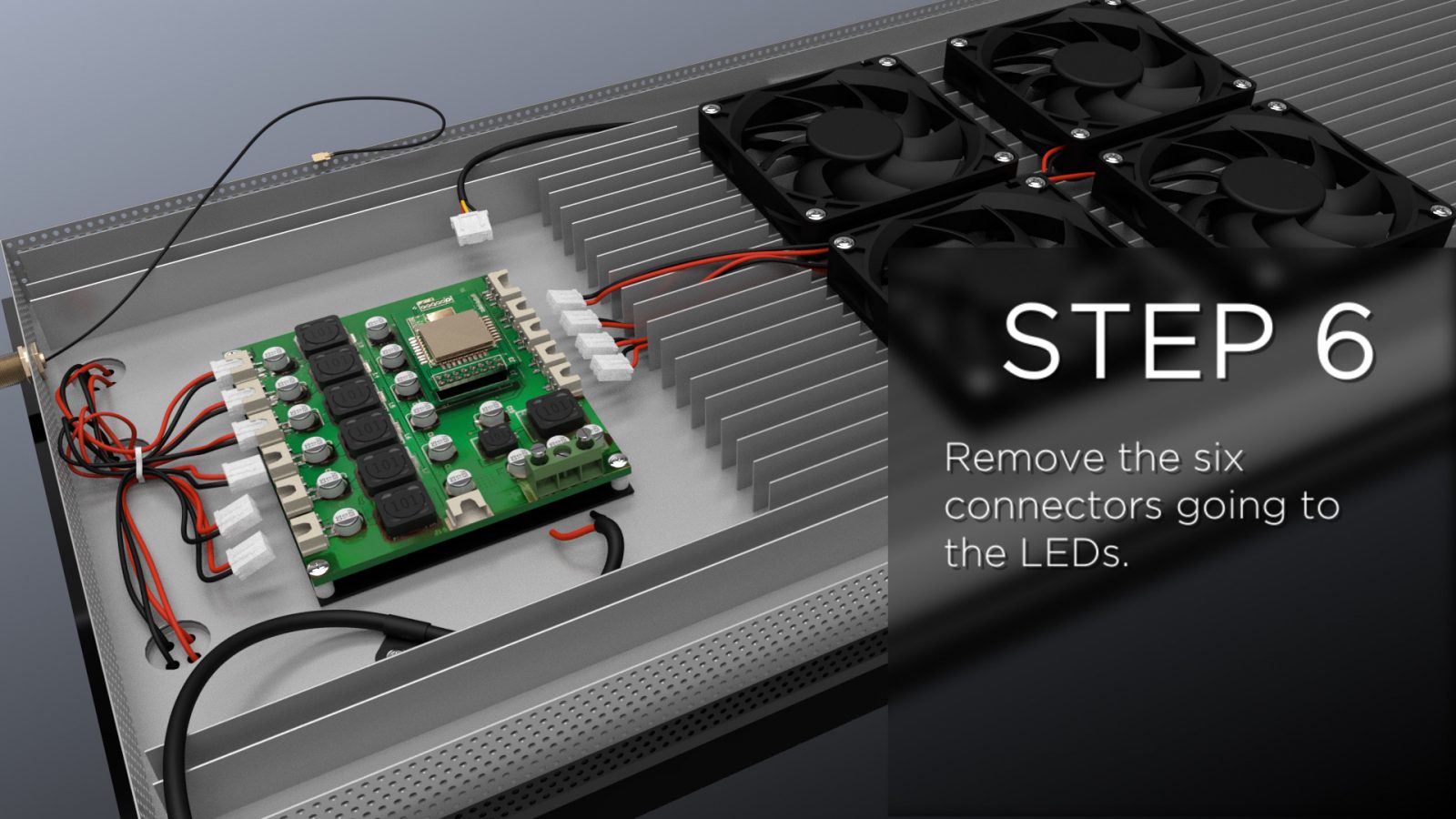 STEP 7: Remove the PC card ,insulating pad , 4 white support and fans by unscrewing the corresponding screws.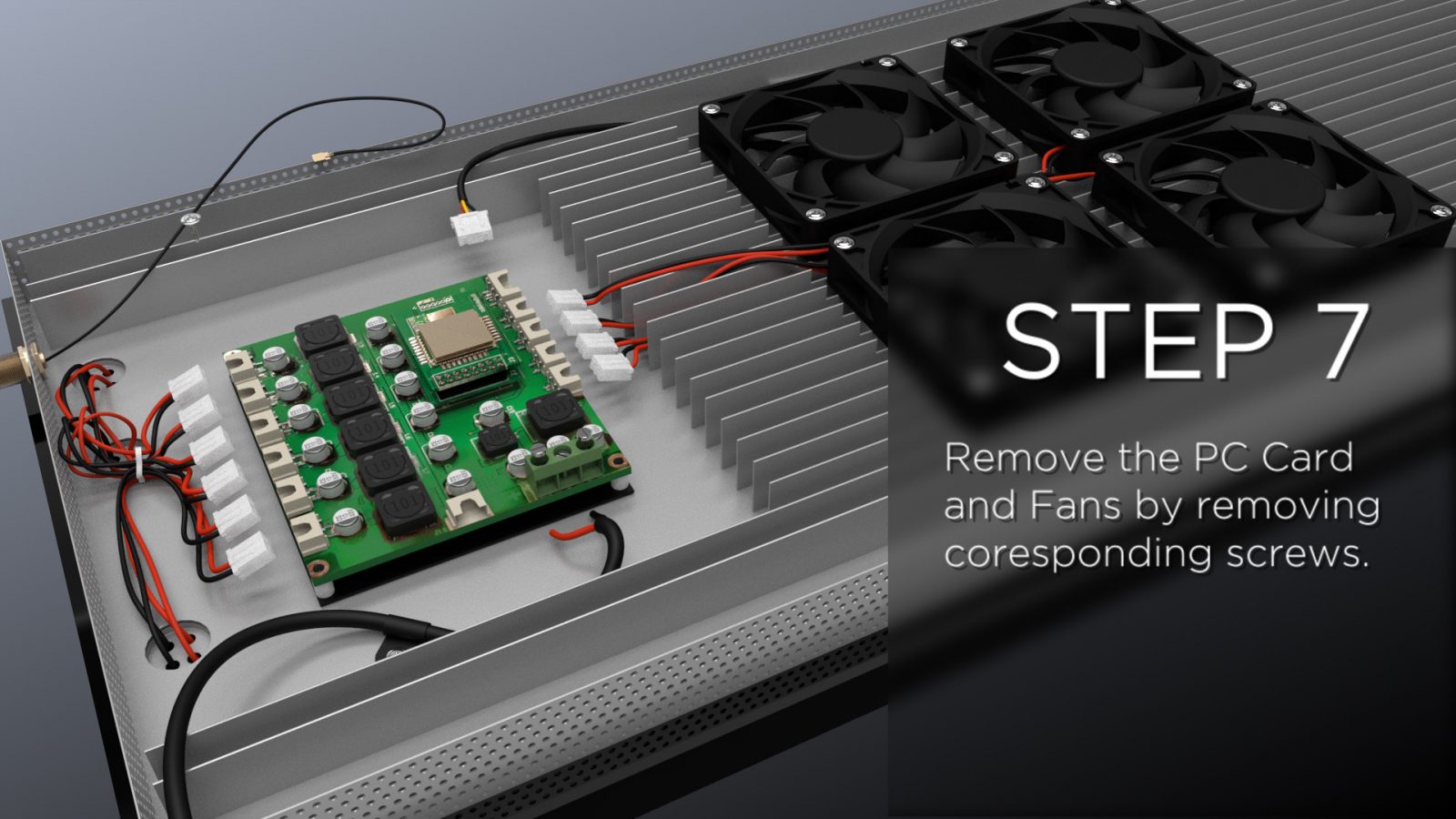 STEP 8:
Update: Orphek is now shipping the new iCon PC card with the silicon pad already attached to it. so you not need to do Step 8.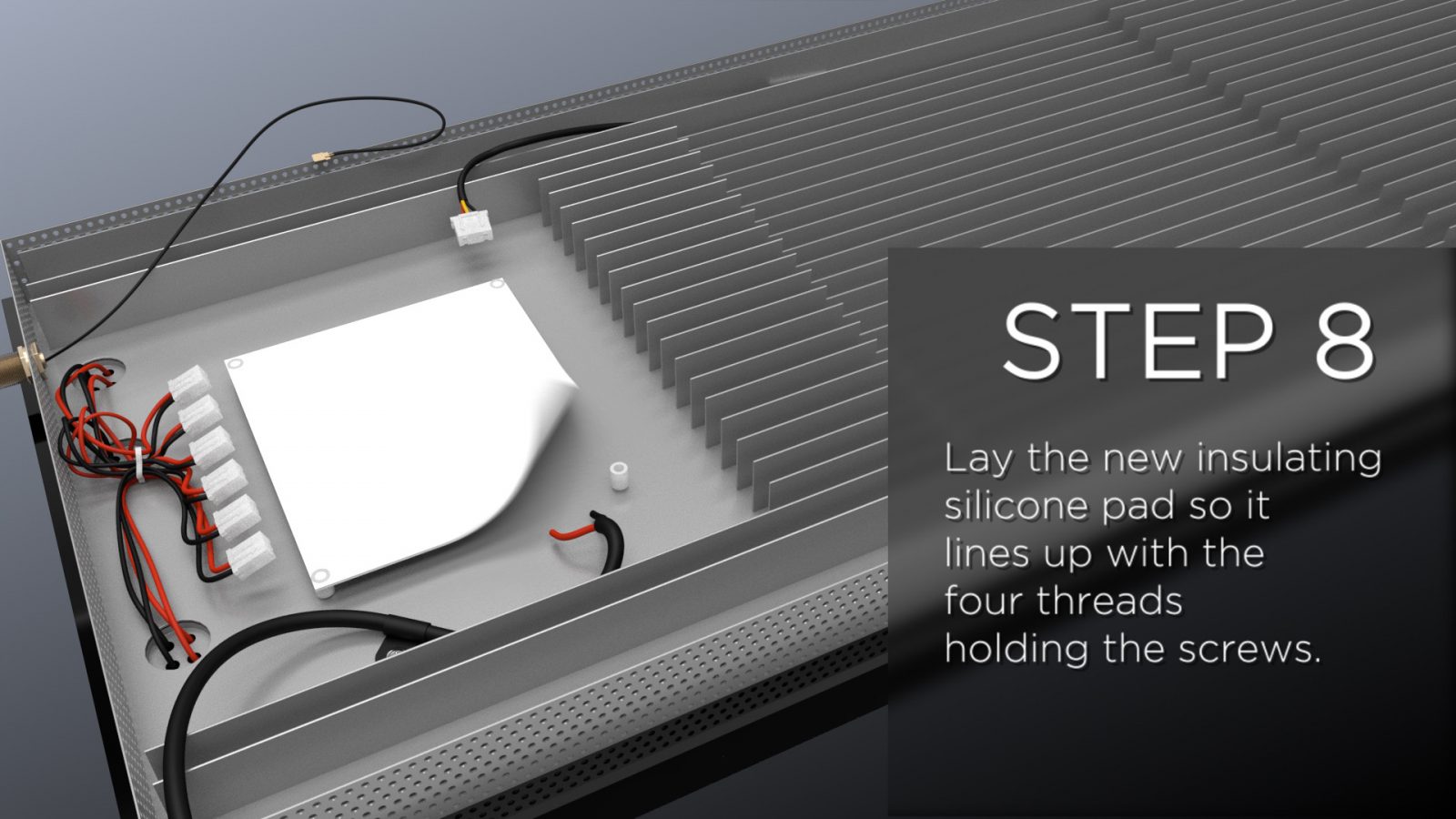 STEP 9: Place the new Atlantik iCon fans and also screw them until fully screwed.
IMPORTANT!!! Installing the Cooling Fans
Atention!!!

When placing the fans back please notice that the side where you find Orphek logo should be facing down so the air should flow into the light.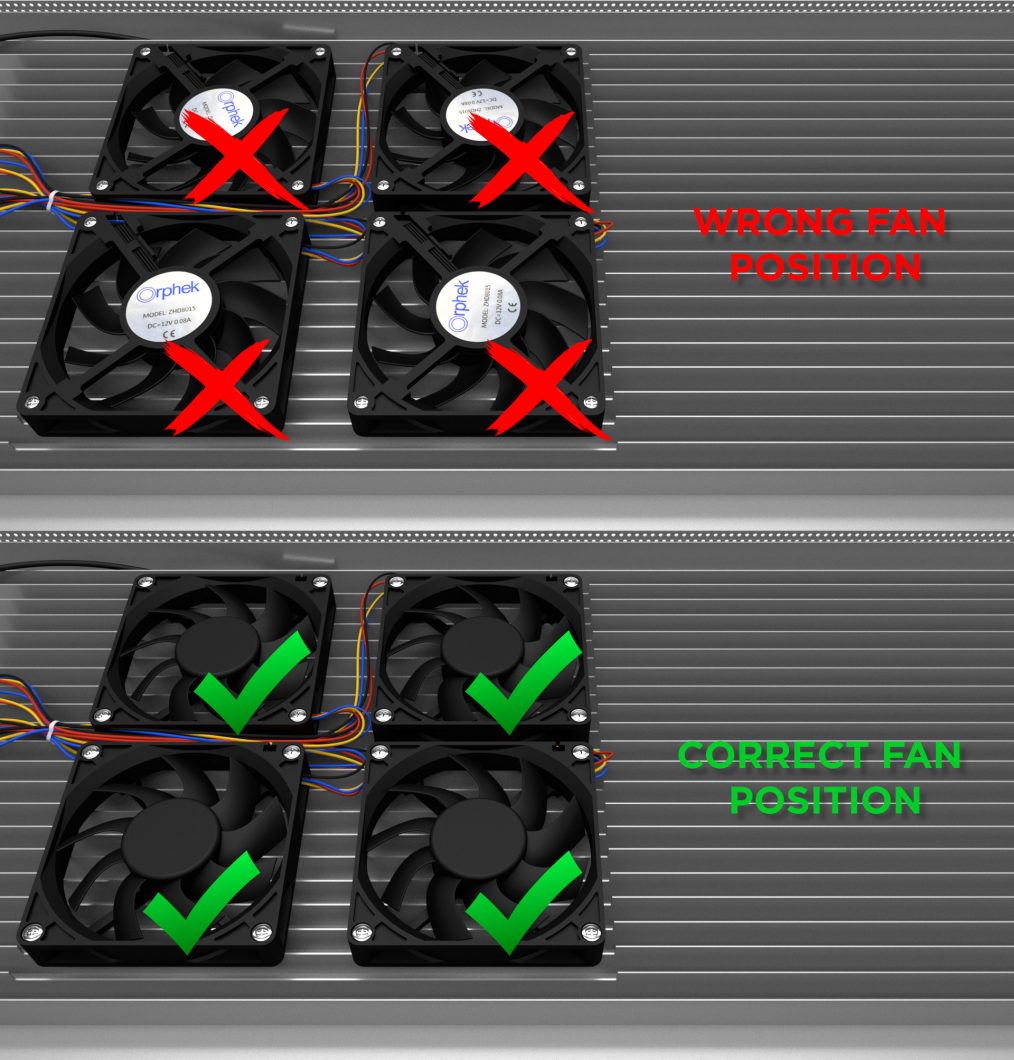 STEP 9a : Also place the Atlantik iCon PC card on the frame lining up with the four holes and then screw it until locked.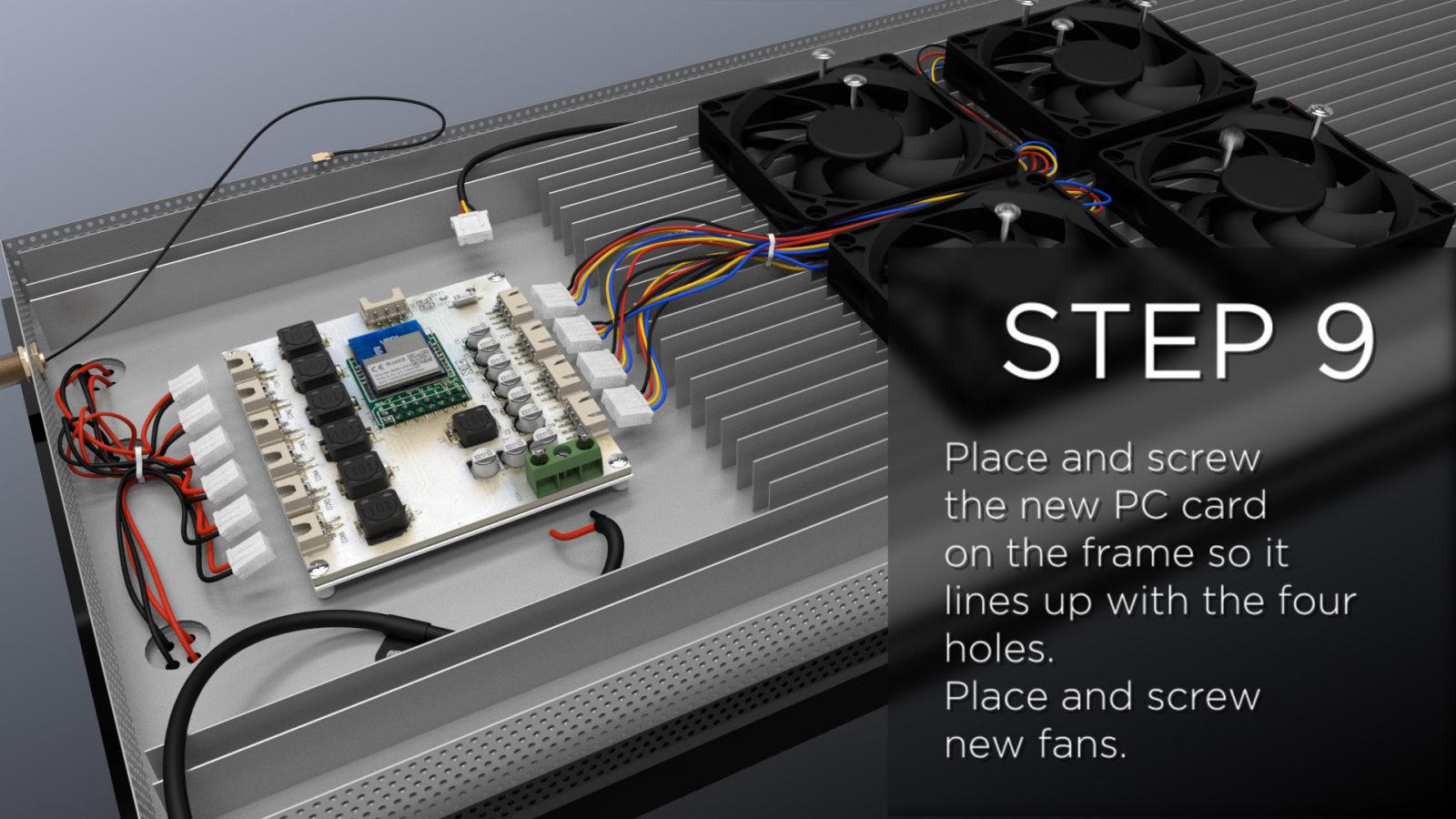 STEP 10: Connect all four fan connectors back to the PC card.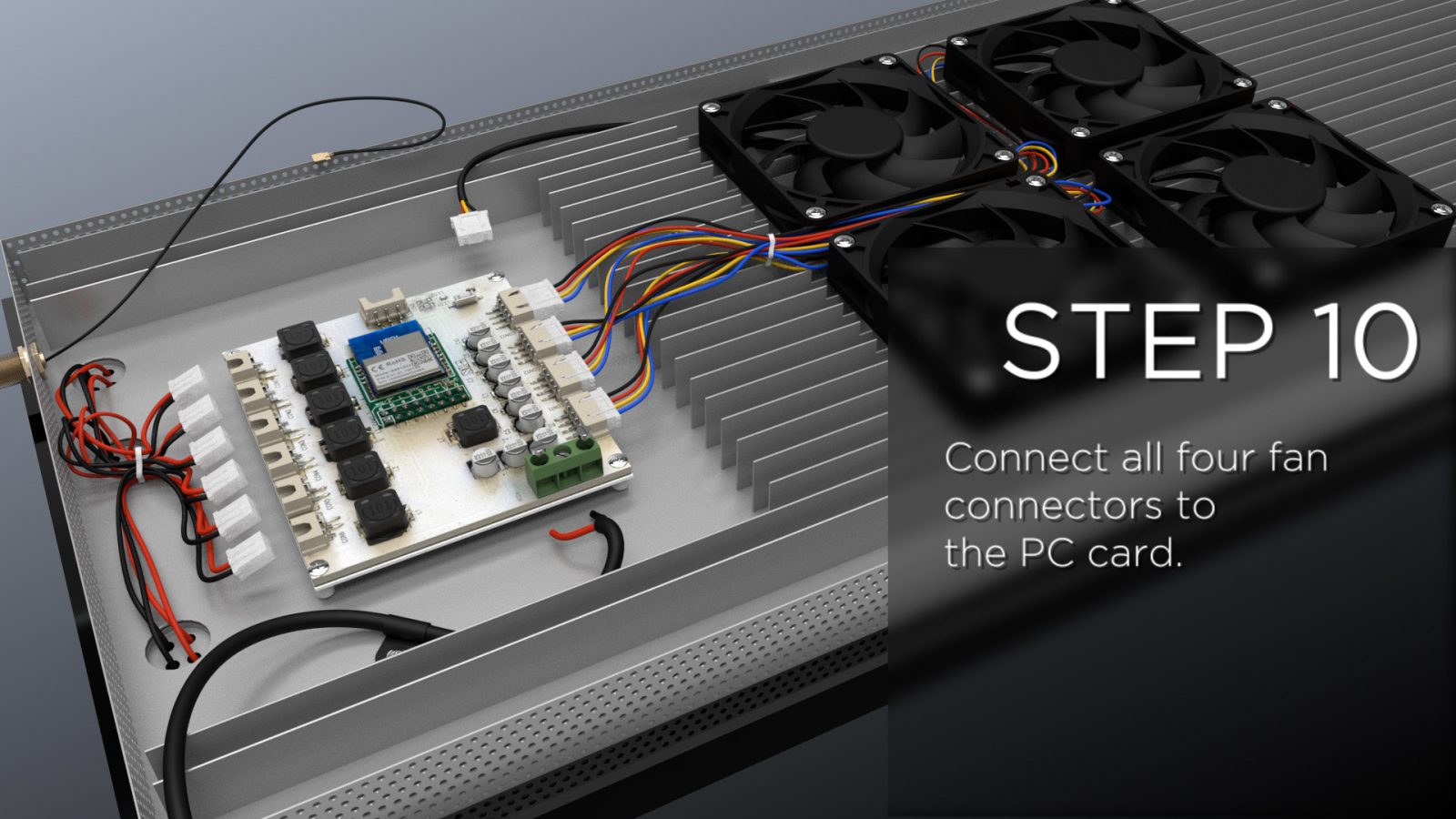 STEP 11: Connect the temperature sensor back to the PC card.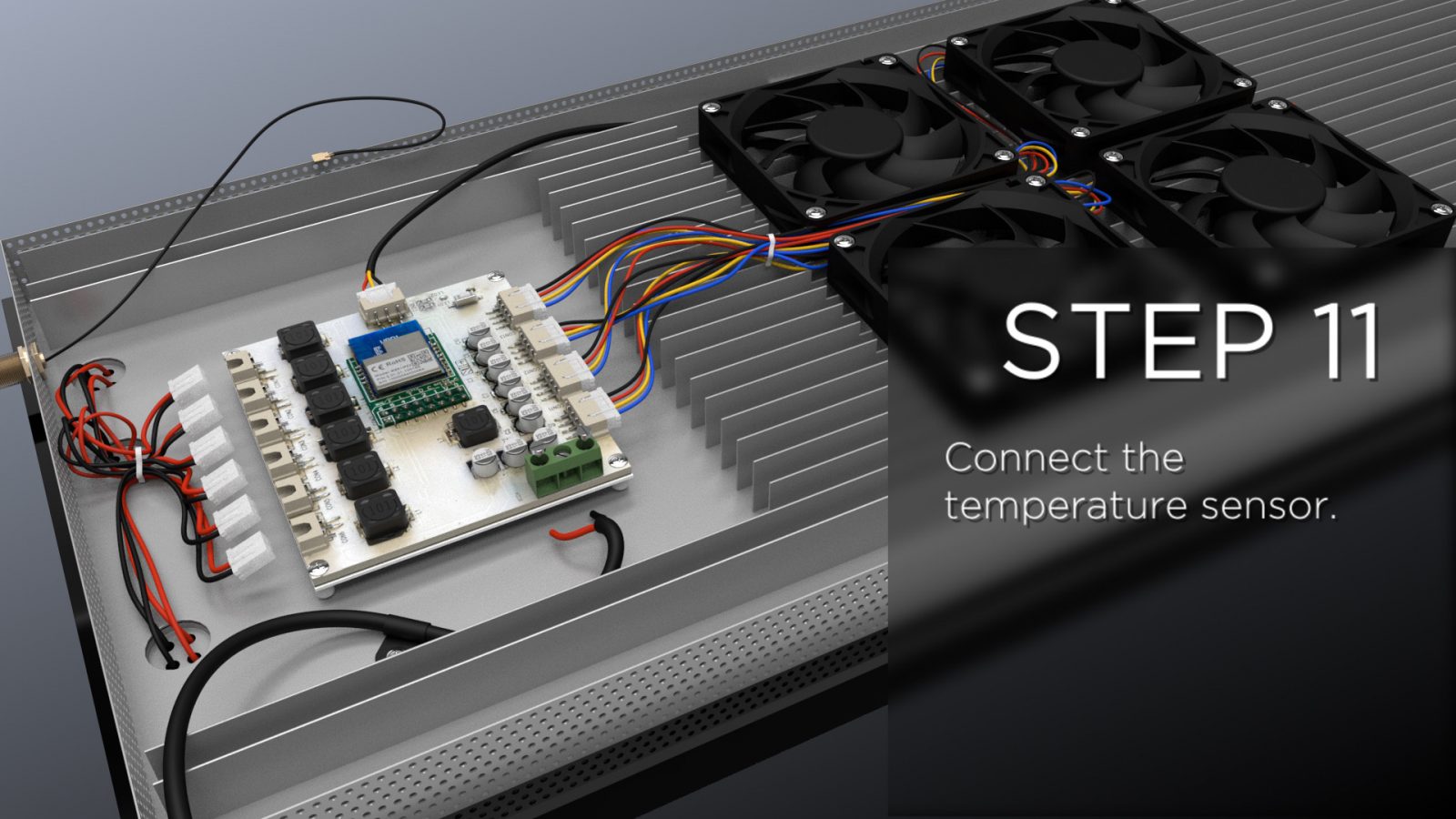 STEP 12: Insert back the wi-fi fire back into the wi-fi receptacle on the new Atlantik iCon PC card.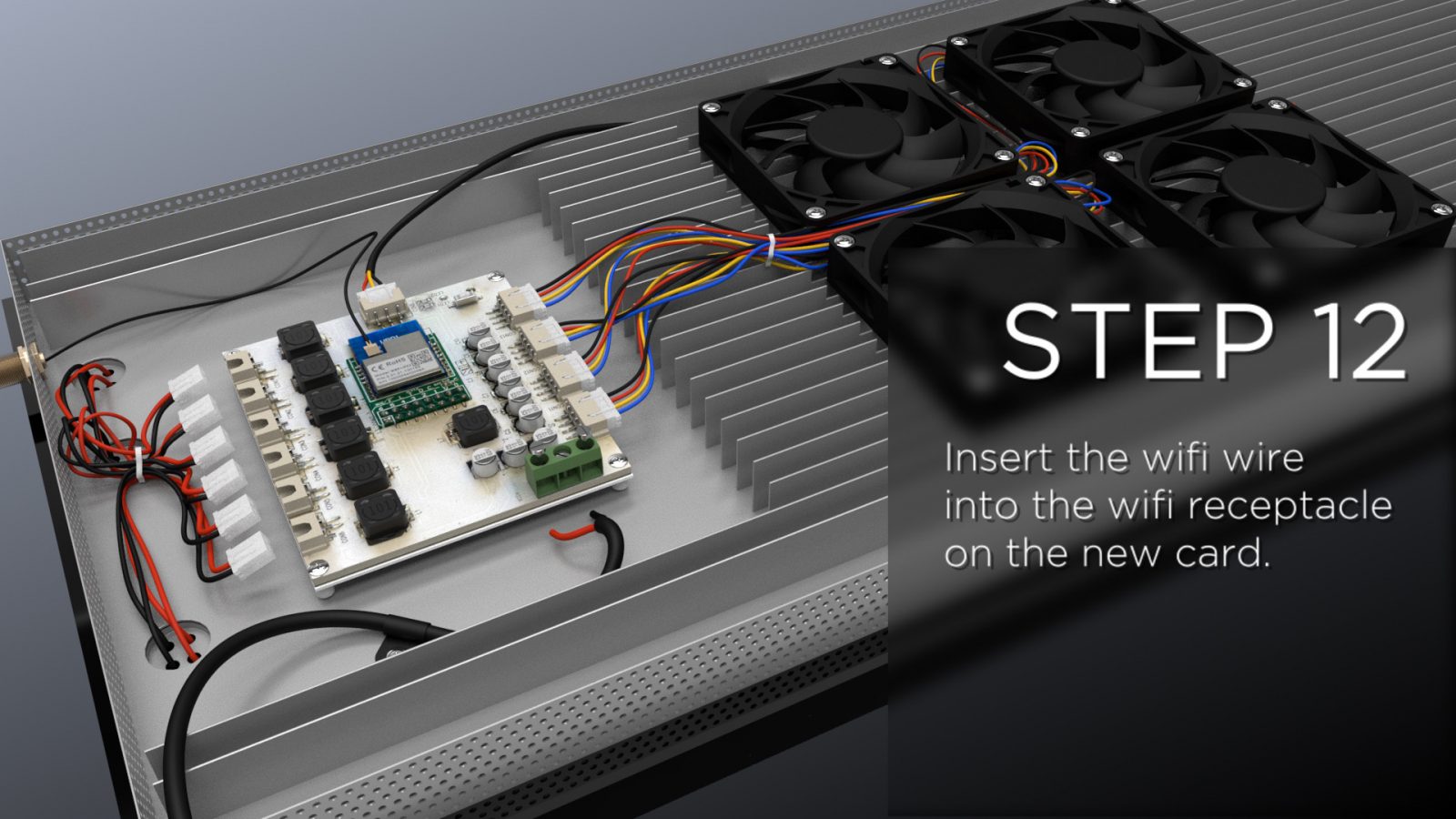 STEP 13: Insert the six LED white connectors back into each of their respective receptacles.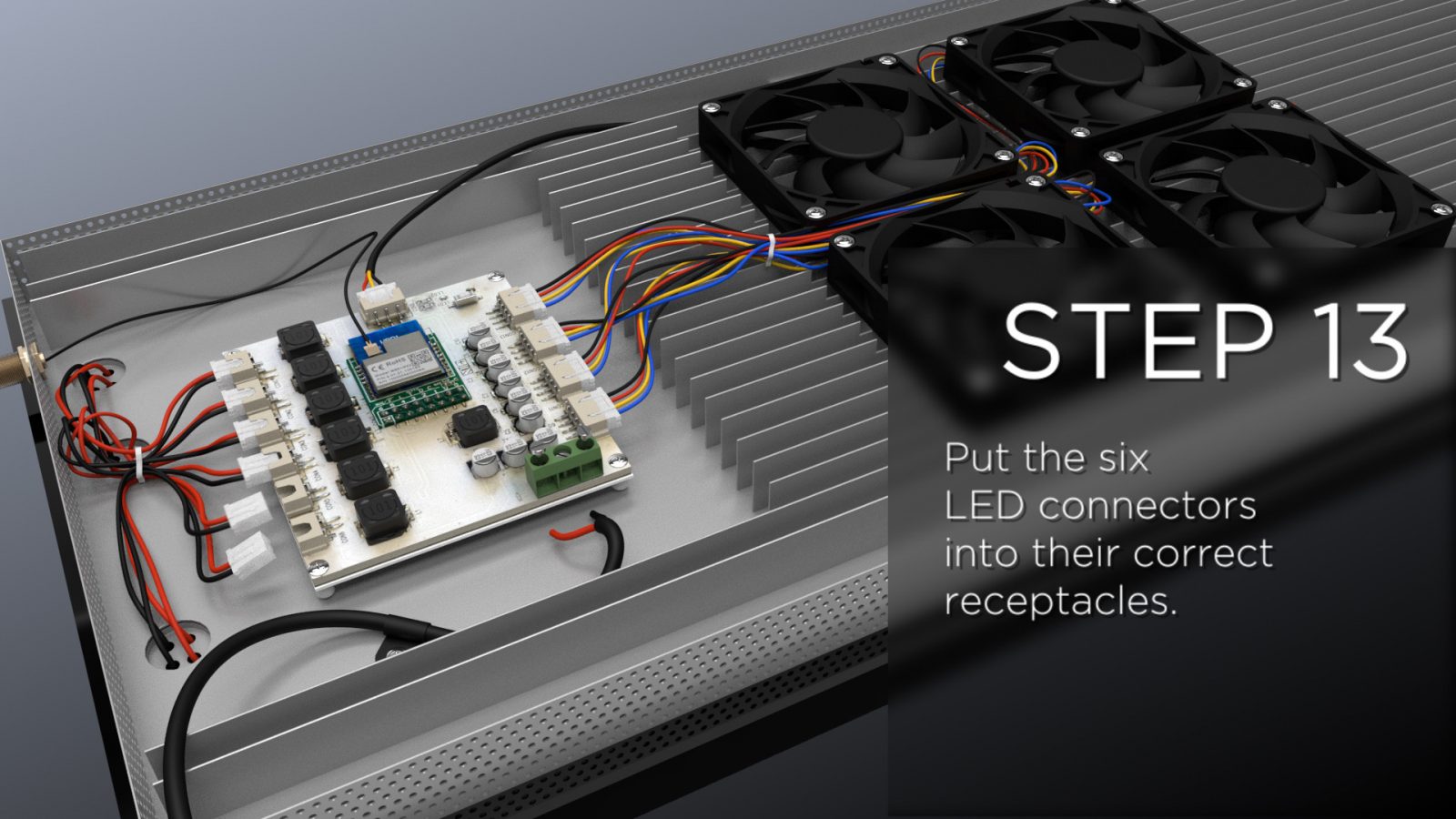 FINAL STEP: Put the light cover back and screw back all screws.
Don't forget that Orphek has shipped you a new antenna model. Replace your antenna with the new Atlantik iCon antenna.
Installing the Reset Button (optional)
STEP 1: Remove the grill and put it in a safe and distant place away from the light.
By using the proper tools drill a hole near the antenna, in the same hight, using iron drill bit 8mm. Please remove/dust/brush off any metal trace from drilling.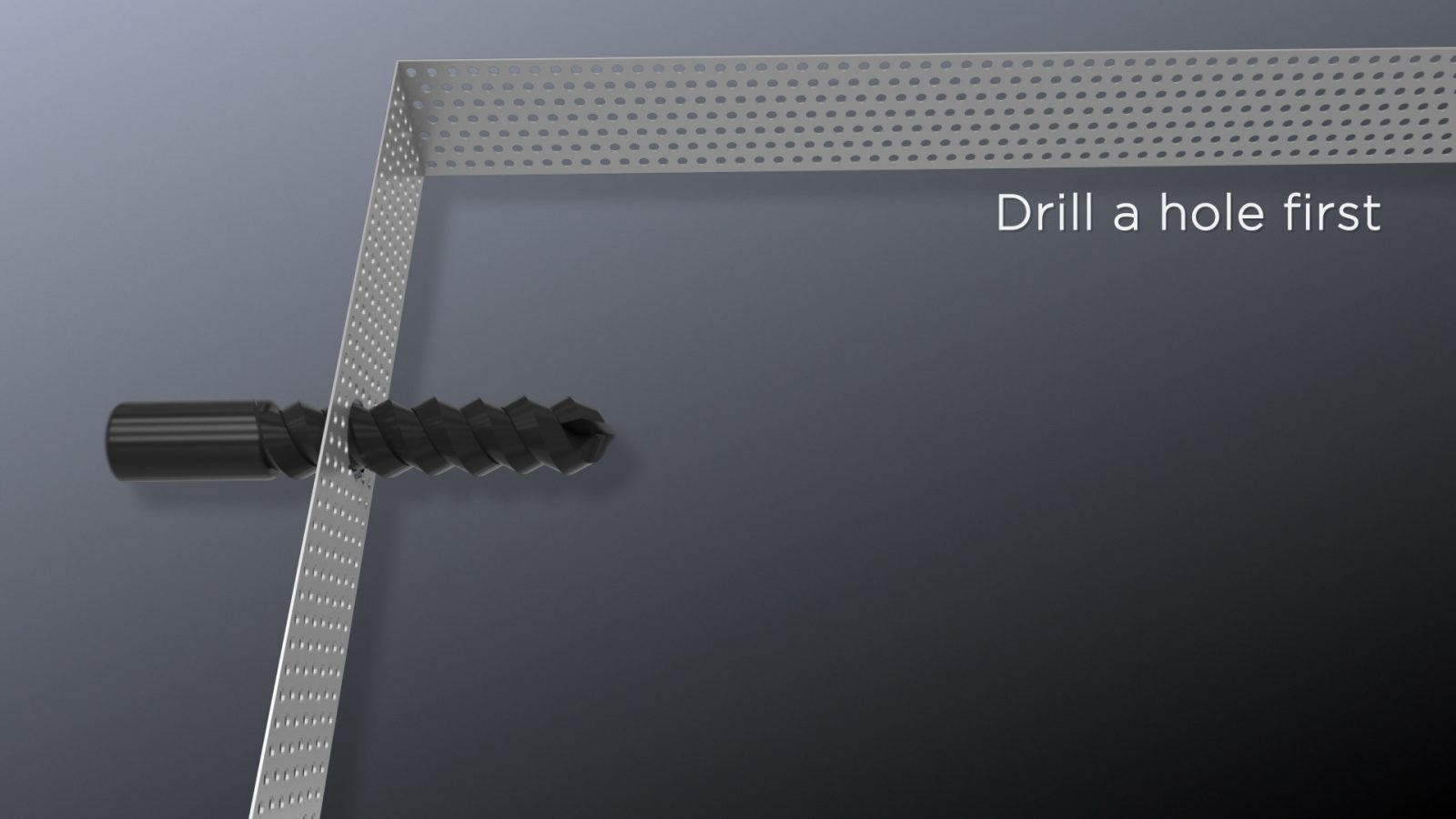 STEP 1a: When installing the reset button, place first the metal ring, then place the wire into the white connector.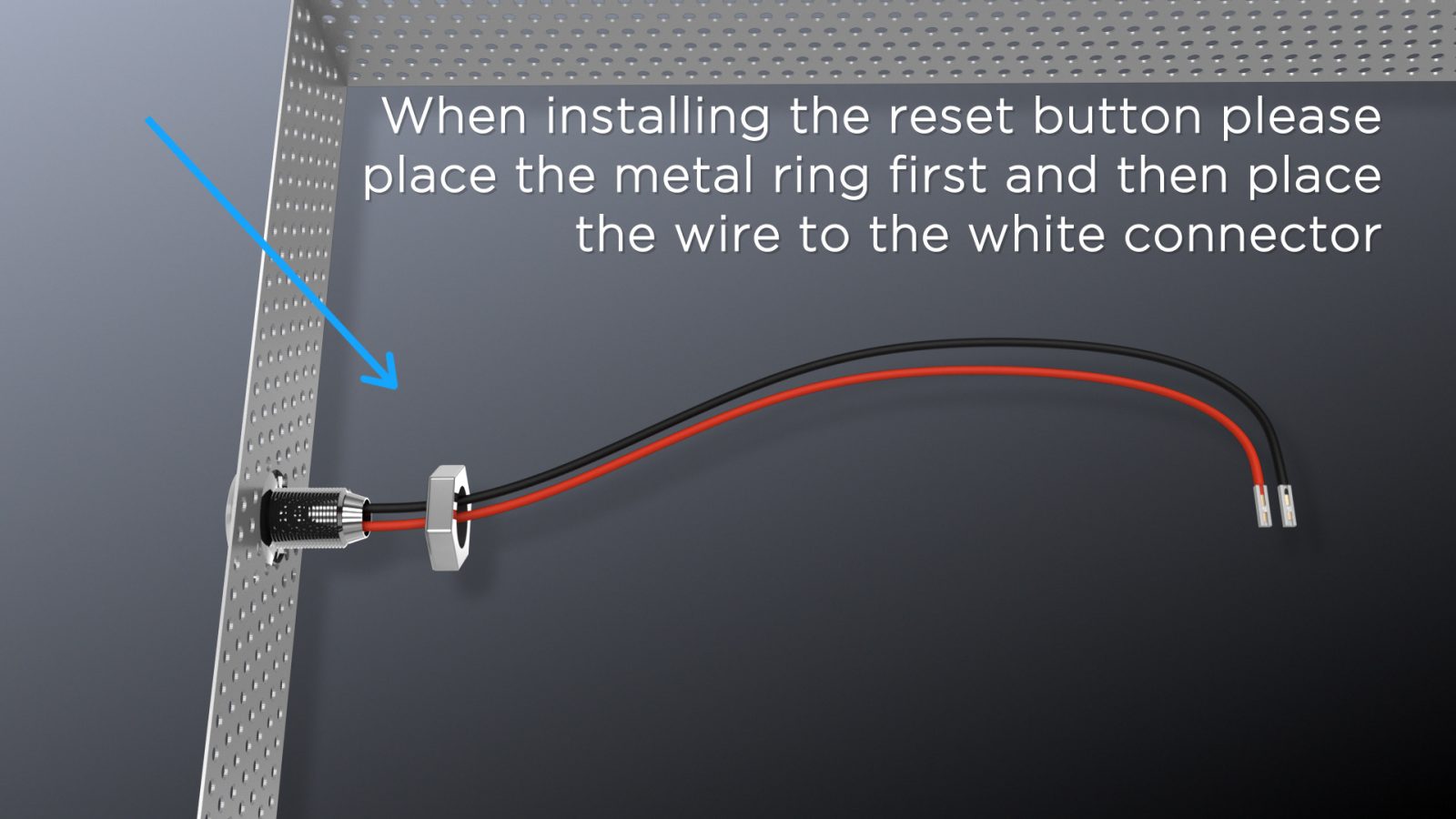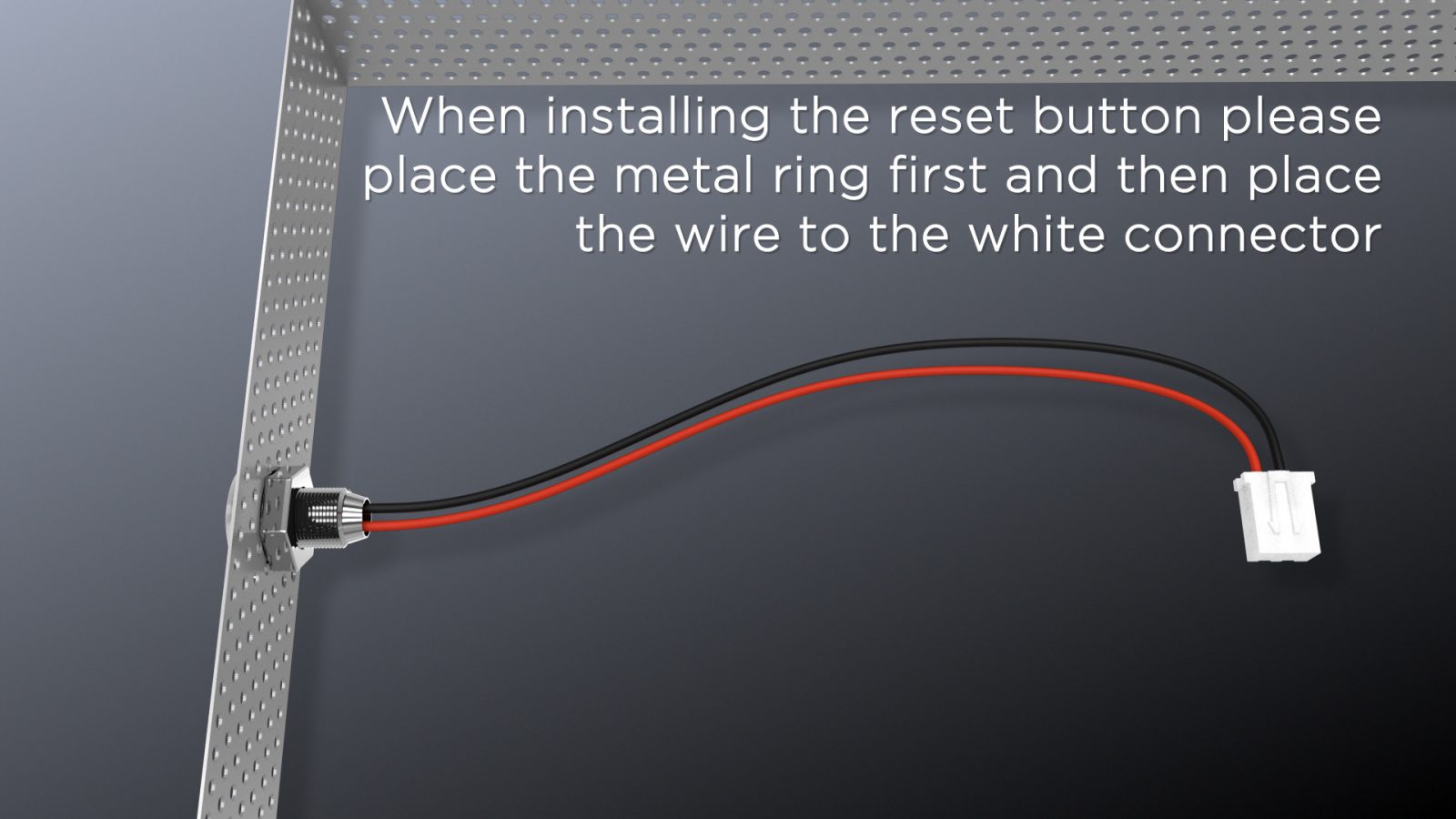 STEP 2: Connect the white connector to the socket.
STEP 3: Push the reset button four times to make the connection.
After you installed the new Atlantik iCon PC Card continue to :
Now you are ready to operate your new upgraded Orphek Atlantik!