If you are in the USA you will have today a great opportunity to buy our Atlantik V4 Gen2 Compact 2020/21 with a limited discount + bonus offer given by Bulk Reef Supply.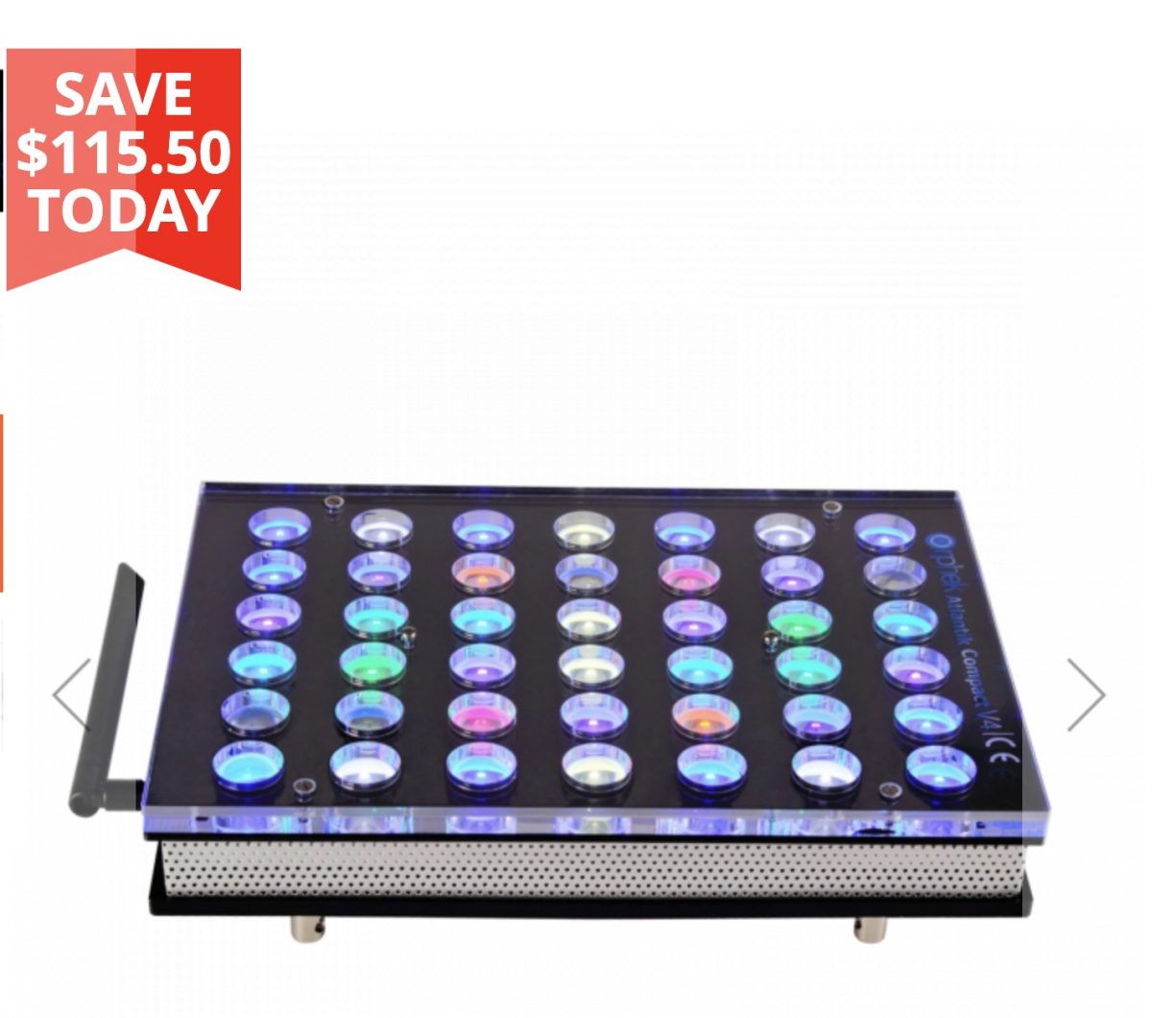 You all know already about our partnership with Bulk Reef Supply.
But just in case you have joined us recently or is new to the hobby, this American company based in Minnesota is one of the biggest* USA online supplier of a great range of products for reefers.
So, if you are looking for the best saltwater reef aquarium LED lighting in the USA, BRS in the most reliable American online supplier today!
They also have a fantastic Youtube channel – the BRSTV – that provides interesting news, reviews, product comparisons and all a hobbyist need to know about reefing.
You can purchase the Atlantik V4 Gen Compact today from BRS with a 15% discount! Not only that, you will also get our Gateway 2 for free (Saving also US$75!!):
Atlantik V4 Gen 2 Compact – original price of US$770 with 15% discount – US$654.50 + free Orphek Gateway 2 (original price of US$75)!! 
Instead of paying US$845 you can now get your Atlantik Compact for only US$654.50!!!
Yes! I want to buy now!
Check what you are getting in this video about the Orphek Atlantik concept, improvements and benefits:
(This video is showing the Atlantik V4 Gen 2/2020-21. What we want you to know is that all the upgrades made in this fixtures were also made in the Compact version!!!)
Our new model 2020/21 comes with NEW LEDs! Orphek  is worldwide recognized by being the leader in LED Aquarium lighting solutions capable of delivering products that provide perfect intensity/efficiency. We already offered dual chip LEDs, but our NEW 2020 dual chip LEDs are even greater!
What does it mean?
It means you are getting newer customized high efficiency 5w Dual-Chip power LEDs that are even more technologically advanced, therefore more efficient!
Our new LEDs will last longer than the previous Orphek LEDs because we have improved its life span!! Running at 50% our new 2020 model 5w Dual-Chip advanced LEDs are more resistant to higher heat and it offers the highest PAR longevity with really minimum loss over the years.
Not only that, we have also improved internal lens to make sure you are getting the best Orphek LEDs!
To watch BRS video about the Atlantik V4 Gen 2 Compact:
Atlantik Compact V4 Gen2 2020 video review testing by BRS
If you prefer just to watch the videos:
BRS Orphek Showcase & Review Videos
Finally…
ORPHEK, POP IT UP!
Remember that Orphek is the only company customizing spectrum for coral pop!
If you want to know more about it:
ATLANTIK V4 Gen 2 PRODUCT PAGE
ATLANTIK V4 Gen2 COMPACT PRODUCT PAGE
---
We would also like this opportunity to thank the BRS Team for all the support they have been giving to Orphek these couple of years. The BRS TV is a great tool for reefers. We strongly recommend them!