Orphek has launched a new Aquarium LED lights – Atlantik v4 and Atlantik v4 compact;
it is the Internet of Things series where all Atlantik v4 models can wirelessly connect to the same master gateway.
This allows the user to select from a wide range of Atlantik series products that can easily be integrated into one master controller with the touch of a button.
The controller can be your tablet or smartphone. Each Atlantik plus model v4 the same app and will seamlessly work with all plus models.
In the example below, this tank could have SPS coral on one side and LPS and soft coral on the opposite side.
Each light can be programmed separately by the same controller to fill the lighting needs of the coral.
we will focus on several examples to help a wide assortment of users with common fixture type applications. All dimensions are Length x Width x Height.
If your tank is not listed then we suggest using the closest fit in length as a starting point.
We also offer free consultation for any project and one of our customer service reps will be more than happy to assist you with planning.
A few examples are shown below.
Tank 1- 180 gallon
display tank with dimensions of 72 inches x 24 inches x 24 inches. This is a mixed reef with a wide variety of corals.
Orphek ATLANTIK v4– 2 units. This full size Atlantik offers excellent coverage and enough intensity to provide for SPS corals at even the deepest part of the tank.
The light will be able to run at 50%- 75% of full intensity allowing the user to increase the light as needed to dial in to the needs of the corals as the tank matures.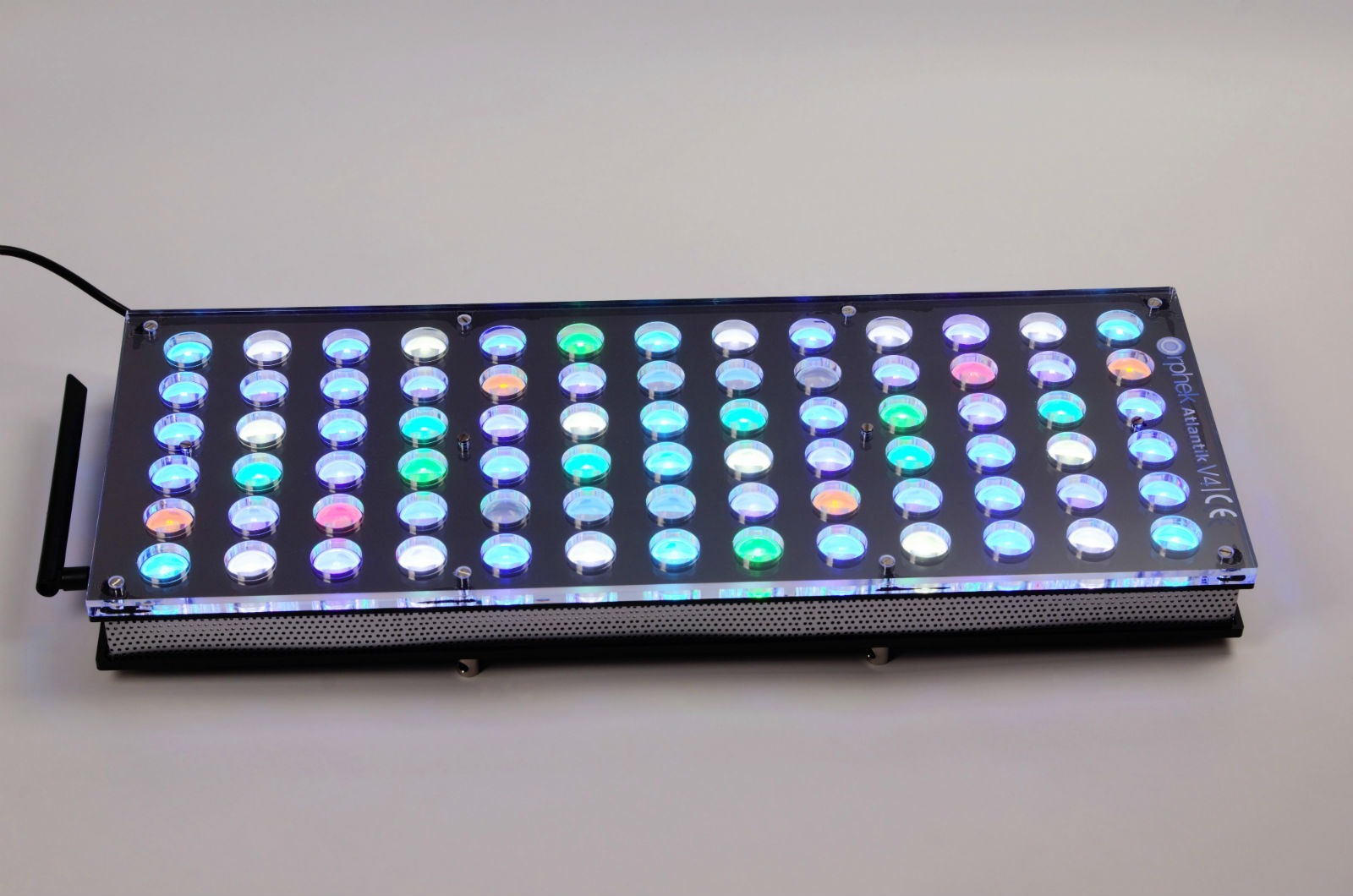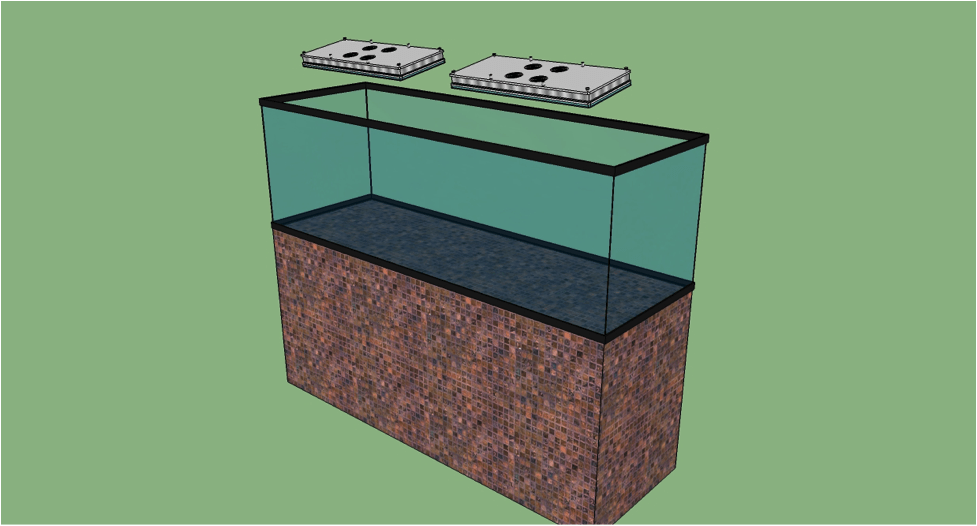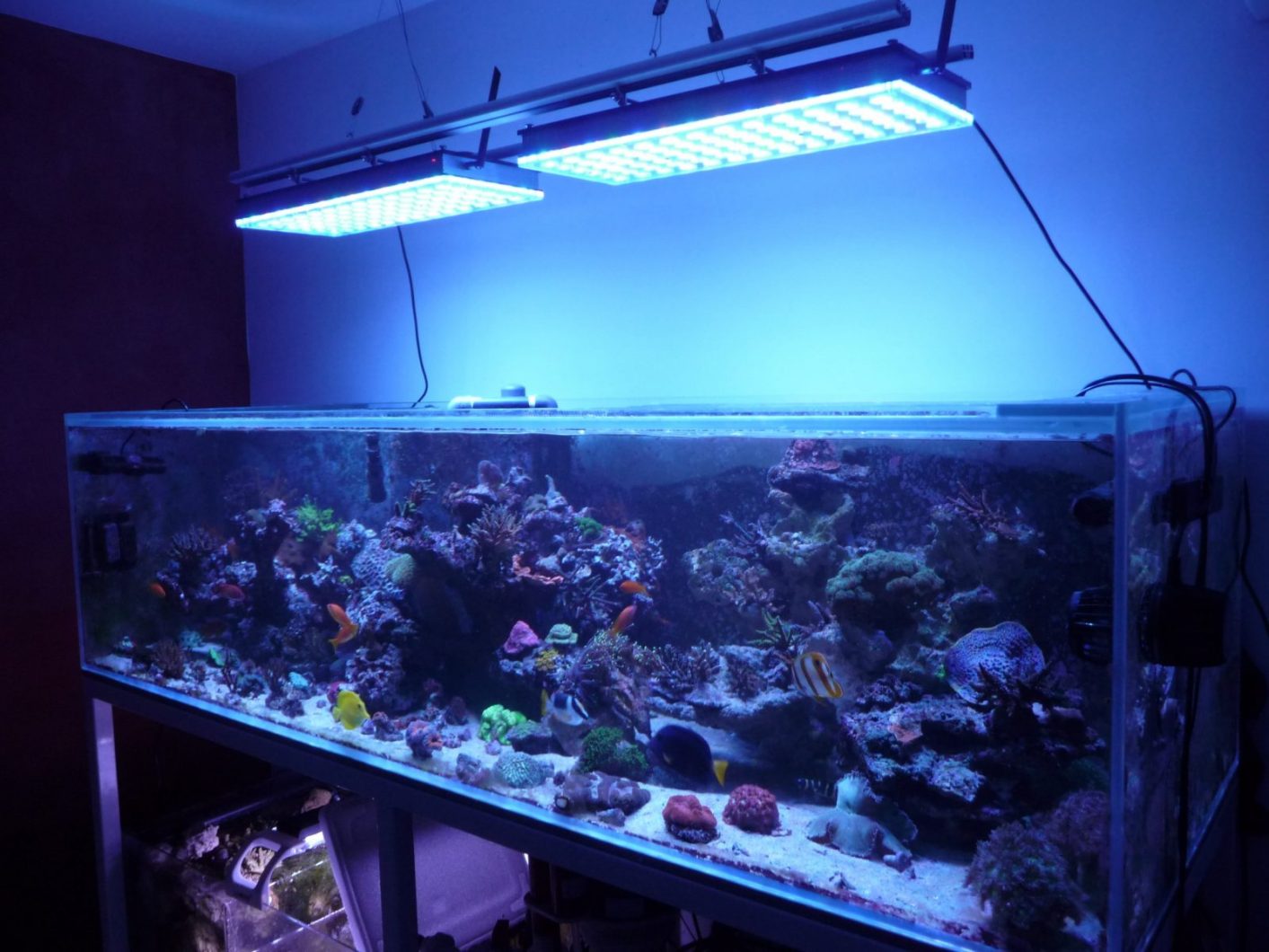 Read more: https://orphek.com/first-clients-tank-display-france-orphek-atlantik-v4/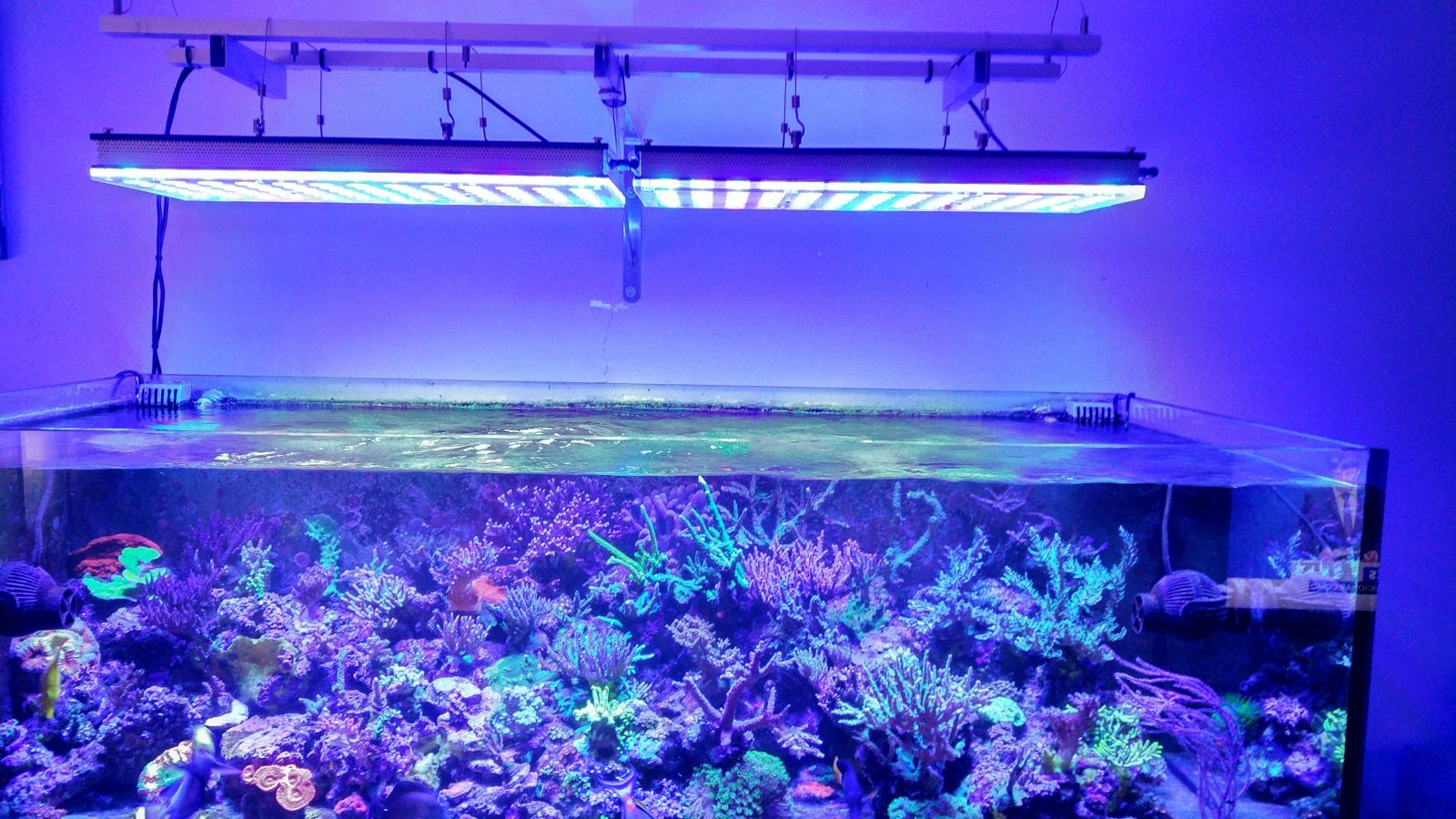 read more: https://orphek.com/one-more-happy-customer-from-spain-atlantik-v4-led-aquarium/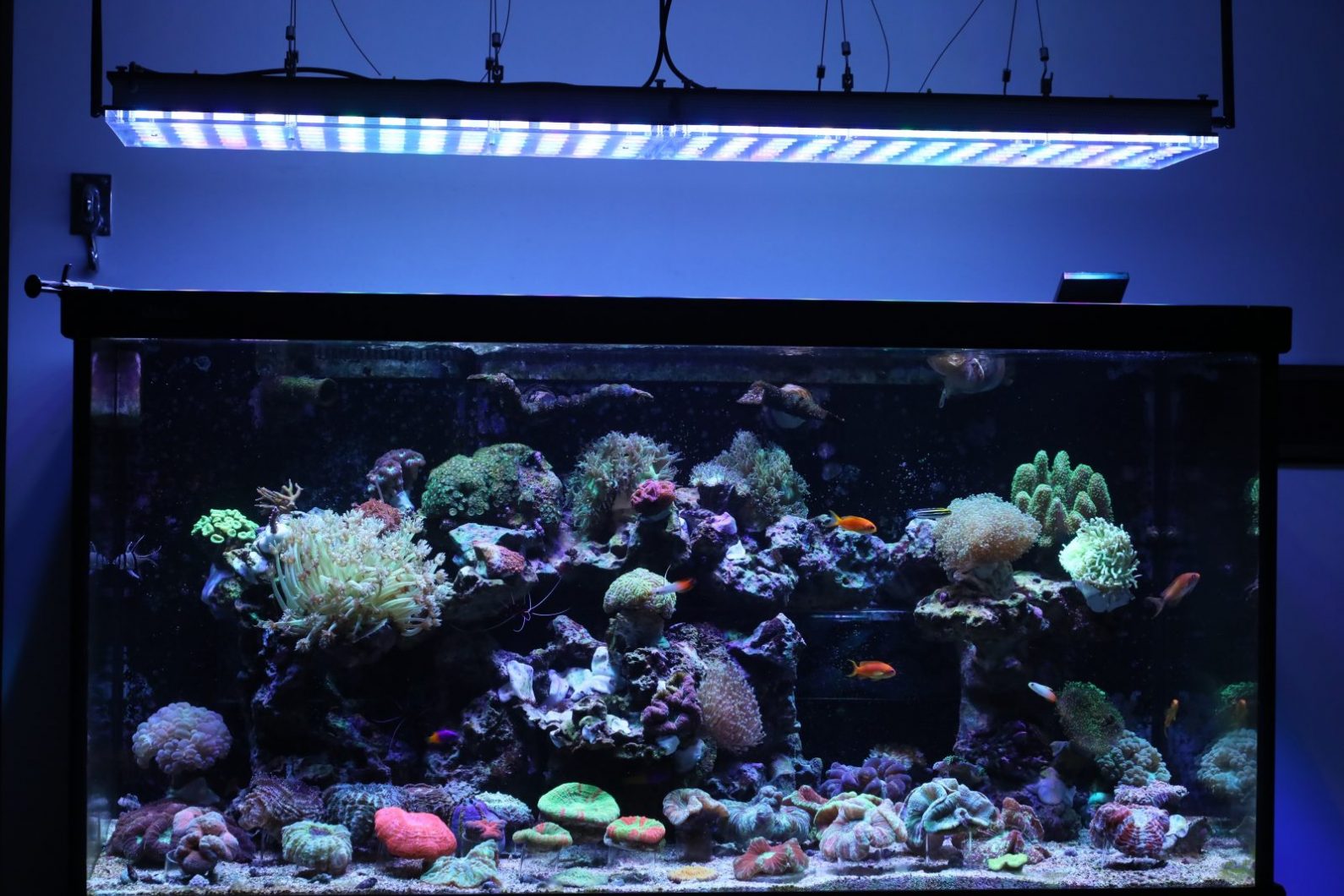 read more: https://orphek.com/beautiful-brazilian-tank-atlantik-v4/
Tank 2- 120 gallon
display tank with dimensions of 48 inches x 24 inches x 24 inches. / 120 cm x 60 cm x 60 cm
This is a mixed reef that has more SPS corals than other species.
Option 1– Atlantik Compact– 2 units. This will offer the user the same 4 channels of control, the same spectrum
and the same penetration as the full size Atlantik but enable them to separate the lights giving more consistent spread across the tank.
The two units together equal 260 watts which is more than the 190 watts of the standard Atlantik which will enable higher light intensities to provide for the SPS corals throughout the entire tank.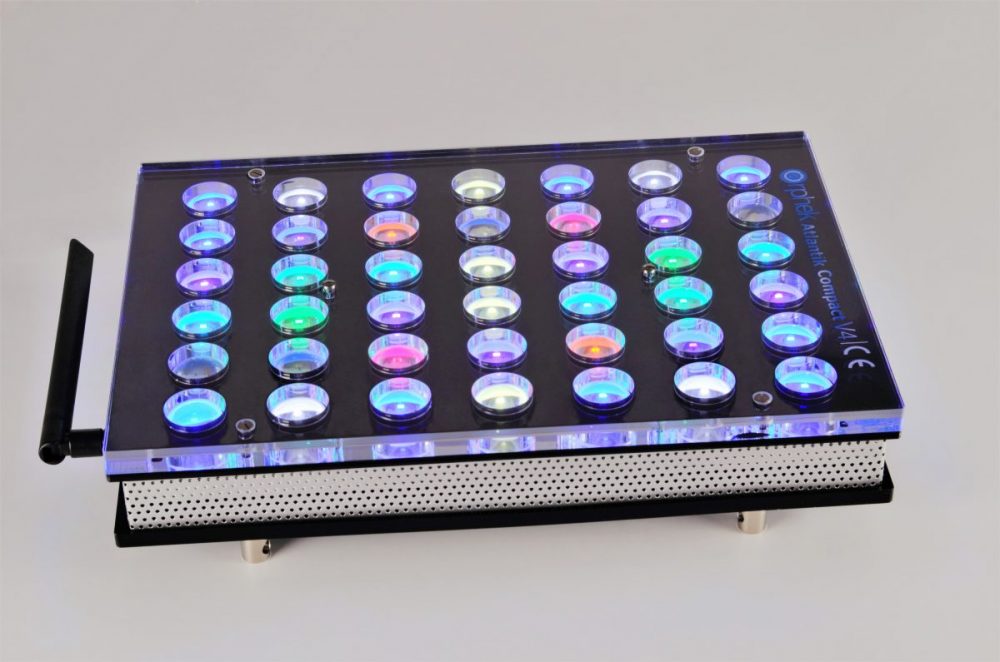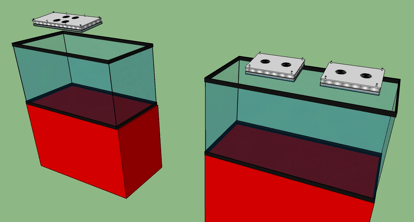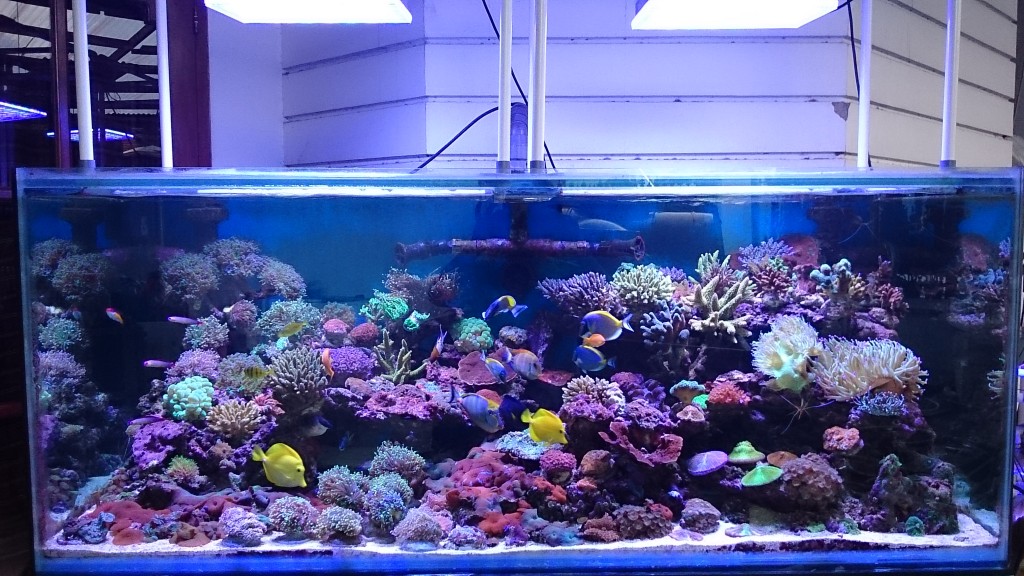 read more: https://orphek.com/beautiful-200-gallon-using-atlantik-compacts/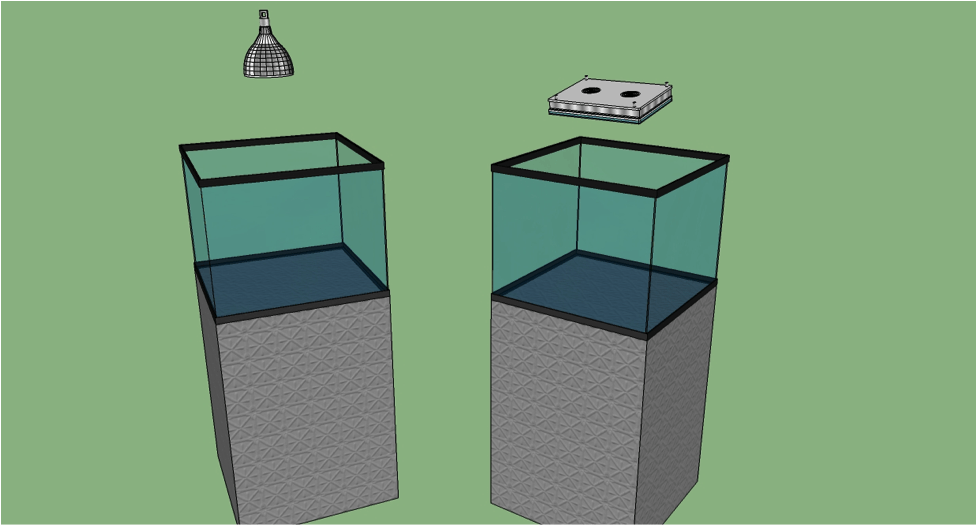 For 60 gallon cube, 24 x 24 x 24 inches. you can choos Or 1x Atlantik Compact Or Kaspian 120W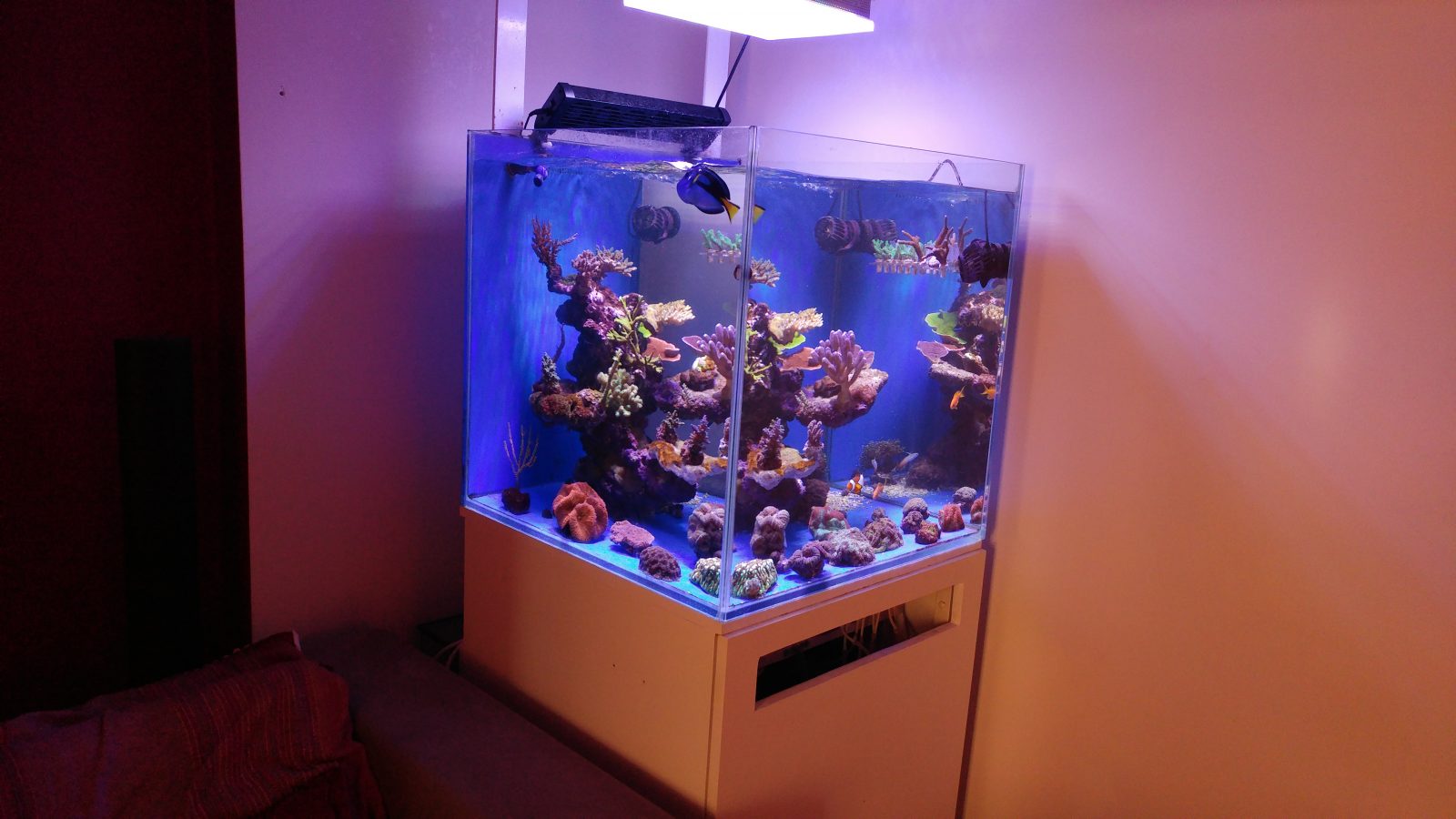 Coverage vs Intensity (PAR)
Most lights are designed to do one of these things well and often sacrifice on the other.
If a light gives good coverage it often does it at the sacrifice of intensity (PAR). Getting good coverage is done through the use of wide angle lenses or even forgoing the lens altogether.
This allows a fixture to cover large amounts of area but typically at lower amounts of PAR. This is acceptable for frag tanks and refugiums but not for our normal size display tanks.
Fixtures that deliver high PAR typically do so by using narrow angled optics in order to focus the intensity to the bottom of the tank and deliver high amounts of light at a greater depth.
These fixtures usually have poor coverage and require a higher number of fixtures on larger tanks.
Finding a fixture that delivers both coverage and PAR will give you the best opportunity to have a useful fixture that will provide the intensity required for SPS corals.
Denser corals with many polyps require a higher amount of intensity in order to get more light into the colony and prevent die off of the backside and bottom of the colony.
As a new tank progresses and corals get larger you may have to change lighting in order to get the intensity that you need if you don't select proper lighting from the beginning.
Getting good coverage while avoiding hot spots due to poorly designed fixtures is critical to a well thought out lighting plan.
Doing things right the first time is far cheaper than doing things a second time and this is where the spousal factor can really become apparent.
Find here more examples: