Orphek Super Blue Slim Line LED
Chlorophyll A Booster that targets the excitation area of the spectrum to promote chlorophyll A production.
Why Chlorophyll A ?
On the Hawaiian Reefs coral skeletons were found to contain an average of 13.7% (μg cm−2) of chlorophyll A and 2.6% (μg cm−2)  of chlorophyll B. For some unknown reason these levels are much lower in corals from the Red Sea Reefs.

Our design goal was simple: To provide a supplemental Violet/deep blue/ light in the low nanometer range that older technology lighting cannot provide.
Orphek has always took great pride in providing Violet LED light that no other LED manufacturer can offer, both in spectrum and intensity that compliment excellent coral growth and health. 
The Atlantik Slim Line LED is the embodiment of this technology and offers a completely different approach and appearance to supplemental Violet LED lighting for reef tanks.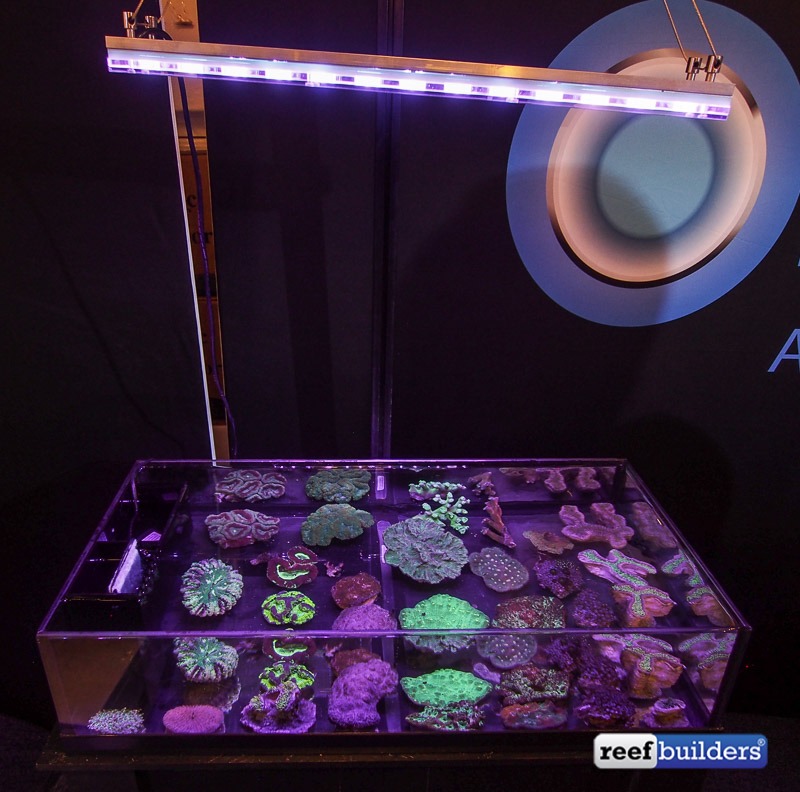 SO WHAT'S NEW?
The Atlantik Slim Line Super Blue LED consists of two 420nm and eleven 410nm dual chip ultra deep blue/violet LEDs which provide a combined spectral range of 390 to 440nm.
The spectrum the Super Blue Slim Line provides is the closest light you will get to a true Actinic 03 florescent light but with much greater spectral range, coverage and penetration.
Chlorophyll A  required to maintain and grow healthy coral with vibrant colors. 
The Atlantik Slim Line Super Blue LED targets the excitation area of the spectrum to promote chlorophyll A production.
CAN I WATCH/READ REVIEWS OF THE PRODUCT?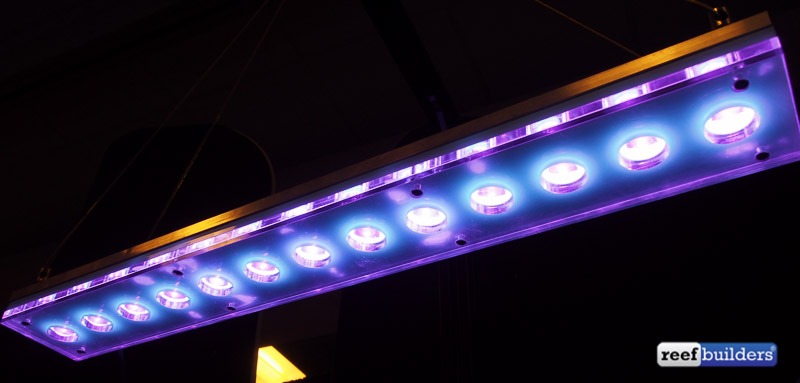 FEATURES
Applications
The Atlantik Slim Line LED can be used with older technology HQI and metal halide lighting systems to enhance the lower spectrum that these lamps cannot provide.

 

It can also be used with our older models such as the Atlantik V1, V2 as well as our pendant series of LED lighting or any brand of outdated LED lighting systems.

The Atlantik Slim Line can also be custom built to accommodate most applications, including freshwater planted aquariums; coral grow out tanks and Jellyfish tanks.
Build Quality
The Atlantik Slim Line is not your typical low power flexible LED strip light; it is built with a rugged aluminum heat sink that passively cools 13, five watt dual chip LEDs.

 

The large convex lenses disperse light over a wide area and provide excellent penetration into deep aquariums.

 

Construction quality is identical to our Atlantik V3+ flagship model featuring a solid one piece heat sink; thick polished acrylic lens cover and a quality Mean Well SLG-45-48 LED driver with a waterproof quick disconnect cable.
Specifications
Color/Materials
White acrylic with extruded aluminum housing.
LEDs
Five watt dual chip LEDs

2 – 420 nanometer

11 – 410 nanometer
Dimensions
L600 x W80 x H50mm (23.6″ x 3.1″ x 2.0″)
Cords
Power Cord:  70.86″ (1.8 m)

Power extension cord with waterproof connector: 118″ (3.0m)
Hanging Kit
2 x 13.8″ (350mm) steel cables / 1x 59″ (1.5m) steel cable
Electrical
MeanWell SLG-45-48A LED Driver IP65

110/240 VAC

Power Consumption – 35-40 watts

Frequency – 47-63Hz or 50-60Hz

Input Current (Amps) – 0.883

Output Voltage (DCV) – 48

PF (Power Factor) – 0.966

Electrical Outlet – Region Appropriate