Internet of Things Reef Aquarium LED Lighting Pendant
The most technologically advanced and the highest performance level.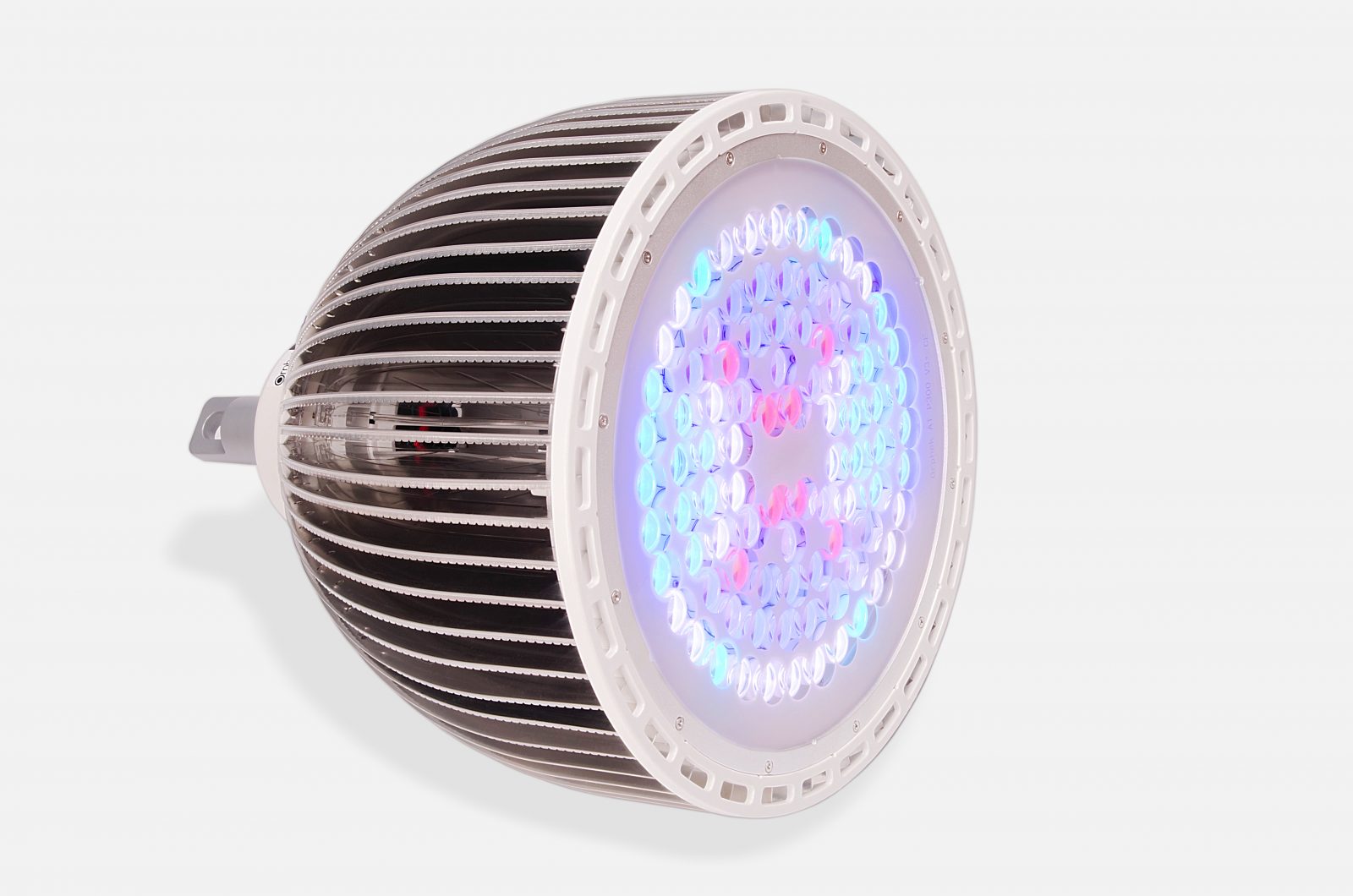 ---
Orphek P300 V3 was already a success because it was a solution that could be customized to light large tanks, either deep or shallow such as public aquariums, zoos and other large & deep public displays and coral farm shallow nurseries and displays.
Now the most versatile Orphek solution has now IoT technology!
By launching groundbreaking technologies Orphek gained respect and recognition as a leader in Aquarium lighting technology and innovation for reef aquariums lights. So we did it again! Our newest Orphek ATP300 V3 Plus has taken a giant step into the future with the newest internet technology,  Internet of Things or IoT.
Be connected anywhere you go!
Our newest 2016 technology features the Atlantik P300 V3 Plus with built-in wireless control allowing you to easily program, control, and monitor your light(s) from your cell phone or tablet, any time and any place you are in the world, where internet access is available! Not only that, the app is FREE OF CHARGE! All you need to do is download the one compatible to your phone:
CHECK ATLANTIK P300 V3 PLUS  VERSATILITY AND WHAT IT CAN DO FOR YOU!
FEATURES
PROGRAM/CONTROL/MONITORING (IoT)
Connectivity & Monitorning
Plug and Play, one button connection process.
Built- in Wireless Worldwide Remote and Local programming, control and monitoring
Compatible with Wi-Fi/ 3G and 4G Internet connectivity
Compatible with IOS (Iphone and Ipad) and Android (Cell and tablet)
Free apps available (App Store & Google play)
Programming
Ability to program multiple pendants individually, in groups or in unison.
Eight pre-installed programs/ unlimited custom programs and group programming.
Large storage with capacity for additional programs.
Full dimming capacity in all channels, 0-100% with progressive dimming (sunset/sunrise).
LEDS & LENS
CHECK THE NEW SPECTRUM FOR OPTIMAL CORAL BEAUTY, GROWTH, COLOR & HEALTH!
New customized high efficiency 5w Dual-Chip power LEDs – total of 90 individual LEDs.
Seven different types of LEDs rendering spectrums for better coral growth, color and health.
New super blue LED for more fluorescence and coral color.
Four separate control and programming channels.
Multiple lens options – 5, 10, 15, 45, 60, 90, 120 degrees lens.
SPECTRUM & EFFICIENCY
Highest PAR/PUR per watt.
High efficiency power supply.
Designed as a replacement for metal halide systems 400 watts and over.
CHECK WHAT COMES WITH YOUR LIGHT! (INCLUDED)
Power cord with waterproof connector
Driver
Meanwell Fan-less IP65 power supply
CHECK WHAT IS ALSO AVAILABLE TO PURCHASE! (NOT INCLUDED)
3m extension cable

ORPHEK Router (You can use your own)
ORPHEK Gateway – ability to control 200+ units.
---
OK, BUT CAN YOU SHOW ME WHY THIS IS ONE OF THE MOST VERSATILE  PRODUCTS IN THE MARKET?
DIFFERENT LAYOUTS
The Atlantik P300 V3 Plus can be installed above any shape of tank and it renders a spectacular solution where the integration of light sources, conceptual design and architectural elements are also desired.
These pendants offer a beautiful and neat integration of the light source when round lighting layouts are needed.
DIFFERENT SPECTRUMS FOR DIFFERENT SPECIES
The Orphek team has a host of spectral options for everything from freshwater plants to Kelp gardens & carpet anemones. Check with Orphek team for your specific needs.

The Orphek V3 spectrum delivers fast healing, quick growth and fosters ideal levels of Zooxanthellae algae, giving colors that rival and in many cases surpass metal halides.
DIFFERENT LENS OPTIONS
Multiple lens options – 5 ,10,15,45,60,90,120 degree lens: Orphek's wide angle convex lens allow the ATP300 V3 Plus to cover larger areas with higher PAR thus reducing the number of fixtures needed to provide adequate lighting for fast growth and amazing colors.
SHALLOW GROWOUTS: 
The Atlantik P300 V3 Plus combined with Orphek's wide angle convex lens allow the ATP300 V3 Plus to cover larger areas with higher PAR thus reducing the number of fixtures needed to provide adequate lighting for fast growth and extraordinary color. 

The light-weight aluminum construction enables the light to be used on any standard light mover/hanger in nearly any configuration.
DEEP WATER SYSTEMS: 
Orphek's primary design goal is for commercial installs, zoos and public aquariums.
Whether lighting a large shark lagoon or a 4 meter deep coral reef tank the Atlantik  P300 V3 Plus can deliver results.
Its ability to penetrate and deliver sufficient light for viewing at depths over 4 meters will allow you to use it just like you would any standard metal halide system. (That means that you can now switch that coral reef system to LED and reduce the expense of high electrical usage and bulb replacements without sacrificing the look and quality of your exhibits).
Back of house installs remain cooler and maintenance is reduced, allowing your staff to focus more on livestock and husbandry.
Orphek Atlantik 300 V3+ is the LED solution for a deep coral reef aquarium.

Utilizing state of the art components combined with Orphek's ability to target the exact spectrum that photosynthetic creatures require, the ATP300 V3 Plus delivers significant light penetration and plenty of coverage which allows for direct 1 to 1 replacement of larger, inefficient lighting systems such as 1000 watt metal halides.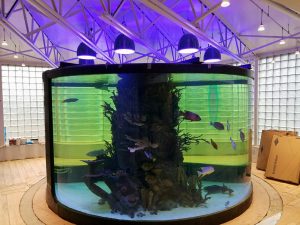 LED'S AND CHANNEL LAYOUT
LEDS
Orphek's LEDs are produced to an exact requirement which allow us to create the spectrum needed for excellent coral growth and color. This flexibility in LED technology gives us the ability to pinpoint certain areas of the spectrum which increases Chlorophyll A and B production which are needed for aggressive growth and superlative coral color.
WHAT CAN I DO WITH 4 CHANNELS?
Achieve a Kelvin temperature between 18k and 30k: Channels 1 and 2.
Achieve that deep blue/purple actinic look that causes coral to fluoresce and show color that are not visible in the higher range of the visible spectrum: Channels 2 and 3.
Achieve a warm shallow sunlit reef and extend the range from 10K to 18K: combining Channel 4 with  1.
Increase the overall range of the light to 10k-30k: combining all 4 channels and adjusting to your preferences.In the Atlantik P300 V3 Plus the spectrum in each channel allows more control over the white temperature, giving a more natural display and it is combined IoT technology!
WHAT ELSE?
Controlling the white LEDs on channel 4 and mixing with channel 1 allows you to get a more shallow water look than channel one would do by itself.
If you mix channel 1 and 2, you have the ability to control the Kelvin temperature from 14K to a crispy white blue in the 25 to 30K range.
The combination of channels 2 and 3 allows you full control over the blue channel from deep purple blue to a sky blue look.
The combination between channel 3 and all other channels can create a nearly unlimited color display thereby creating an amazing look and a relaxing mood effect.
One more thing! If you like to take amazing photos of your corals and share them, Channel 4 is also great for photographing.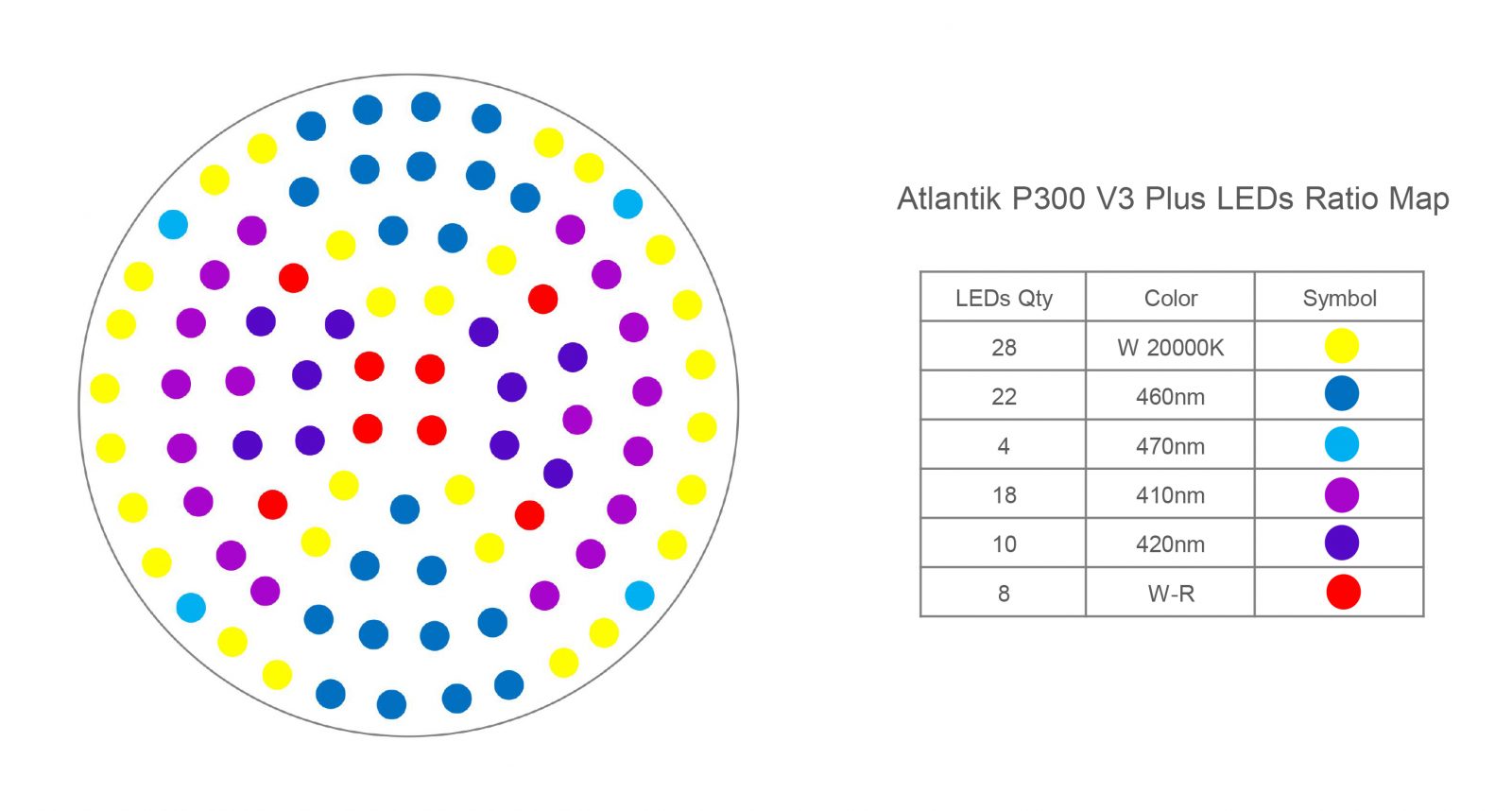 WHAT ABOUT PAR & PUR PARAMETERS?
The Atlantik v3+ employs high wattage and cool running five watt LEDs to produce PAR levels rivaling metal halide, but with a very high Photosynthetic Useable Radiation (PUR).
ARE THE APPS REALLY FREE OF CHARGE?
YES! THEY ARE! JUST CLICK ON THE OPTION COMPATIBLE TO YOUR PHONE!
WHAT ABOUT THE GATEWAY? IS IT NECESSARY TO PURCHASE IT?
YES! YOU NEED TO PURCHASE ORPHEK MASTER GATEWAY.
By launching a ground breaking technology Orphek's goal is to provide a solid and reliable control system that enables you to get the look that you want for your tank, while providing the best light possible for your corals.
By combining the wifi connection with the Orphek Gateway you will be able to enjoy fast, out-of-the-box setup & the ability to control and program your lights from
anywhere in the world where internet access is available.
THE GREAT NEWS ARE: One Orphek Gateway has the ability to control and program 200+ individual units!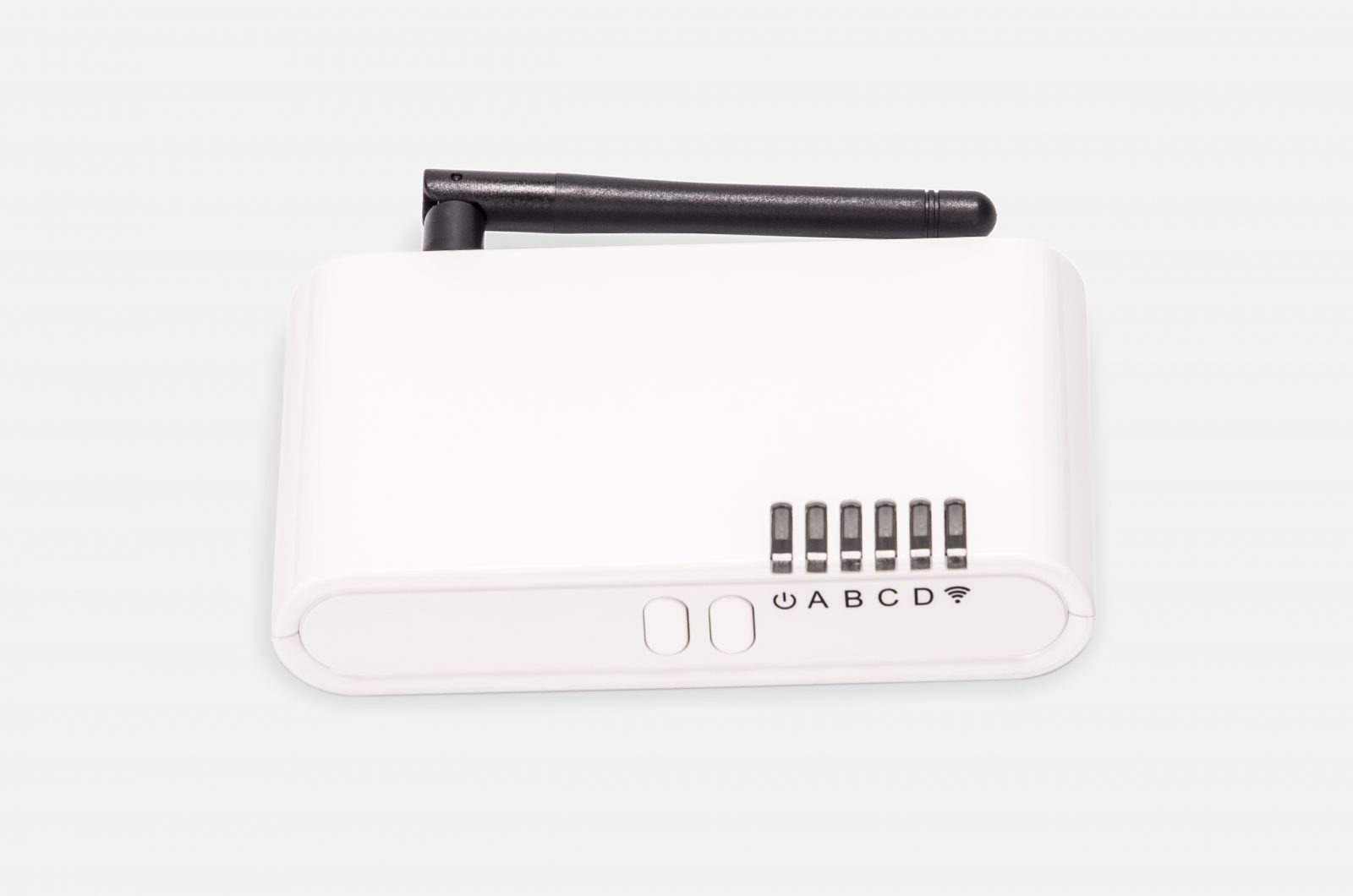 ---
CAN I WATCH/READ REVIEWS OF THE PRODUCT?
Orphek ATP 300 Lighting a 7 foot deep reef tank in Germany Video
Coral farm in Mexico using our pendant
---
DO YOU NEED MORE DETAILS BEFORE PURCHASING?
Here you can have all the specifications: 
Materials 
Extruded Aluminum Heatsink quickly dissipates heat.

High Density Acrylic replaceable faceplate provides years of protection.
Hanging Kit
 Integrated Hanging Loop for ease of installation.
Dimensions 
Housing Diameter – 350mm (13.78 inches)

Housing Height    – 415mm (16.38 inches)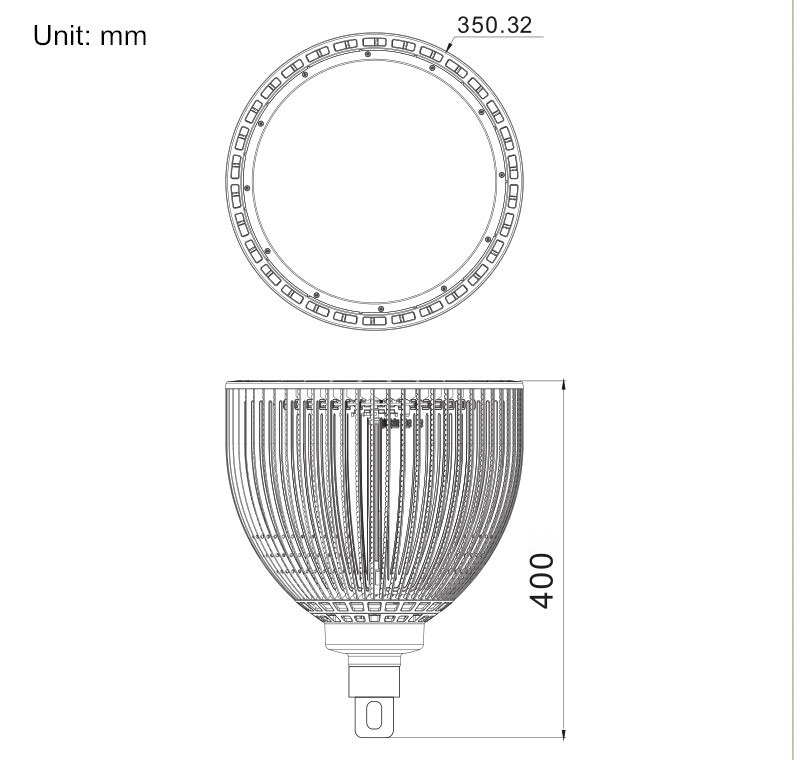 ---
Power supply 
External  Mean well Driver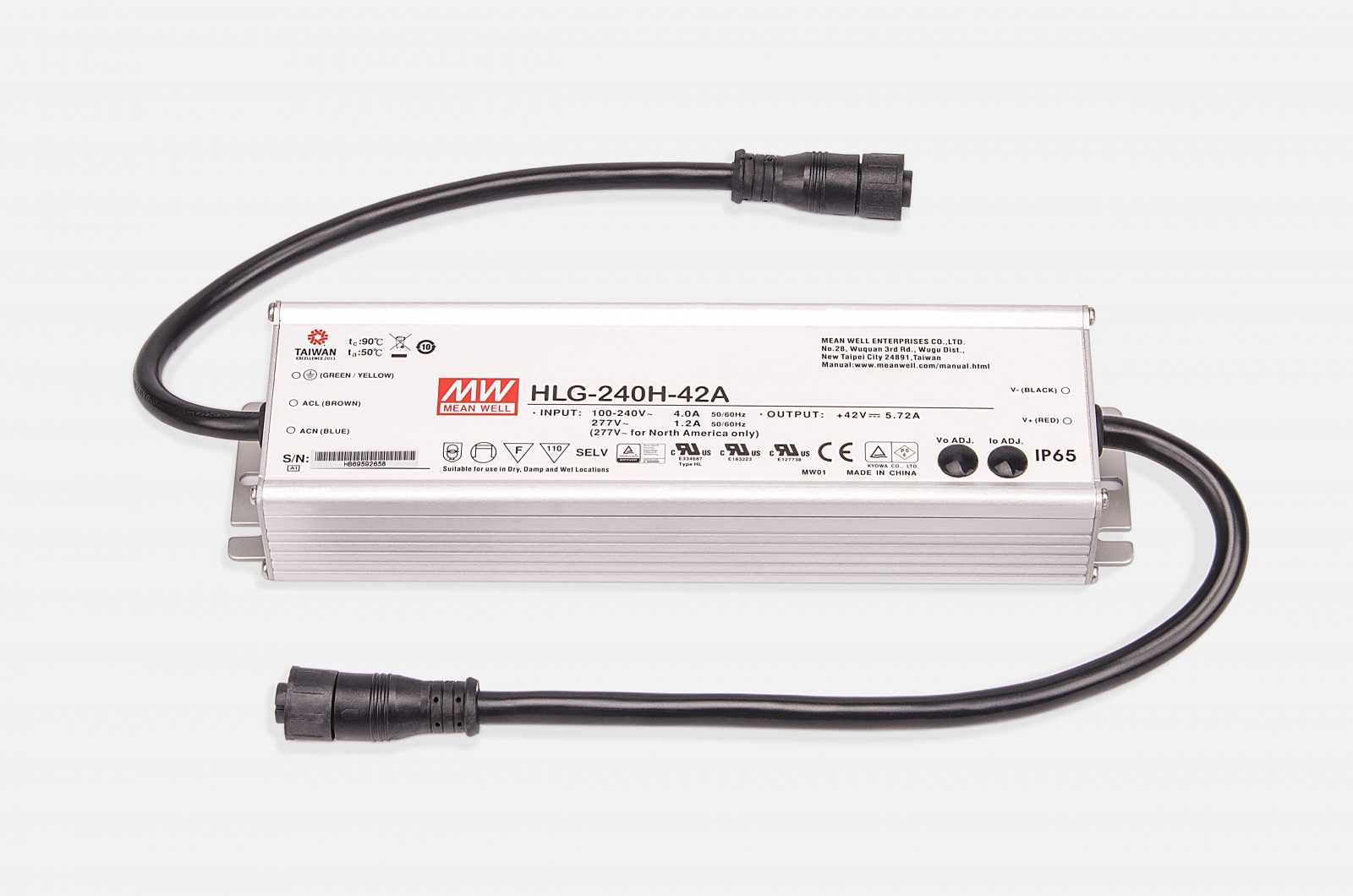 Electrical
Mean Well Driver Model: HLG-240H-48A
Input voltage:100-240VAC     277VAC for North America only
Frequency: 47 ~ 63Hz
Power consumption:  220~235 

watt

PF (power Factor) 0.973
Input Current (Amps) 0.883
Input Voltage (V) 217
Output Voltage(V)  48
Electrical outlet:  Region appropriate

---
MY LIGHT (S) ARRIVED!
WHAT DO I NEED TO KNOW BEFORE INSTALLING MY ATLANTIK P300V3 PLUS?
Orphek Atlantik V3 plus manual PDF