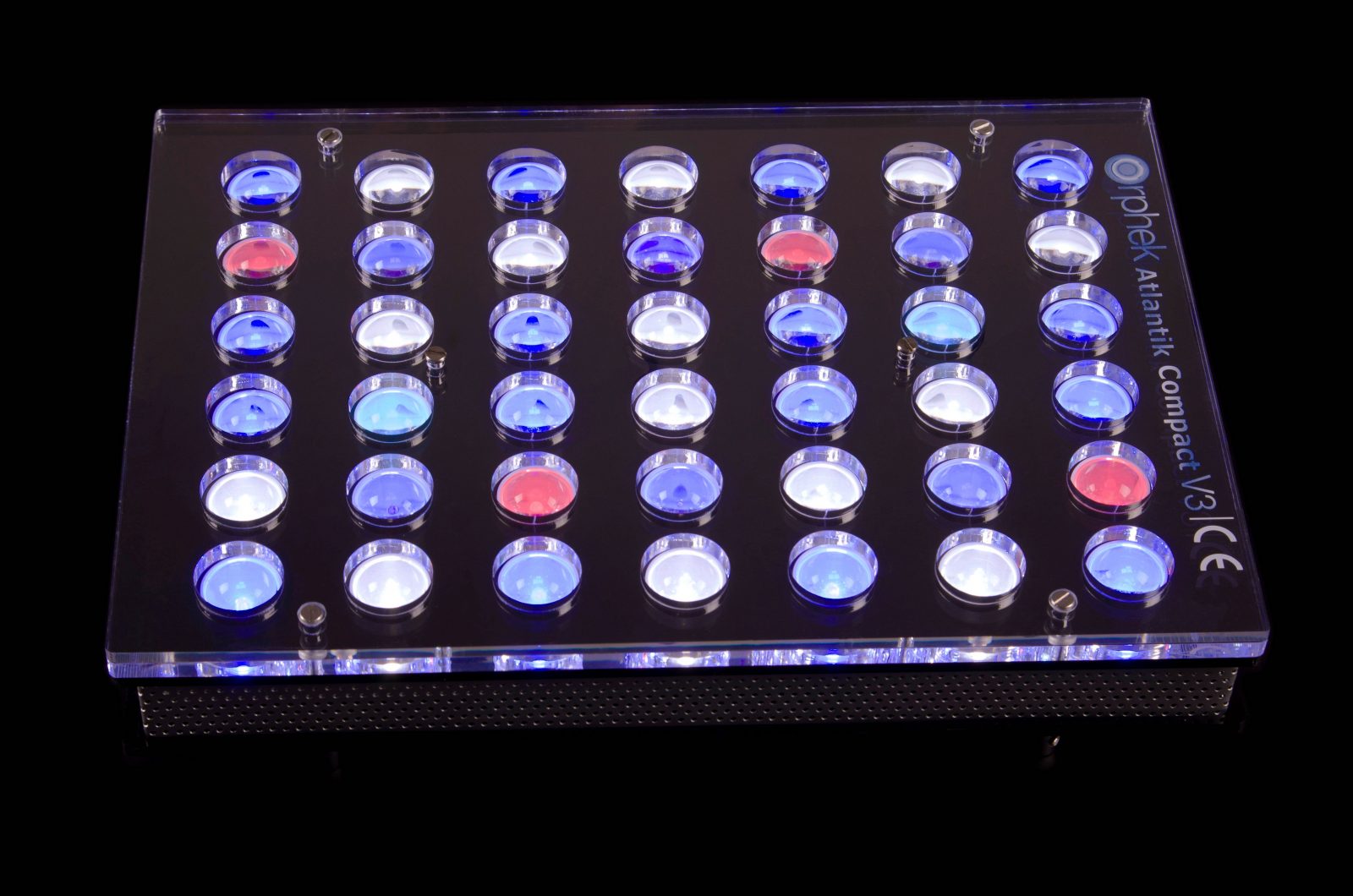 ---
By launching groundbreaking technologies Orphek gained respect and recognition as a leader in Aquarium lighting technology and innovation for reef aquariums lights. So we did it again! Our newest Orphek Atlantik Compact V3 PLUS  has taken a giant step into the future with the newest internet technology,  Internet of Things or IoT.
Be connected anywhere you go!
Orphek Atlantik Compact V3 Plus reef aquarium LED light technology features built-in wireless control allowing you to easily program, control, and monitor your light(s) from your cell phone or tablet, any time and any place you are in the world, where internet access is available! Not only that, the app is FREE OF CHARGE! All you need to do is download the one compatible to your phone:
FEATURES
PROGRAM/CONTROL/MONITORING (IoT)
CHECK ATLANTIK COMPACT V3 PlUS  VERSATILITY AND WHAT IT CAN DO FOR YOU!
Connectivity & Monitorning
Built- in Wireless Worldwide Remote and Local programming, control and monitoring
Compatible with Wi-Fi/ 3G and 4G Internet connectivity
Compatible with IOS (Iphone and Ipad) and Android (Cell and tablet)
Free apps available (App Store & Google play)
Programming
Ability to program multiple Atlantik individually, in groups or in unison.
Eight pre-installed programs/ unlimited custom programs and group programming.
Large storage with capacity for additional programs.
Full dimming capacity in all channels, 0-100% with progressive dimming.
LEDS & LENS
CHECK THE NEW SPECTRUM FOR OPTIMAL CORAL BEAUTY, GROWTH, COLOR & HEALTH!
New 42 customized high efficiency 5watt Dual-Chip power LEDs for a total of 84 individual LEDs.
New 410nm and 420nm super blue LED for more fluorescence and coral color.
Four separate control and programming channels.
Lens: Wide convex
SPECTRUM & EFFICIENCY
Highest PAR/PUR per watt.
The power output of the new Atlantik Compact V3+ has increased to 130 watts, which is a considerable increase compared to the Atlantik Compact V2.1 with a power output of 107 watts.
High efficiency power supply.
CHECK WHAT COMES WITH YOUR LIGHT! (INCLUDED)
Power cord with waterproof connector
Stainless steel hanging kit
Driver
Meanwell Fan-less IP65 power supply
CHECK WHAT IS ALSO AVAILABLE TO PURCHASE! (NOT INCLUDED)
3m extension cable

ORPHEK Router (You can use your own)
ORPHEK Gateway – ability to control 200+ units.
---
CHECK MORE DETAILS ABOUT ORPHEK ATLANTIK COMPACT V3 PLUS
WHAT CAN I DO WITH MY COMPACT?
You can combine with other Orphek LED Lights depending on the layout of your tank for perfect coverage.
You can place above a 36″ tank and that is all you need for perfect spread and depth!
WHAT CAN I DO WITH 4 CHANNELS?
Achieve a Kelvin temperature between 18k and 30k: Channels 1 and 2.
Achieve that deep blue/purple actinic look that causes coral to fluoresce and show color that are not visible in the higher range of the visible spectrum: Channels 2 and 3.
Achieve a warm shallow sunlit reef and extend the range from 10K to 18K: combining Channel 4 with  1.
Increase the overall range of the light to 10k-30k: combining all 4 channels and adjusting to your preferences.
One more thing! If you like to take amazing photos of your corals and share them, Channel 4 is also great for photographing.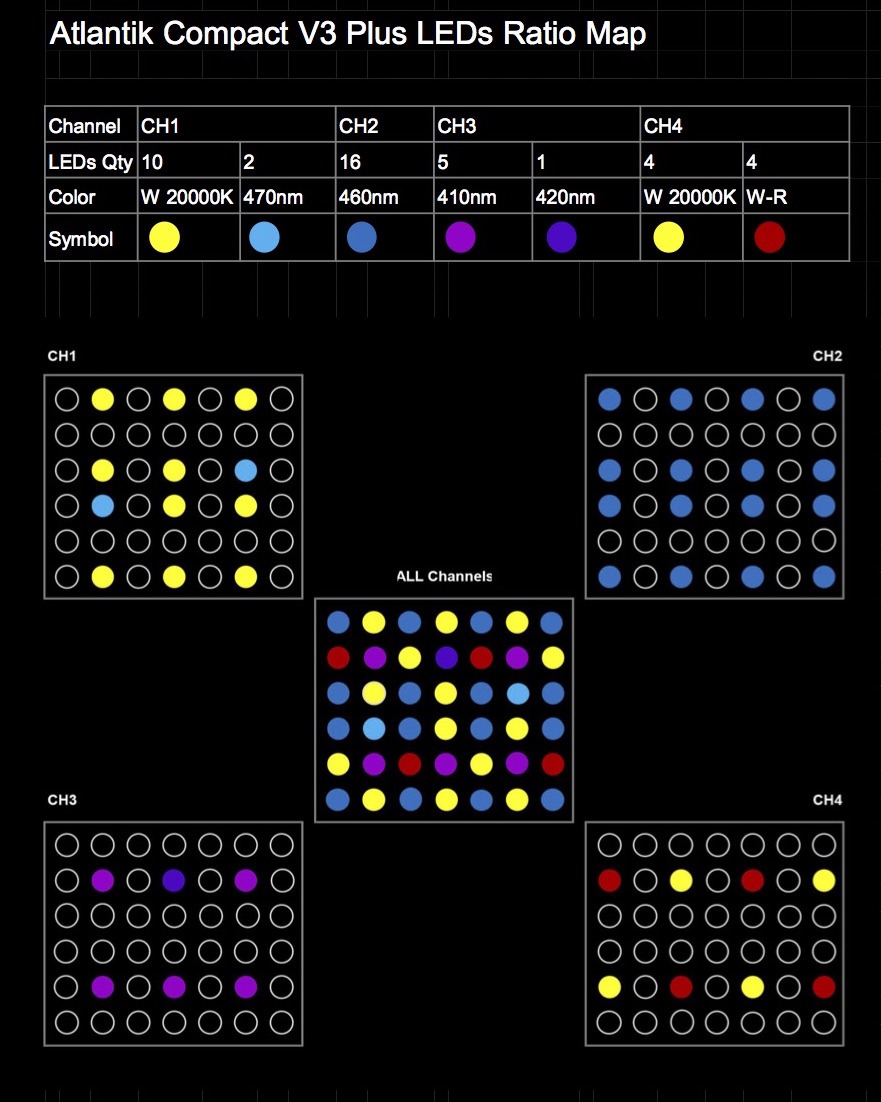 CHECK THE SPECTRUMS OF THE 4 CHANNELS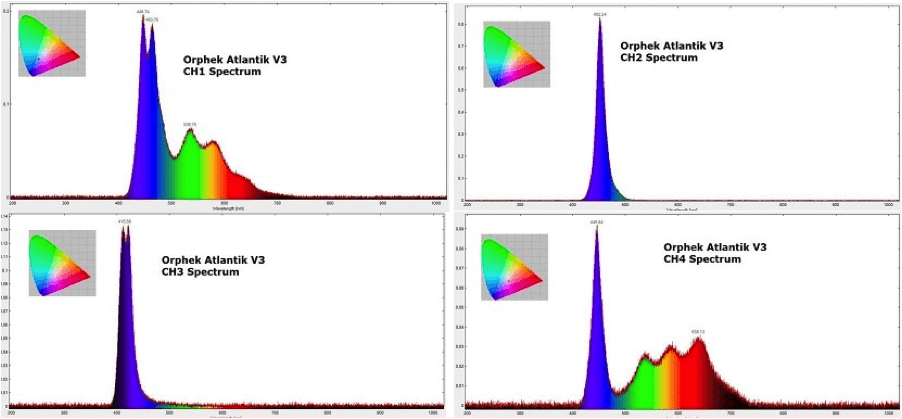 ---
WHAT ABOUT PAR & PUR PARAMETERS?
The Atlantik v3+ employs high wattage and cool running five watt LEDs to produce PAR levels rivaling metal halide, but with a very high Photosynthetic Useable Radiation (PUR).
ARE THE APPS REALLY FREE OF CHARGE?
YES! THEY ARE! JUST CLICK ON THE OPTION COMPATIBLE TO YOUR PHONE!
WHAT ABOUT THE GATEWAY? IS IT NECESSARY TO PURCHASE IT?
YES! YOU NEED TO PURCHASE ORPHEK MASTER GATEWAY.
By launching a ground breaking technology Orphek's goal is to provide a solid and reliable control system that enables you to get the look that you want for your tank, while providing the best light possible for your corals.
By combining the wifi connection with the Orphek Gateway you will be able to enjoy fast, out-of-the-box setup & the ability to control and program your lights from
anywhere in the world where internet access is available.
THE GREAT NEWS ARE: One Orphek Gateway has the ability to control and program 200+ individual units!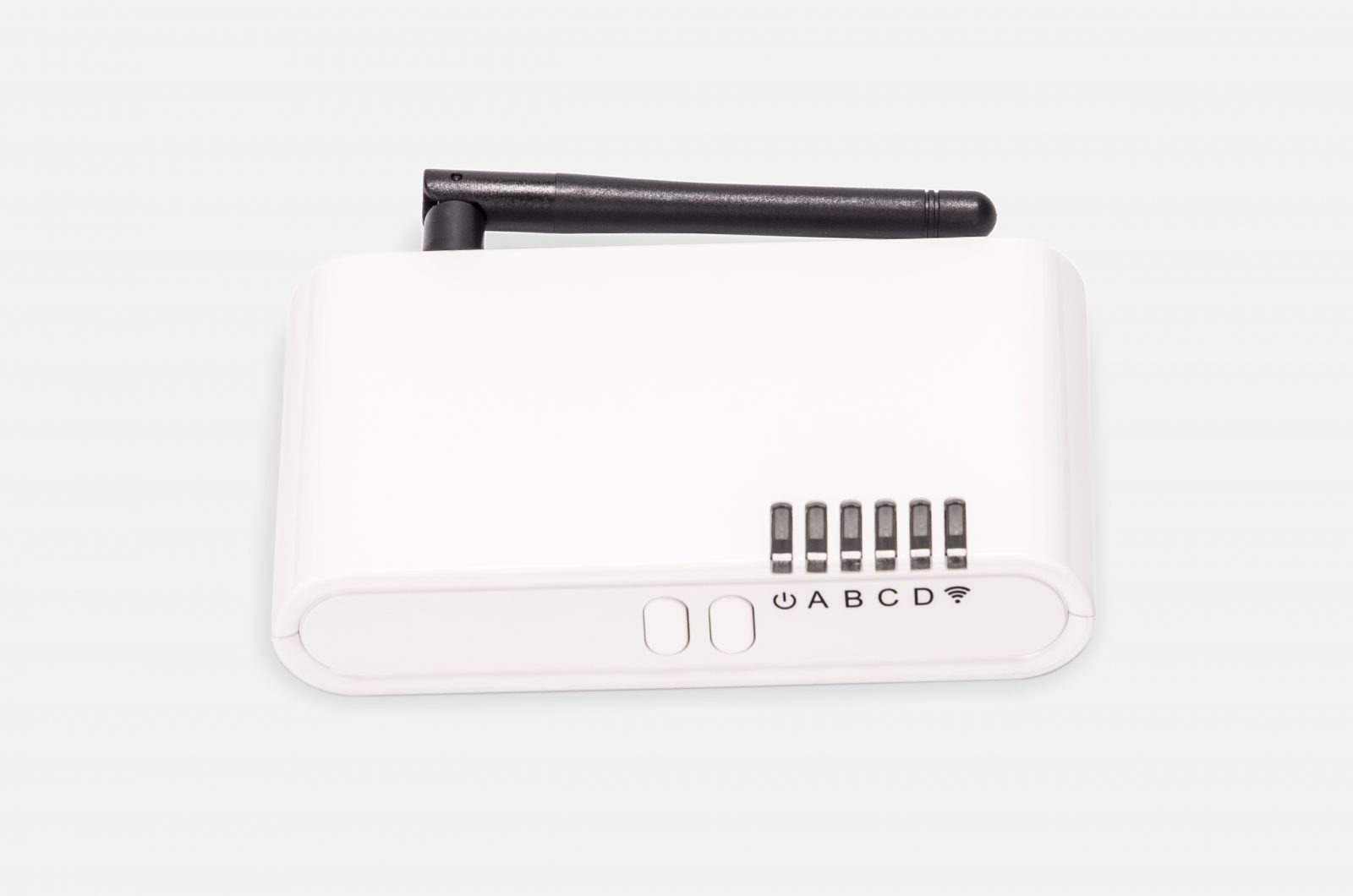 ---
CAN I WATCH/READ REVIEWS OF THE PRODUCT?
EXPLORE THE BEAUTIFUL CORALS & TANK DISPLAY (Modern Coral Reef Aquarium Plus by Pacific-Japan.co.ltd)
Coral under Orphek-Atlantik v3 plus /Orphek-Atlantik Compact v3 plus
Photo: Masahiro Kamiya /Pacific-Japan.,co.ltd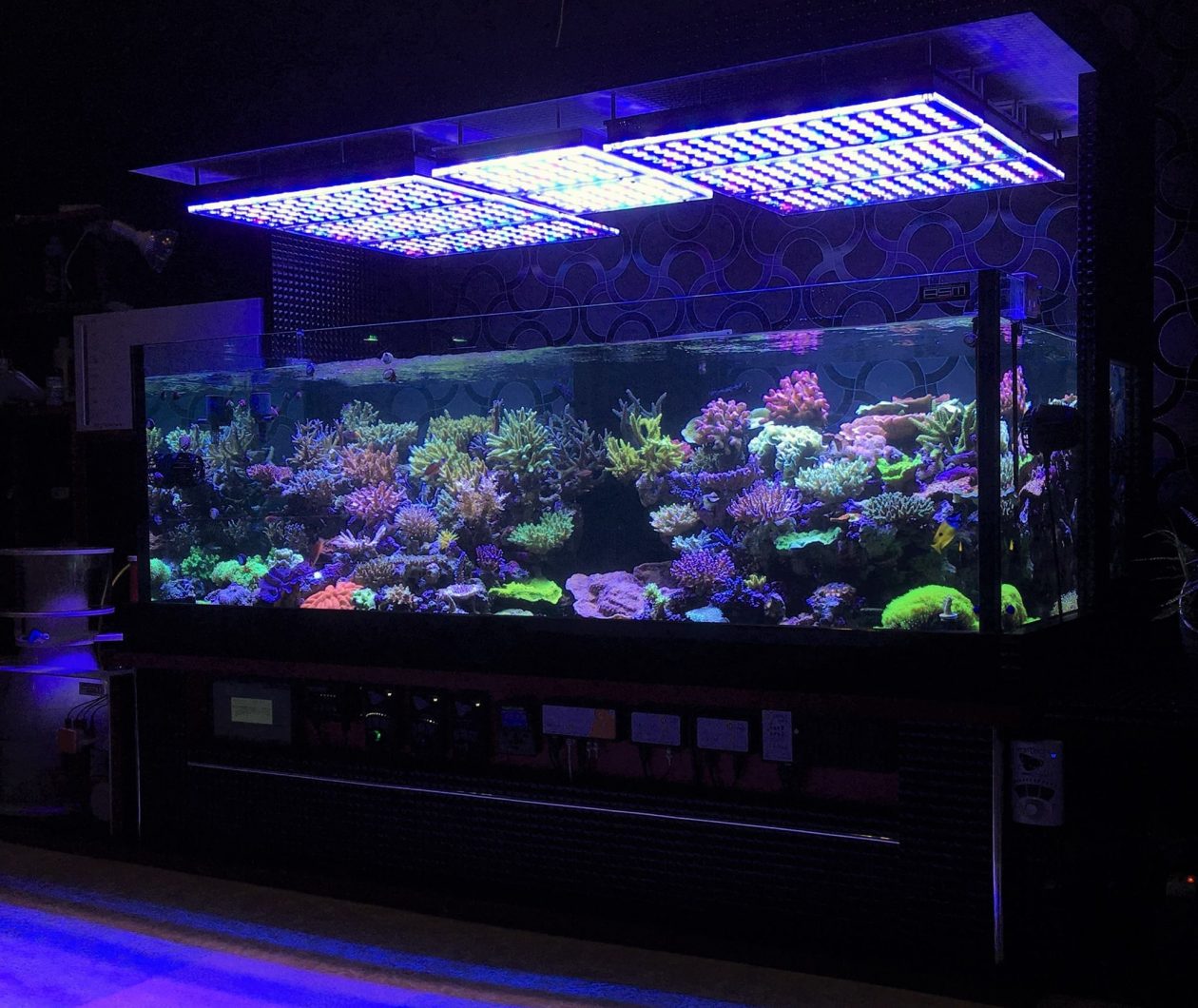 ---
DO YOU NEED MORE DETAILS BEFORE PURCHASING?
Here you can have all the specifications:  
Specifications:  
Color/Materials
Light Unit Body Material: Black acrylic housing and silver stainless steel grill
Weight
Light Unit Weight: 16.7 lbs (7.6kg)
Mean Well Driver Weight:  2.2 lbs (1.02 kg)
Dimensions
Length: 13.58" (345mm)
Width: 9.37" (238mm)
Height: 2.11" (53.6mm)
Package Dimensions / Weight
Length: 22.8? (580 mm)
Width: 13.8? (350 mm)
Height: 6.7? (170 mm)
Package Weight: 13.4 lbs ( 6.1 kg )
Package Volume/Weight: 15.4 lbs (7.0 kg )
Cords
Power extension cord with waterproof connector from Light Unit to Power Box: total 118? (3.00m)
Power Cord:  70.86? (1.8 m)
Hanging Kit
2 steel cables:  9.84" (250 mm)
1 steel cable:  70.86" (1.8 m)
Electrical
Mean Well Driver Model: CLG-150-36A
Input voltage: 100-240VAC    (277VAC for North America only)
Frequency: 47 ~ 63Hz
Power consumption:  120~130 watt
PF (power Factor) 0.966
Input Current (Amps) 0.833
Output Voltage (VDC)  36
Electrical outlet:  Region appropriate


---
MY LIGHT (S) ARRIVED!
WHAT DO I NEED TO KNOW BEFORE INSTALLING MY ATLANTIK COMPACT V3 PLUS?
Orphek Atlantik V3 plus manual PDF
2-steps-for-connecting-the-light-to-the-gateway