Orphek takes a leap into the future and presents the new Atlantik iCon – Intelligent Connectivity.
Orphek has been over the years progressively introducing new benefits and fine tunning to your Atlantik and Atlantik Compact fixtures.
This year we are launching a new Atlantik LED Light with a number of significant improvements and valuable changes! You will get access to our new app; improved air flow and cooling system; faster connectivity like never seen before; an amazing 10,000% dimming control of your light never offered in the market before; the best spectrum ever developed by us, better color control, new modes… and much, much more!
Orphek Atlantik iCon LED Lighting for coral growth & color pop is the new generation of the Atlantik series offering you access to the future.
What is the price:
Orphek Atlantik iCon Reef LED Lighting – USD$935
Does the price include shipping?
Yes – Free shipping worldwide express door to door
Do you accept PayPal or Credit Card?
Yes – we will send you a PayPal invoice and you can pay with your PayPal account or credit card.
How can I Order?
Click : Buy Orphek Aquarium LED lighting
SO, WHAT'S NEW?
New free Orphek iCon App for both IOS and Android


NEW TECHNOLOGY COMES WITH AN AWESOME NEW ORPHEK APP.
Developed with a friendly technology both easy and fun to use, the new Orphek App. is compatible with both IOS and Android, with iCloud support, voice control and many other cool features!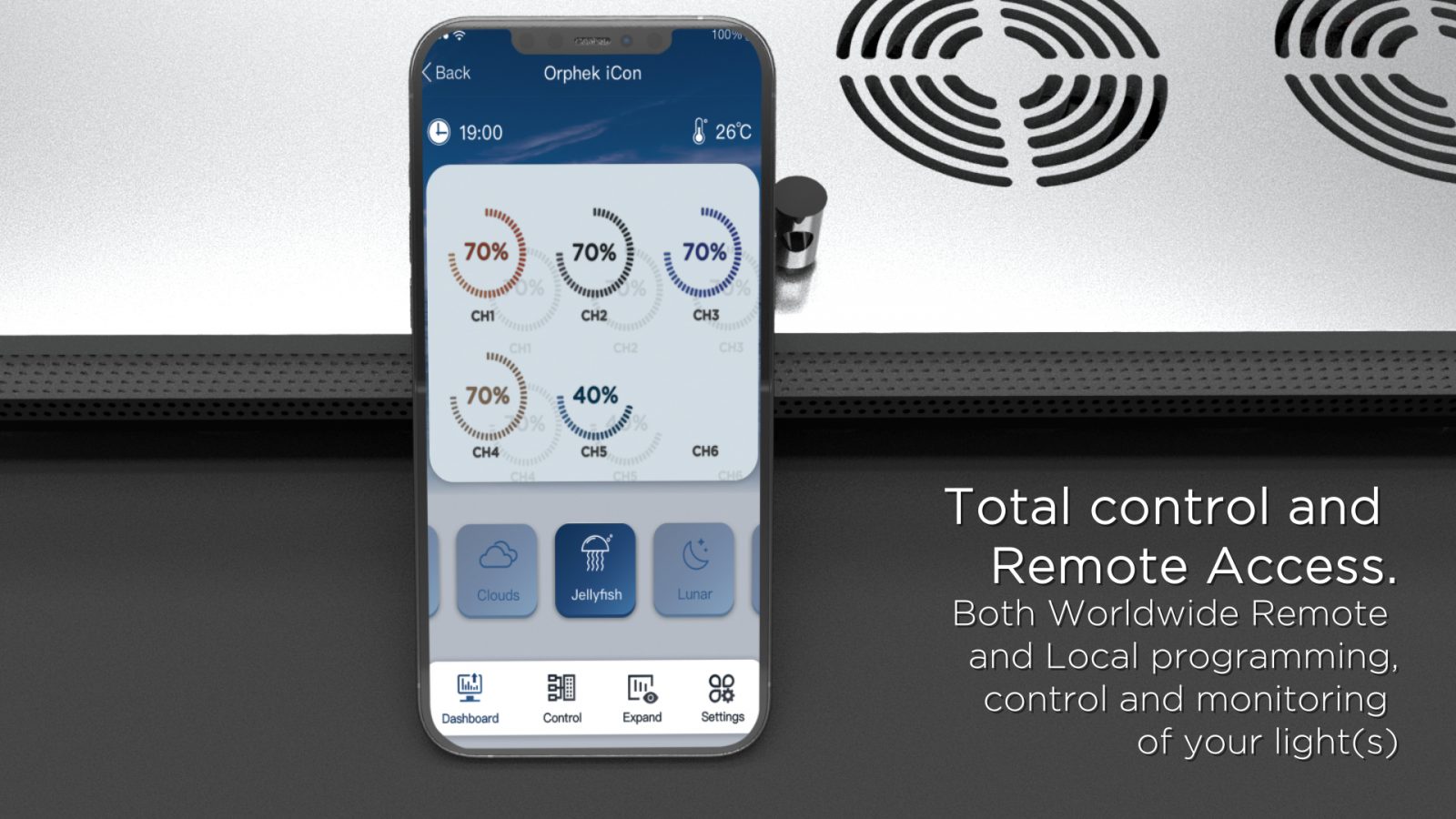 Wi-Fi Supported by Bluetooth
CONNECTIVITY FASTER THAN EVER BEFORE
Now you can now connect, monitor and program your light(s) in an effortless and faster way via Wi-Fi system having Bluetooth support, without the need of a gateway, from any place in the world!
Compatible with Wi-Fi/5G internet connectivity
With high speed response of the light to the commands given by the App.
Extra data security – your information extremely secured!
Advanced 10,000% dimming control system
THE FINE TUNING YOU HAVE NEVER EXPECTED!
Orphek offers in Atlantik iCon full progressive dimming capacity in all channels. We are the first and only company in the world offering 10,000% dimming control system (0-100% and 0.001-1% for Moon Cycle)!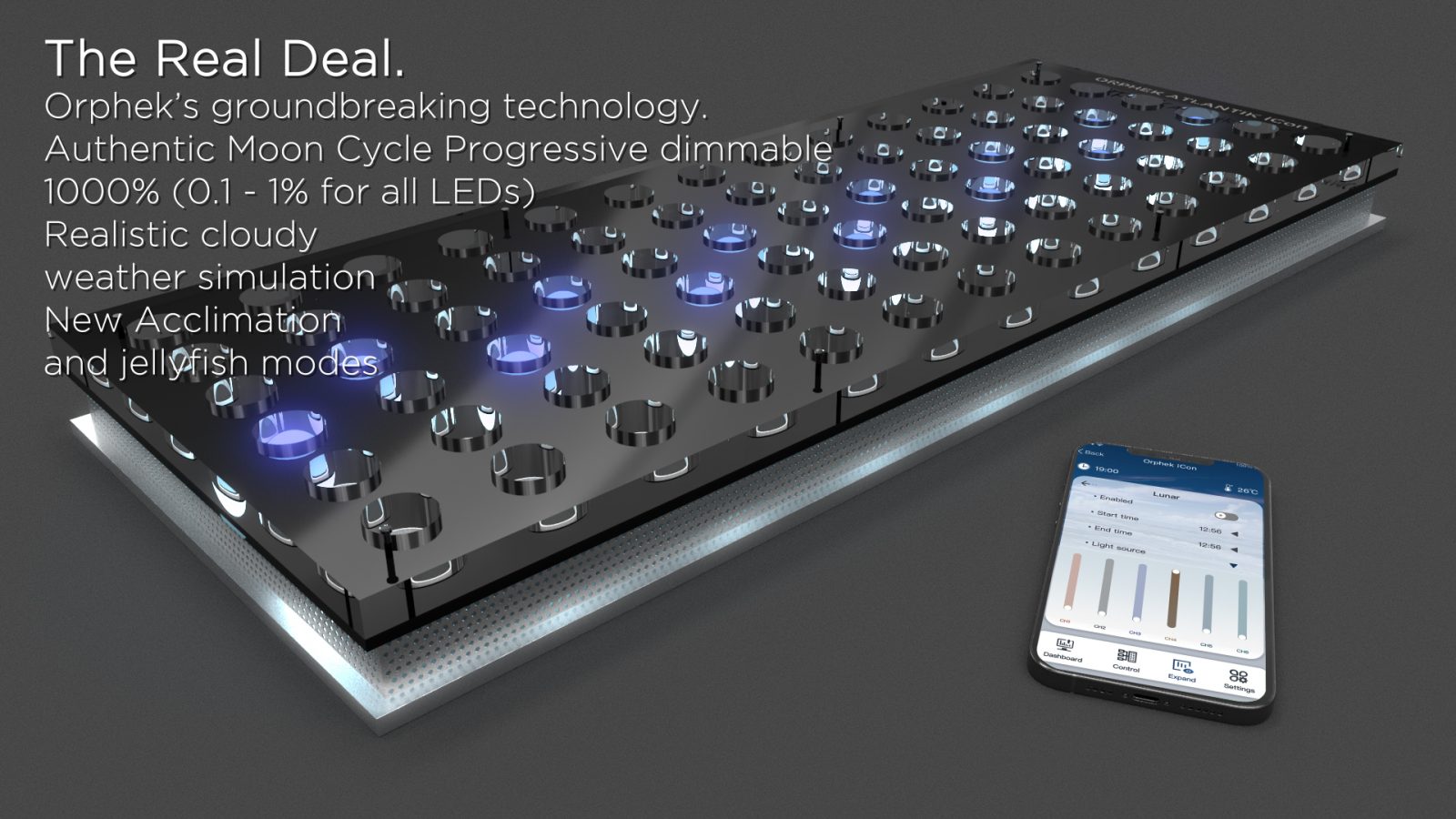 LEDs
EVEN BETTER THAN BEFORE
Atlantik iCon LEDs spectrum is developed for optimal coral growth, color pop & health.
You are getting newer customized high efficiency 5w Dual-Chip power LEDs that are even more technologically advanced therefore, more efficient! Our new LEDs will last longer than all the previous Orphek LEDs!!
78 customized high quality, high efficiency 5w Dual-Chip power LEDs – total of 156 individual LEDs Chip.
10 optimized different types of Dual chip 5W wide range LEDs for maximum photochemical efficiency
ORPHEK ATLANTIK iCON COMES WITH 2 MORE CHANNELS
Each channel comes with 13 Dual-Chip 5W power LEDs
LENS
Orphek is the only company proving glass lens for its UV/violet LEDs.
Not only that, we have also improved internal lens to make sure you are getting the best Orphek LEDs!
Atlantik iCon LEDs Spectrum
Being a company in continuous development, Orphek has taken its decade of research and testing to achieve an evolutionary spectrum that is based on the Atlantik V4 spectrum, but intelligently improved, offering now the new Atlantik iCon, with not only a new spectrum, but we have also reorganized the entire LED array, so you can control each color bandwidth separately, allowing you to have more control of the color appearance.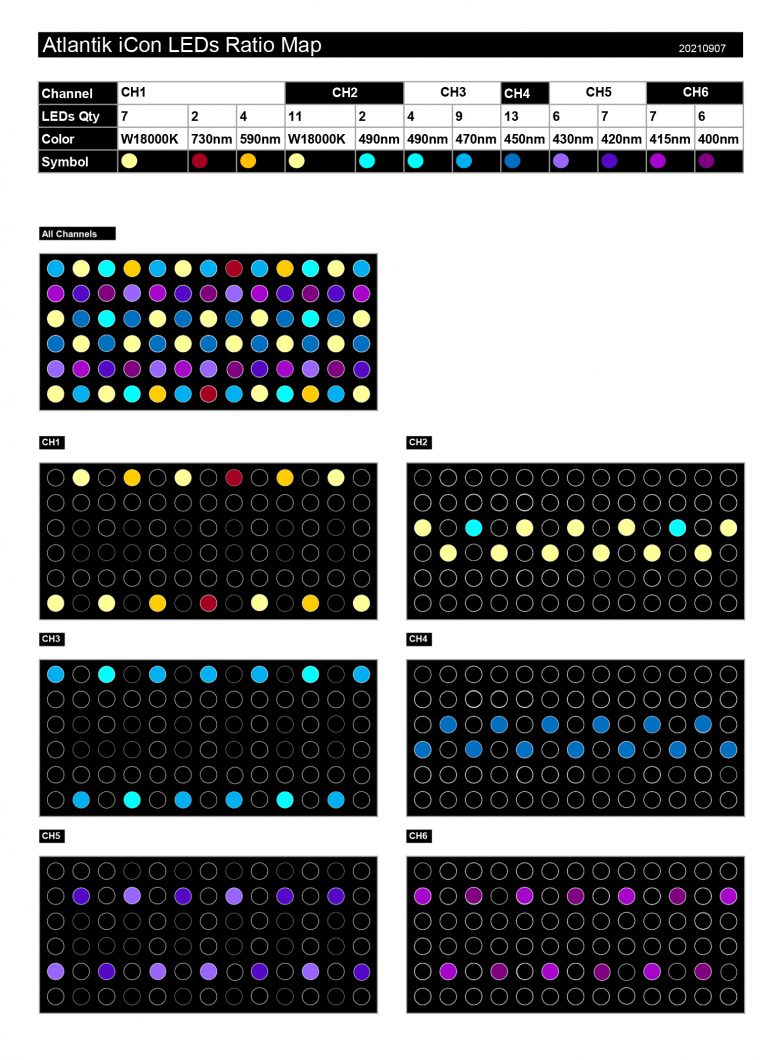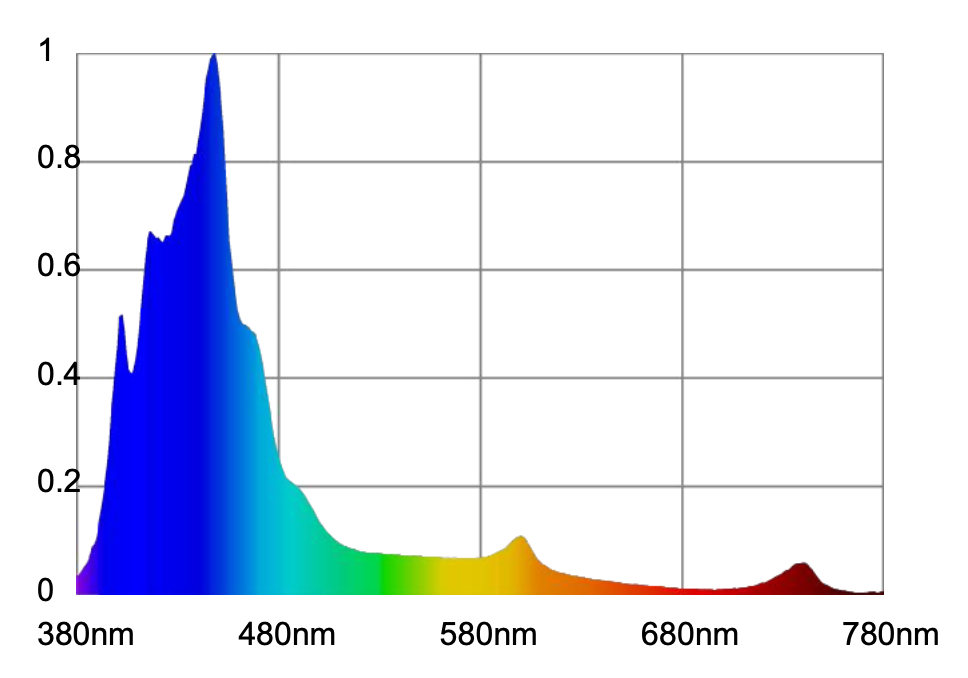 Atlantik iCon spectrum for better coral coloration & protection
Corals contain protein and these colorful molecules respond to light differently. Some are thought to protect the coral and its symbiotic zooxanthellae from excessive amounts of light, while others are believed to fluoresce light wavelengths that can aid photosynthesis.
Orphek has researched and developed each channel with a combination of LEDs colors and quantity based on the needs of corals; respecting their natural response to light wavelengths; and to provide the best color pop, health and growth spectrum, while giving your tank the natural look, mimicking nature at its fullest.
The new ATLANTIK iCON resulted into the perfect balance between the light corals need and the overall appearance you want to see in your tank.
Channel 1 : Sunrise & Sunset hue (6000K)
Full spectrum from 400 – 780nm This channel will give you the natural color of both sunrise and sunset. This is a warm color spectrum.
This channel contains: 7 X 18000K White LEDs, 2 X Infra-red 730nm LEDs and 4 X Orange 590nm LEDs – giving 6158K.
Orange 590nm adds an amber color to the spectrum: The orange-red light can penetrate more deeply into the coral's tissue, essentially allowing the coral to spoon-feed the zooxanthellae the light it needs.
Dominant coral fluorescent emission is observed in red (580-600 nm) wavelengths.
Infra-red 730nm LEDs- Chlorophyll f -a rapid energy transfer occurred from red Chl a to Chl f in the PS I and PS II complexes. Moreover light absorbance by the coral skeleton is relative enhanced at red and infra red wavelengths and are thus, reflected back through the coral tissue containing zooxanthellae.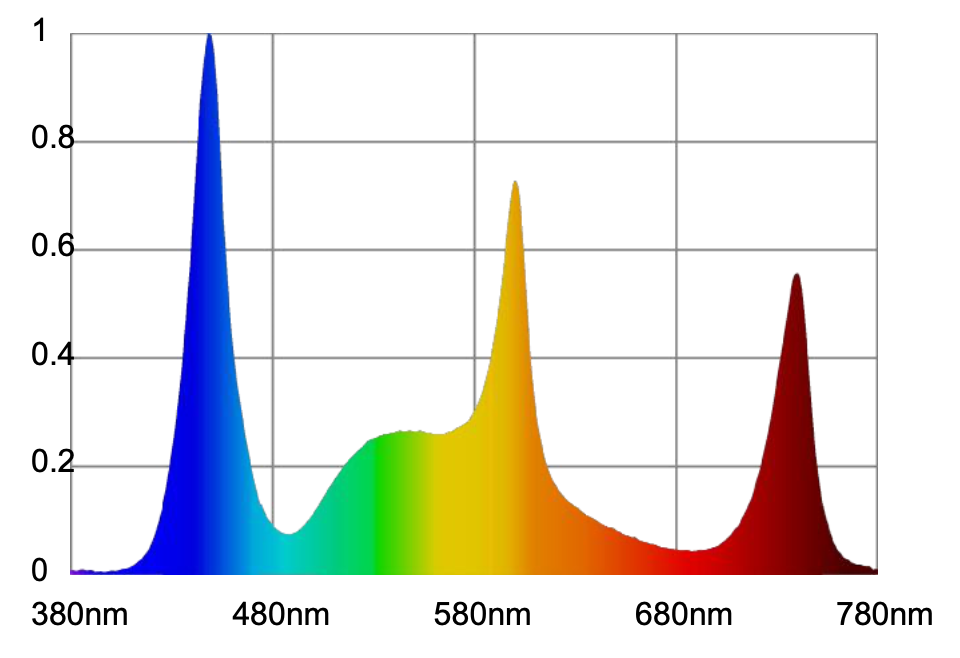 Channel 2: Solar Noon hue (18,000K)
This channel will give you the natural color of half way between sunrise and sunset. This is a very clear, bright spectrum.
This channel contains 11 X 18000White LEDs and 2 X Cyan 490nm LEDs – giving 17905K.
Full spectrum from 400 – 700nm. Center 447nm and peak 517nm. These wavelengths are important in zooxanthellae photosynthesis – chlorophylls a and c2 utilize blue while the accessory pigment peridinin absorbs green light up to about 450nm.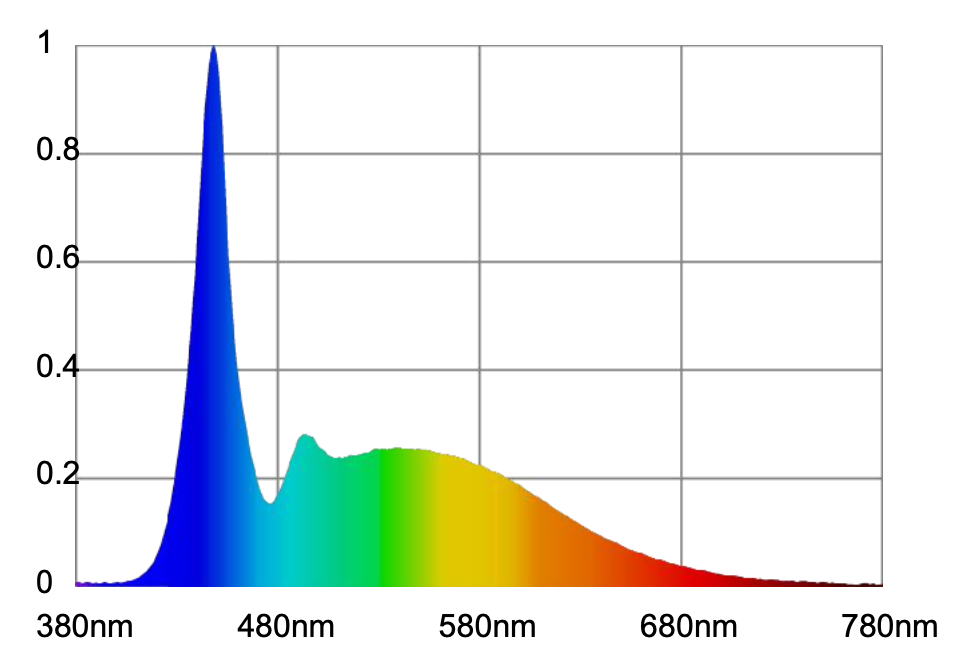 Channel 3: Cyan Blue hue (490nm ,470nm) Protective symbiotic
This channel will give you the natural color of the sea water under a clear sun daylight.
This channel contains: 4 X 490nm LEDs and 9 X 470nm LEDs.
These wavelengths are important in zooxanthellae photosynthesis.
Beta-carotene 470nm is a photopigment found in at least some zooxanthellae. It also acts as a protective antioxidant agent.
Xanthophylls 490nm(oxygenated carotenoids) are also found in zooxanthellae. Two xanthophylls (diadinoxanthin and diatoxanthin) play an important role in protecting symbiotic algae and coral hosts from excessive light energy.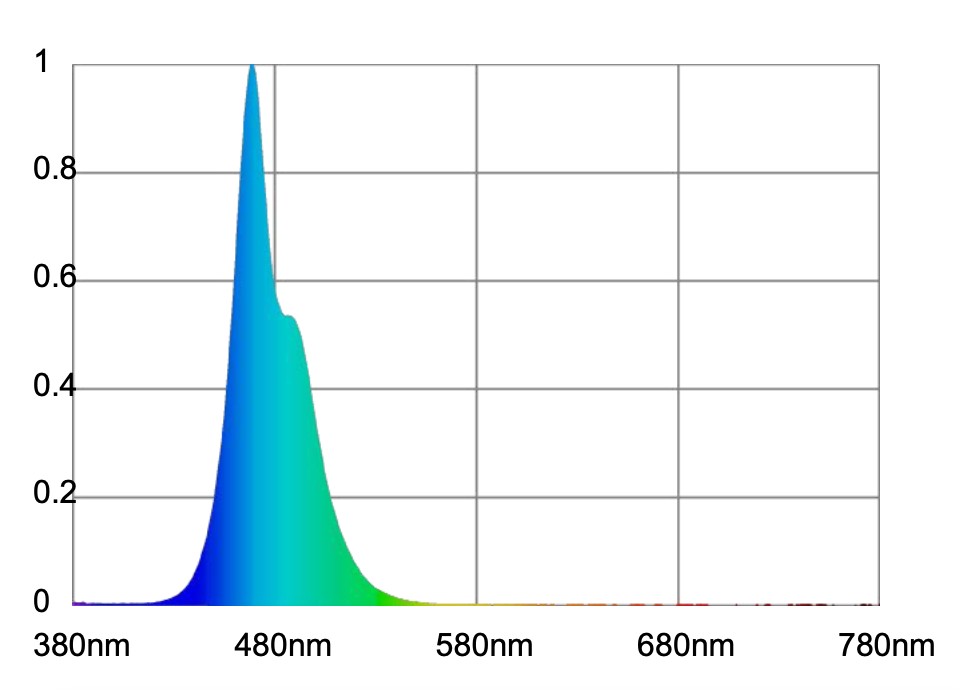 Channel 4: Blue hue ( 447nm) Chlorophyllc2
This is the natural color of a deep blue ocean, blue light makes a reef aquarium appear natural but more importantly, chlorophylls absorb this light and use it in photosynthesis.
This channel contains 13 X 450nm LEDs.
Chlorophyllc2 is the most common form of chlorophyll c. Its absorption maxima are around 447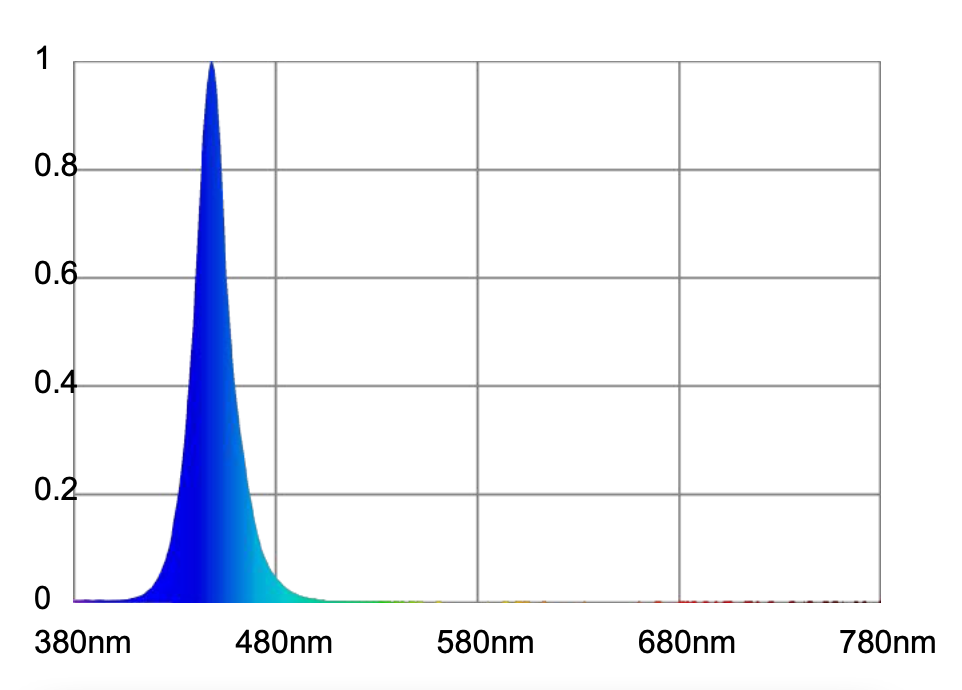 Channel 5: Violet hue (420-430nm) chlorophyll a and c2
This channel contains 6 X Violet 430nm LEDs and 7 X Violet 420nm LEDs.
400-430nm wavelengths are very useful in photosynthesis – they can be absorbed by chlorophylls a and c2. wide violet band of 400-430nm proved to be essential for the excitation of fluorescent proteins .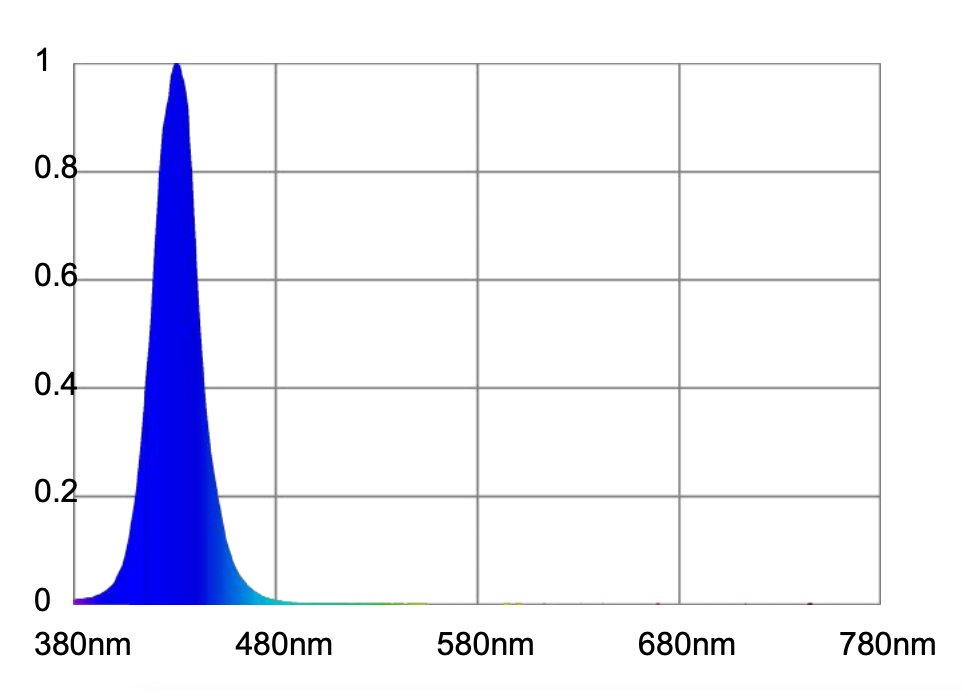 Channel 6: UV/ Violet hue (400-415nm) Chlorophyll a
This channel contains 7 X UV/violet 415nm LEDs and 6 X UV/violet 400nm LEDs.
These wavelengths are useful in photosynthesis – they can be absorbed by chlorophylls a and c2. They can also excite fluorescent proteins found in many corals. There is also the possibility that these can induce the expression of some of these colorful proteins (both fluorescent and reflective in nature.)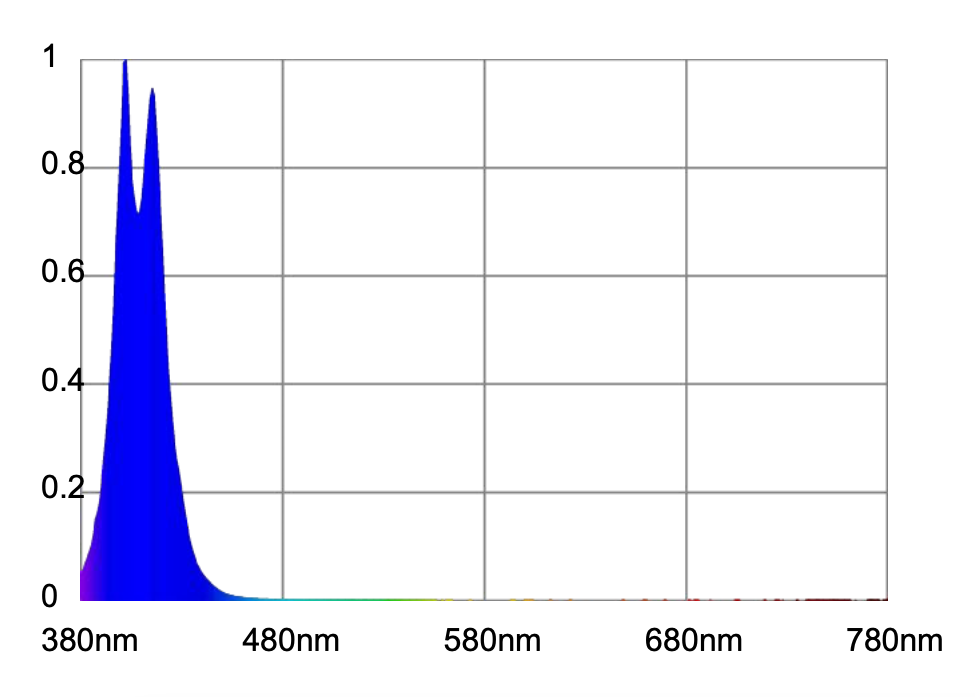 Monitoring & Programming
WHAT'S NEW
Six separated control and programming channels – Orphek is giving you 2 more controlled channels than the previous generation!
Moon cycle, clouds, acclimation, jelly fish modes in addition to your own programming – New additional awesome features for your corals and jellyfish!
Pre-installed program for optimal coral pop color & growth – now you have THE program. Orphek brings you one program offering a decade of research combined to one single most advanced program for color pop & coral growth. Of course we believe in custom made products and preferences, so you can also create your very own programs.
AND MORE…
Built- in wireless worldwide remote and local programming, control and monitoring.
Ability to program multiple Atlantik iCon units individually, in groups or in unison.
Large storage with capacity for additional programs.
CHECK WHAT COMES WITH YOUR LIGHT! (INCLUDED)
Power cord with waterproof connector
Stainless steel hanging kit
Mean well Fan-less IP65 power supply
CHECK WHAT IS ALSO AVAILABLE TO PURCHASE! (NOT INCLUDED)
Improved cooling system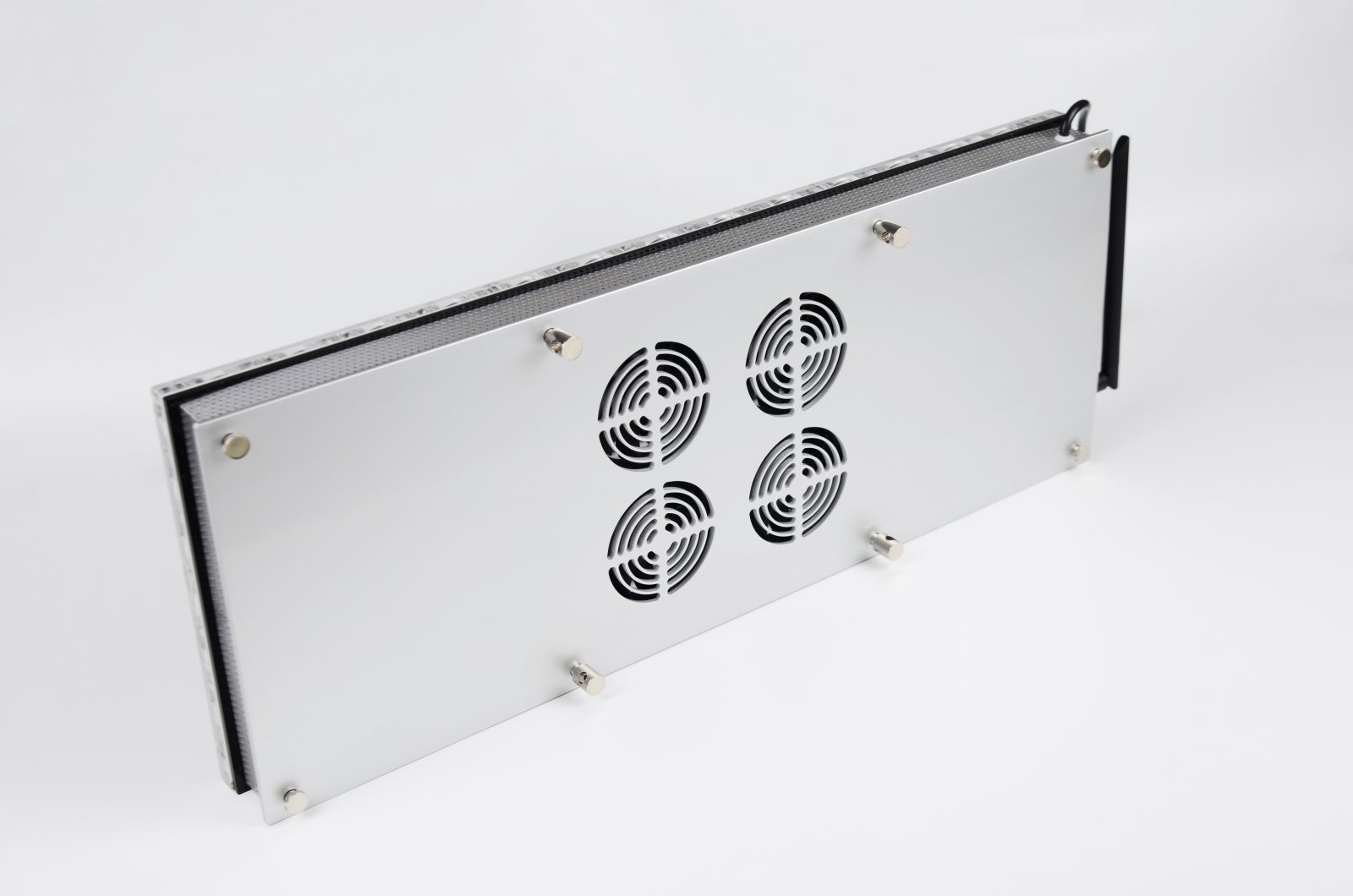 4 CONTROLLABLE SPEED FANS + HIGH QUALITY ALUMINUM HEATSINK + NEW HIGH QUALITY ALUMINUM TOP COVER
Orphek Atlantik iCon comes with a new heat dissipation and cooling system.
HOW COOL IS THAT? : -)
Besides the aluminum heat sink, we have also changed the acrylic top cover of the fans to high quality aluminum alloy, improving the cooling process performance. Now the heat will dissipate much better.
Orphek products are build to last, and with the new double surface cooling system we have achieved an improved thermal flow and dissipation of heat, therefore, a more resilient fixture and increased long-lasting life span of its LEDs.
YES! Orphek products are built to last!!
Orphek offers UPGRADE possibility of its systems. It means that you will use the same Atlantik body over and over again! So, if you have the previous versions of Atlantik and Atlantik Compact you can upgrade to our newest Atlantik model: The Atlantik iCon.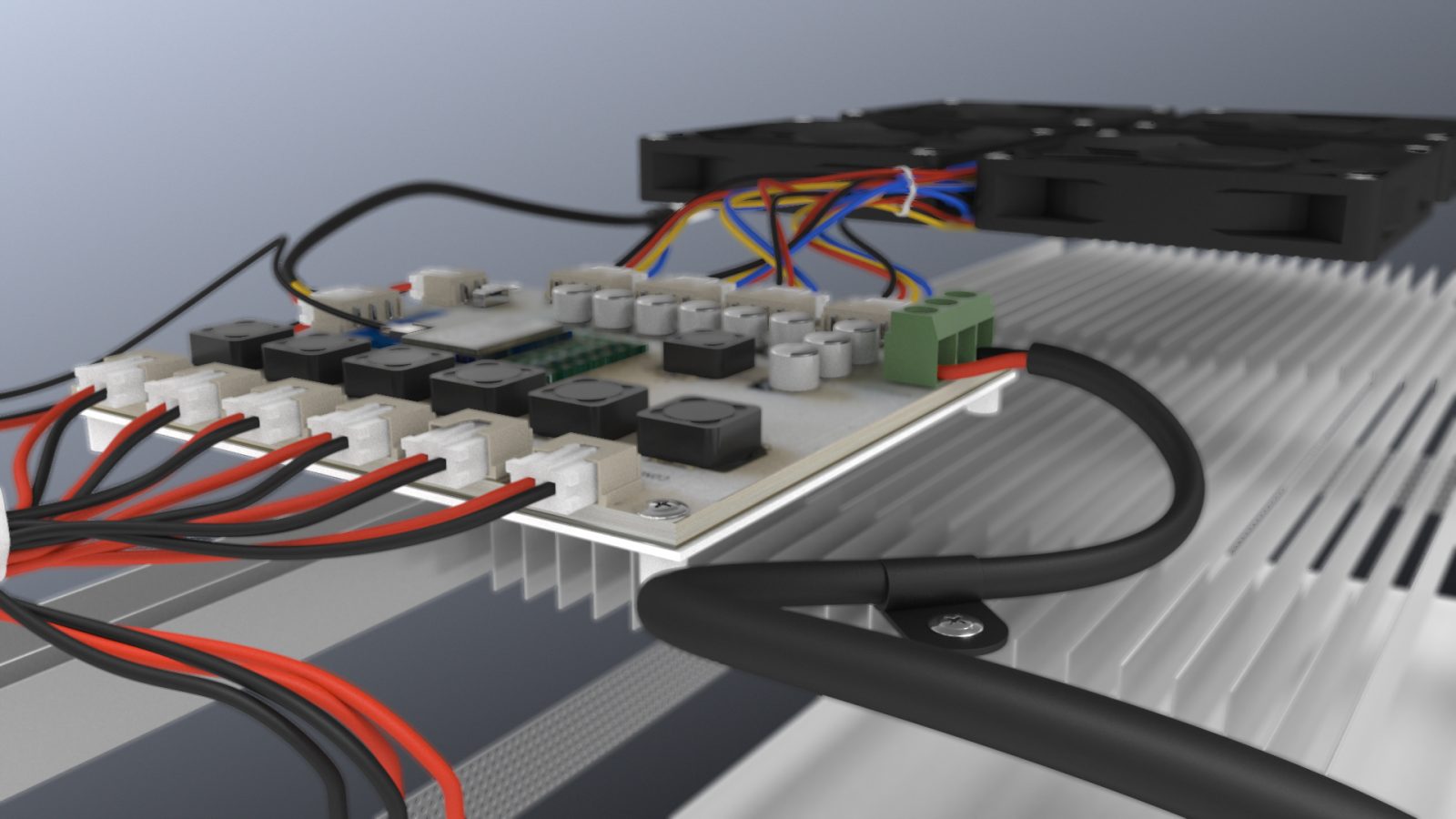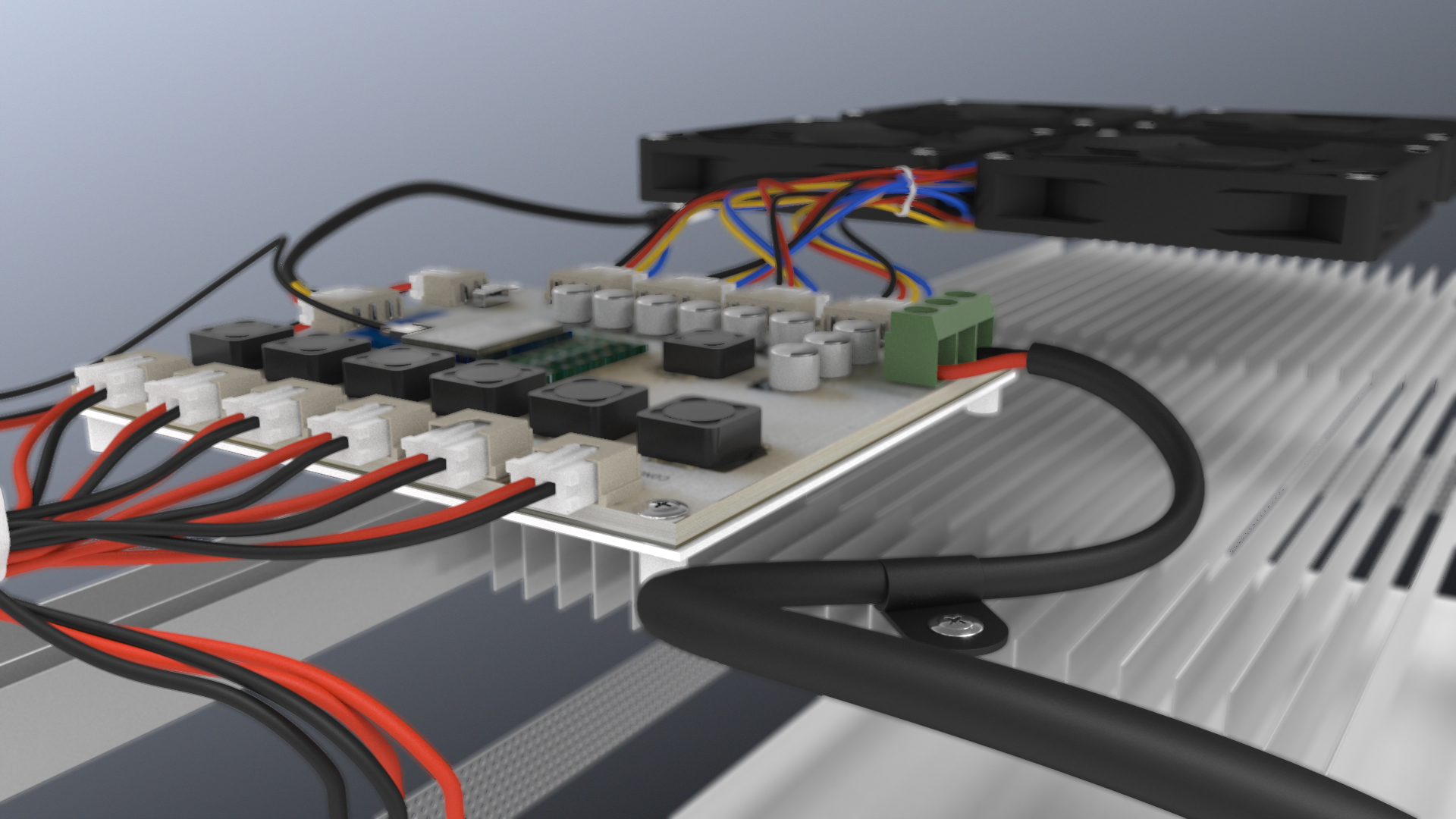 What else Orphek Atlantik iCon is offering?
A LED light that is made of full body acrylic and high quality aluminum alloy. Our light is not only solid and durable, but also beautiful to display.
A LED light that has a length of 24.21" (615mm), a width of 9.37" (238mm) and a height of 2.11" (53.6mm) .
A LED light that comes Mean Well driver (model HLG-240H-48A) – we give you what the market has best to offer!
A LED light that comes with a customized electric plug for your region.
A LED light that comes with a hanging kit with no extra costs.
Orphek is the only company using 26 glass lens for all UV/violet LEDS!
Why the New ATLANTIK iCon is the best product Orphek has produced today?
10pc 2022 new types of custom made 5W dual core LEDs
Renders most natural appearance to the tank form 3K to 50K
Provides UV/violet and Infra red LEDs needed
Provides the best PAR/PUR per watt
Highest spectrum output
Highest efficiency power supply PF (power factor) 0.97
MORE FEATURES
Lens Options:
Default: Wide convex 120 degree lens
Custom: For Deep Aquarium 90 / 60 / 45 / 15 / and 5 degree lens
Color/Material
Light unit body material: Full body acrylic front panel, Silver high quality aluminum alloy top cover, silver steel stainless grill.
Dimensions
Length: 24.21" (615mm)
Width: 9.37" (238mm)
Height: 2.11" (53.6mm)
Weight
Light unit weight: 15.4 lbs (7.0kg)
Power supplier weight: 2.2 lbs (1.02kg)
Package dimension/Weight
Length: 28.3" (720mm)
Width: 16.5" (420mm)
Height: 7" (180mm)
Package gross weight: 22.4 lbs (10.2kg)
Cord
Power extension cord with waterproof connector from light unit to power supply total:
112" (2.85m)
Power cord: 59" (1.5m)
Hanging kit
2 steel cables: 9.84" (250mm)
1 steel cable: 70.86" (1.8m)
Electrical
Mean well driver model : HLG-240H-48A
Input voltage: 100-240VAC/277VAC for North America only
Frequency: 47-63Hz
Power consumption 218-235W
PF (power factor): 0.97
Input current: 1.0A
Input voltage: 220V AC
Output voltage: 48V DC
Electrical outlet: Region appropriate
Dimension:
Length: 24.21" (615mm)
Width: 9.37" (238mm)
Height: 2.11" (53.6mm)