After bringing the Atlantik series one step forward by upgrading it with a new V4 spectrum,  Orphek is now introducing to you our newest 24″ Slim Line lights for both Reef and Planted Aquariums.
FLEXIBILITY,  LONGEVITY, DURABILITY & HIGH PERFORMANCE
Orphek has already settled the standard in the market for its advanced comprehension of color spectrums and its influence on coral physiology.
Today we are offering you LED lighting products combining efficient technology, longevity, design and modular flexibility.
YES! We believe it is possible to offer solutions that have an outstanding performance, high quality components, exquisite conceptual design that  will have more than one application and will answers to all aquarists' needs.
Our 2 new Slim Line lights with spectrums for both Reef and Planted aquariums differ from all slims lights offered in the market today because they are built with the same design and quality of the Atlantik series, made of full body acrylic, a rugged aluminum heat sink and thick polished acrylic lens cover.
Our light is not only solid and durable, but also beautiful to display!
WHAT ARE THE APPLICATIONS?
Smaller tanks and upgrades:
If you have a smaller tank it does not mean that you don't deserve a beautiful light over it!
Our 24″ Slim Lines Lights can cover every 101cm/40″ L x 30cm/11.8″ W x up to 60cm/24″ H of your SPS/LPS reef tank or planted frashwater aquarium – that said, if you start with a smaller tank you can always add more lights as you continue to upgrade your tank. Or you can simply add 01 extra unit for every  1m/40″ L, or 30cm/11.8″ W.
Integration:
They can integrate tanks where you still have uncovered areas, including mixing them with other Orphek lights, such as the Super Blue Slim Line, Atlantik series and even Orphek pendants!
You can replace

older technologies such as T5 /T8 systems or any other LED systems with not enough light.

They are perfect for aquariums placed inside a canopies or closed tanks.
Flexibility:
Our Slim Line Lights are built to accommodate:
Reef tanks

Frag Tanks
Jellyfish aquariums

Freshwater planted aquariums
WHAT ELSE YOU ARE GETING
Five watt dual chip LEDs.

Large convex lenses that are able to disperse light over a wide area and provide excellent penetration.

Quality Mean Well SLG-45-48 LED driver with a waterproof quick disconnect cable.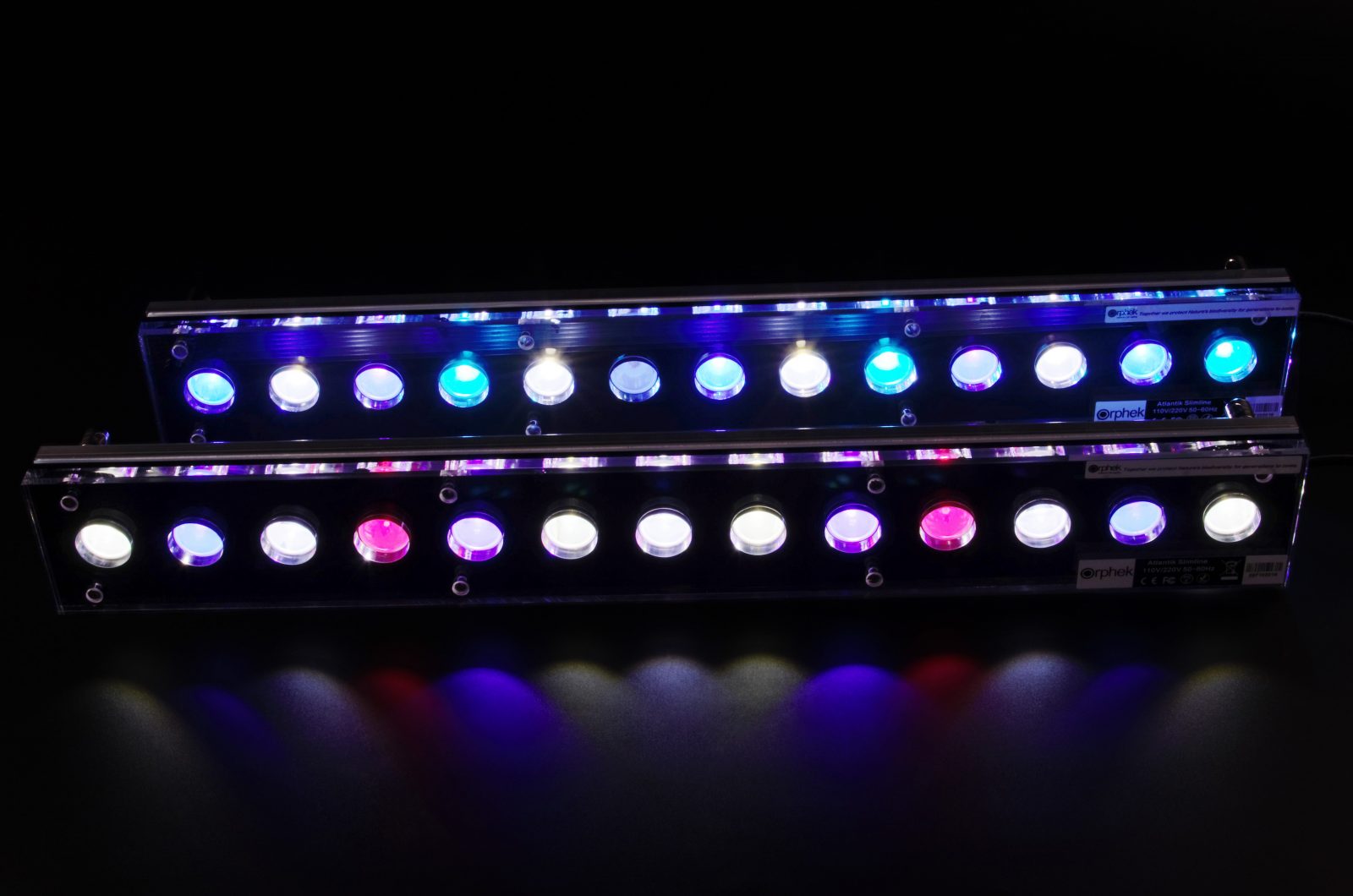 SO WHATS NEW?
Check here just a small preview of what we have to offer!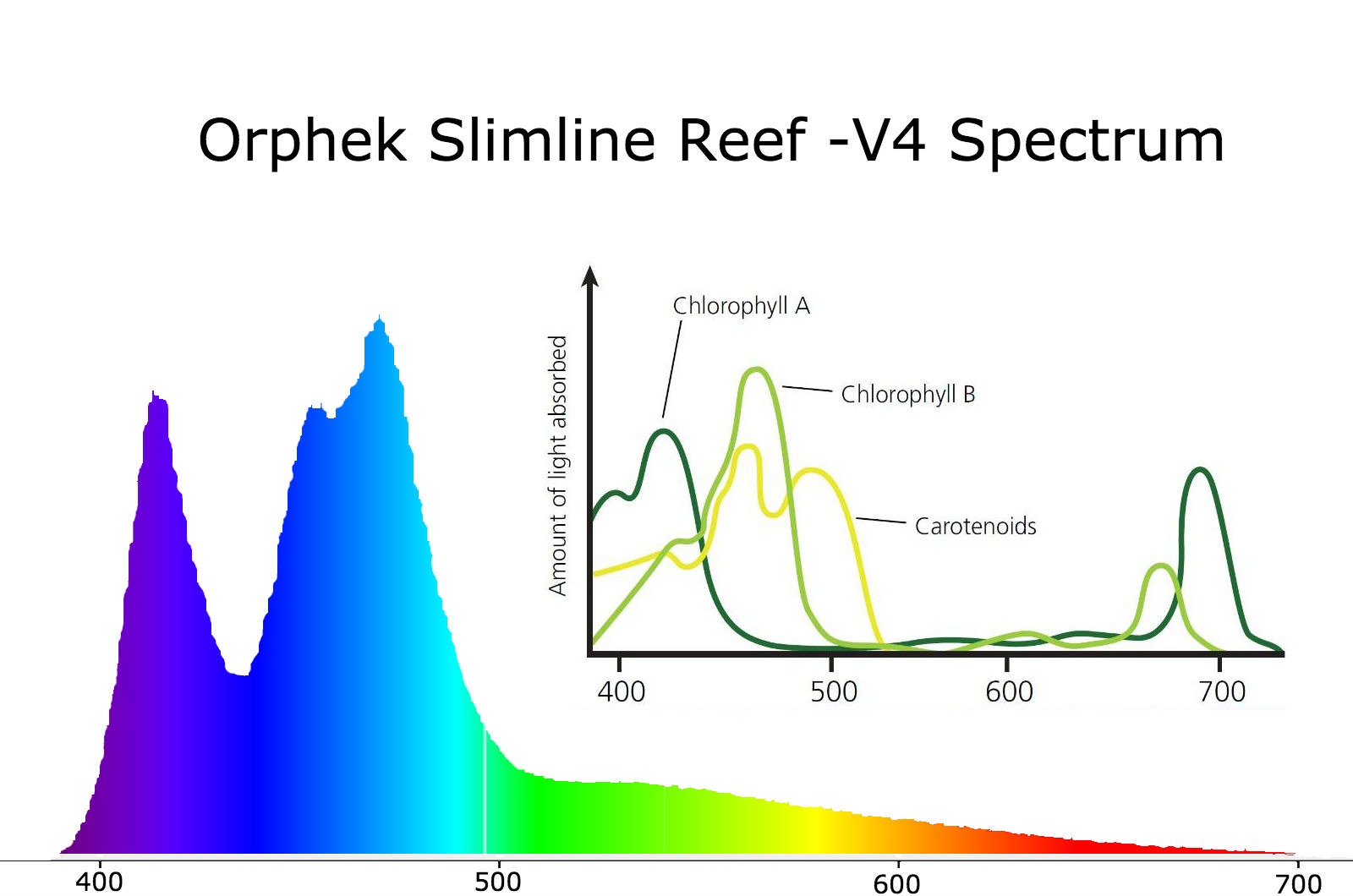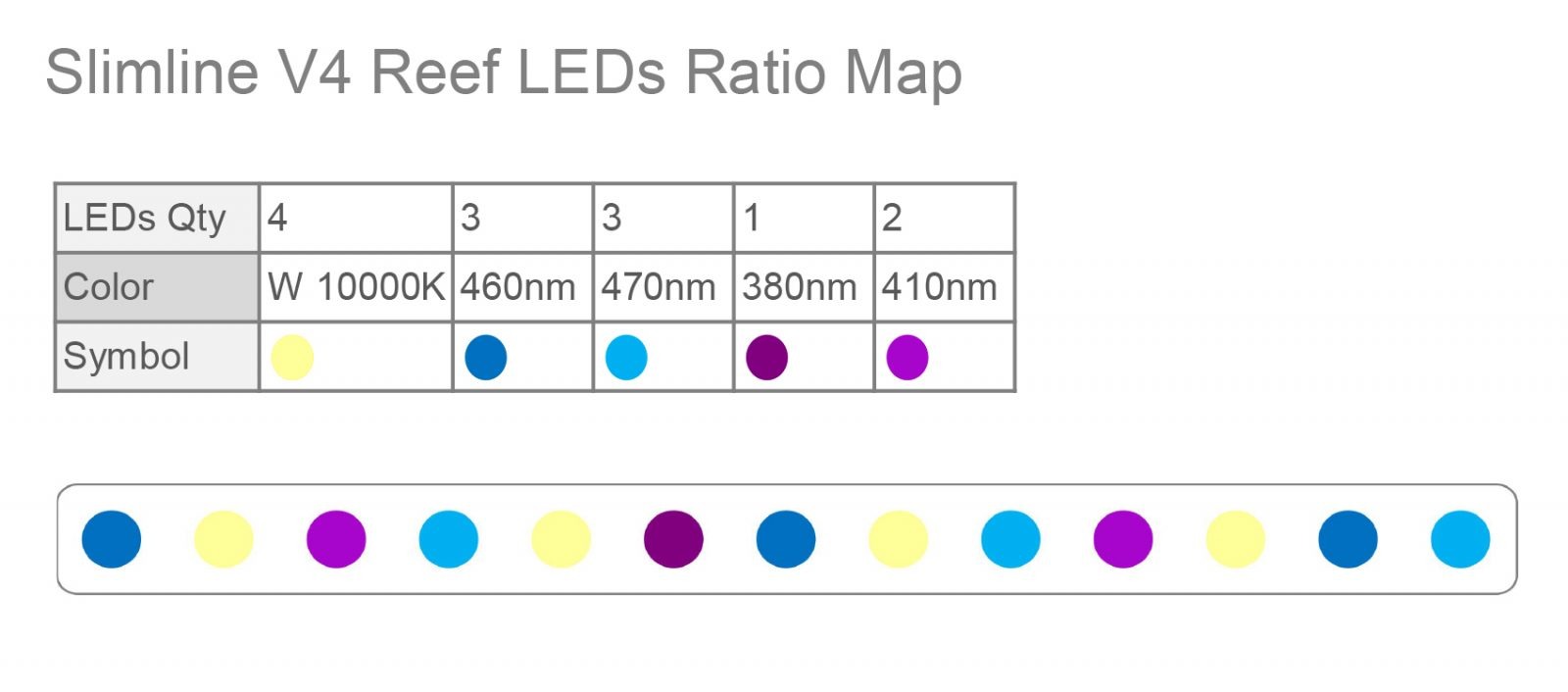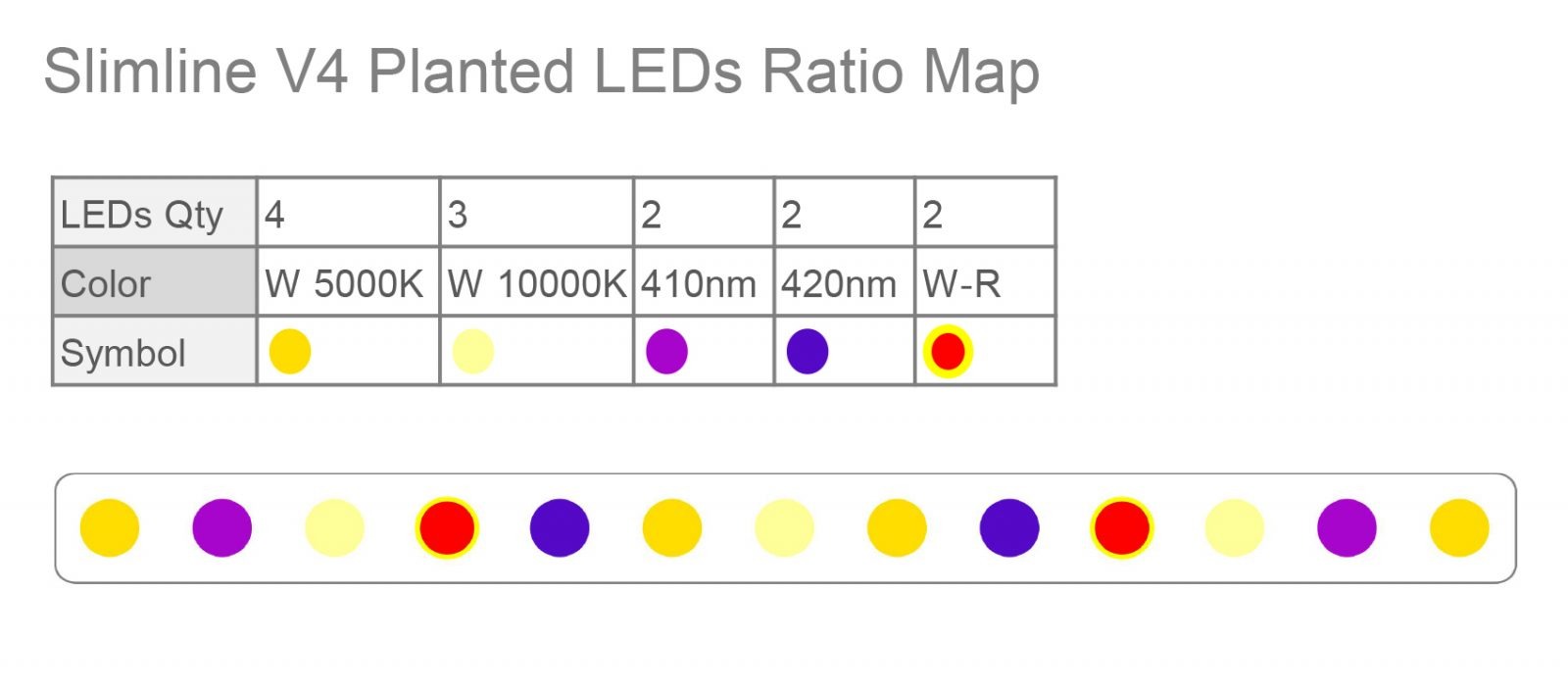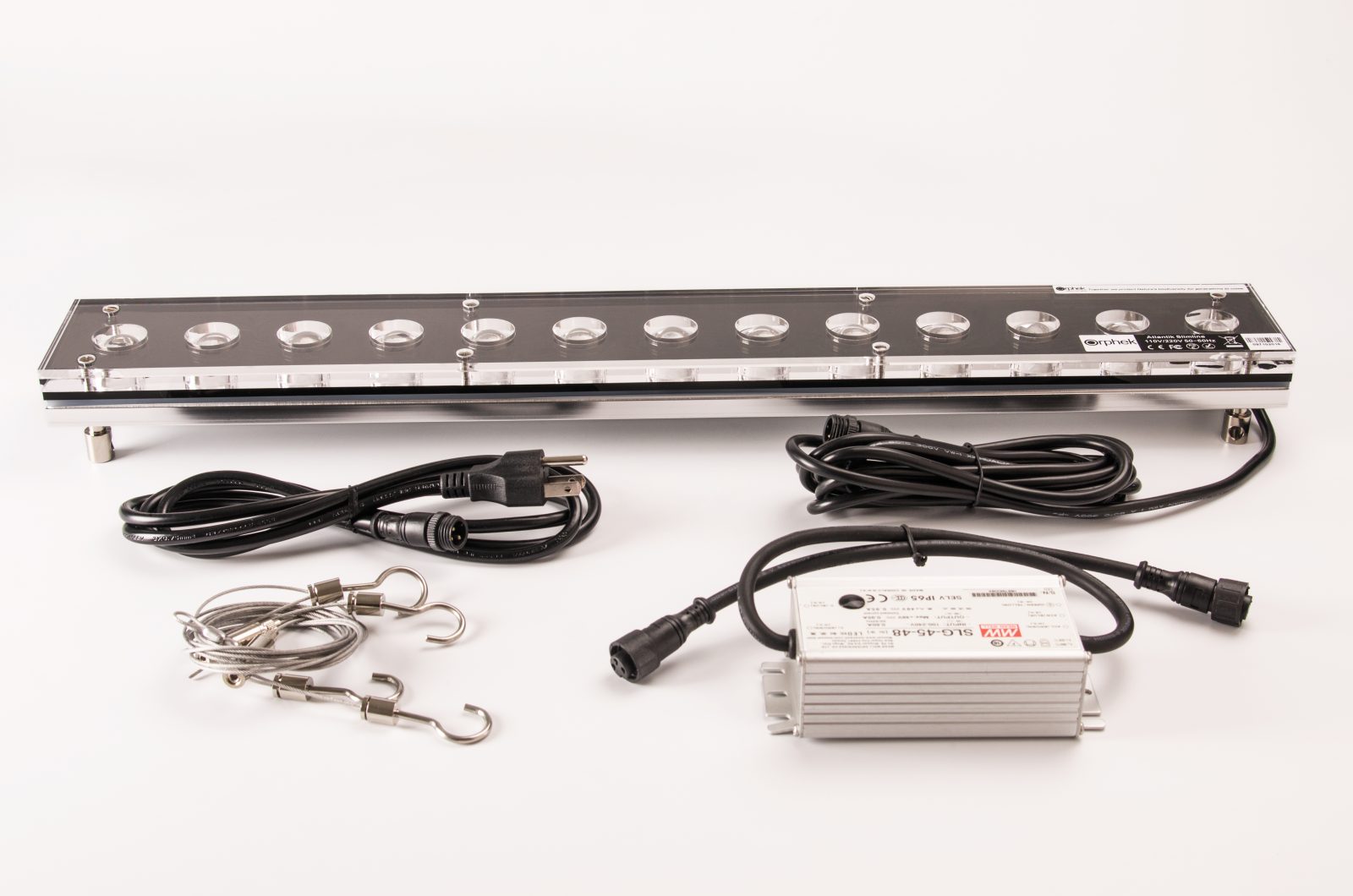 Specifications
Color/Materials
Black Or White acrylic with extruded aluminum housing
LEDs
Five watt dual chip LEDs run at 3watt For longer life 
Dimensions
L600 x W80 x H50mm (23.6? x 3.1? x 2.0?)
Cords
Power Cord:  70.86? (1.8 m)

Power extension cord with waterproof connector: 118? (3.0m)
Hanging Kit
2 x 13.8? (350mm) steel cables / 1x 59? (1.5m) steel cable
Electrical
MeanWell SLG-45-48A LED Driver IP65

110/240 VAC

Power Consumption – 35-40 watts

Frequency – 47-63Hz or 50-60Hz

Input Current (Amps) – 0.883

Output Voltage (DCV) – 48

PF (Power Factor) – 0.966

Electrical Outlet – Region Appropriate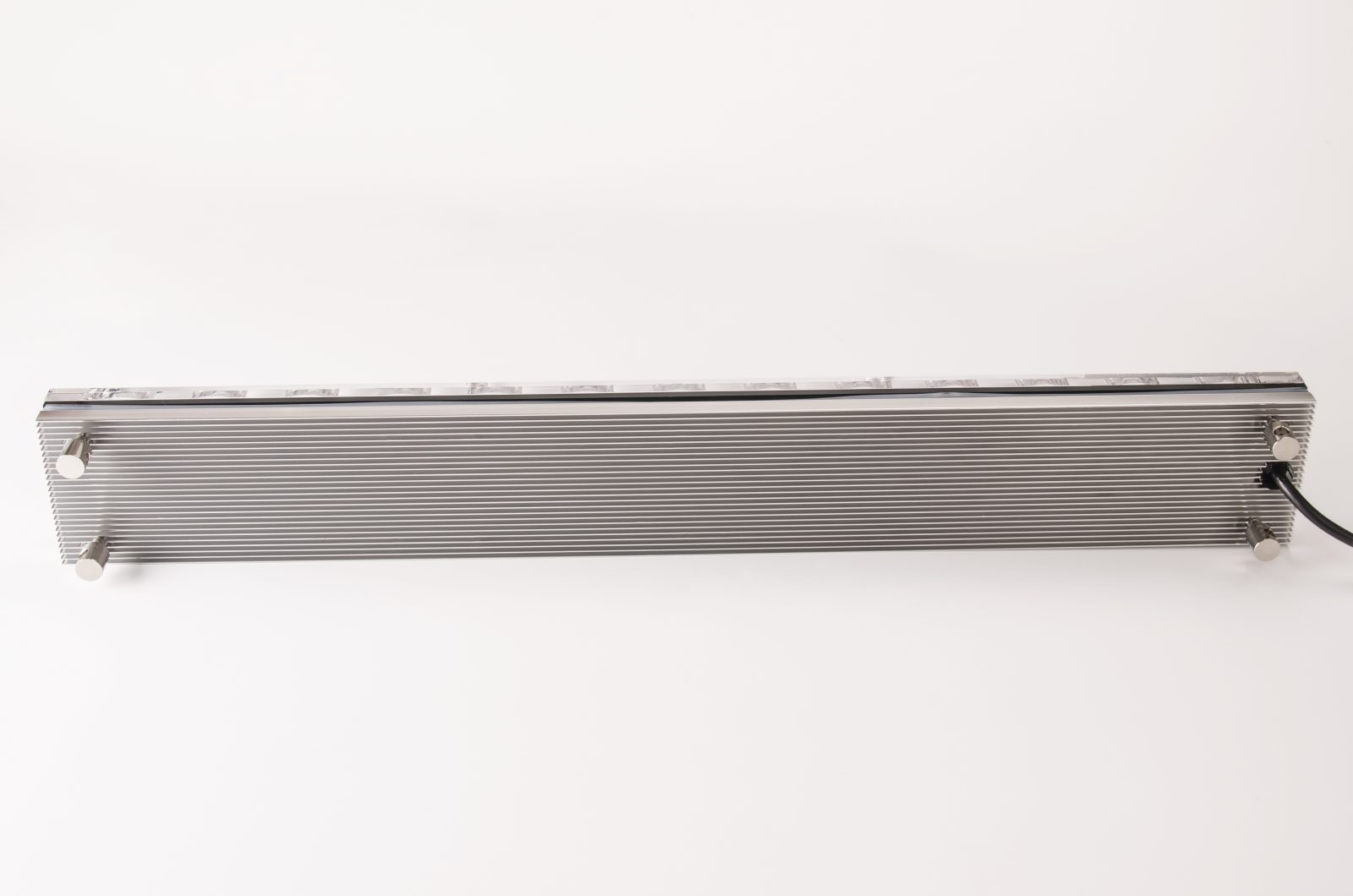 REVIEWS
By Aquanerd
If you wish to read about the new Slim Line in Spanish we were reviewed at:
Gracias http://www.aguasalada.es!
If you wish to read about the new Slim Line in Italian we were reviewed at:
Grazie Danilo Ronchi from Danireef.com!
If you wish to read about the new Slim Line in Spanish we were reviewed at:
Merci Sébastien Ruaux from Récifal News!