Orphek Amazonas 500 Watt LED is the most Powerful LED Aquarium Light, delivering more than sufficient light for viewing at depths over 15 meters.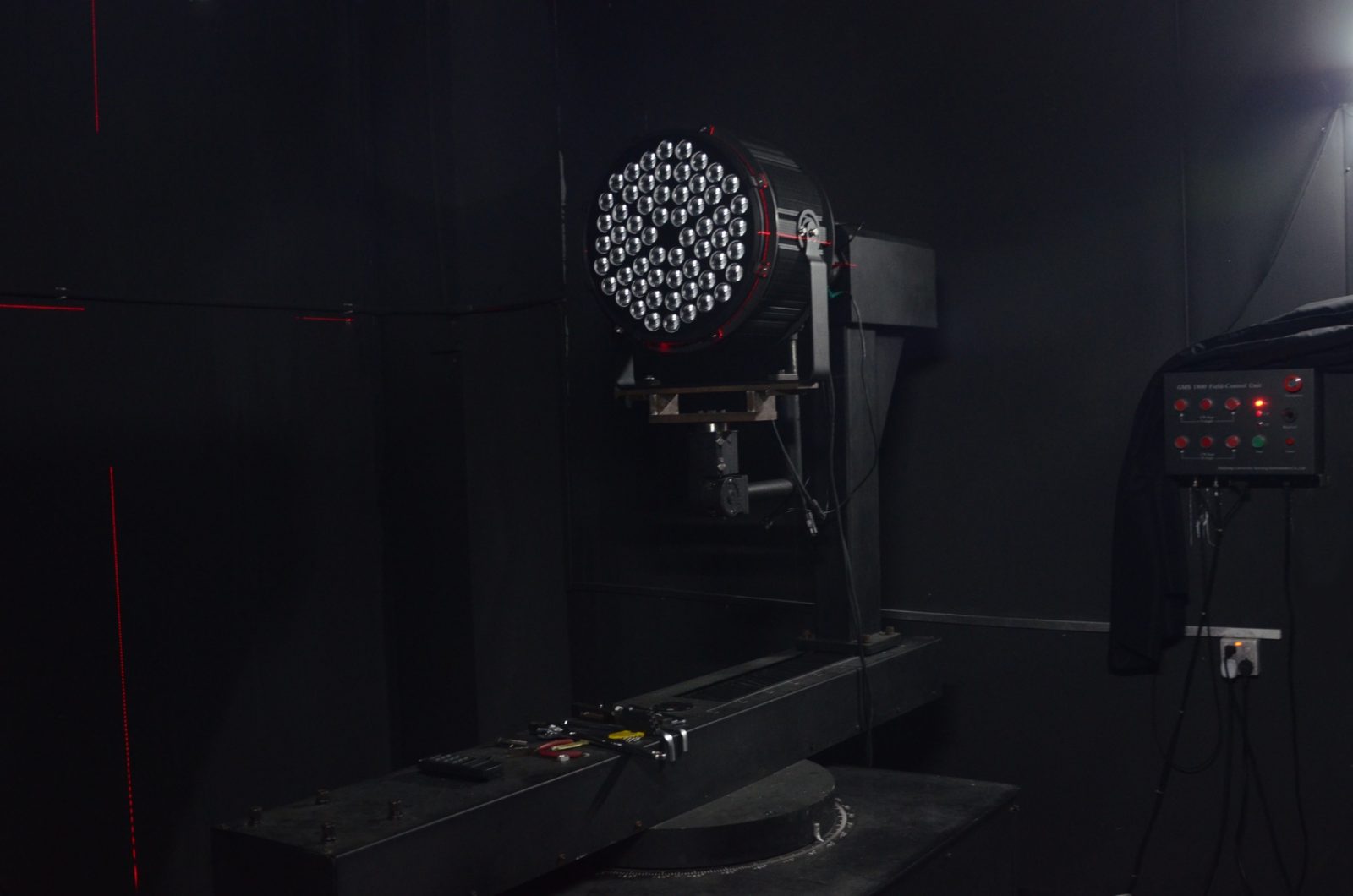 ---
By launching groundbreaking technologies Orphek gained respect and recognition as a leader in Aquarium lighting technology and innovation for reef aquariums lights. So we did it again! Our newest AMAZONAS 500 Watt LED is totally designed for commercial installations, zoos and public aquariums growing SPS corals up to 20 foot deep.
FEATURES
CHECK AMAZONAS 500 Watt LED VERSATILITY!
Available in many Kelvin temperatures and custom spectrums
3 Aluminum Reflection Cups
3 Acrylic Lens Options
Easy maintenance & washable
Both Indoor/outdoor use
PROGRAM
CHECK WHAT IT CAN DO FOR YOU!
By utilizing state of the art components combined with Orphek's unique ability to target the exact spectrum that photosynthetic life requires, the Amazonas 500 can deliver significant light penetration and plenty of coverage, which allows for direct 1 to 1 replacement for large older technology inefficient 1,000 watt lighting systems.
Programming: Two channel system offers greater flexibility with DAY and MOON Light.
LEDS & LENS
Three watt high tech flip-chip LEDs run at a cool two watts

240 flip-chip LEDs – 120 LEDs per channel
Aluminum Reflection Cup: 15/36/60 degrees
Acrylic Lens Options: 5/12/24/36/60 degrees
CHECK THE PDF TO READ MORE ABOUT OUR LEDS
Orphek Amazonas 500 With New HighTechnology FlipChip LEDS PDF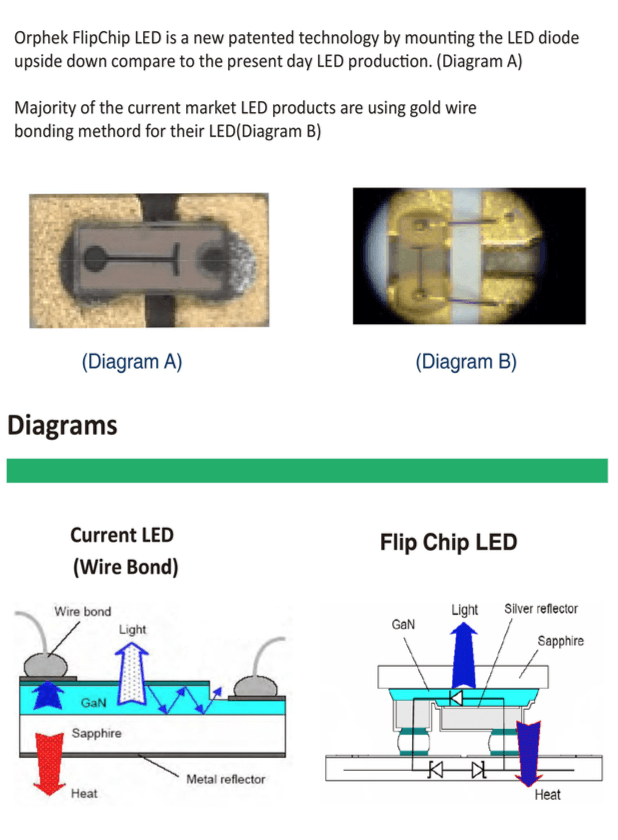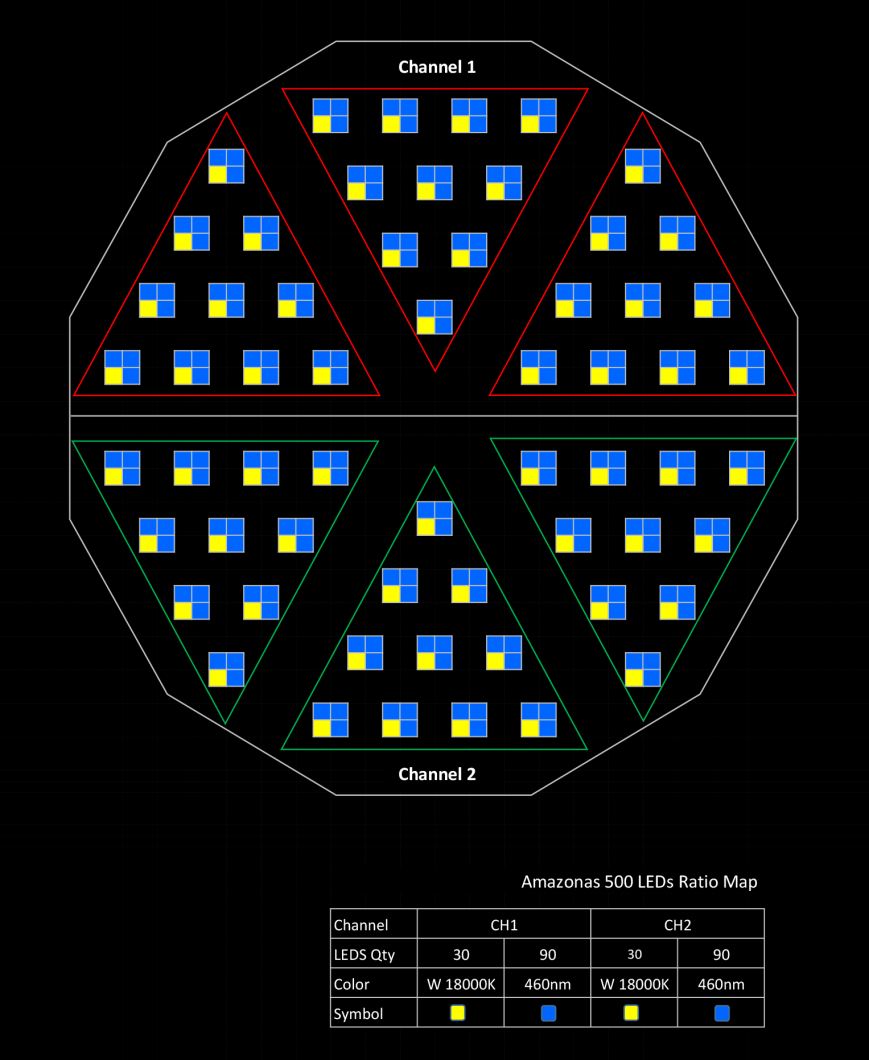 SPECTRUM & EFFICIENCY
CHECK THE SPECTRUM FOR OPTIMAL CORAL BEAUTY, GROWTH, COLOR & HEALTH!
Whether your facility is lighting large lagoons or a 15 meter deep coral reef tank, the Amazonas 500 Watt can deliver the results you need. It has the ability to penetrate and deliver more than sufficient light for viewing at depths over 15 meters. With a power factor rating of 0.980, high efficiency is evident in the excellent lumen/watt ratio, which will provide life sustaining light at depths up to 15 meters and offers the highest lumens per dollar of any LED light available.
"In my experience, for most practical purposes PAR values of about 60-80 micromoles/m

2
/sec at the bottom of the tank are usually an indicator of adequate light to keep most of the higher light loving SPS "
Dr. Sanjay Joshi
BUT WHAT ABOUT PAR MEASURES?
CHECK THE AMAZONAS 500 WATT LED 15 DEGREE PAR TEST! 
13 foot – 4 M :   170 PAR avg          center 220  1 M diameter 120 PAR

16 foot – 5 M:    120 PAR  avg         center:150  1 M diameter 100 PAR

20 foot – 6 M:     90  PAR  avg         center 110    

1 M 

diameter   80 PAR
CHECK THE AMAZONAS 500 WATT LED  LUX RATING!
---
AL reflector cup 15 degree:  1m – 6m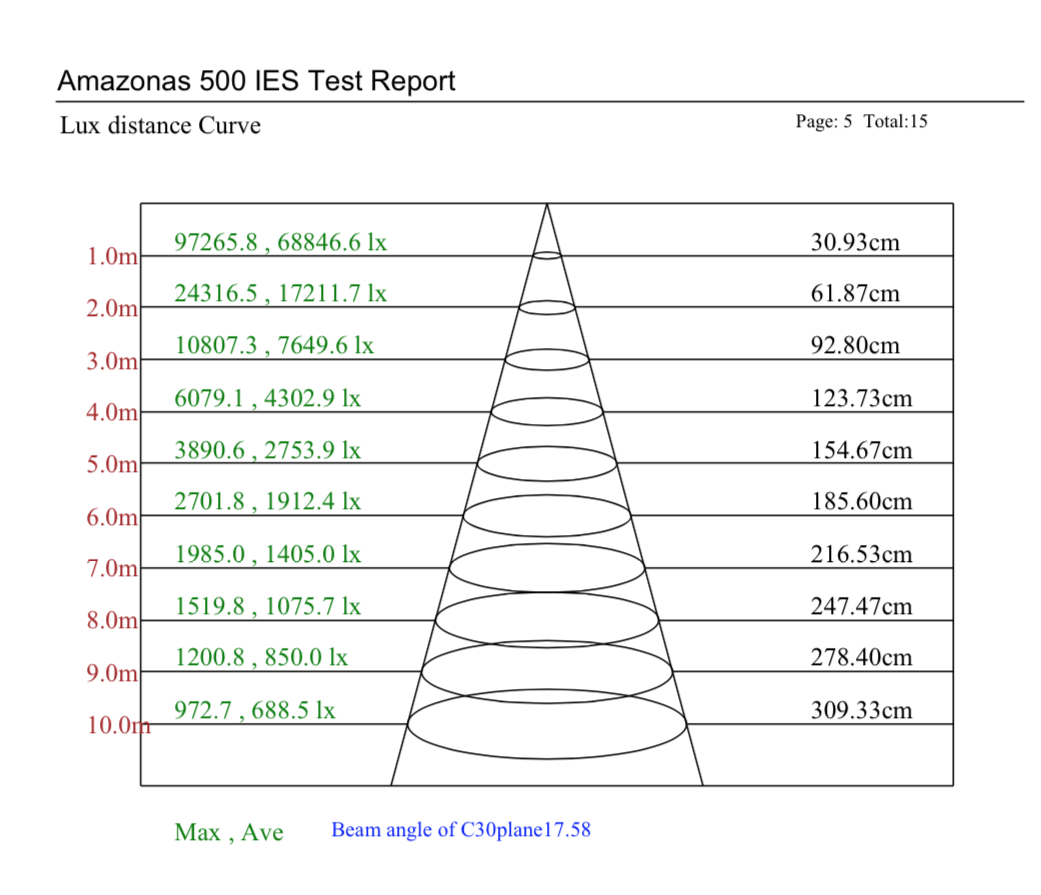 For better understand the graph:
Minimum difference in Lux from center to outer beam angle

Left numbers taken at center of  beam angle

Right numbers taken at 

Edge of beam angle)
BUT WHAT ABOUT LUX MEASURES?
Click on the PDFs link below for complete LUX test report:
amazonas-500-ies-test-report-without-lens-6-20m
amazonas-500-ies-test-report-with-al-reflector-cup-15-degree-6m-20m
amazonas-500-ies-test-report-with-al-reflector-cup-15-degree-1m-10m
amazonas-500-ies-test-report-with-acrylic-lens-60-degree-6m-20m
---
IS IT REALLY COOL?
YES! Our 360° three dimensional heat dissipation Aluminum anodized body with powder coat finish provides optimum thermal solution for heat management! Installations can now run cooler and maintenance reduced which allows your staff to focus more on livestock and husbandry.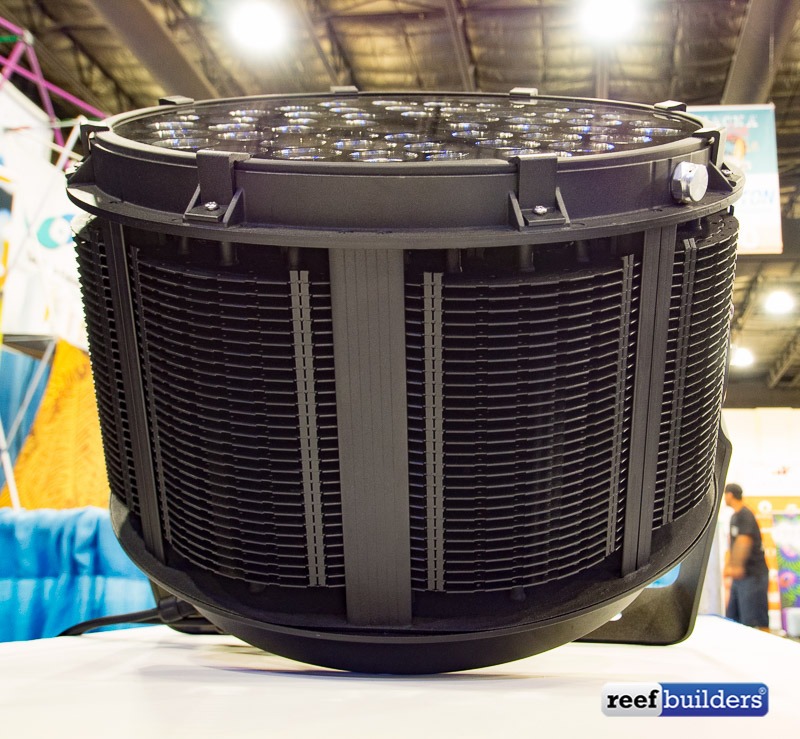 CHECK THE THERMAL REPORT!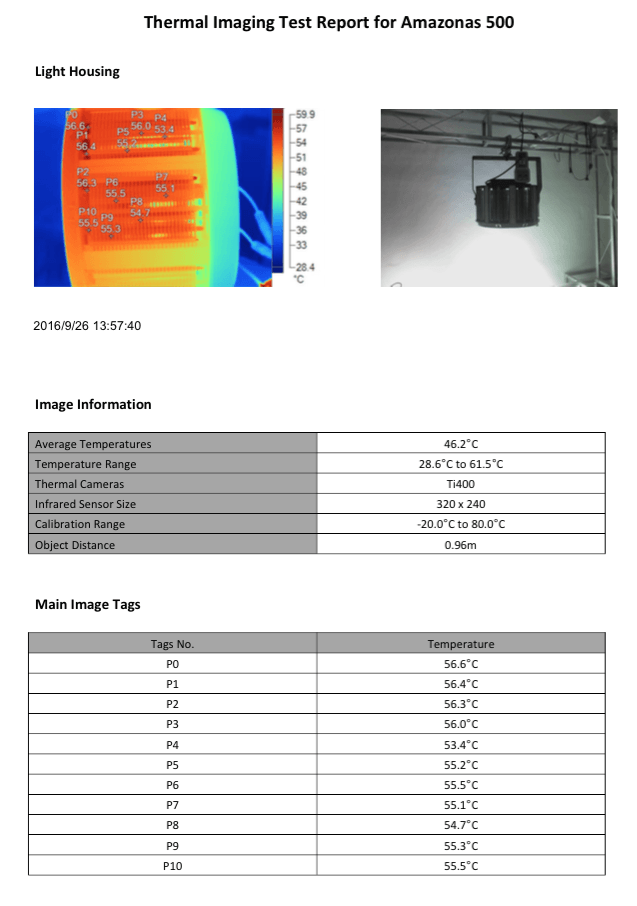 ---
DO YOU NEED MORE INFORMATION BEFORE PURCHASING?
Here you can have all the specifications: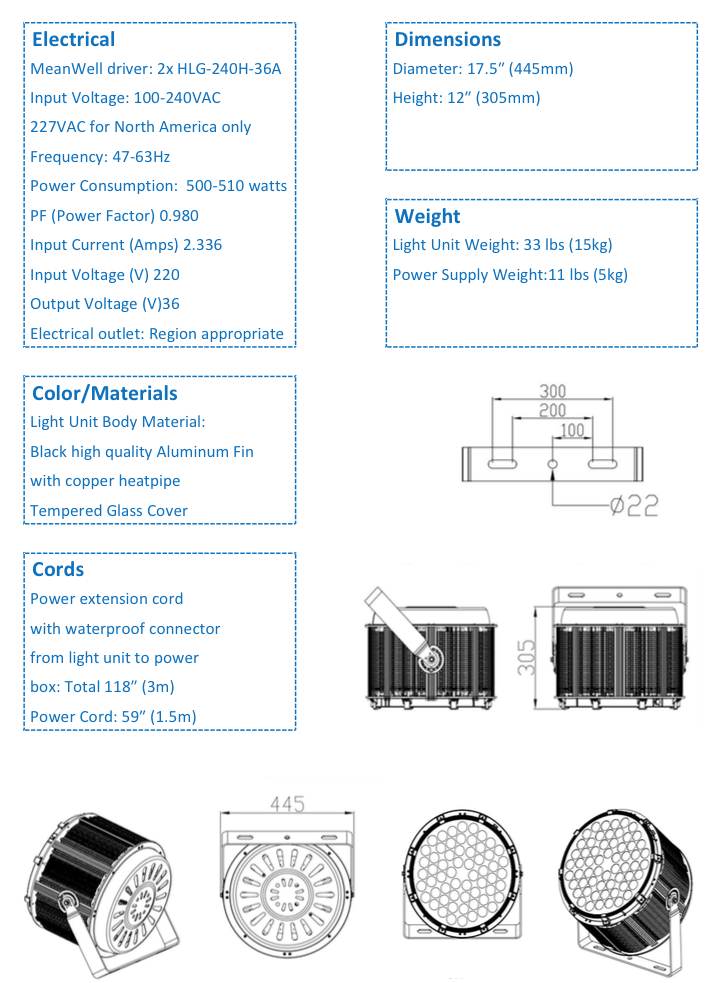 ---
---
CAN I WATCH/READ REVIEWS OF THE PRODUCT?
Read more at reefbuilders.com: New Orphek Amazonas 500 impresses with new test data
Read more at reefbuilders.com: Orphek Introduces 500 Watt Amazonas LED With Cool Tech Inside
*PAR Test and more other Information will be available soon.
---
I WANT TO BUY IT, HOW CAN I PLACE AN ORDER?
Please email contact@orphek.com