Sharing today Aquarium Makeover In UK with Atlantik LED lighting
We are sharing tank makeovers this week.
Continuing, we are happy to bring a 15 yrs old tank from UK belonging to our client Graham Hunt.
The tank size: 8 ft x 2ft x 2ft,
Sump size: 3 x 30″
total volume: approx 1400 liters.
Lighting: Originally run with 3 x 400w halides at 10 inches above water line – SPS/LPS grew well, but color was average using 14k Ushio lamps.
Calcium reactor: ATO.
10% bi weekly water change for 8/9yrs.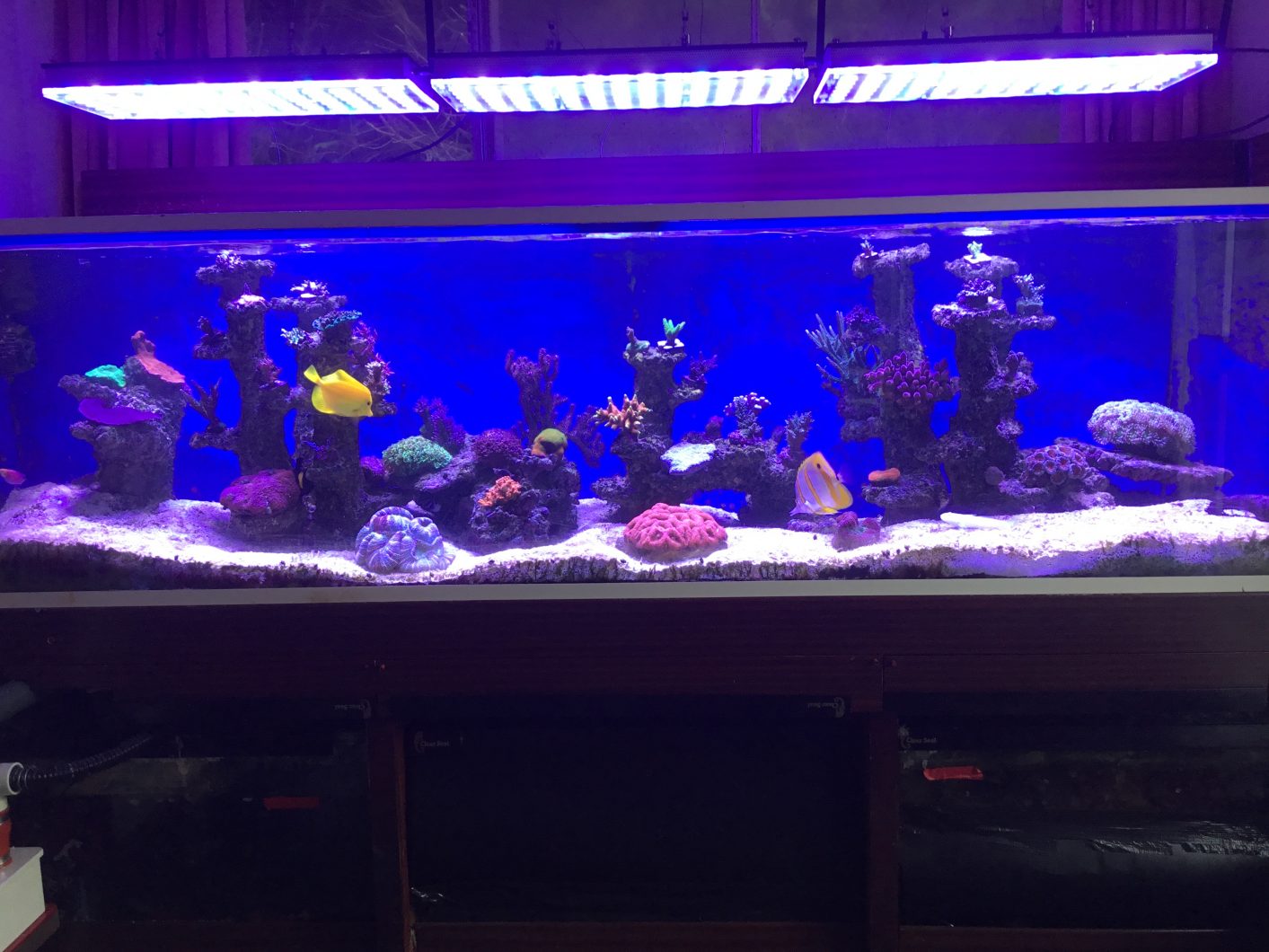 As Grahamtold us, his tank was facing some health, sight and mobility problems, so he had to to reassess capabilities and went fish only whilst doing so.
To cut running costs first he changed out halides for black box leds, which he concluded it was way to powerful and color on low power was awful. He also bought T5 led hybrids, which according to him were a nightmare – a complete waste of money and mental torture to try and sort out!
So he had to rethink the entire project again…new efficient skimmer, new rock work (Arka man made with live rock plates) and the lighting of course!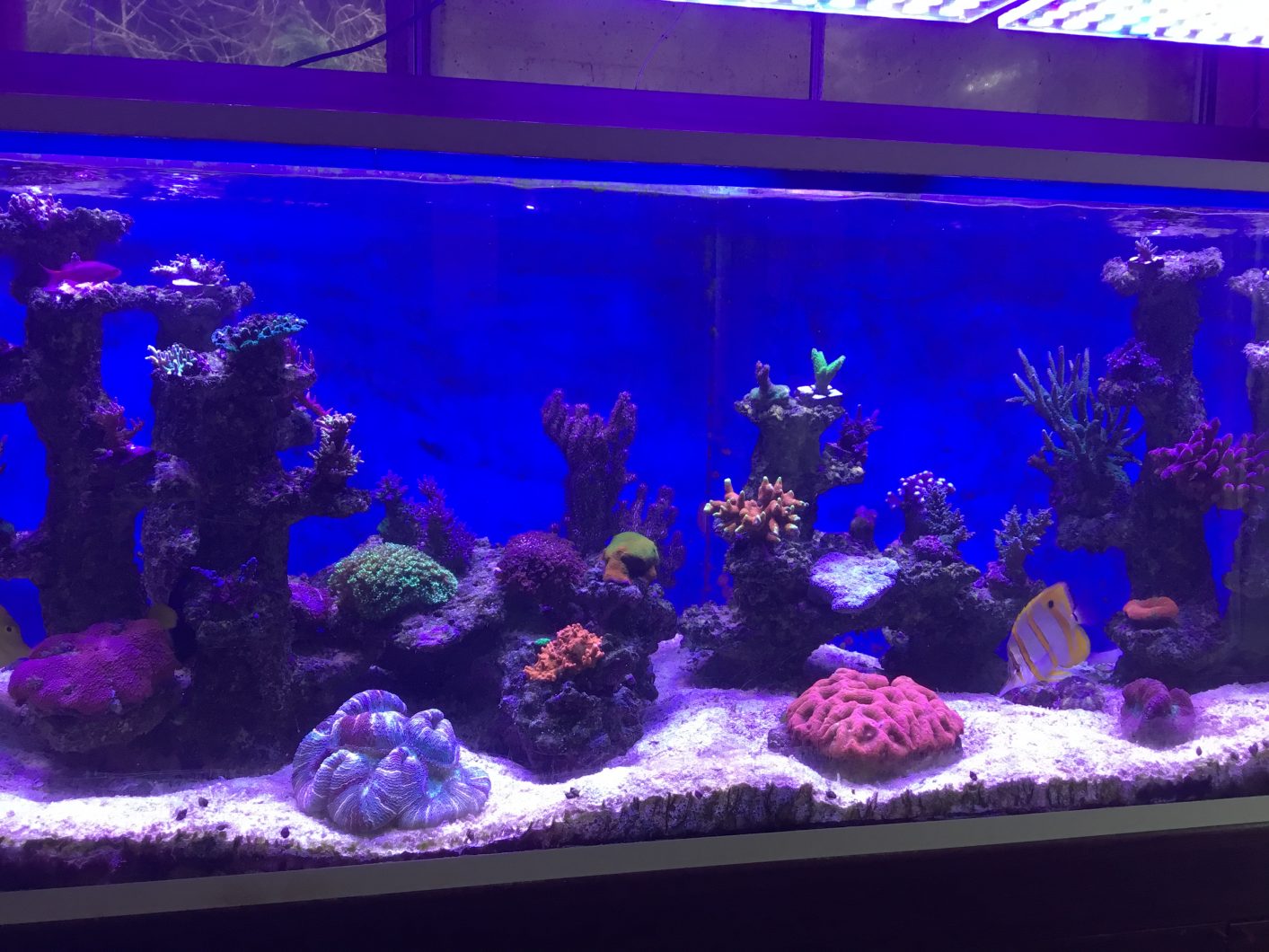 He bought Orphek v3+ a year ago, set on acclimatize at 10% in all three lights.
Slowly he started to stock tank with frags (and still going).  After a month he increased the power to 100% with ramp morning to 11am full power to 5pm ramp down to 10pm. PAR measure at surface is 600/ under surface is 450/ mid way 350/ and at sand 150 and very evenly spread over tank.
According to him the twin(dual core) LEDs diffuse color; the power reducing hot spots where frags grow; and color even high under surface.
"Color to me looks 14k and all corals have kept original color (including a couple of large wild colonies) and frags have all grown well".
He also states that he replaced one side with halides to see what would change, but he realized it missed coloring, so quickly he changed back!
Finaly he concluded by sending us a very nice compliment:
"Honestly, I could not be happier with the lights (now I have said that out loud, hope Sod's law was not listening), Regards Graham Hunt."
Graham was very nice to send us some pictures which are displayed here for all of you!
We hope to continue to follow the progress of his tank and the development of his corals.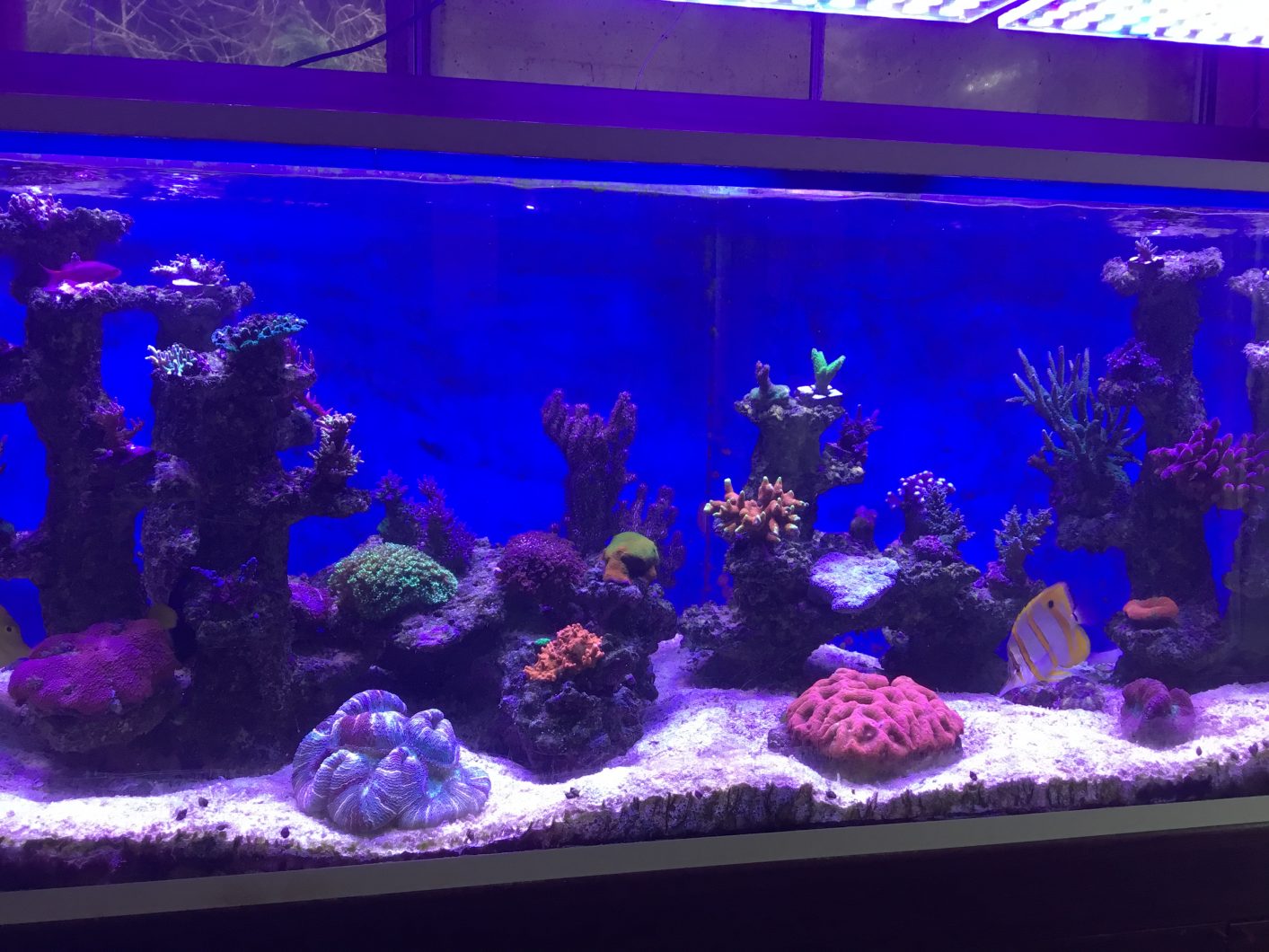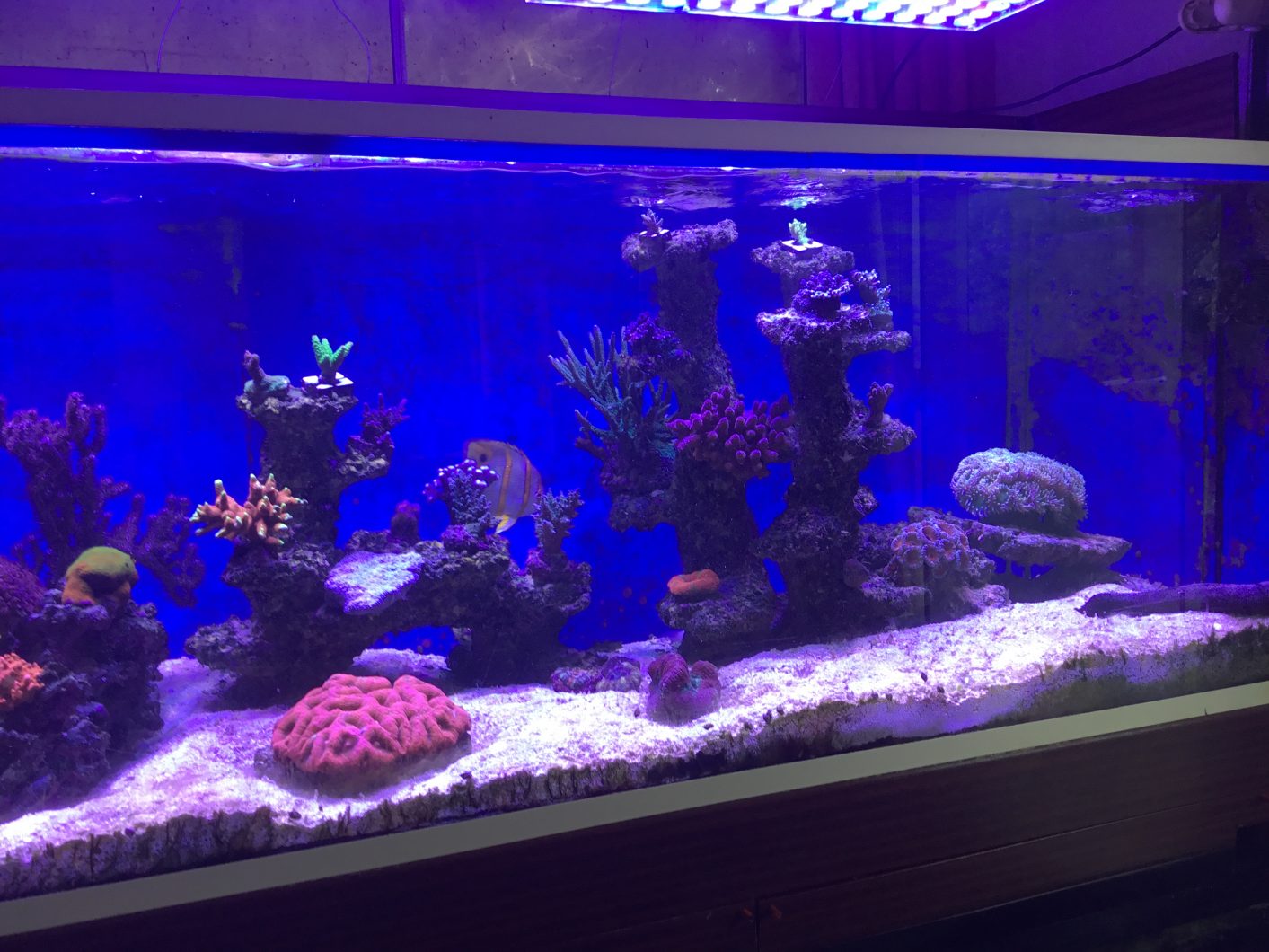 If you are in the UK any country around the globe and you are also wishing to:
Improve the quality of life of your corals and marine species
Install a neat and easy to clean fixture
Own not only a conceptual design LED light solution, but a true color & growth technology
We will be very happy to find the best Orphek LED Lights for your tank.
Also if you wish to know more details about our Atlantik unit, email us to  contact@orphek.com and we will help get you started! You can also reach us by filling our form.
We would like to invite you to browse our website and participate with your Orphek experience.
Let us know about your tank and share it with many other hobbyists!
Sharing is very easy! All you have to do is to send us the basic information about your tank, usually starting from the beginning (when you started your tank), what are you running in the tank, the living creatures you have in your tank and of course pictures of the tank and of your corals. We also would like to have pictures of our lights above the tank 😉
Please send to contact@orphek.com
We really hope you will find some time to send us your info so we can publish right away!
Thank you in advance,
ORPHEK TEAM