Review Orphek PAR Readings by Clients – Orphek LED Lighting
Orphek PR156 review
by James Gasta
"First impressions
My first impression of the Orphek PR-156 was that it is extremely bright; you could not look directly at the LEDs, much the same effect as looking directly at a metal halide or HQI lamp, you cannot. The quality of materials used and workmanship are second to none. The color of the corals were much more pronounced than my present 10K MH lamps, but not over exaggerated. In three days of use with the Orphek replacing one of my two, 175 watt MH lamps, my tank temperature dropped nearly 2 ½ degrees.
Orphek claims that one PR-156 Module will replace up to a 400 watt metal halide lamp.  I had no way to confirm this other than view PAR readings taken with an Apogee AFQ-200 PAR meter at various tank depths (Orphek data) which were impressive.  Orphek chose not to include PAR measurements in this review as variance in meters, calibration, applications, water clarity, and angle of mounting could all have an effect on the readings."
Orphek PR156 Reviewed by James Gasta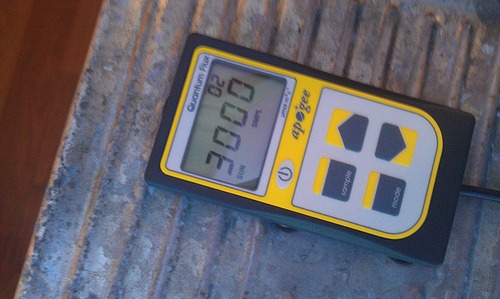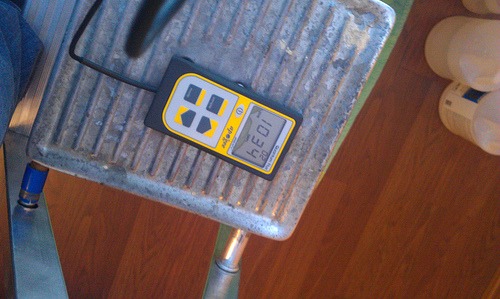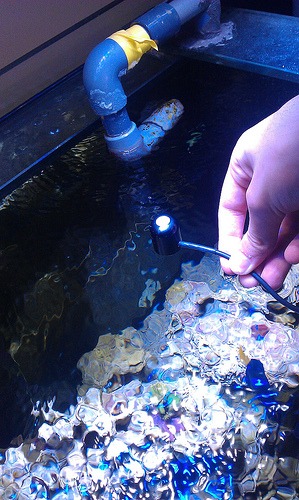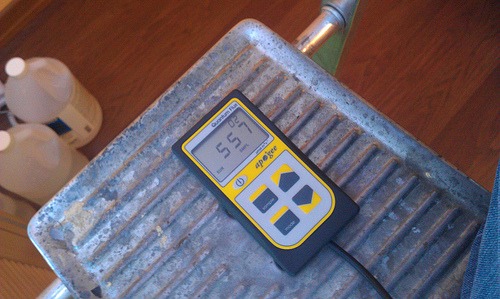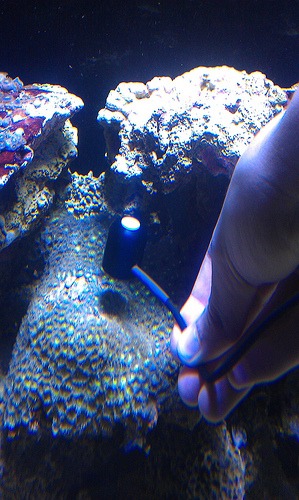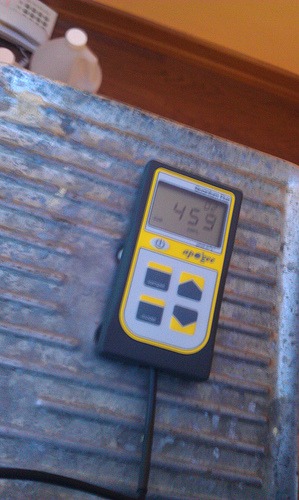 "The lowest coral I have is a colony of zoanthids, they're sitting 56cm/22 inches from the water surface or 86cm/34 inches from the diode and to the front of the tank (not directly under the unit) and the PAR reading I got there was 150, I'll try and get a clear pic for that reading when I'm back from lunch.
Kindly note all measurements were taken with 2 vortech MP40s and my return pump working on full blast. Also, measurements were taken from the diodes and not from the top of the units.
What I like the most is how the PAR readings don't degrade so much as we go deeper and deeper, and at 30cm over the water surface They cover my tank perfectly, I could probably lower them down another 10 cms and still get the same coverage, but at this point I don't think that I need the extra PAR.
Apologies for the bad pics, I hope some of you find this usefull."
http://www.reefuae.com/forum/viewtopic.php?p=17901
"We have done a PAR testing with the PR-156W (hanging 1m above water):
1-3cm (under surface) PAR value 650-750
76cm (under surface) PAR value 250 (great value)
Best regards
Lorenz"
"I tested Par with the Apogee Par meter.
The results were:
Under the whiteblue led – over 3000 Par
water level (12" under fixture-out of water) 1250 Par.
Top water surface – 950 Par
5" in water 820 Par
Tank bottom (35" under the surface) – 250 Par
I must say I'm pretty impressed. "
reef central My new 450 Gal "pail"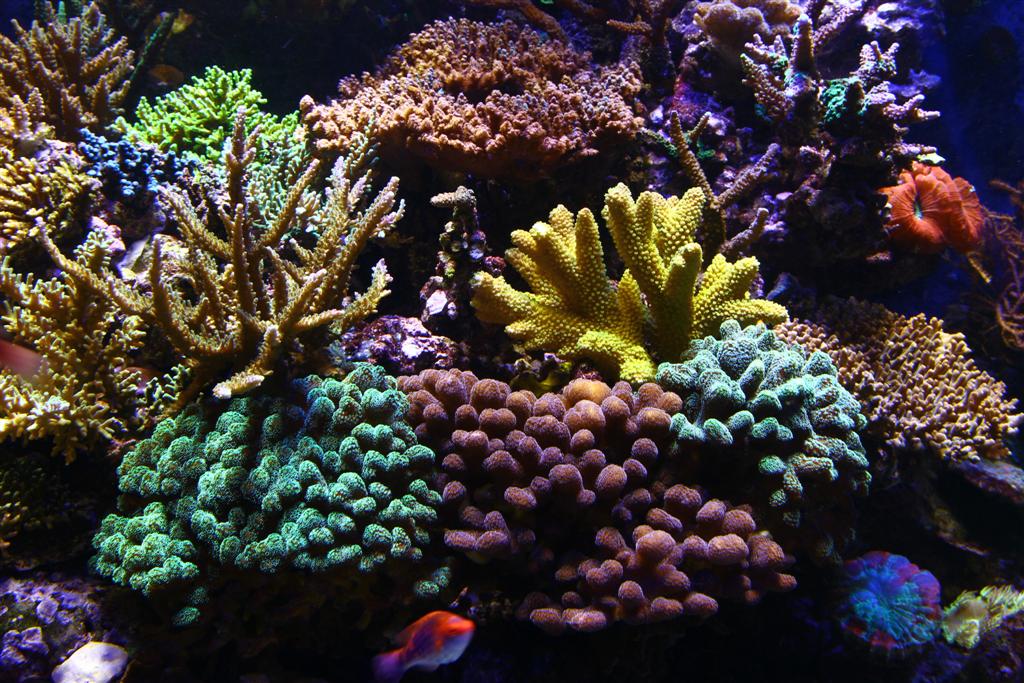 "My quantum meter reads
1250 just above surface of water
900 just below surface of water
650 at 60cm down
450 – 550 at 75 cm depending on rocks & shadows
Shawn"
Reef central Coral Tank from Canada (1350gal Display Tank)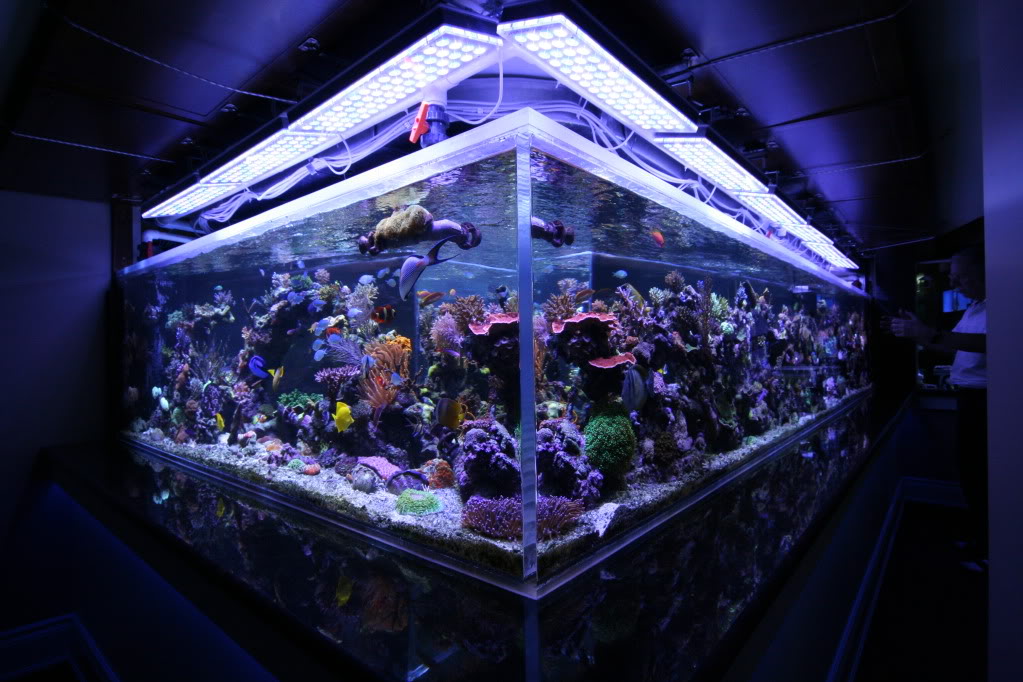 "I have a PAR meter and tested the PAR this morning thinking you might be interested in the number."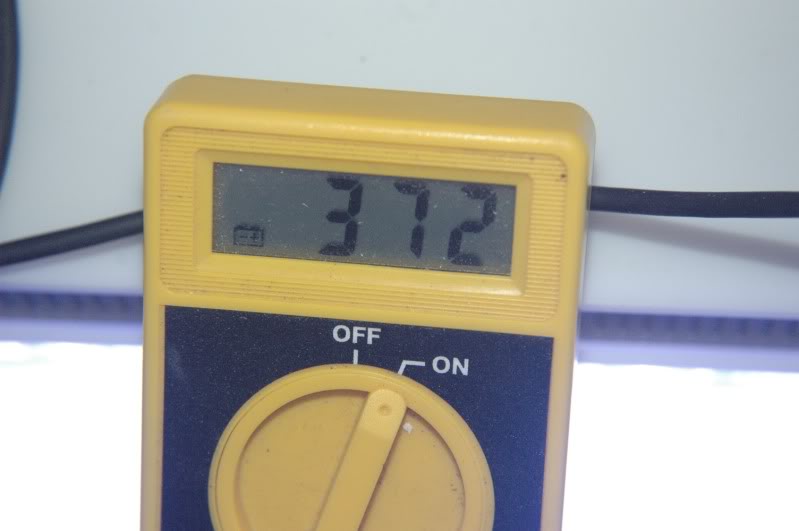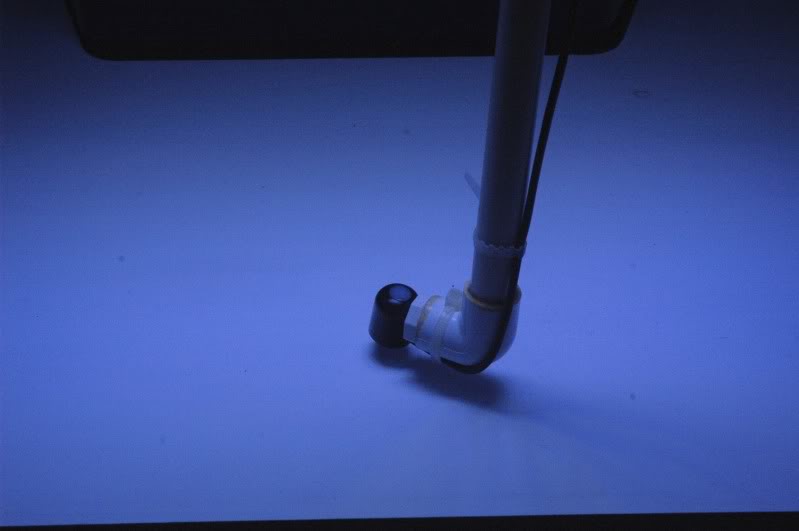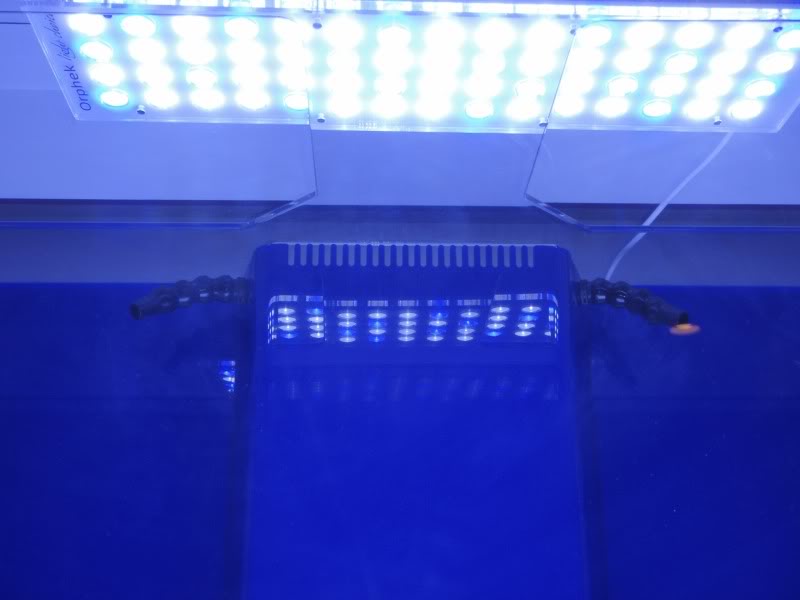 There were spots where the meter read over 400 but this seems to be the most consistent reading. Granted this is through air and the number will drop when read through water but these are the highest PAR numbers I've gotten under all LEDs I've looked at and tested. I'll need another Orphek to light this tank. It's a 60 x 24 x 30 deep 180 gal acrylic.
My opinion: Since I'm great at starting DIY projects and losing interest in them, I have to buy the finished product. I want something that works plug and play.
The Orphek SEEMS to be the best built, best engineered LED on the market today
PR25UV
"I just made some PAR readings on my setup with an Apogee Par meter just wanted to know your evaluation on this.
The system ha 2x Orphek PR-25UV tank dimensions are as follows 60cm X 37cm X 48cm
link to the image below:
http://i41.tinypic.com/2v1ahhj.jpg
"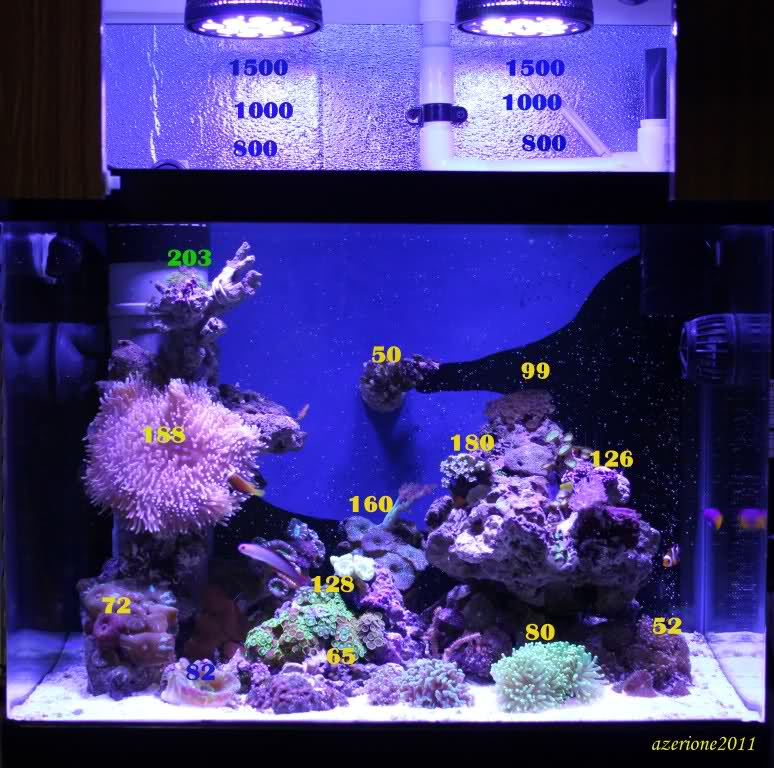 Orphek DIF100
"I have the nano tuners and the ecoxotic bulbs in the back. They are pretty similar IMO. Orphek PR25 in front of those. These are the brightest of the p38 that I own, not surprisingly since they are rated at the highest wattage. They are putatitively slightly different but they don't look all that different to me. Then I also have some Wingoled 18w bulbs on the wings. These are interesting because they have a very unique mix of leds. He threw in some red and green as well as the usual blue and whites. The green does some cool stuff to fish colors and what not. No idea if the green adds much par/pur. These not surprising penetrate better than the 15w or so ecoxotic and nano tuner bulbs. Of note: the nano tuner is visually brighter than the ecoxotic, but the par numbers were similar. I also have the Orphek ML7–that thing is so cool.
Coolest moonlight I've used over the years. Anyways, it sorta breaks down like this: The p38s I use are all the 14-16k bulbs. I don't find them yellow at all, nor too blue. PAR numbers on a meter were good except towards the very bottom (32" deep tank). I don't think you can get a good mix of spread and PAR at that depth with these.
For that I got the Orphek 100w spot. That thing is ridiculous.
To date, the LPS and softies really seem to like the lights. No heat issues. No reliability issues. Given the topography of my tank, the mix of p38 and a 100w spot in the front works well. The "area" of the tank could be lit well with just 2 of the 100w spots for simplicity, but nothing towards the top of the rock work would survive bleaching. As is, even with the p38s over the shallow areas, I have to be careful "
Reef central http://www.reefcentral.com/forums/showthread.php?t=2034581&page=2
Get Shortlink: https://orphek.com/orphek-par-readings-by-clients/