WE DID IT AGAIN!
We are very excited to share with you today exclusive information about our newest Atlantik V4!
Italian blog danireef.com made a terrific job by calculating economic efficiency of our Atlantik V4 (euro per watt)! Not only that, it also compared our light to others available in LED lighting market.
And guess what? The numbers don't lie!
Orphek Atlantik V4 breaks one more record this week by offering the highest economy efficiency (euro per watt) with the highest PAR, infrared exclusive spectrum and  widest cover (light spread) in the market! Click on the link to see the previous breaking record of the week PAR BREAKING RECORD)
So now you know exactly what your euro (dollar) is worth for!!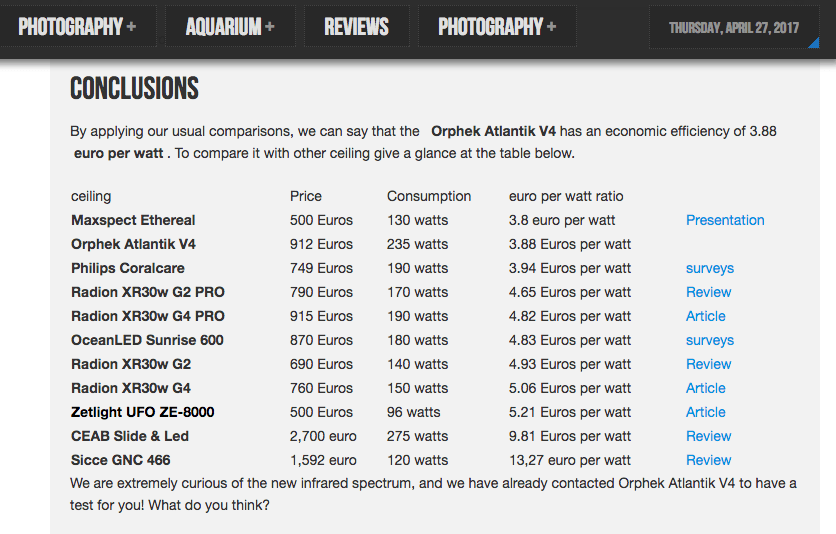 Besides bringing this breaking record you will also find in the blog a detailed explanation of our newest launch – The Atlantik V4 – with graphs, all channels displays and nice pictures, features etc…
According to them Orphek is the first and only company to offer the infrared spectrum (correct! we are always bringing groundbreaking technology!)
(The article was written by Cristian Barucca, who has a degree in science and technology for the environment, majoring in environmental biology and has been writing to danireef.com since 2013 and has also he worked for Nanoreef).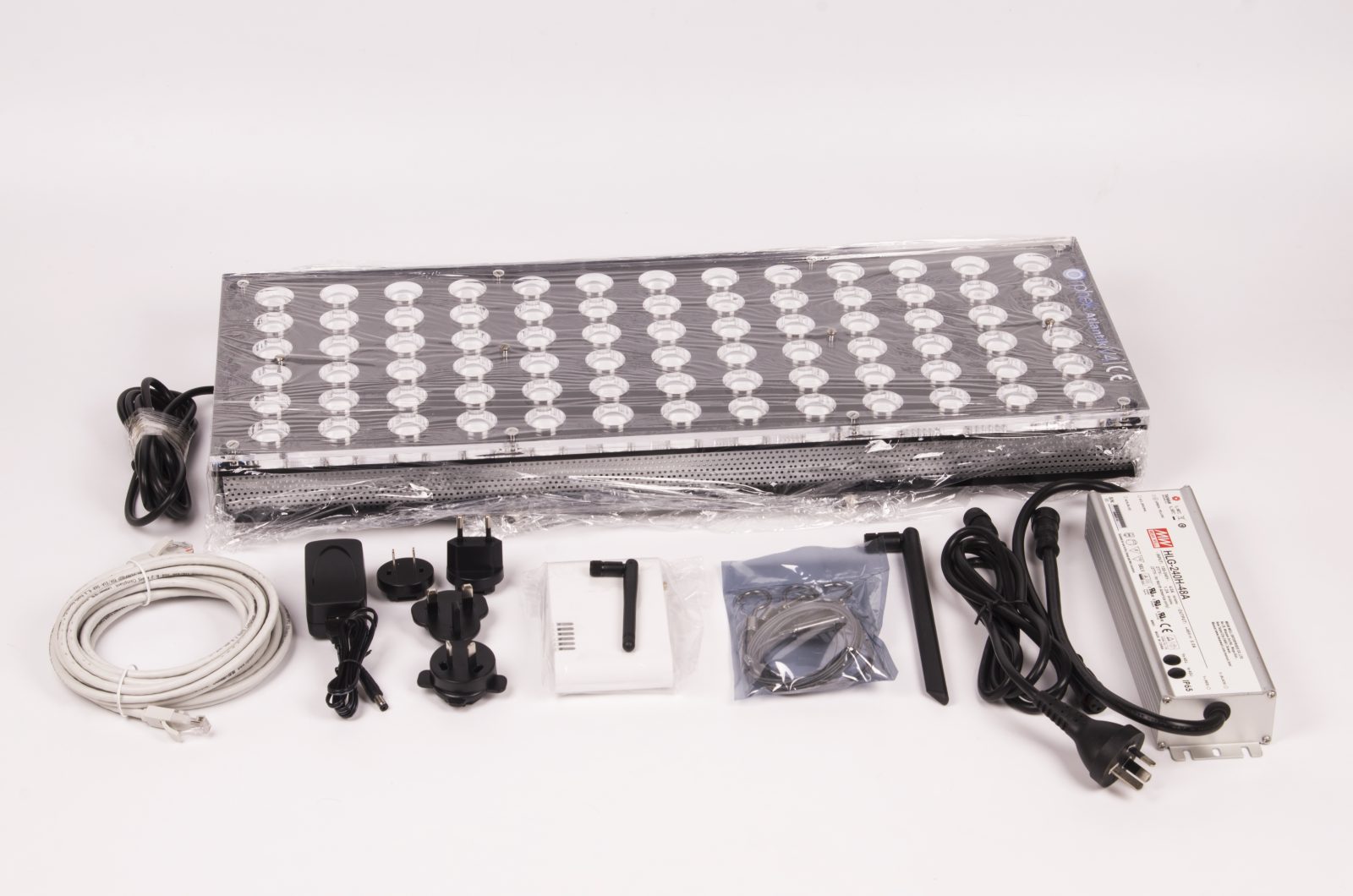 Why the New ATLANTIK V4 is the best product Orphek has produced today?
16 new types of custom made dual core LEDs in the nanometer range from 380nm to 850nm.

 

Renders most natural appearance to the tank form 10K to 50K
Provides enough RED and IR LEDs needed
Contains Full dimming capacity in all channels, 0-100% with progressive dimming.
Provides IoT technology & Free apps available (App Store & Google play)
Gives the ability to control and program 200+ individual units!
SPECTRUM & EFFICIENCY
Highest PAR/PUR per watt.
Highest Spectrum output.
High efficiency power supply.
Lowest consumption Euro X watt.
What else Orphek is offering you that others are not?
A LED light that is made of full body acrylic. Our light is not only solid and durable, but also beautiful to display.
A LED light that has a length of 24.21" (615mm), a width of 9.37" (238mm) and a height of 2.11" (53.6mm) .
A LED light that comes not with any driver, but with Mean Well driver (model HLG-240H-48A) – we give you what the market has best to offer!
A LED light that comes with a customized plug for your region.
A LED light that comes with a hanging kit with no extra costs.
CHECK WHAT COMES WITH YOUR LIGHT! (INCLUDED)  and that many other companies are charging you as an extra cost:
Power cord with waterproof connector
Stainless steel hanging kit
Driver
Mean well Fan-less IP65 power supply
Want to know more details about Atlantik V4? Just click on the link!
If you are from Europe or any country around the globe and you are also wishing to:
Improve the quality of life of your corals and marine species
Install a neat and easy to clean fixture
Own not only a conceptual design LED light solution, but a true color & growth technology
We will be very happy to find the best Orphek LED Lights for your tank.
Email us to  contact@orphek.com and we will help get you started! You can also reach us by filling our form.
 Orphek is already taking Pre orders today! And we have now a PAYPAL BUTTON, so it is very easy to complete a purchase!
We would like this opportunity to thank Danilo Ronchi and Cristian Barucca for sharing this amazing data with us and for all these years covering and reviewing of our products.