Specifications:  
Color/Materials
Light Unit Body Material: White acrylic housing and silver stainless steel grill
Weight
Light Unit Weight: 16.7 lbs (7.6kg)
Power box Weight:  2.2 lbs (1.02 kg)
Package Dimensions / Weight
Length: 28.3″ (720 mm)
Width: 16.5″ (420 mm)
Height: 7″ (180 mm)
Package Weight:22 lbs ( 10 kg )
Package V.W.:24.2 lbs ( 11 kg )
Cords
Power extension cord with waterproof connector from Light Unit to Power Box: total 112? (2.85m)
Power Cord:  59? (1.5 m)
Hanging Kit
2 steel cables:  9.84" (250 mm)
1 steel cable:  70.86" (1.8 m)
Electrical
Mean Well Driver Model: HLG-240H-spec
Input voltage: 90 ~ 305VAC   127 ~ 431VDC
Frequency: 47 ~ 63Hz
Power consumption:  ~187 watt
Electrical outlet:  Region appropriate

* Atlantik V2.1 Mean Well Fanless Driver Upgrade
Dimensions
Length: 24.21" (615mm)
Width: 9.37" (238mm)
Height: 2.11" (53.6mm)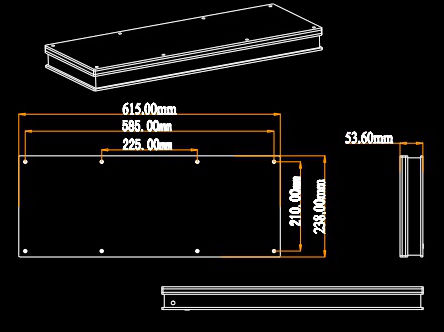 The Spectrum
Orphek understands that selecting the best fixture for your system is an important part of the overall success that you will achieve.
We have refused to compromise with research, development and production.
This expectation of high quality is evident in the spectrum that your Orphek Atlantik series light delivers.
Each LED diode is designed, produced and implemented with a specific goal in mind; to produce the best possible light for corals to grow and thrive under.
Our spectral advancements are second to none in the industry as we refuse to use off the shelf LEDs, instead choosing to utilize custom made LED diodes that fit our exact specifications. This allows us to tailor our individual LED spectrum as well as the total fixture spectrum .
The PAR
Orphek has already settled the standard in the market for its advanced comprehension of color spectrums and its influences on coral physiology and once again releasing another cutting-edge and groundbreaking technology, bringing a revolutionary change in the PAR per Watt  provided by diodes , by providing a real product developed specifically for the needs of very high PAR output .
Read More about Orphek PAR :  /  Spectrum Graph / Ratio / PAR map / PAR/watt /PAR/metter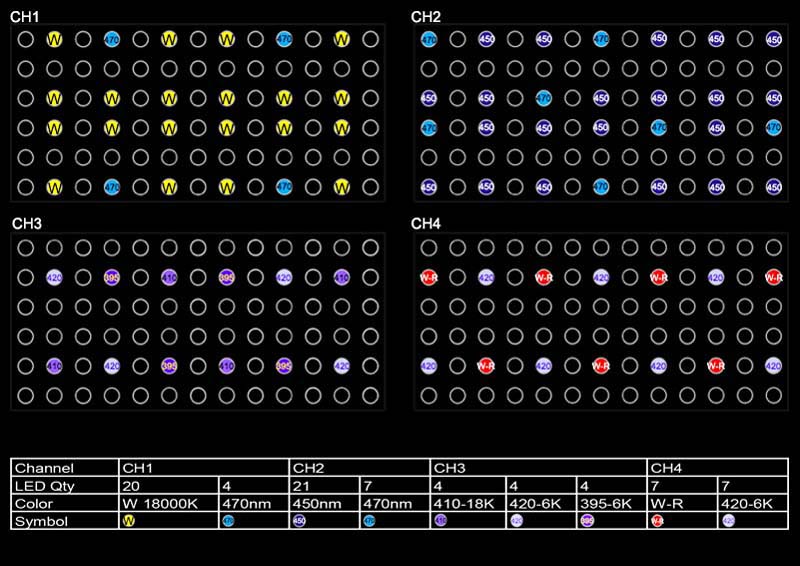 Atlantik V2.1 Lens Versions
Orphek produces two lens versions of the Atlantik V2.1/B. The Atlantik V2.1./B.  wide lens uses a convex type lens for very good light spread in tanks up to 40" deep and with minimal shadowing. The Atlantik V2.1 narrow lens produces strong PAR and very good spread in tanks 40" or deeper. We do not recommend this lens version in tanks less than 40" deep. Orphek already has had proven performance with the PR156XP in tanks up to six feet deep with excellent coral and clam growth.  The Atlantik V2.1 produces even better results.
Wireless Protocols and Encryption Support
Support Wireless standard IEEE802.11b/g/i
Support2 types of wireless network: infrastructure and ad-hoc networks
Support Soft AP and 4 connections of STA
Support multiple security certificate: OPEN/WEP64/WEP128 ,TKIP/CCMP(AES),
OPEN/WEP/WPA-PSK/WPA2-PSK
Support fast networking(specific channels & BSSID)
Support wireless roaming
Support Power Save Protocol(PS-POLL type)
Support Auto Create when there's no network