The Kula Wild Adventure Park another Orphek Project located in Fiji
ABOUT THE LOCATION
Fiji is an archipelago gathering more than 330 islands (110 are permanently inhabited) amounting to a total land area of about 18,300 k2 (7,100 sq mi). The farthest island is Ono-i-Lau and the two major islands are Viti Levu and Vanua Levu, where most of the population live (87% of almost 860,000).
Fiji's breathtaking white sand beaches and crystal-clean ocean waters is one of the most beautiful and exotic destinations for honeymooners, celebrities and divers.
Labeled by Jean Michel Cousteau "the soft coral capital of the world", its underwater topography is formed by caverns, canyons, wall dives and swim-through. Its strong currents of the outer reefs bring nutrient rich waters from thousands of miles around and in turn, lure in some of the most diverse life in the ocean, where you can find 390 species of soft and hard corals, plus over 1200 fish species, creating what may be one of the most colorful reef barrier of the world.
The archipelago is host to several barrier (with their lagoons), fringing and patch reefs.
Until recently, the main island of Viti Levu was not well known for having the best diving in Fiji, but the truth is that Vitu Levu is one of the best known scuba diving destinations within Fiji. It has a fringing reef that is 100 kilometers long and hard coral walls characterize the diving in Viti Levu. Just off the south coast of Viti Levu lie the soft coral bommies* and pinnacles of Beqa Lagoon (South of Viti L.).
---
*You will often hear the term Bommie used when discussing dive and snorkelling sites. The word is derived from the French bombax and is sometimes spelled bombie, but more commonly bommie. The term is not normally used in scientific papers but is usually understood to describe anything from a single coral boulder to a large reef structure. Technically it is a small patch reef in column form in, usually, a sheltered lagoon. It is attractive to divers because of the diversity and abundance of marine life that it attracts – extracted from the website divingcairns.com.au
When in Fiji the recommended people to dive with is Diveaway.
---
It is also in Viti Levu that you will find the spectacular Kula WILD Adventure Park (rebranded name of the former Kula Eco Park).
Founded in 1997 it started as an ecological preserve of Fiji's indigenous flora, including birds, reptiles, amphibians, fish and corals, the Fiji flying fox (the only native mammal), insects and butterflies, not forgetting to mention the incredible flora with a wide range of trees and shrubs. Kula WILD Adventure Park is a 28 acre property set in 3 valleys, with 12 acres of coastal forest open to visitors. Huge walk-through enclosures put the visitor inside the habitats of resident parrots, doves, water birds & reptiles. Marine displays of ocean turtles, soft & hard coral and tropical fish provide a glimpse of the spectacular marine world that surrounds the 300+ Islands of Fiji.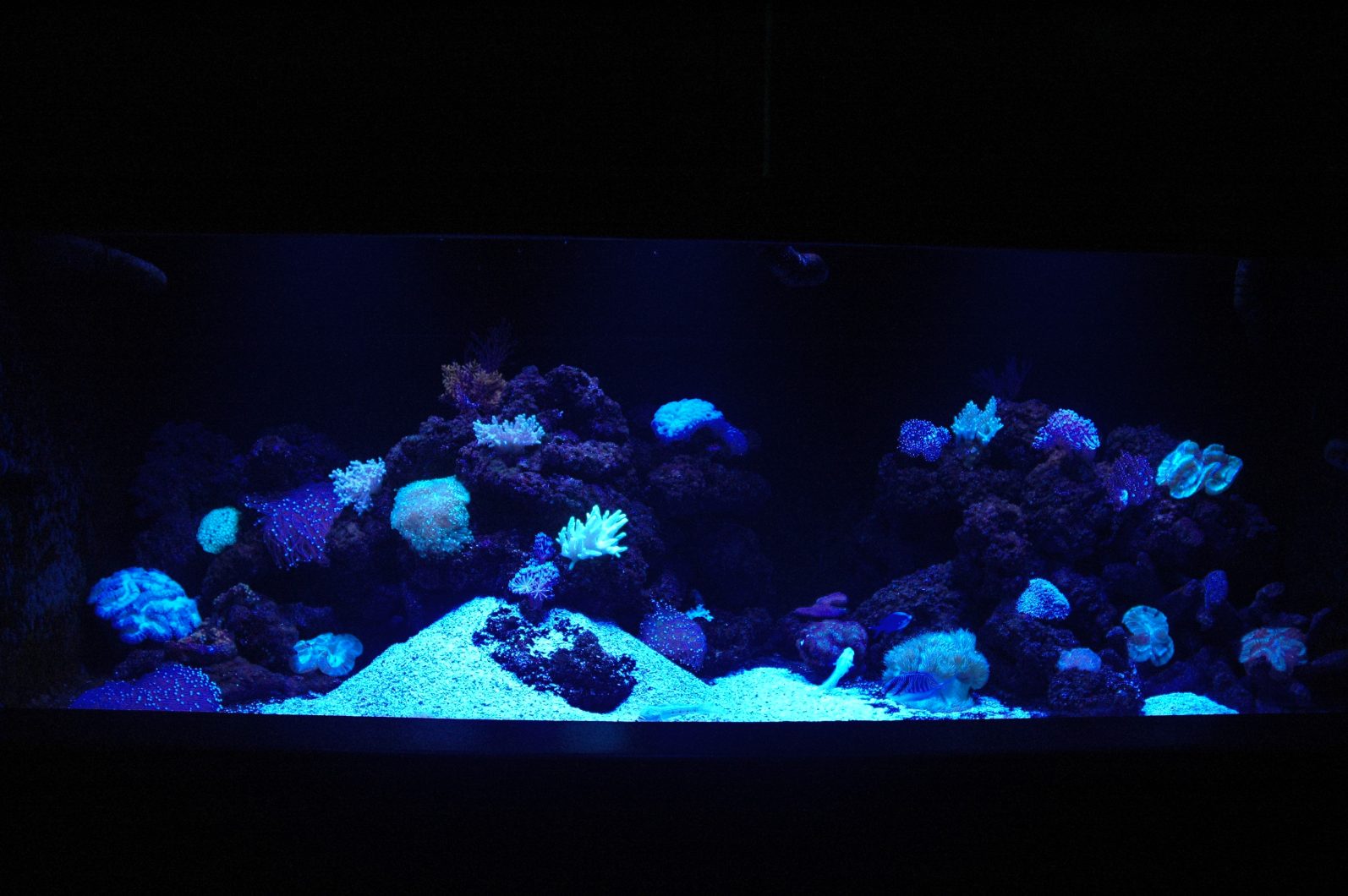 THE EXPERIENCE
The site offers an extensive system of nature walkways through the park's natural forest with elevated boardwalks (almost a kilometer), allowing visitors an expedition from the valley floor up to the foret canopy. By the way, the only Free Hands-On Environmental Education Center for Fiji's school children!
The park strives to increase environmental issue awareness and educate local children in conservation by regularly offering free classes in which children may learn about Fiji's environment, pollution, and conservation. More than 8000 children have taken these classes.
Behind The Scenes Tour:
Visitors can go places no ordinary visitor goes. starting at the Incubation Lab, where one can expect to see eggs from Fiji's rarest iguanas, eggs from rail or peacock populations or a gaggle of fluffy goslings, depending on whose breeding season it is.
After a walk through the forest and huge open habitats, visitors arrive at the Iguana Captive Breeding Center. This is the place where  some of Fiji's most endangered species and homed and helped to breed in protected captivity for release back into the wild in a controlled environment. It is here that they have worked for the past 6 years re-building the population of the Island of Monuriki (the place where Tom Hanks filmed "Castaway").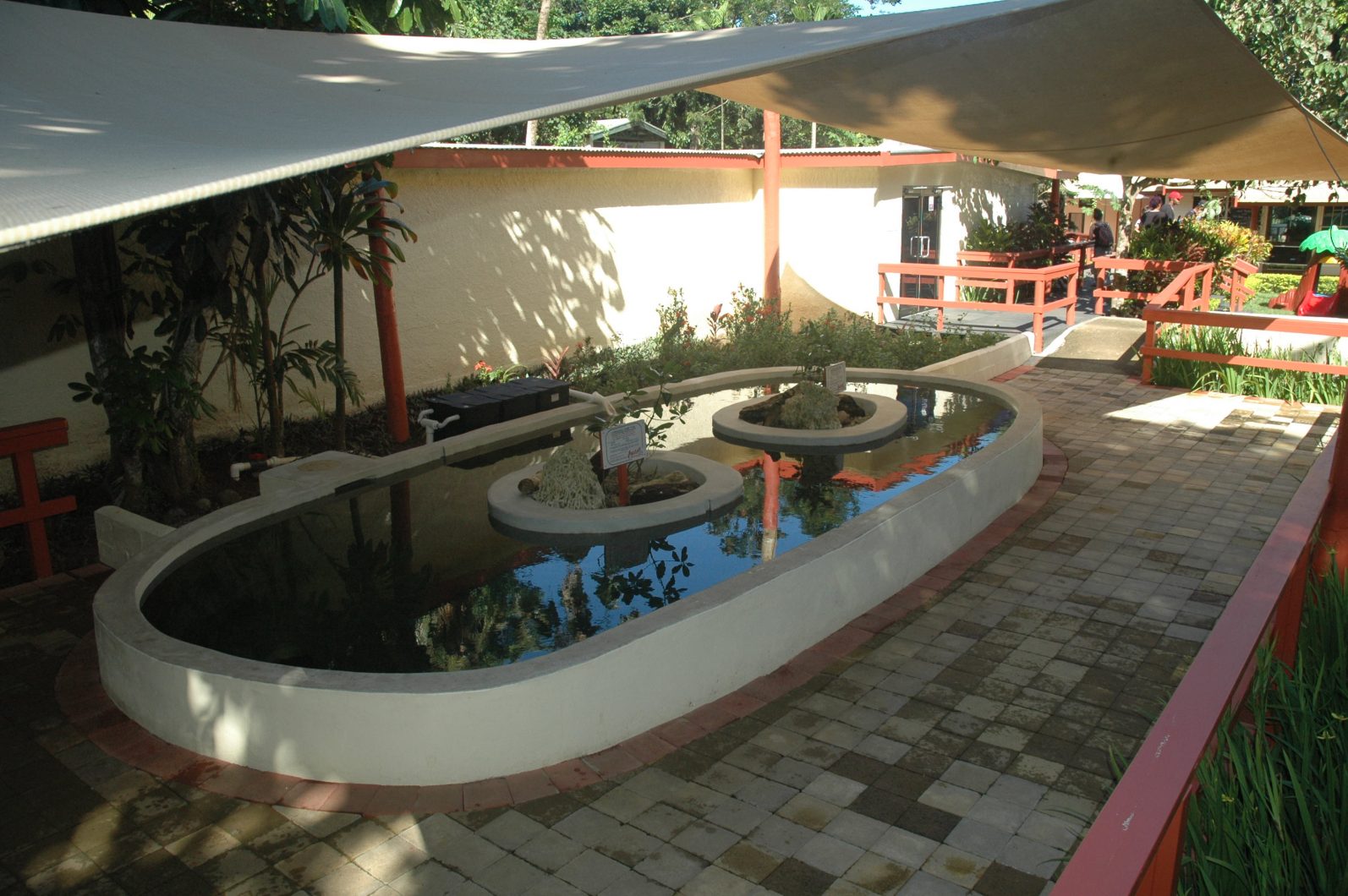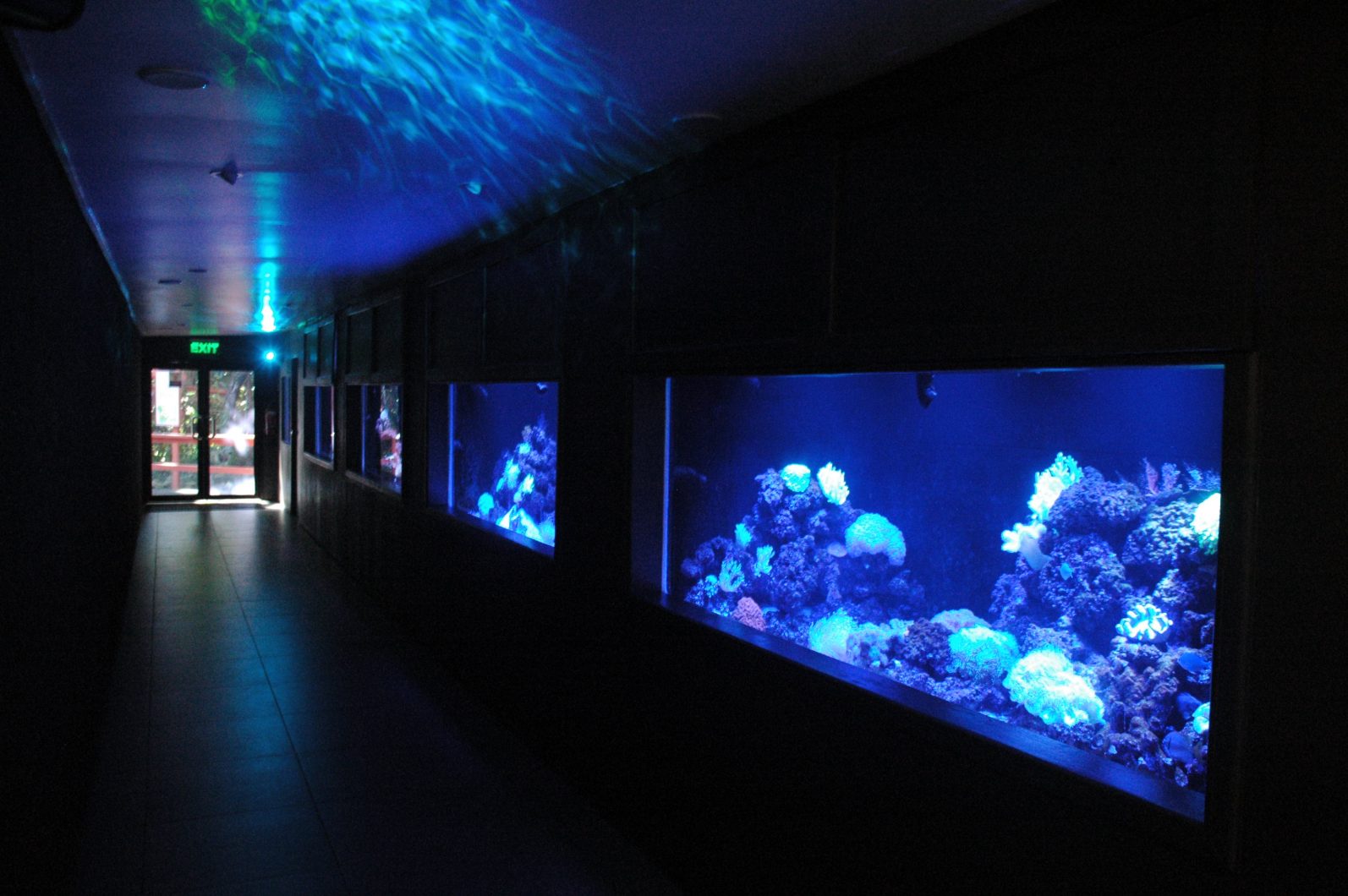 THE KULA CORAL DISPLAY
Next is the Land & Sea Building (where Orphek LED Lighting solutions are!!) – Here not only visitors can see the largest coral display in Fiji, but get to go 'back of house' into the Marine Life Support Center to see just how the corals are kept at the peak of health. The Marine Life Support Technicians will show everything around and answer to questions.
With four display tanks holding over 12,000 liters of salt water, you'll see small and large polyp corals, soft corals, anemones, tropical fish and more.  The reef in each display tank is created with eco friendly man-made artificial reef rock, manufactured in Fiji and exported all over the world.
Depending on the time of your visit, you may get to watch our Marine Life Support Technicians hand feeding individual corals or filter feeding entire coral colonies.
Phil from the KWAP staff has sent us some feed back of the corals' displays:
?"Tank 1 & 2 are running and have soft and LPS corals. We are starting to see good growth from them. Tanks 3 & 4 are in the nitrogen cycle period. We are going through the cycle of growing the beneficial bacteria population and stabilizing the water parameters prior to placing coral. These two tanks will be mostly SPS coral species – again, exclusively from Fiji."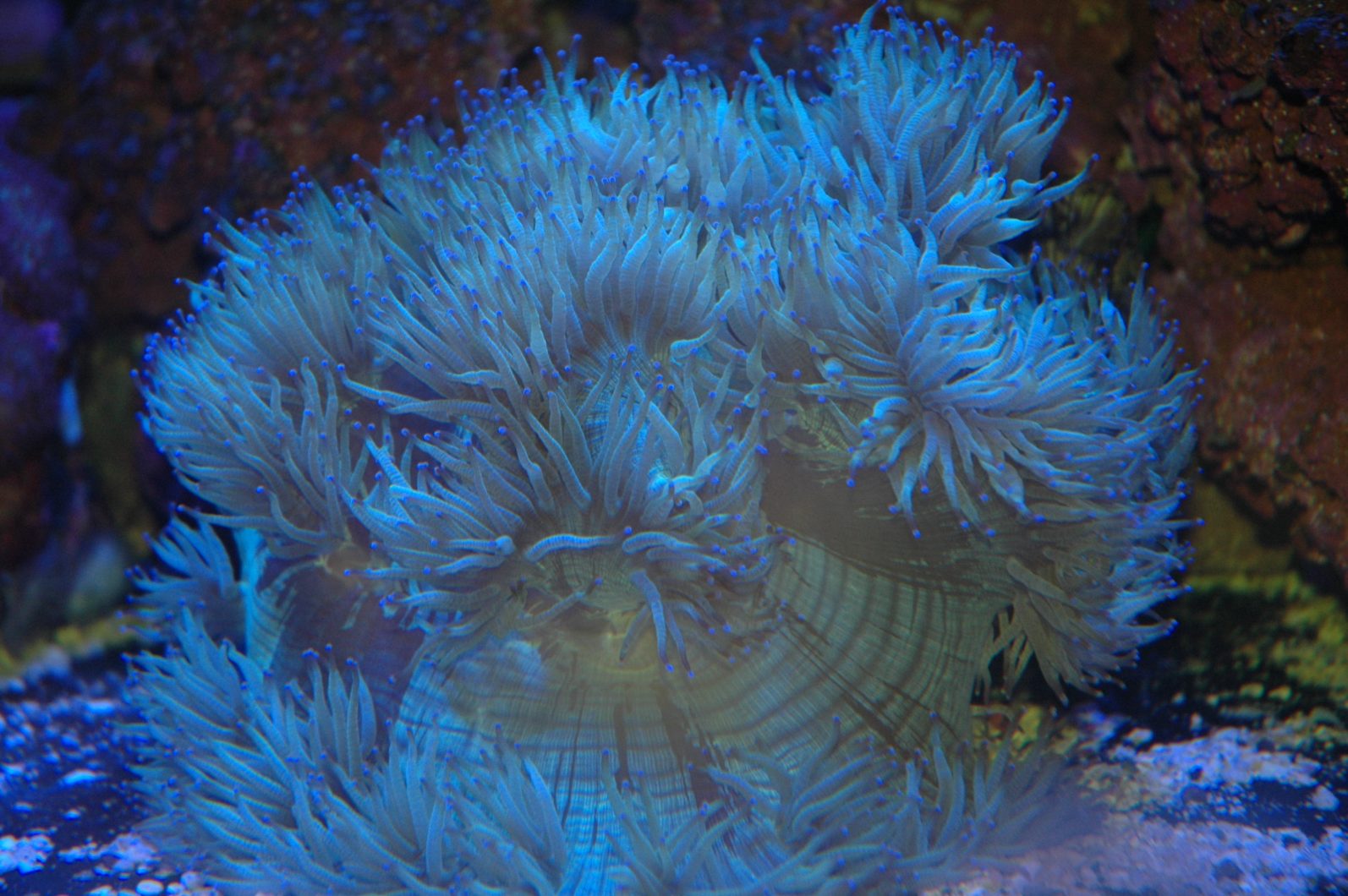 Corals:
?Leather Corals
Candy Cane coral
Pilsing Zenia
Long Polyped Plate coral
?Elegant coral
Hammer coral
Bubble Coral
Fish:
Blue Green Reef Chromis
Fiji Fox Face
Fiji Orange Spot Rabbit
Sand shifting Goby
OTHER ATTRACTIONS:
Splash Mountain Jungle – Water Slide
Roller coaster zip rail
Kula kiddies splash pool
Kula Krazy canopy flier
Hand feed sea turtles
Animal interaction & displays
Food and beverages
Gift shops (where you will find our AZURELITE BLUE LED FLASHLIGHT to purchase!)
AWARDS
Awarded 8 'Fiji Excellence in Tourism' & 'Best Fiji Experience' Awards
Awarded the GLOBAL 2012 Society of American Travel Writers' 'PHOENIX Award'
Awarded 2012 'Excellence in Tourism Sustainability Award'
LIGHTING PROJECT DEVELOPED & SUPPLIED BY ORPHEK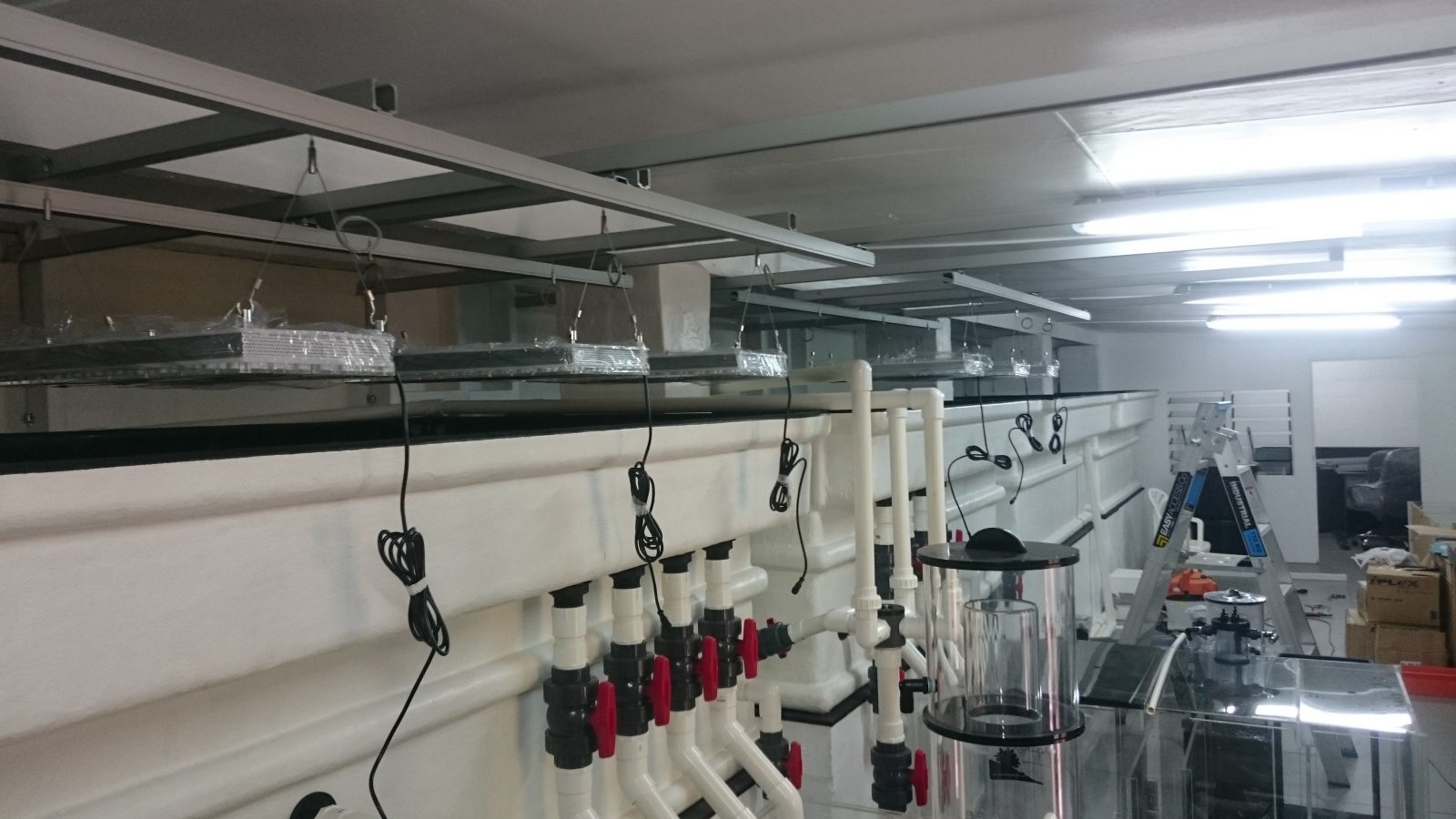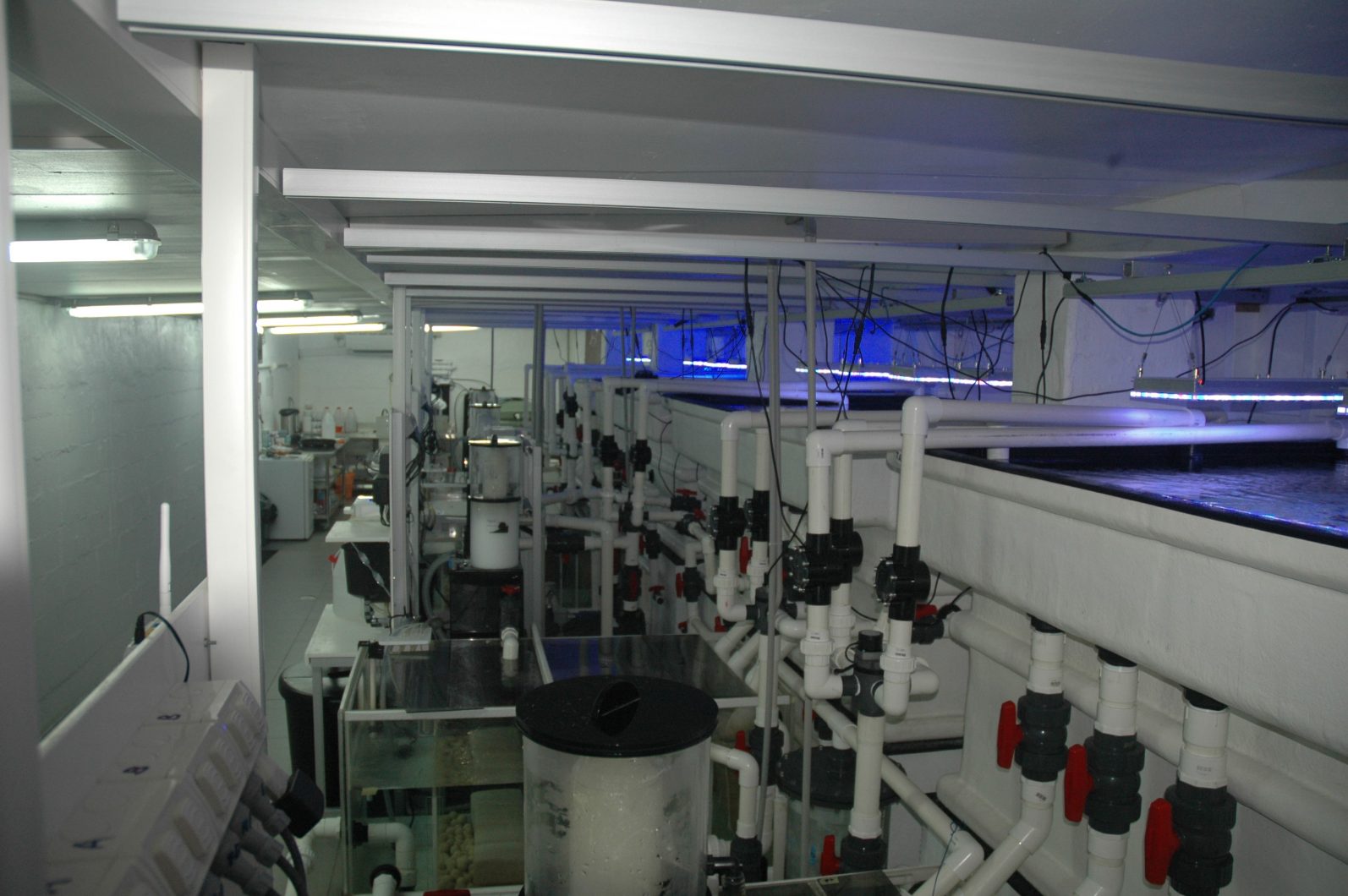 Orphek was chosen as a supplier of LED lighting solutions to Kula WILD Adventure Park due to its long settled worldwide reputation and because the construction of this project demanded the most advanced technologies available in the market, due to its challenges and its ambitions to reflect Fiji's spectacular natural resources.
Orphek has also proven to be the only leading company in LED lighting for aquariums sharing the same passion for the natural look that the developers of this project demanded, by developing products and solutions that not only answers to the needs of the living creatures of these aquariums, but also able to offer a new LED Lighting solution that would mimic Nature by providing spectrums that are present in a natural environment that were desired.
The developers of these exquisite tanks recognized our long lasting commitment to excellence, efficiency, technological development and design, specially when developing the perfect balance between the light corals need and the overall appearance they wanted to see in their tank.
---
Why the New ATLANTIK V4 is the best product Orphek has produced today?
16 new types of custom made dual core LEDs in the nanometer range from 380nm to 850nm.

 

Renders most natural appearance to the tank form 10K to 50K
Provides enough RED and IR LEDs needed
Contains Full dimming capacity in all channels, 0-100% with progressive dimming.
Provides IoT technology & Free apps available (App Store & Google play)
Gives the ability to control and program 200+ individual units!
Provides the best: PAR/PUR per watt; Highest Spectrum output; and Highest efficiency power supply.
What else Orphek is offering you that others are not?
A LED light that is made of full body acrylic. Our light is not only solid and durable, but also beautiful to display.
A LED light that has a length of 24.21" (615mm), a width of 9.37" (238mm) and a height of 2.11" (53.6mm) .
A LED light that comes not with any driver, but with Mean Well driver (model HLG-240H-48A) – we give you what the market has best to offer!
A LED light that comes with a customized plug for your region.
A LED light that comes with a hanging kit with no extra costs.
A LED fixture providing the lowest consumption Euro X watt.
FEATURES
PROGRAM/CONTROL/MONITORING (IoT)
CHECK ATLANTIK V4  VERSATILITY AND WHAT IT CAN DO FOR YOU!
Connectivity & Monitorning
Built- in Wireless Worldwide Remote and Local programming, control and monitoring
Compatible with Wi-Fi/ 3G and 4G Internet connectivity
Compatible with IOS (Iphone and Ipad) and Android (Cell and tablet)
Free apps available (App Store & Google play)
Programming
Ability to program multiple Atlantiks individually, in groups or in unison.
Eight pre-installed programs/ unlimited custom programs and group programming.
Large storage with capacity for additional programs.
Full dimming capacity in all channels, 0-100% with progressive dimming.
LEDS & LENS
CHECK THE NEW SPECTRUM FOR OPTIMAL CORAL BEAUTY, GROWTH, COLOR & HEALTH!
New 78 customized high efficiency 5w Dual-Chip power LEDs – total of 156 individual LEDs.
New 16 different types of Dual chip wide range LEDs. 380nm UV to 850nm Infra red!
 First company to introduce the Infra red 850nm
New Spectrum for better coral growth, color and health.
Four separate control and programming channels.
Lens Options: Wide convex for tanks under 42" deep and 90 degree narrow for tanks over 48" deep.
SPECTRUM & EFFICIENCY
Highest PAR/PUR per watt.
Highest Spectrum output.
High efficiency power supply.
Lowest consumption Euro X watt.
CHECK WHAT COMES WITH YOUR LIGHT! (INCLUDED)
Power cord with waterproof connector
Stainless steel hanging kit
Driver
Mean well Fan-less IP65 power supply
---
If you are in any country around the globe (and we mean ANY – like FIJI) and you are also wishing to:
Improve the quality of life of your corals and marine species
Install a neat and easy to clean fixture
Own not only a conceptual design LED light solution, but a true color & growth technology
We will be very happy to find the best Orphek LED Lights for your tank.
Email us to  contact@orphek.com and we will help get you started! You can also reach us by filling our form