The Atlantik v4 Spectrum
Orphek has already set the standard in the market for its advanced comprehension of color spectrums and its influences on coral physiology and once again is releasing another cutting-edge and groundbreaking technology, by bringing a revolutionary change in the spectrum provided by diodes and supplying its best product developed specifically for the needs of photosynthetic marine invertebrates.
Spectrum/PAR test By Henning Wiese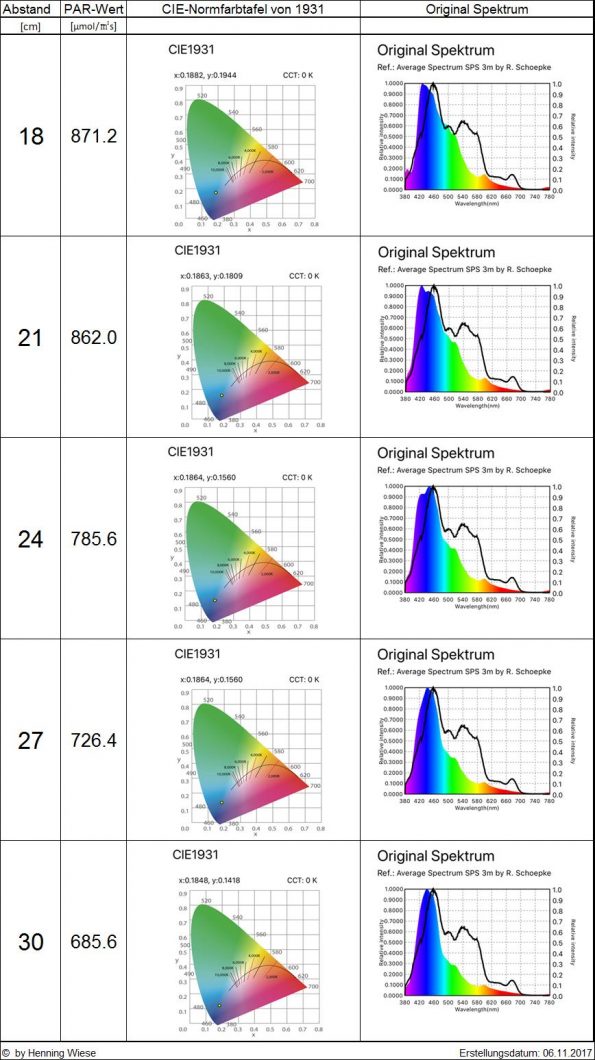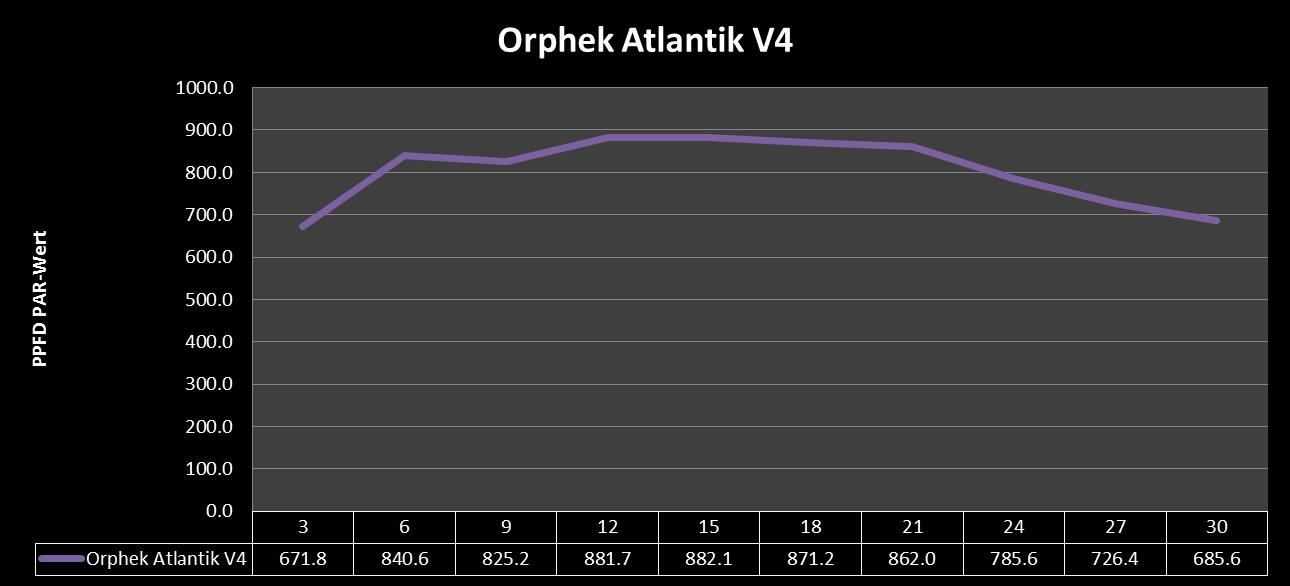 All Photos under Atlantik v4, Fast coral growth and color, Aquarium and Photos by Masahiro Kamiya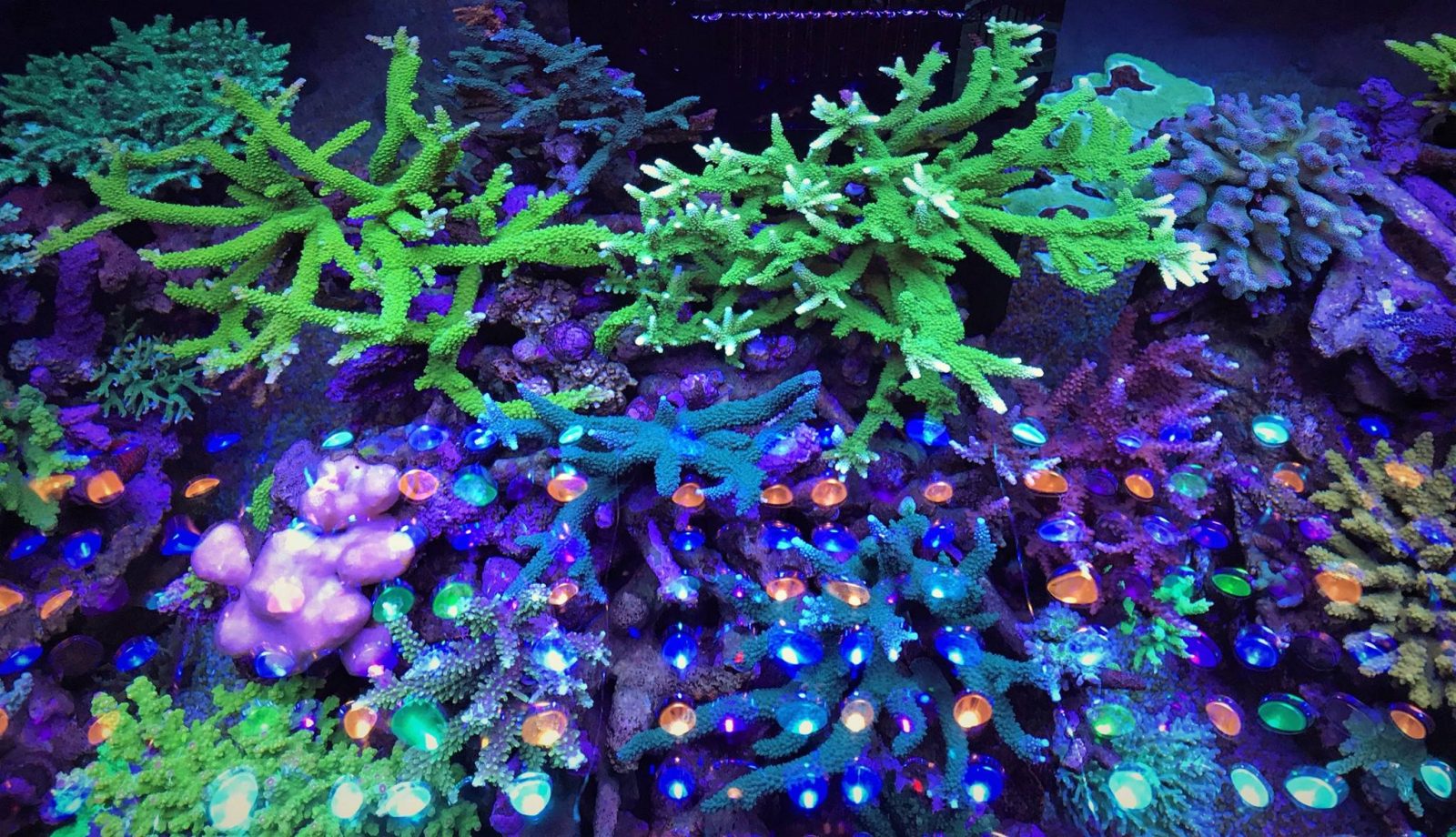 One of our target goals with the V4 was also to try to minimize as much as possible the outbreak of cyanobacteria and/or the growth of nuisance algae. Of course we all realize that without keeping proper parameters and religious tank maintenance is crucial and no light or system will prevent that, but Orphek succeeded to offer a new spectrum that balances just enough red with other colors of the spectrum to create a healthy balance of light.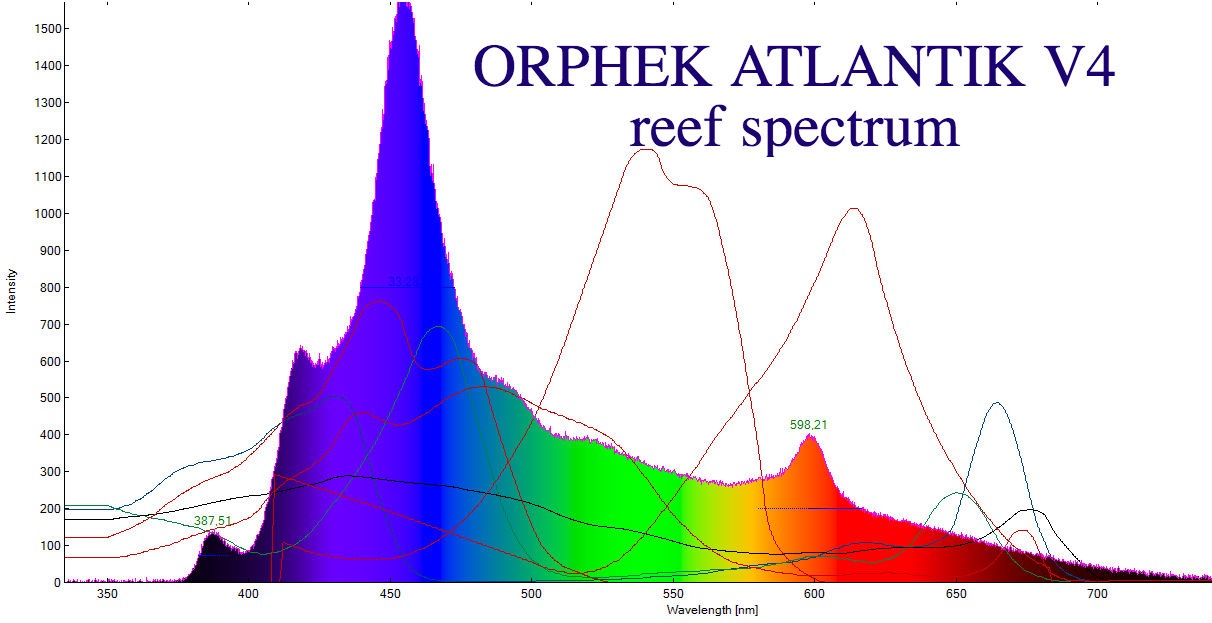 We at Orphek feel that this is the most complete and beneficial spectrum ever created for a coral reef aquarium.
The new ATLANTIK V4 spectrum research resulted into the perfect balance between the light corals need and the overall appearance you want to see in your tank.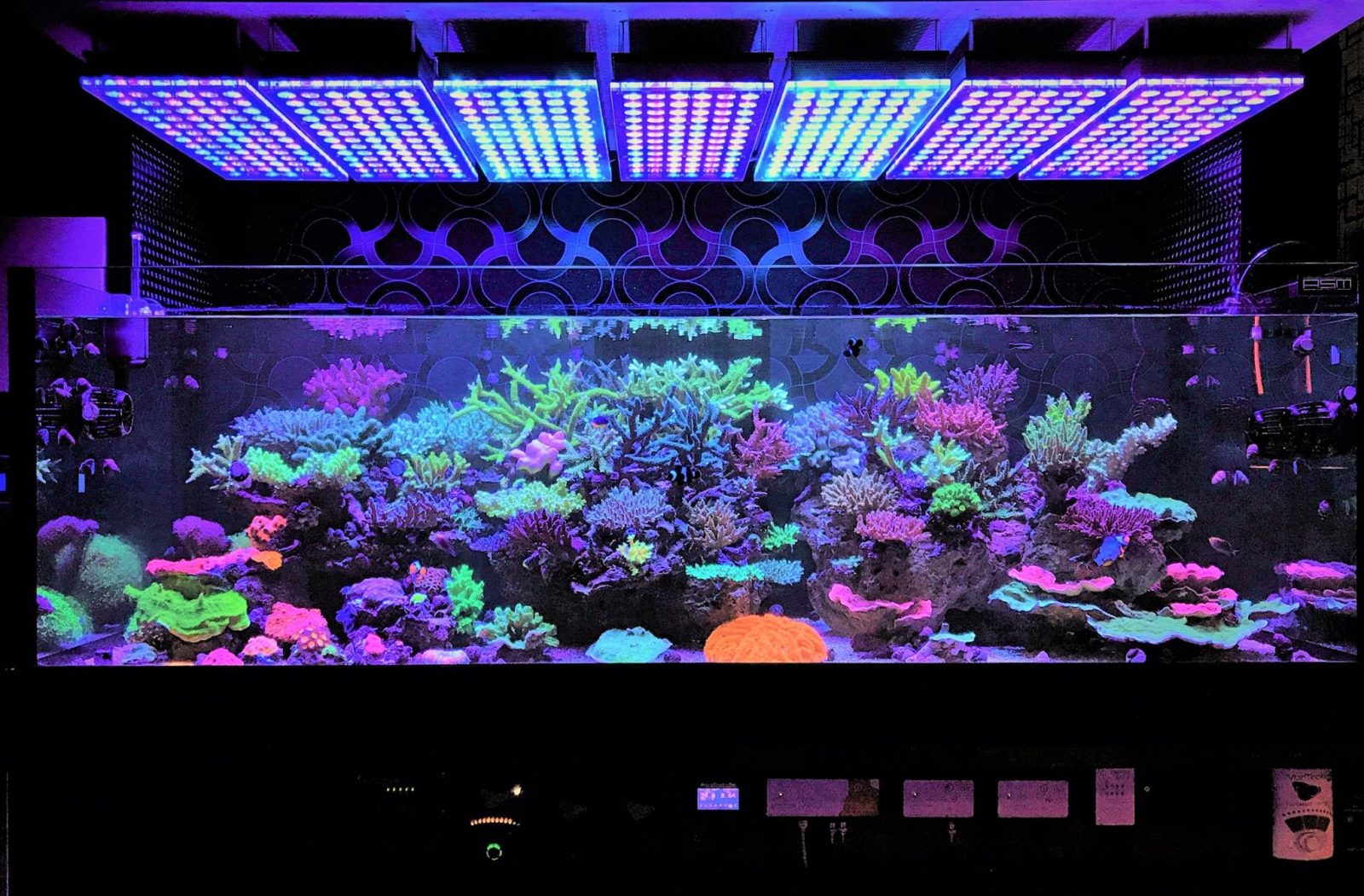 Orphek Atlantik V4 proved to have a stronger spectrum than Philips coral care LED light
Philips coral care spectrum in red line Orphek spectrum in color. (Published by Ronny Schöpke)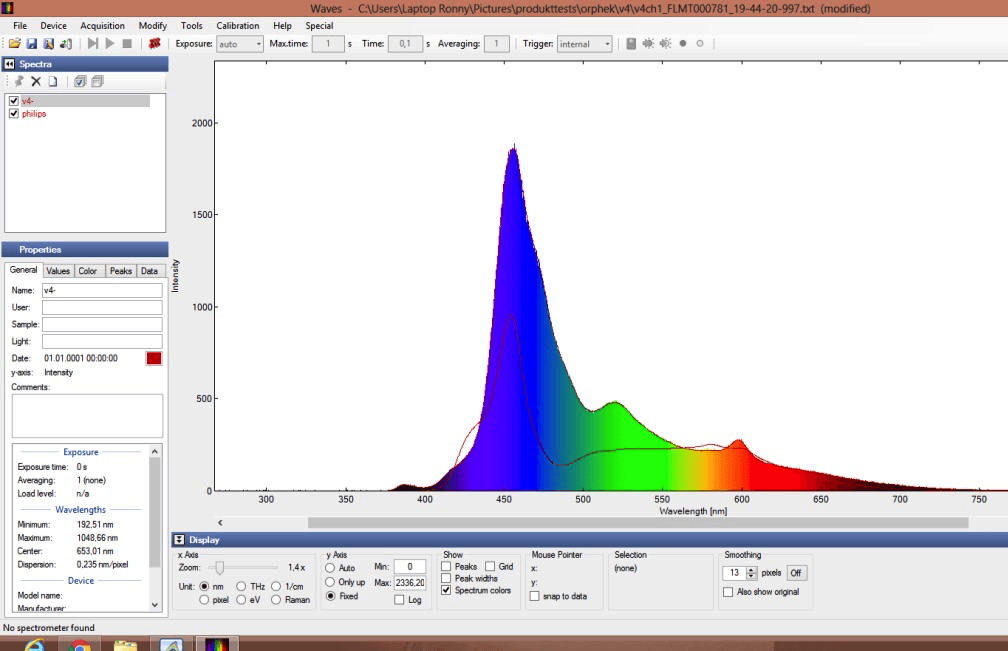 Orphek Atlantik V4 proved to have a stronger blue spectrum than the sun!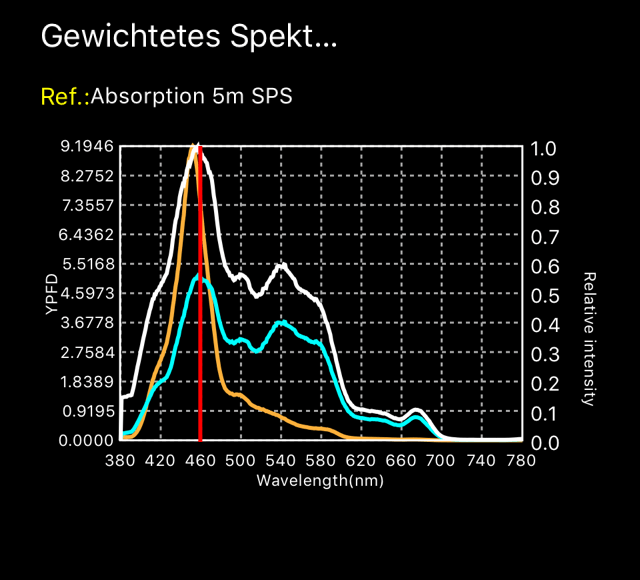 Our client Immo Gerber, engineer at ZKS from Stuttgart, Germany made us a surprise this week by sending us an email with very good news!
Immo was curious about our Atlantik V4 spectrum so he decided to compair it with the Sun light spectrums and what he found out was really interesting:
According to him Atlantik V4 blue spectrum is higher than the sun.
Here is his email to us:
"Hi James,
Here a comparison between our Sun and the V4. Both measurements taken without water penetration.
If you look at the graph you can see that in the blue spectrum the V4 is stronger than the sun.
The only light which performs similar is metal halide. Impressive isn't it ?
Best wishes, Immo"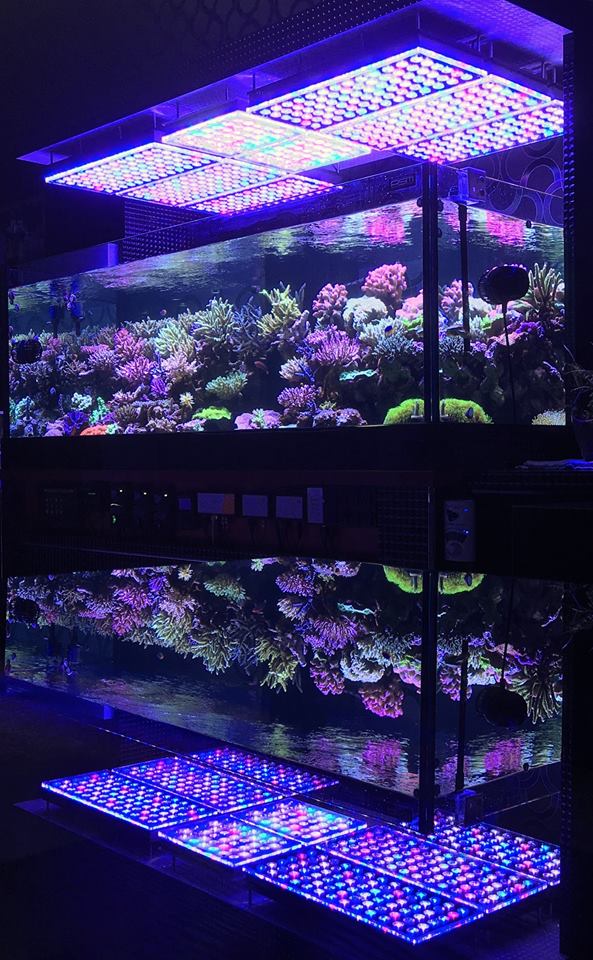 ORPHEK CHANGING HISTORY!
We are very happy to announce that now we have the research to share with you about our new spectrum and the penetration of infrared into the water.
Till today you heard that in general infrared light from 780 nm can no longer penetrate the water. In addition, that light waves above 780 Nm are no longer perceptible to the human eye.
So Infrared 850nm is one of the new improvements?
Orphek innovations are mostly focused on the research to improve LED light spectrums and by doing so we have been a leader in the market for years.
The starting point of this new Orphek product started with the idea of developing a new LED Lighting solution that would mimic Nature by providing spectrums that are present in a natural environment.
Sun light provides a range of wavelengths and different lengths of light waves do not penetrate through the water equally. Infra Red light is the first to be filtered out and can only penetrate a short distance. If you look at a coral reef in Nature you will notice that shallow reef corals live in warm waters.
The idea was to add to the ATLANTIK V4 enough infrared color to satisfy coral of all habitats. This new development isn't something that happened overnight. A year of testing and experimenting went into this project before we were convinced that we came up with the ultimate spectrum for growing coral and the added benefit of viewing the coral with a more natural look.
ORPHEK IS THE WORLD LEADER IN AQUARIUM LED LIGHTING!
8 years ago Orphek set the new standard for LED Lighting products for reef aquariums by developing emitters providing the best PAR/Watt, offering solutions with the highest PAR output.
By launching groundbreaking technologies our company gained respect and recognition as a leader in Aquarium lighting technology and innovation for reef aquariums lights.
CHECK OUR GROUNDBREAKING INNOVATIONS!
We are the first company to introduce Internet of Things (IoT) technology.
First company to develop solutions to deliver light spectrum for depths over 15 meters.
First company to develop UV/violet LEDs in reef aquariums.
First company that provides a wide spectrum red without using normal 660nm and 640nm LEDs.
First company making its own wide spectrum blue LEDs.
First and only company to make its own proprietary White/ UV LEDs.
First company to use high Kelvin white LEDs.
First company to make 100-watt matrix multicolor LED chips and first to have the technology to customize the chip to any Kelvin temperature desired.
Orphek Use a Infra red for more then 6 years
Orphek LED from 2012 use many type os nm chip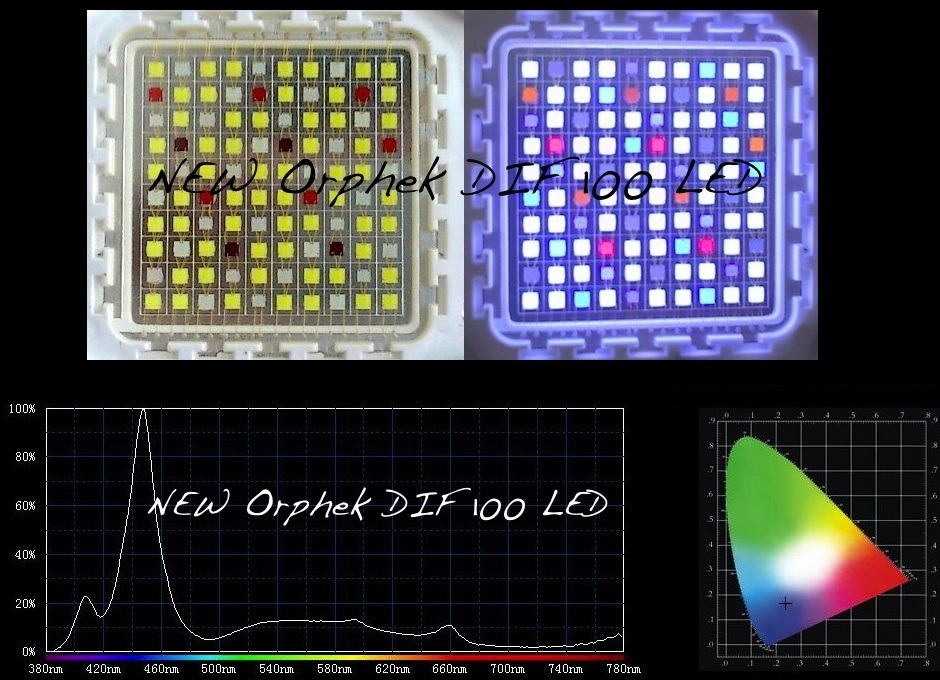 Orphek is well known for its LED innovations.
(Published by Ronny Schöpke )
It is logical did Orphek thinks ahead in its design group to hold the position as one of the best LED aquarium light producers.
In cooperation with the University of Giessen, to experiment Conducted by Dr. Patrick Schubert shows how well LEDs with the correct spectrum excel over other older technology light sources.
Orphek has Specially designed to Orphek Atlantic V3 + with a special spectrum for that experiment.
For the experiment, a unique spectrum has been created with reference to the Schöpke action spectrum for SPS coral.
Even infrared radiation has been thought of since the infrared rays in the uppermost layer of water causes molecules to vibrate All which is beneficial to carpet anemones and other photosynthetic reef dwellers in shallow water.
read more: