Working over the years with Public aquariums Orphek had the opportunity to learn a lot about night feeding tours that were available in such places.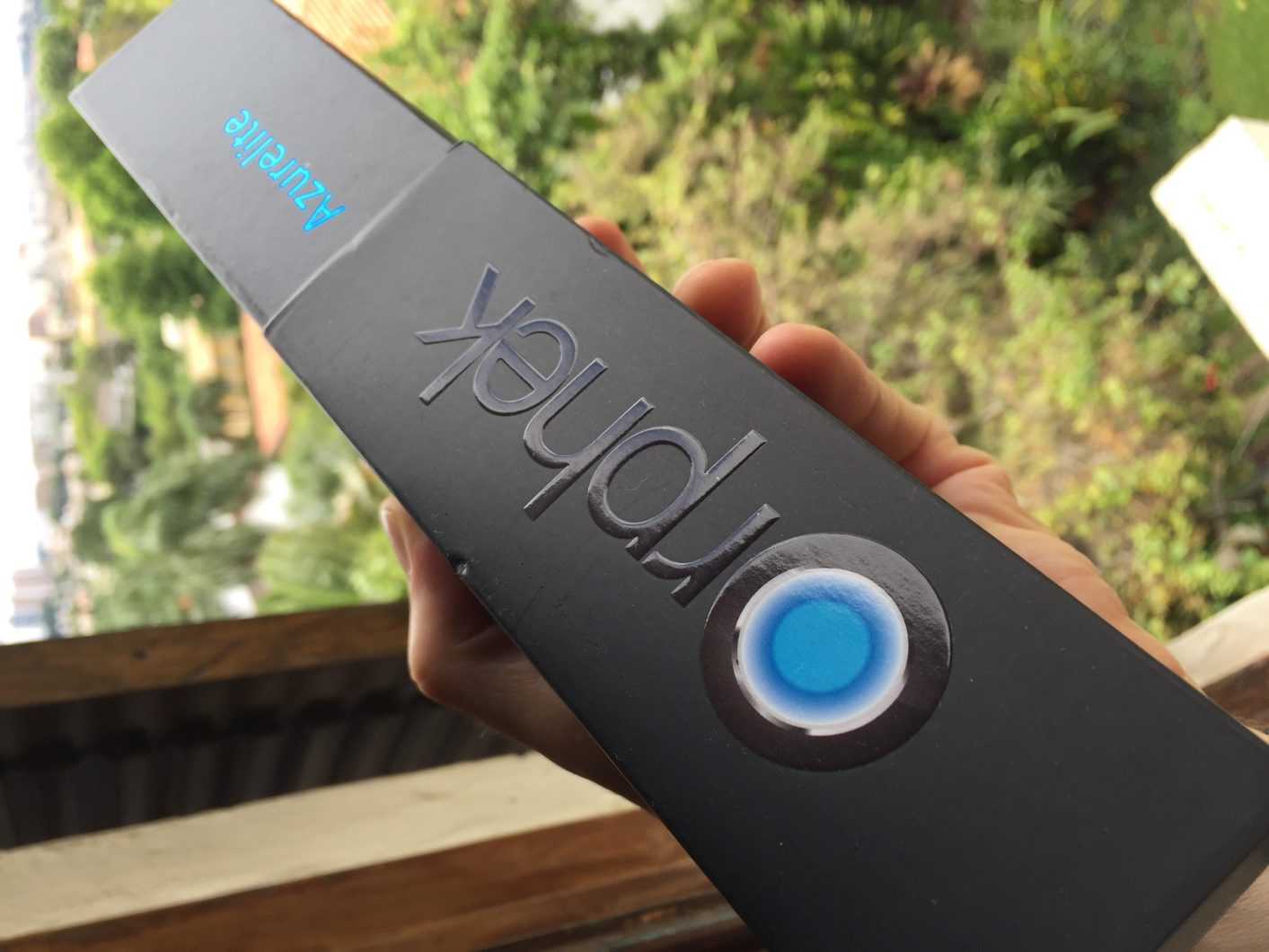 Orphek founders were thrilled with the idea of bringing the excitement of this experience to the homes of all hobbyists.
Also knowing that the majority of corals feed at night in Nature, Orphek founders always wishing to recreate natural habitats and enhance the quality of reef tanks environments wanted to find a solution that would provide enough light for reefers to experience the fun of night feeding, combining an exquisite design with outstanding performance.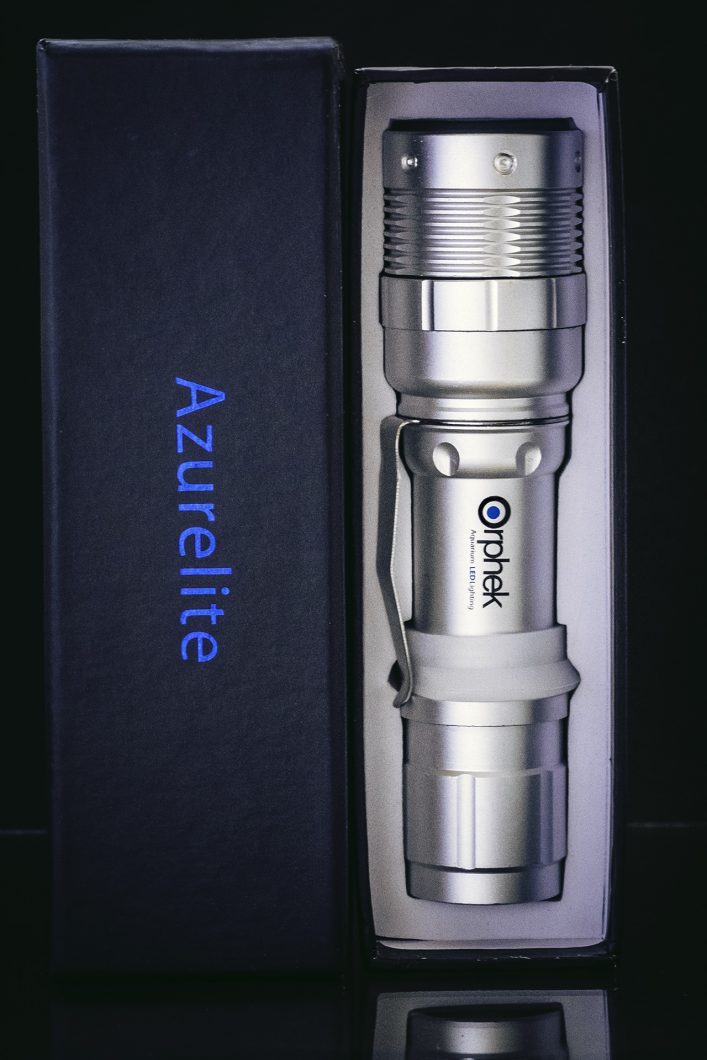 Although coral feeding was the main goal, being able to do a quick health test while purchasing corals were also an interest of the co-founders. A health coral check should evaluate coral's colors, the existence of white spots, polyp extensions or tissue inflation. Orphek wanted not only a product that would able reefers to do so, but also offer a product they would be able to carry with them while purchasing new corals.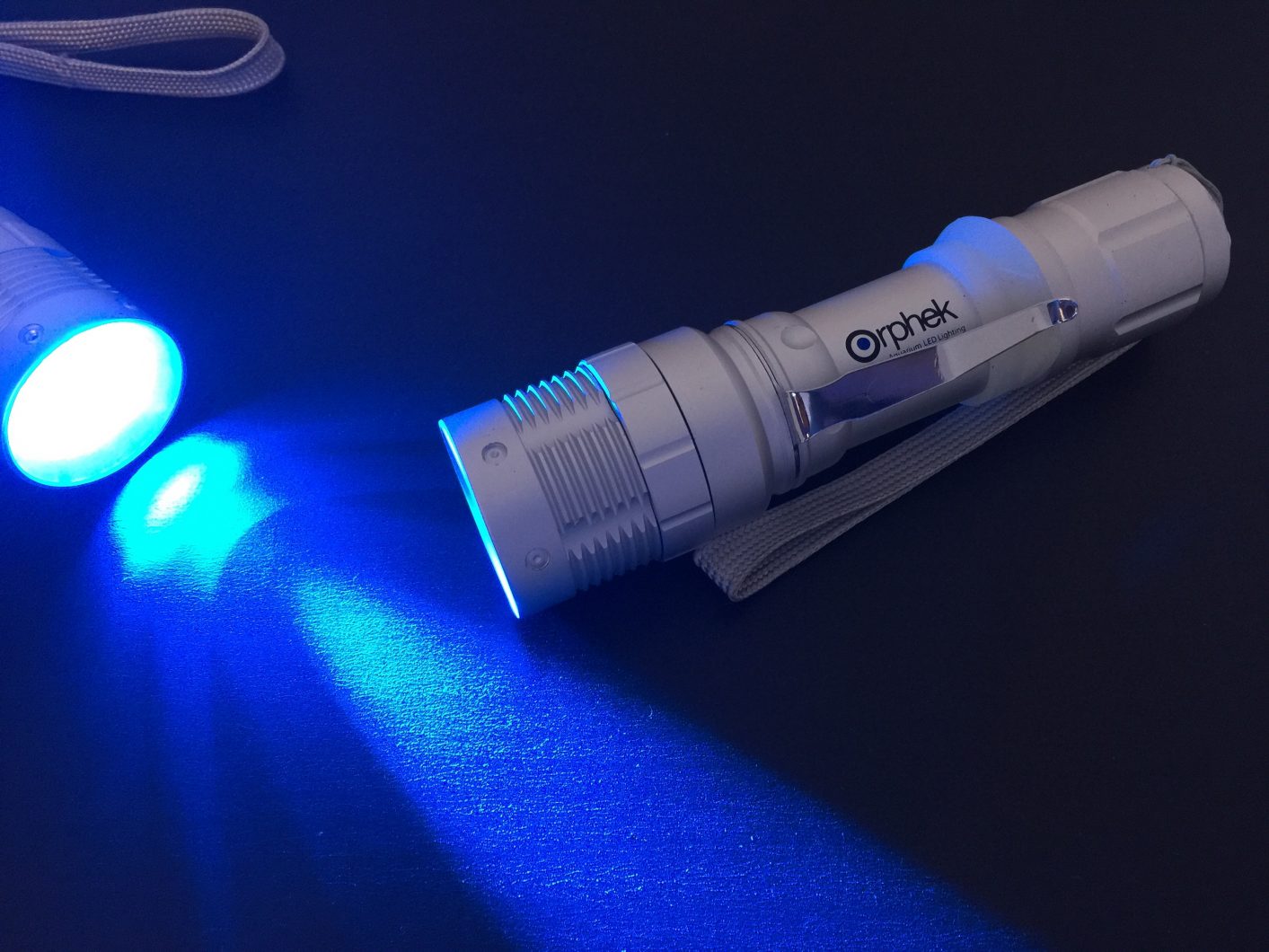 From these idea and the love for new challenges our team developed Azurelite blue led flashlight , a high performance blue LED multifunctional Flashlight designed specifically for coral night feeding, colors & health checking and illumination.
We were very happy to launch Azurelite at Macna 2013 specially because visitors could check the potential of corals in site before purchasing them. It was not only a thrill among aquarists, but also a success among coral farmers and shop owners.
In the same year Azurelite in its original black edition was already a winner of Reefbuilder's Editor's Choice Award 2013.
" AzureLite – As much time as we spend looking and peaking and poking around our tanks, it's amazing to think that a special reef aquarium flashlight has never really been made available just for reefers…The AzureLite is plenty bright, with an adjustable beam that can light up a foot wide swath of reef or it can be narrowed to focus in on a coral you want to inspect, even in bright lighting. The color of the AzureLight is spot-on and its the first flashlight we keep handy for more frequent night time visual aquarium raids than ever before". (Reefbuilder's Editor's Choice: 10 Best Products of 2013 – by Jake Adams in Jan 2014)
Always innovating, the second generation of Azurelite was launched in 2014 bringing a new enticing silver white coating. Offering new packing with a deluxe matt black gift box with an embossed & varnished Orphek logo soon Azurelite became the ultimate cool gadget ever! Reefers went wild with this new version and many reviews and unpacking Azurelite articles, photos, articles and videos became available in the Internet.
We picked some for you:
How far Azurelite flashlight can reach ?
Coral night feeding with Reefaddicts.com 
Soon coral photographers also found in Azurelite an exquisite tool for adding beauty to coral photography, especially to click polyp extensions. Check HERE for the amazing pictures and tips for photographing corals with Azurelite.
Check also Recifal News detailed article with fluorescence checking and photo tests by clicking HERE.
A year later, in 2015, Azurelite was also chosen by Editors of Recifal News as the best product of that year in France.
In the same year Ronny Schöpke of Salzwasserwelten, a famous German website for reef, provided a very detailed article with an overview of Azurelite LED spectrum measurement with CCD spectrometer Thorlab 20. He also provided conclusive health tests for coral tissue damage and presence of parasites.
Throughout these years Orphek has been successfully selling Azurelite all over the world, from Canada, North, South, Central America and Europe, to the Middle and Far East, Australian and African continents. Azurlite is loved everywhere!
Last year Orphek offered a cheerful red Christmas bag and it was the hit gadget of the Holidays.
Azurelite for 3 years in a row has been capturing hobbyists' hearts and minds and at this last Macna (San Diego, 2016) we were completely sold out. It was such a pleasure for us to hear passionate feedbacks and comments and have seen owners of Azurelite come back for more units to give one or two for friends and clients.
LATEST AZURLITE VIDEO: Recifal News unpacking Azurelite video 2016
Azurelite comes with 1 Orphek Azurelite Flashlight, 1 Wrist Lanyard, 1 Pocket Clip and 1 user guide booklet, batteries not included.
OUTPUT
Low: Coral feeding
High: Night Viewing & Inspection
Strobe: To be used for signalization when out there checking corals in Nature.
FEATURES
High Luminance, Powerful Focusing Beam, Orphek Signature Convex Optic, 5 Watt lifetime blue light LED and 3 functional modes.
SPECIFICATIONS
Type: Rechargeable Flashlight/ Running time: battery-running time
Voltage: 4.5V
Light Source: 5W LED/ LED Type: Blue
Length: 5.75"/ 146.05mm/Diameter: 1.375"/ 34.925mm
Weight: 110g
Body Material: Aluminum Alloy/Surface Treatment: Anodic oxidation/Body Color: White/Green ring
COMPATIBLE BATTERY TYPES
Alkaline AAA batteries/ Lithium AAA batteries/ NiMh rechargeable AAA batteries
To order now your Azurelite please contact your local store!
Photos: we need to choose together the best photos to place here in this article
Distribution and dealers
To Purchase the Azurelite directly from Orphek Distribution and dealers are welcome to contact us, email  contact@orphek.com
for inquiries or send us an email via form:  Fill-in your details and one of our experts will contact you shortly. All fields are required.
[contact-form-7 id="1397″ title="Contact form 1″]