Why Orphek Atlantik v4 is The Best LED Aquarium Light ?
"so, here is the entire story of my tank:
I'm Christophe from Belgium and I have been keeping saltwater tanks for about 7 years.
My current tank has been up and running for about 2,5 years now.
I started the entire tank with a scape of death rock, to avoid all kind of pests I could be dealing with later (crabs, algea, mantis,…).
As you can see, my favorite corals are mainly sps with especially acropora species.
The aquarium holds about 300 liter (size 80x80x50cm) and the entire system (including sump and frag tank) is about 450 liter.
The skimmer is a Royal Exclusiv BBK 180 mini, only one Tunze 6105 streamer, and the return pump is a Jebao DCS 8000.
I have had all kinds of lighting above my tank: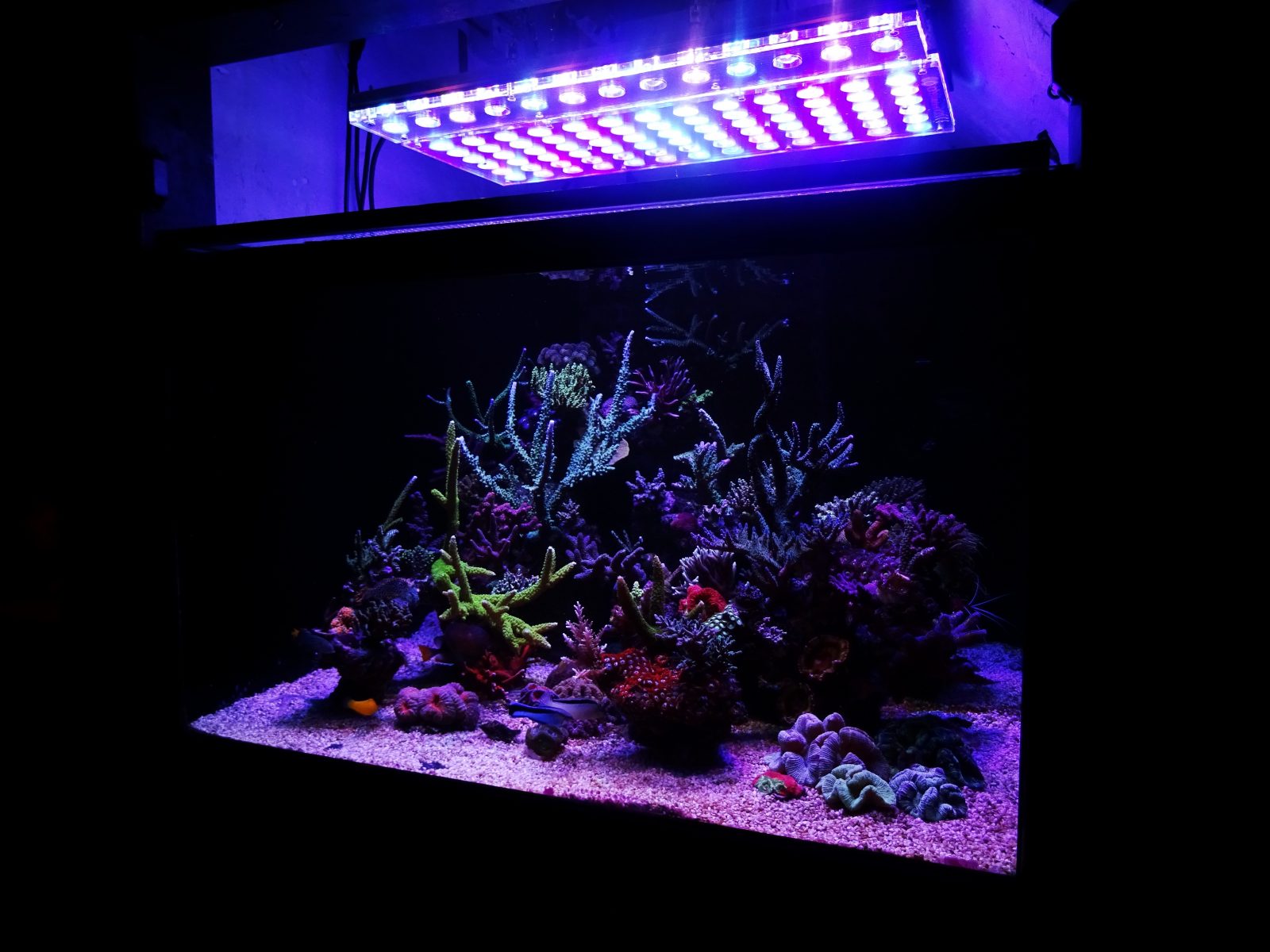 I started off with a HQI/T5 combination, but because the tank is build into the wall,
and the HQI light gave to much heating to the tank, the heat couldn't get away (I don't have a chiller)
and temperature started to rise to high within the first months.  Therefore I was forced to look for another option.
So I switched to a DIY T5 fixture, with eight tubes.  I had good results, but the fixture made it almost impossible
for me to clean the side of the tank walls  and it was also to dangerous to break a tube and fall into the tank.
And then I switched over to leds.
I really love the shimering in the water, the dimming fases, the fact that you don't have the cost to replace bulbs,
no extra heating, the versatility of certain fixtures and so on…
I started with two Maxspect Razors 15.000K.  These worked fine above my tank, had a good spread but again,
just like the T5's, with the passive heating of the fixtures, the Maxspects were too big.  Also, another minor point,
you can only adjust two color channels (white and blue) which makes them les versatile.
The second fixtures I bought were the Ecotech Radions G3 Pro's.  Great fixtures I must honestly say.
Very small and lot's of different color possibilities, but…  they are very expensive and they don't give much spread unless you
hang them very high above the tank (which isn't possible here).
I bought two of them (which costs me already more than one Orphek Atlantik V4), and I still hadn't enough spread.
You could see this very good that I had a lot of shadow spots on my sps and some of them started to die off because
of the lack of light on the footbase.
And then, the third fixture was the Orphek Atlantik V4.  Without any doubt, this is THE best led fixture I have ever had!
The Atlantik V4 has, with its 78 dual chip leds placed next to each other, the biggest spread of them all and also the biggest range in different leds.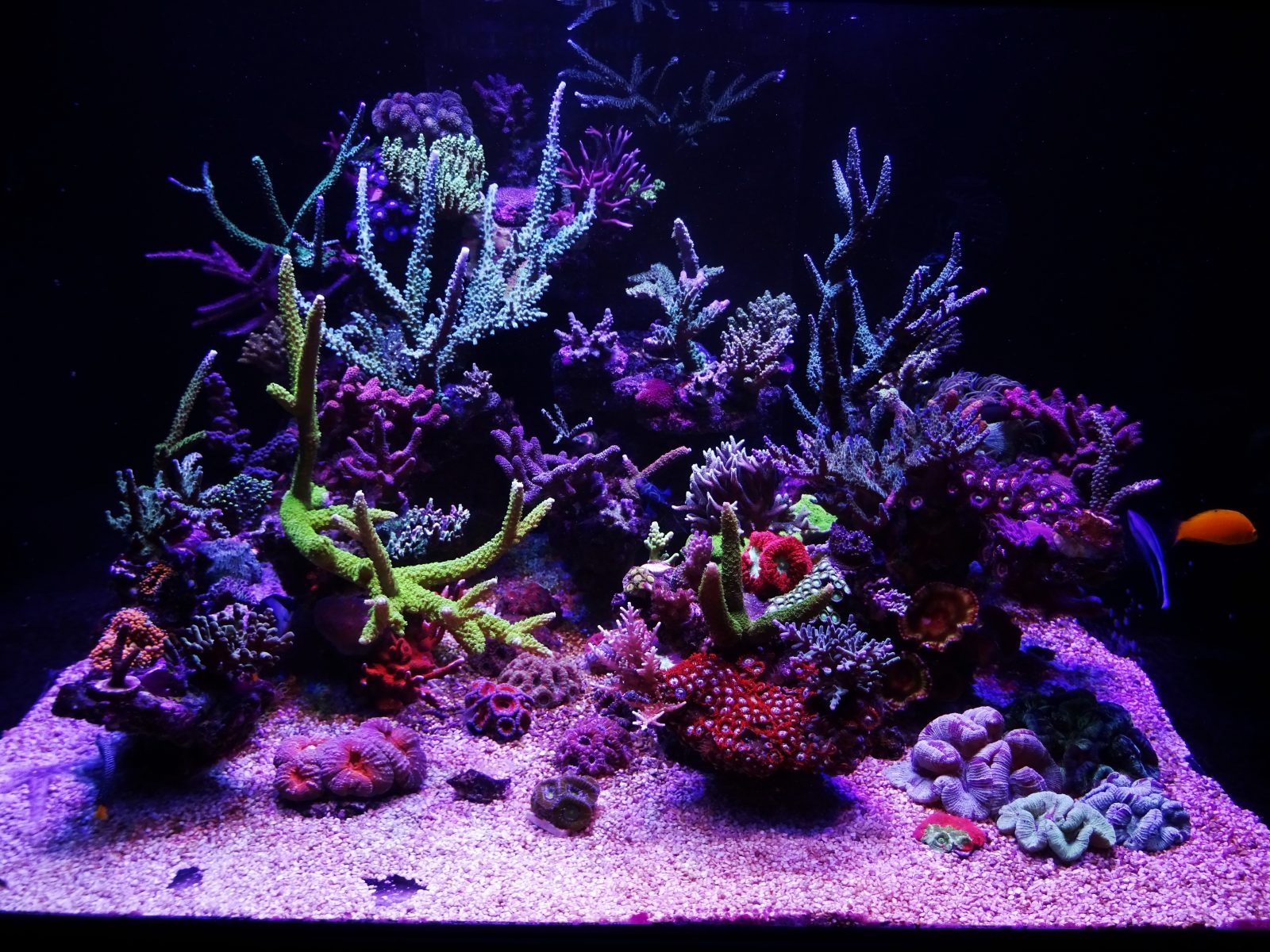 To compare with the Maxspect Razors and the Ecotech Radions, I definitly have the best colors and the fastest growth for my sps.
And also my lps (different species of Trachyphyllia, Zoanthus and Acans) are doing  very good under this led fixture!
And the easy programming, with the four different color channels and the smartphone interface, make them very actractive and fun to work with!
To keep my parameters constant, I have a Tunze calcium reactor with a digital dosing pump, controled by a Profilux.
Aside to that, I have a six channel dosing pump to keep my macro elements at the right level.
I also believe that keeping the water healthy and crystal clear is a great benefit for acropora species, so for this,
I use a DIY zeolite reactor and constant filtering with active carbon.
In my own experience, the three biggest factors for great results are: maximum stability with the right water parameters,
patience, and the right lighting for the corals…
Greetings,
Christophe  "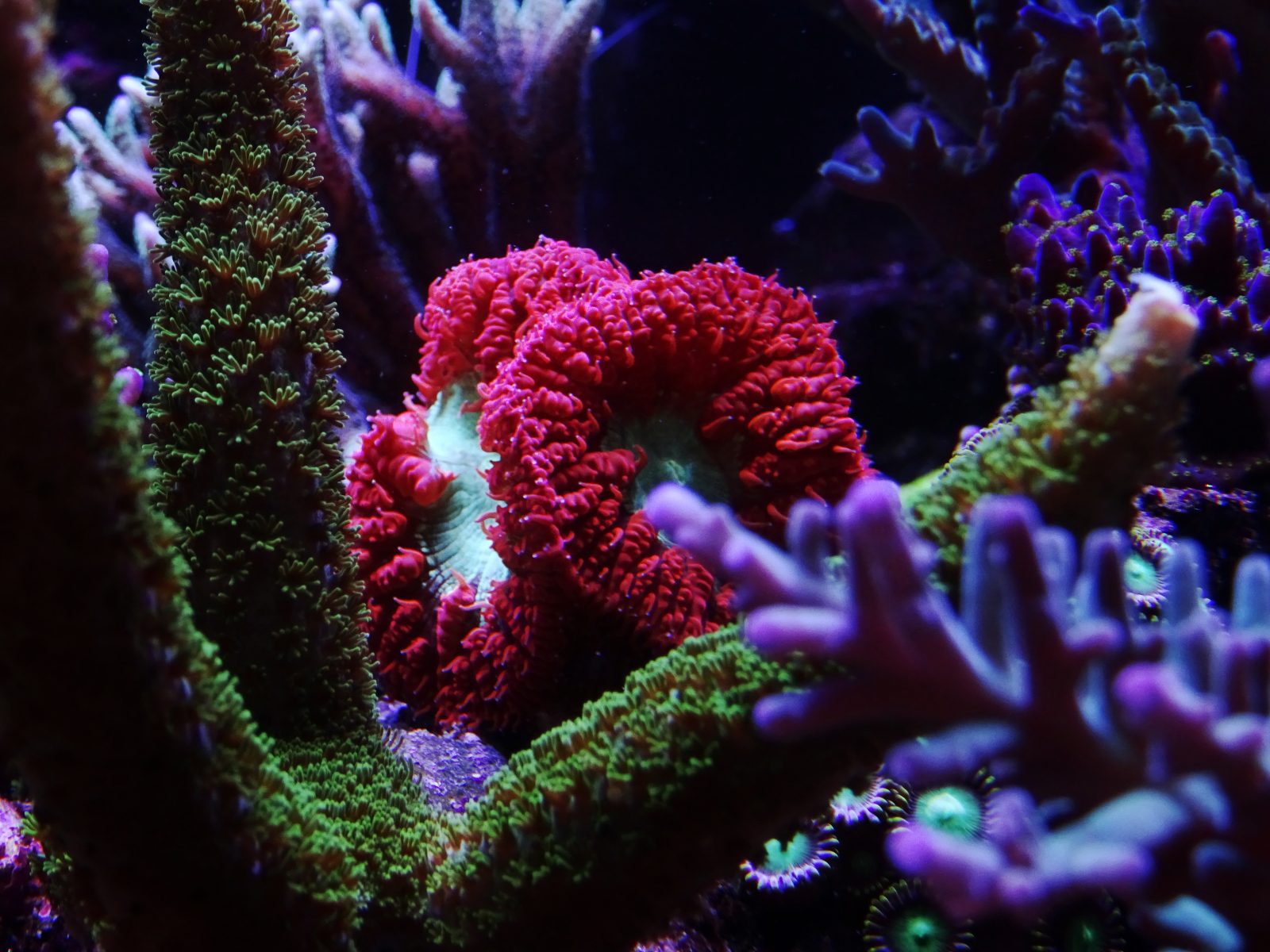 New Orphek Atlantik V4 LED Aquarium Lighting For Optimal Coral Growth and Color
For Aquarium size of 48″ x 35″ /120 x 90cm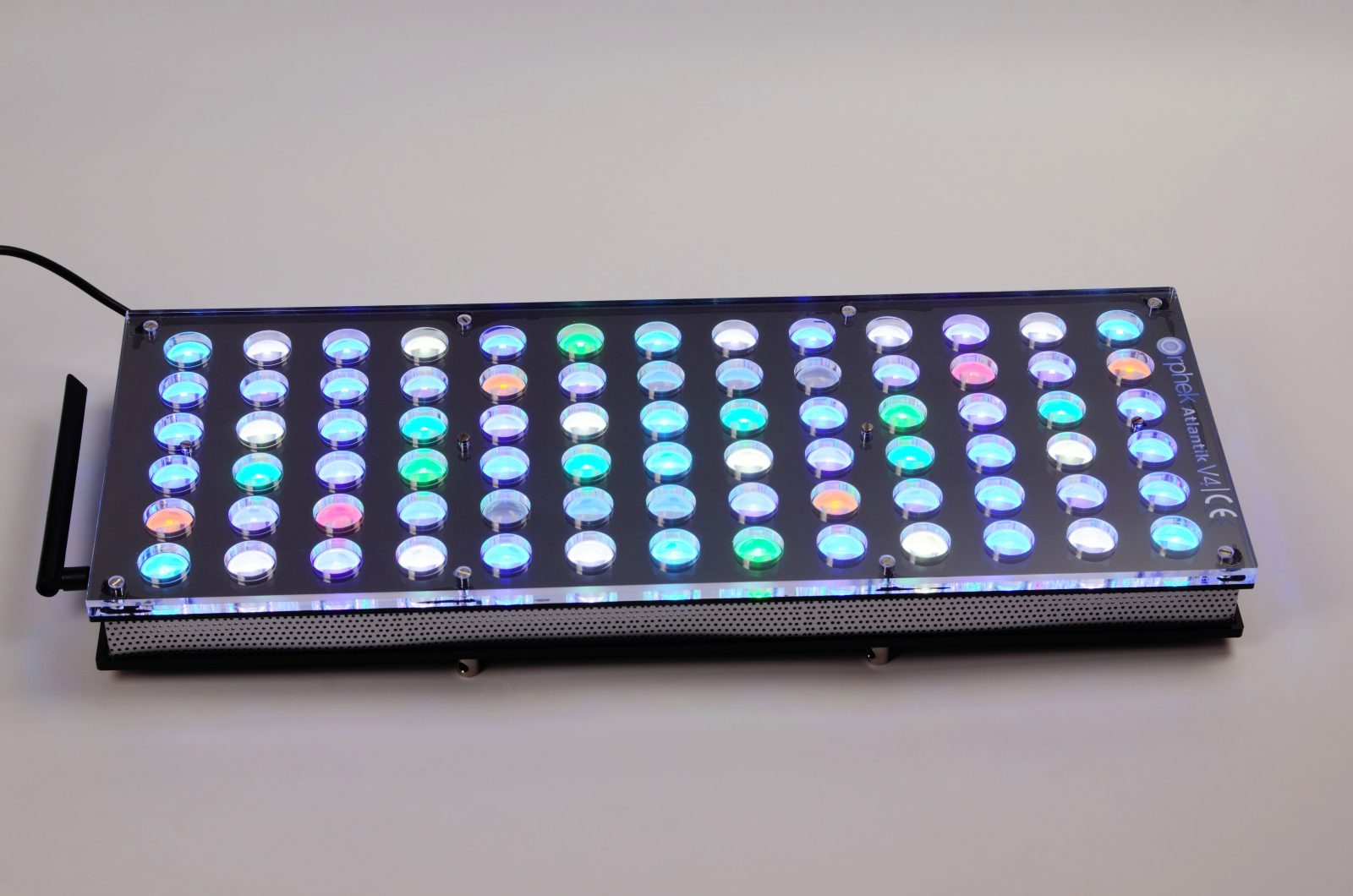 LEDS & LENS
CHECK THE NEW SPECTRUM FOR OPTIMAL CORAL BEAUTY, GROWTH, COLOR & HEALTH!
New 78 customized high efficiency 5w Dual-Chip power LEDs – total of 156 individual LEDs.
New 16 different types of Dual chip wide range LEDs. 380nm UV to 850nm Infra red!
First company to introduce the Infra red 850nm
New Spectrum for better coral growth, color and health.
Four separate control and programming channels.
Lens Options: Wide convex for tanks under 40" deep and 60 degree narrow for tanks over 40" deep.
Why the New ATLANTIK V4 /ATLANTIK V4 Compact is the best product Orphek has produced today?
16 new types of custom made dual core LEDs in the nanometer range from 380nm to 850nm.
Renders most natural appearance to the tank form 10K to 50K
Provides enough RED and IR LEDs needed
Contains Full dimming capacity in all channels, 0-100% with progressive dimming.
Provides IoT technology & Free apps available (App Store & Google play)
Gives the ability to control and program 200+ individual units!
Provides the best: PAR/PUR per watt; Highest Spectrum output; and Highest efficiency power supply.
ORPHEK 10 YEARS CELEBRATION SALE!
Limited time oportunity
Buy today $200 OFF!!
For $899 & Free Shipping
*Original Price: USD $1,100   
---
SO WHAT IS NEW?
Atlantik V4 combines 16 new types of custom made dual core 5 Watt LEDs in the nanometer range from 380nm to 850nm for maximum photochemical efficiency.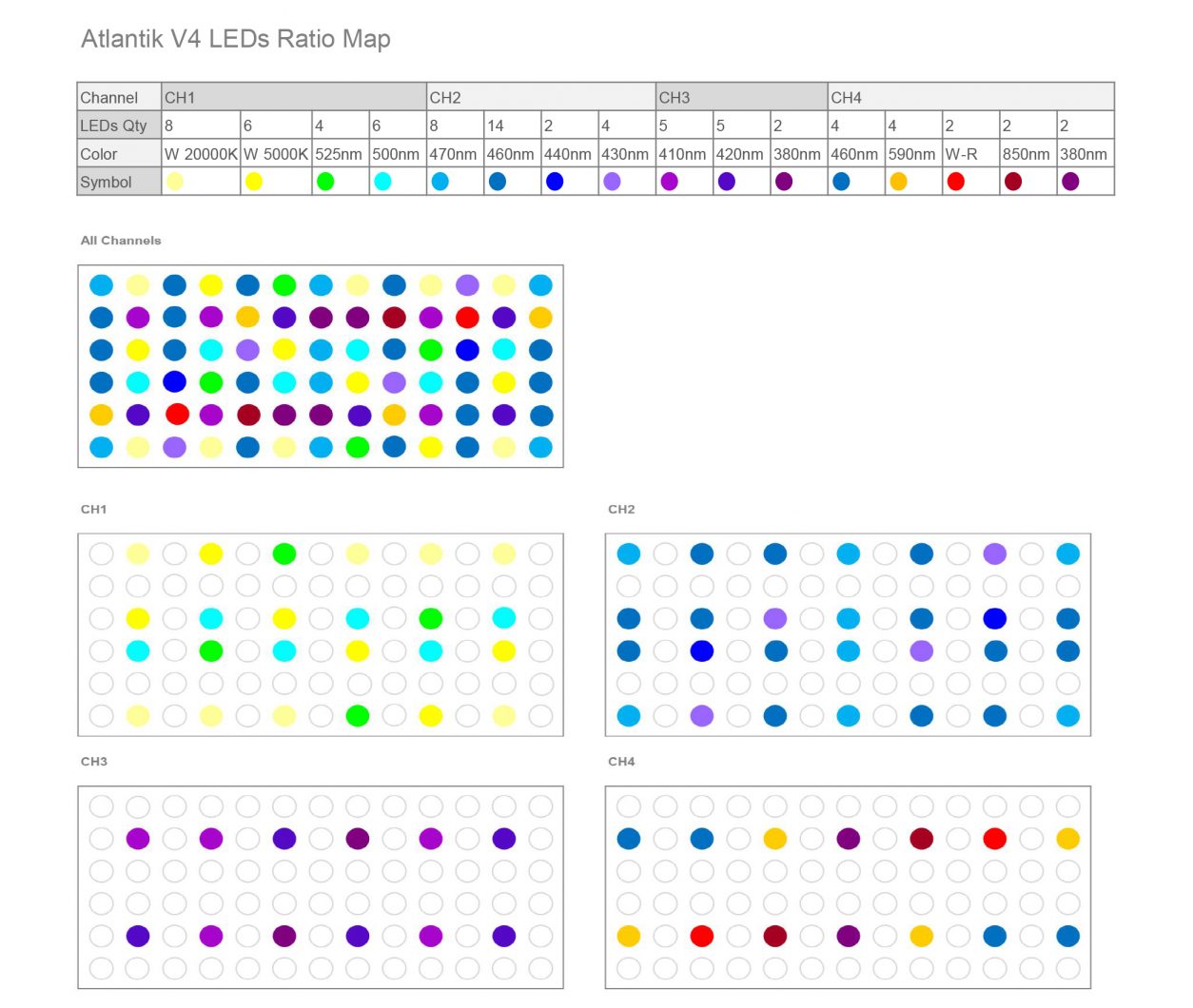 Orphek has already settled the standard in the market for its advanced comprehension of color spectrums and its influences on coral physiology and once again is releasing another cutting-edge and groundbreaking technology, by bringing a revolutionary change in the spectrum provided by diodes and supplying its best product developed specifically for the needs of photosynthetic marine invertebrates.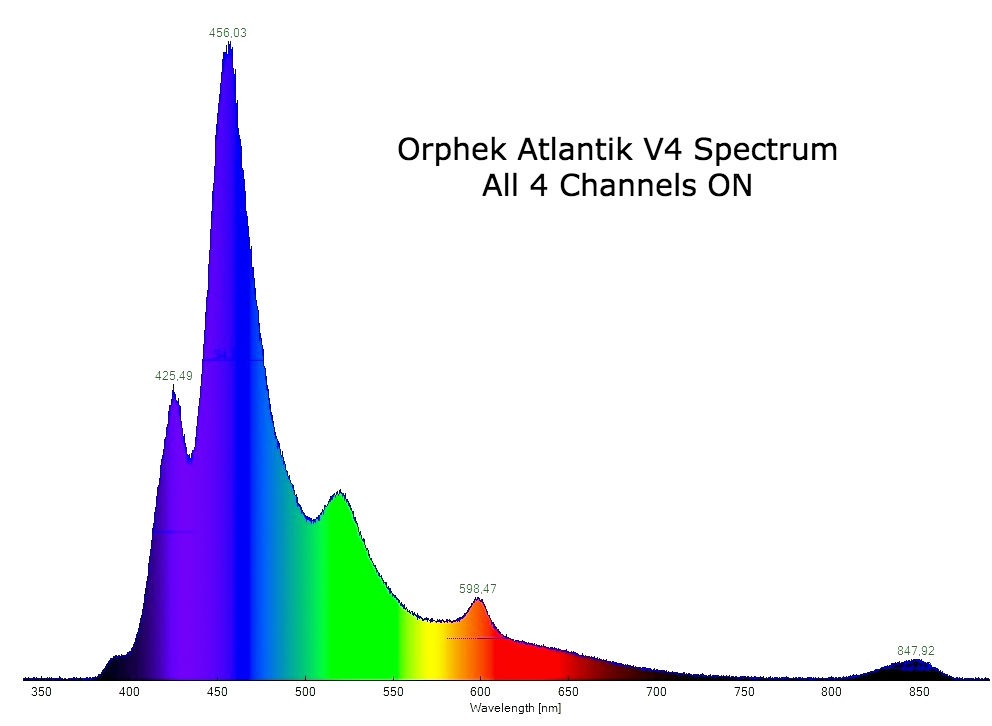 WITH A SURPRISING ELEMENT!
One of our target goals with the V4 was also to try to minimize as much as possible the outbreak of cyanobacteria and/or the growth of nuisance algae.  Of course we all realize that without keeping proper parameters and religious tank maintenance is crucial and no light or system will prevent that, but Orphek succeeded to offer a new spectrum that balances just enough red with other colors of the spectrum to create a healthy balance of light.
We at Orphek feel that this is the most complete and beneficial spectrum ever created for a coral reef aquarium.
The new ATLANTIK V4 spectrum research resulted into the perfect balance between the light corals need and the overall appearance you want to see in your tank.
Go to Atlantik v4 Producat page : https://orphek.com/atlantik-v4-reef-aquarium-led-lighting/