Bruce's reef tank spectrum enhanced by our new  OR 120 UV / Violet LED bar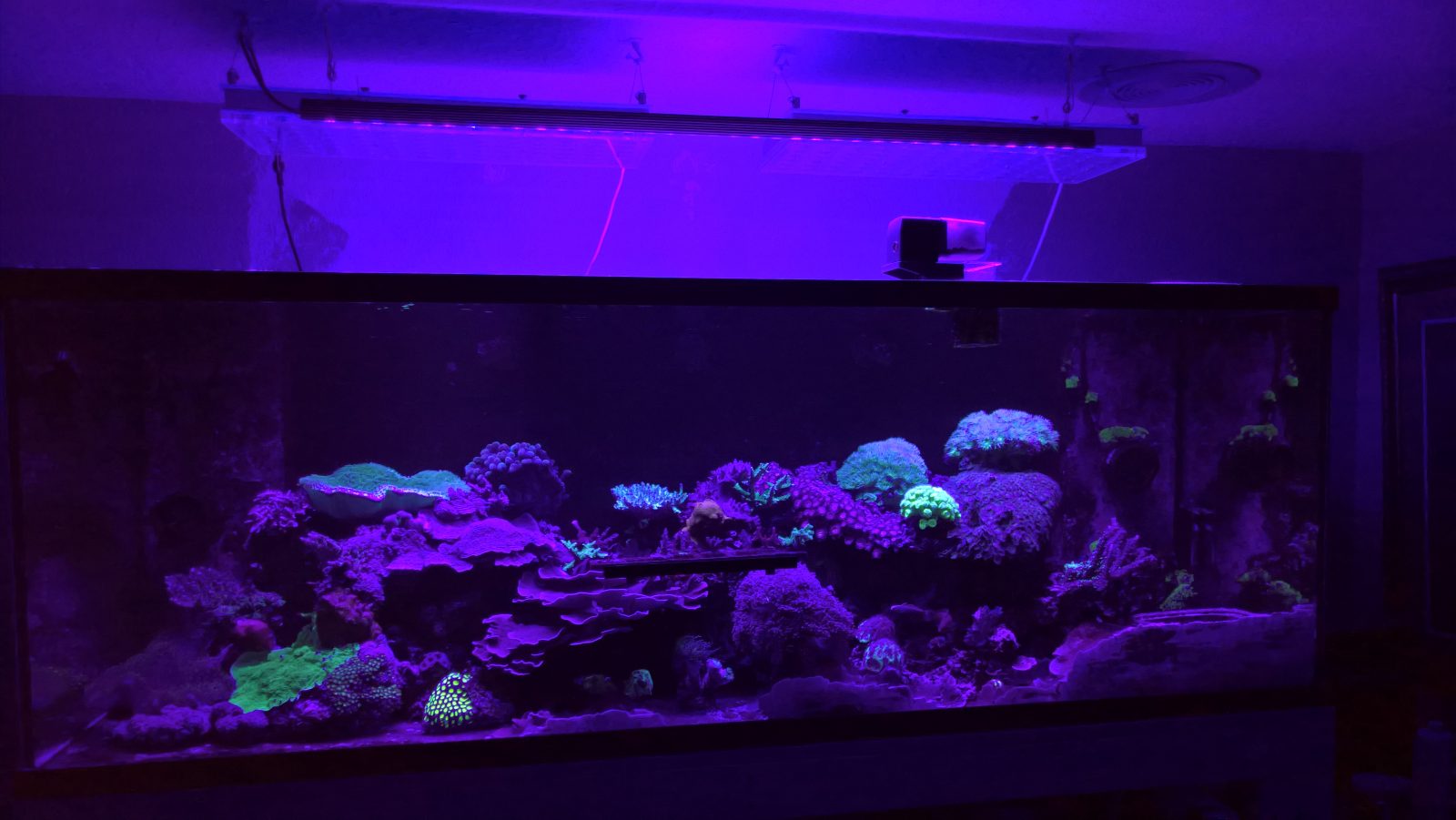 Over the years Orphek has been in contact with its clients and it is always with great pleasure that we share their aquariums & feedbacks with hobbyists worldwide.
Bruce has been our client for 4 years already and he is growing corals in Arizona, USA with 2 units of Orphek's Atlantik V2.1.
Recently he has installed our new  OR 120UV / Violet LED bar,  adding 36 more LEDs to the tank, resulting in a fantastic violet reef spectrum.
Our new LED lighting bar solutions is not officially introduced in our product page but it is already available for purchase!
Here the info about his tank:
Tank size: 72x30x27 inches (250 gallon) tall bare bottom.
Sump is self-made from glass tank 48x20x18 with Euro Reef INS-450 skimmer, no filter socks.
Danner mag-drive 18 for return pump.
Twenty pound Co2 tank with Reef Fanatic regulator and Vertex calcium reactor controlled with Milwaukee pH controller.
A  75 gallon tall glass tank for ATO using Tunze Osmolator.
Phosban 550 media reactor for Rox carbon with Maxijet pump.
Remote installed 302 Aquatics AS-3 large algae scrubber.
Wave pumps are four Jebao Wp-60 wave pumps.
 LED lighting solution chosen and feeback:
"Two Orphek Atlantik v2.1b which I just changed optics to 90 degree lenses and just added Orphek OR-120 actinic bar. Lights are mounted 9" above tank.
I tried GFO, dosing vinegar, bio pellets, sulfur nitrate reactor and always had trouble with cyano and with SPS suddenly dying or not keeping color. Since I knew Atlantiks grow corals with color I decided to stop all export methods except skimmer and Rox, I then added the algae scrubber and everything is doing much better. One 30 gallon water change in 4 years!!"
More info about the tank:
"Tank was setup four years ago but moved 300 miles about two years ago and all LPS and most SPS died from a mistake a helper made dropping a tub of coral on hot asphalt and then picking up pieces and putting them in other tubs. I am going to be rearranging rock work because when I moved it was all just basically thrown into tank and need to make room for more corals. The monti caps grow like weeds and need to be trimmed way back and most will be removed as I already trim them every couple of weeks. Fish load is light, Yellow Tang, Hippo Tang, Sailfin Tang, Scopas Tang, Tomini Tang, Yellow Coris wrasse, Purple Dart, and pair of Ocellaris Clowns. When I rearrange it will be a good time to add fish, closest LFS is 2.5 hours away. For those that want to know, pH runs 7.99-8.1, SG 1.025-1.026, Alk 8.5-9.5 dKH, Calcium around 450, current phosphate .033, Nitrates less than 2. Feed pellets 4 times a day, Nori every other day, LRS reef frenzy and fish frenzy every few days, frozen mysis every few days. Red Sea reef energy A and B about once a week. Hope this helps Just sent water sample to Triton yesterday".
Check out Bruce's tank with our new  OR 120 UV / Violet LED bar: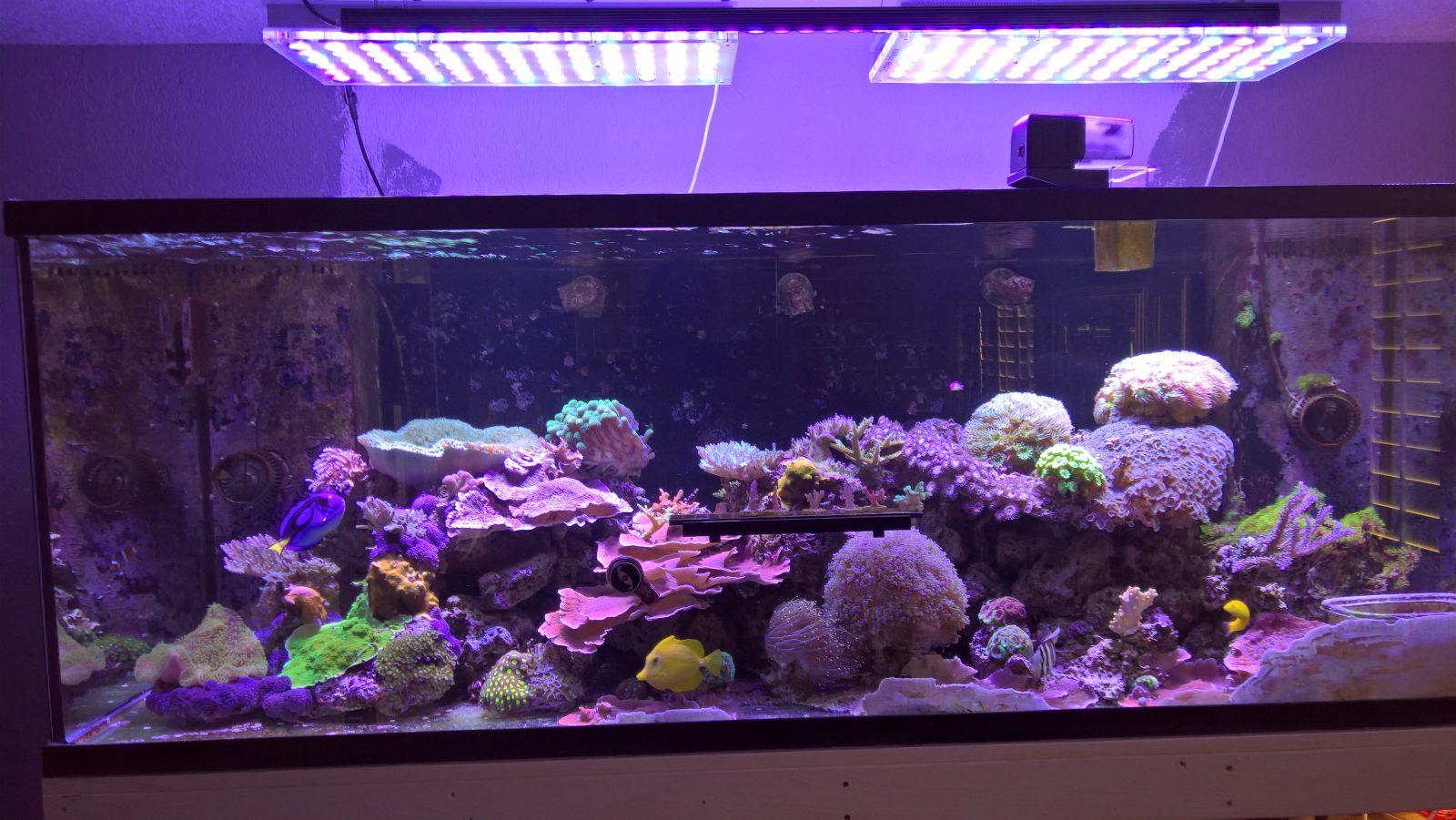 Aquarium layout & light set up in the beginning:
Bruce was really kind to send us also close-up pictures of his corals: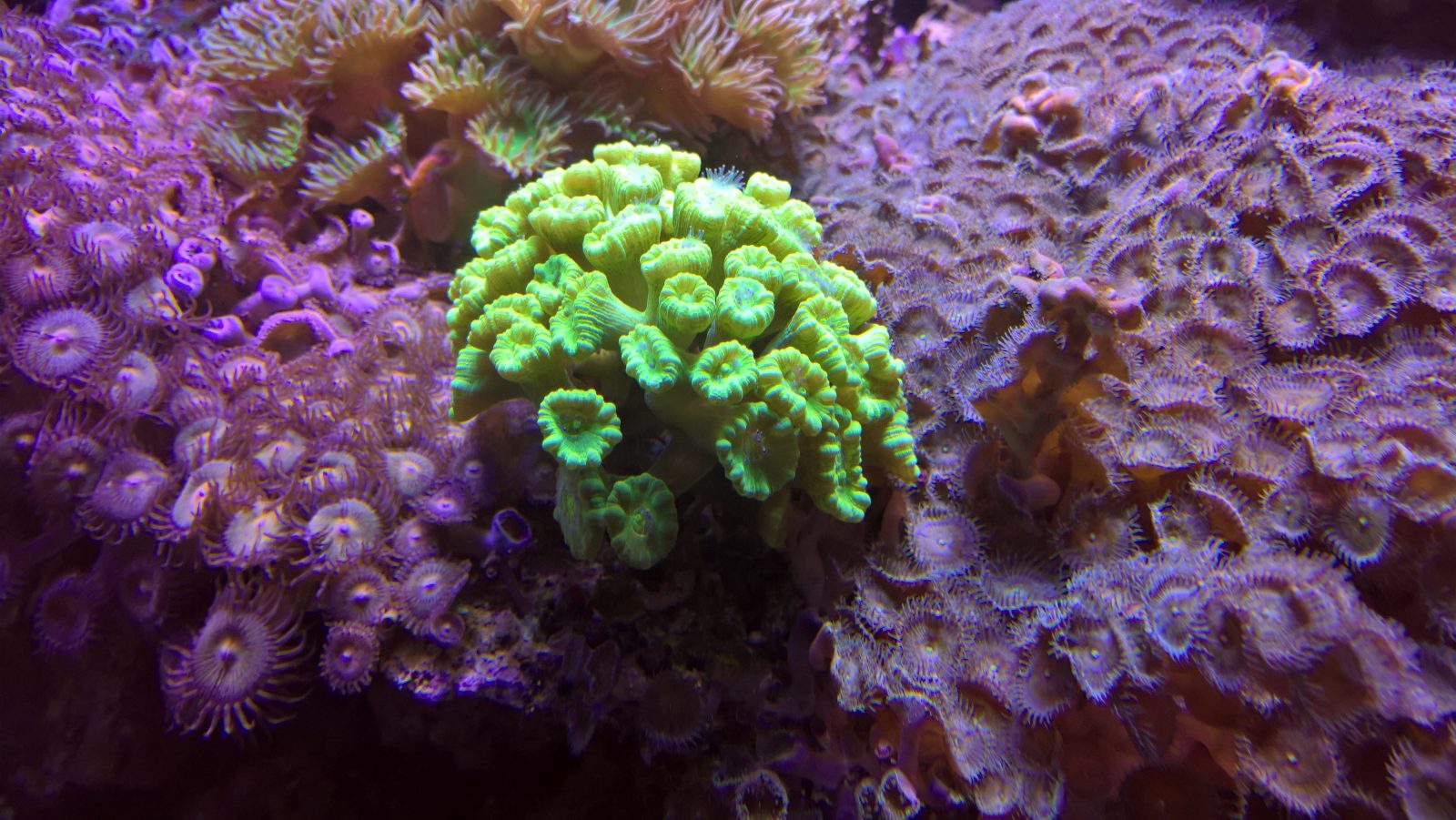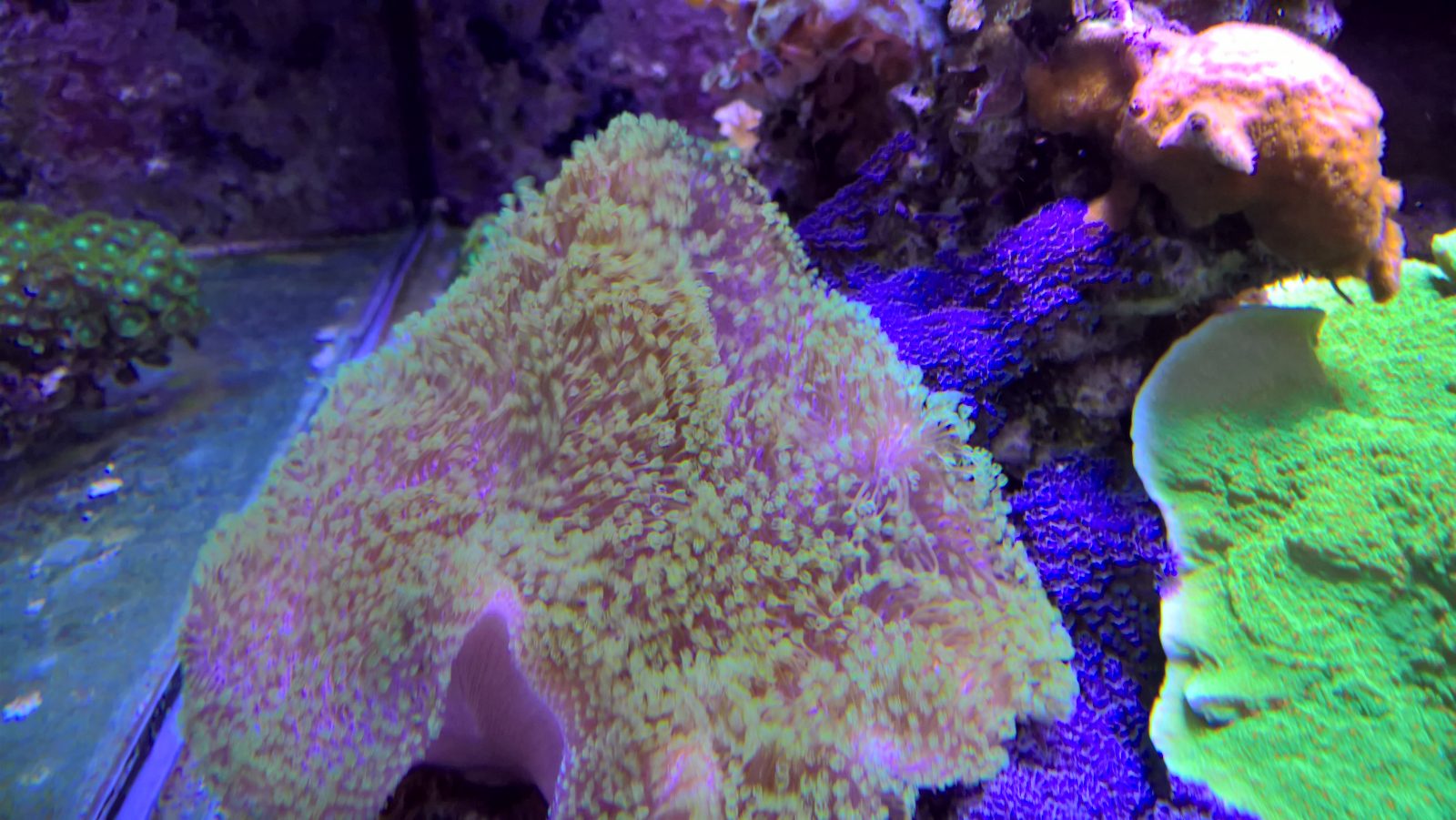 Great fluorescence added:
Bruce's OR 120 LED bar with reef violet spectrum comes with 28 X 410nm LEDs and 8 X 430mn LEDs, in a total of 36 LEDs


---
You can also take a glance at the light specifications: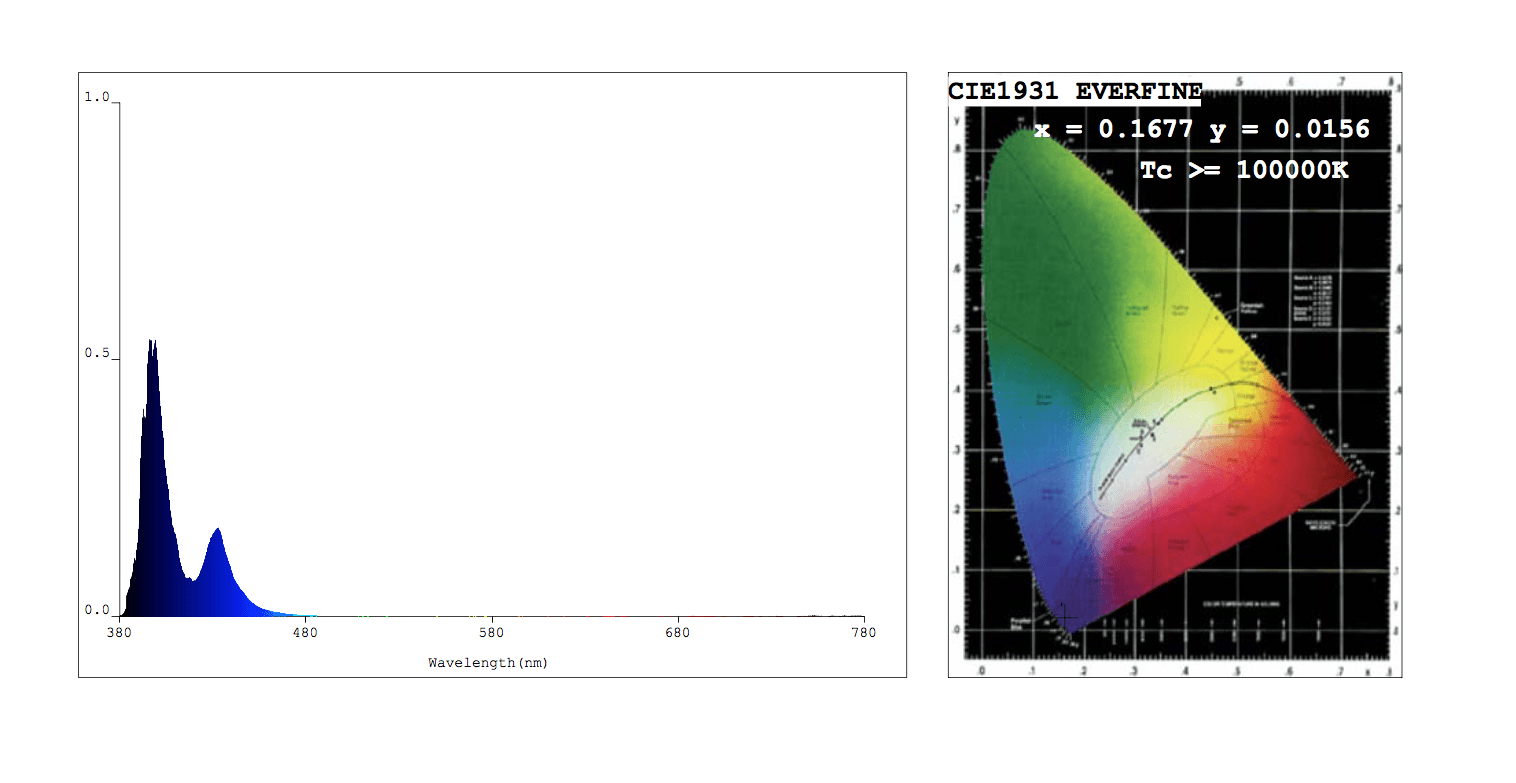 ---
If you are also from the USA, Asia, Europe or at any country around the globe and you are also wishing to:
Improve the quality of life of your corals and marine species
Install a neat and easy to clean fixture
Own not only a conceptual design LED light solution, but a true color & growth technology
We will be very happy to find the best Orphek LED Lights for your tank.
Also if you wish to know more details about our Atlantik unit, email us to  contact@orphek.com and we will help get you started! You can also reach us by filling our form.
We would like to invite you to browse our website and participate with your Orphek experience.
Let us know about your tank and share it with many other hobbyists!
Sharing is very easy! All you have to do is to send us the basic information about your tank, usually starting from the beginning (when you started your tank), what are you running in the tank, the living creatures you have in your tank and of course pictures of the tank and of your corals. We also would like to have pictures of our lights above the tank 😉
Please send to contact@orphek.com
We really hope you will find some time to send us your info so we can publish right away!
Thank you in advance,
ORPHEK TEAM