Orphek client from Malaysia  share photos and review of Atlantik LED lighting
One of the advantages of working in a field that we are really passionate about is the endless possibility of meeting other people that share the same passion.
To us, Orphek is not just a job. It is a huge comunity of  Nature lovers!
Today we are happy to share a curious aquarium coming from Malasya.
Although the tank was set in 2017 Akasyah is using our  first version of  LED light solution – the Orphek Atlantik 2012  ( check here info about this solution:  https://orphek.com/atlantik-led-pendants-at-macna-2012/ )
We were very happy to know that even after 5 years the light is running perfectly with no power lost 😉
Update on the lights:  client is upgrading to Atlantik V4.
Akasyah was kind enough to give more details of his tank and also review our product:
Tank type : 12mm clear tampered glass 4side and overflow left corner.
Dimension : 36inch Length x (shallow 20″ depth & 30″ drop off) x 18″ width
Parameter : "Honestly I never check as I am still in the midst of setting up the diy Kalkwasser reactor & dosing"
Equipment : 5000l H2Ocean return pump, Reef Octopus BRMF 70 running Bio sphere, Skimmer RO 150-INT (running 10 hours daily)
Lighting: "Proudly Orphek V1 14 hours daily"
Blue channel 1 & 3 from 9am till 12am (from 11am – 6pm running 100%)
Channel 2 : 15% 2pm – 6pm
Channel 4 : 40% 2pm – 6pm
Lighting layout: "Hang 10″ from the water at first due to the old hanging kit rusty and stuck then after 2 month move up to 16″ from water… till 15degrees facing back of the tank wall".
Salt : H2Ocean pro
Substrate : Caribsea Hawaiian Black Live Sand & Caribsea Bimini white live sand
Aquascape : Southern Philipine dry rock 20lbs + Ceramic rock.
Main supplement : Polylab RF Genesis + RF Fuel + RF Plus + RF Acid since tank cycle
Coral color : Red Sea ABCD 8 drops daily
Feeding : Daily 12 drops Brightwell Phytoplankton + 12drops Zooplankton + 5 drops Oyster Feast Reef Nutrition
Reef Roid twice a week.
Check out the video to have a better idea!
Usually we show standard shapes, but this tank has a cascade layout, with a "L" letter shaped area which we found interesting to show case and also we found it pretty cool that client has a thing for The Beatles!
Akasyah sent us his review about our Orphek Atlantik LED lighting:
"Recommended for any style of reef tank, the coverage is really fantastic because it can still bring up the fluorescent color of the softies at the bottom part of the drop off (30inch depth).
No algae issues and I don't really acclimate the light because Orphek intensity is well spread out and no coral bleach or death.
After less than 3 months corals grow really fast and bring up their vibrant color.
Doesn't matter if you are zoa collector or sps freaks, or slow mo softies lover or LPS this light perfect for any type of coral and the best light mimic the nature"
Check out how many photos Akasyah has sent us!
In this photo you can see the early stages of the tank at the beggining of its installation.
Rocks and Orphek Atlantik LED Lighting were already installed. The Beatles Yellow Submarine and Beatles figurines were also placed.
In the following photos client had already placed corals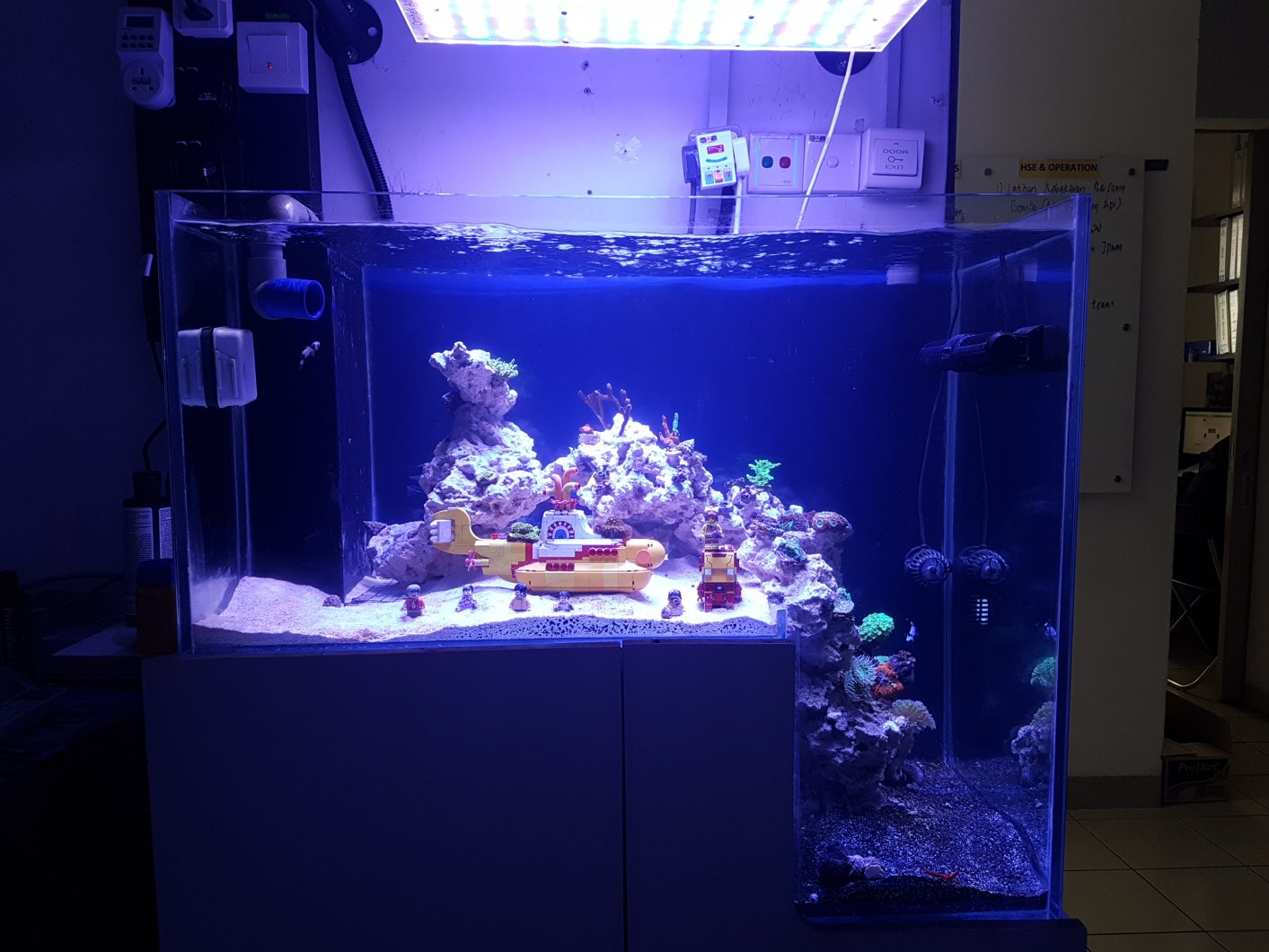 You can also see the door opened to see the equipment installed and working.
More corals were placed giving more color to the aquarium.
In this picture you can see that his Orphek Atlantik unit renders light that is really well spread, reaching the entire area!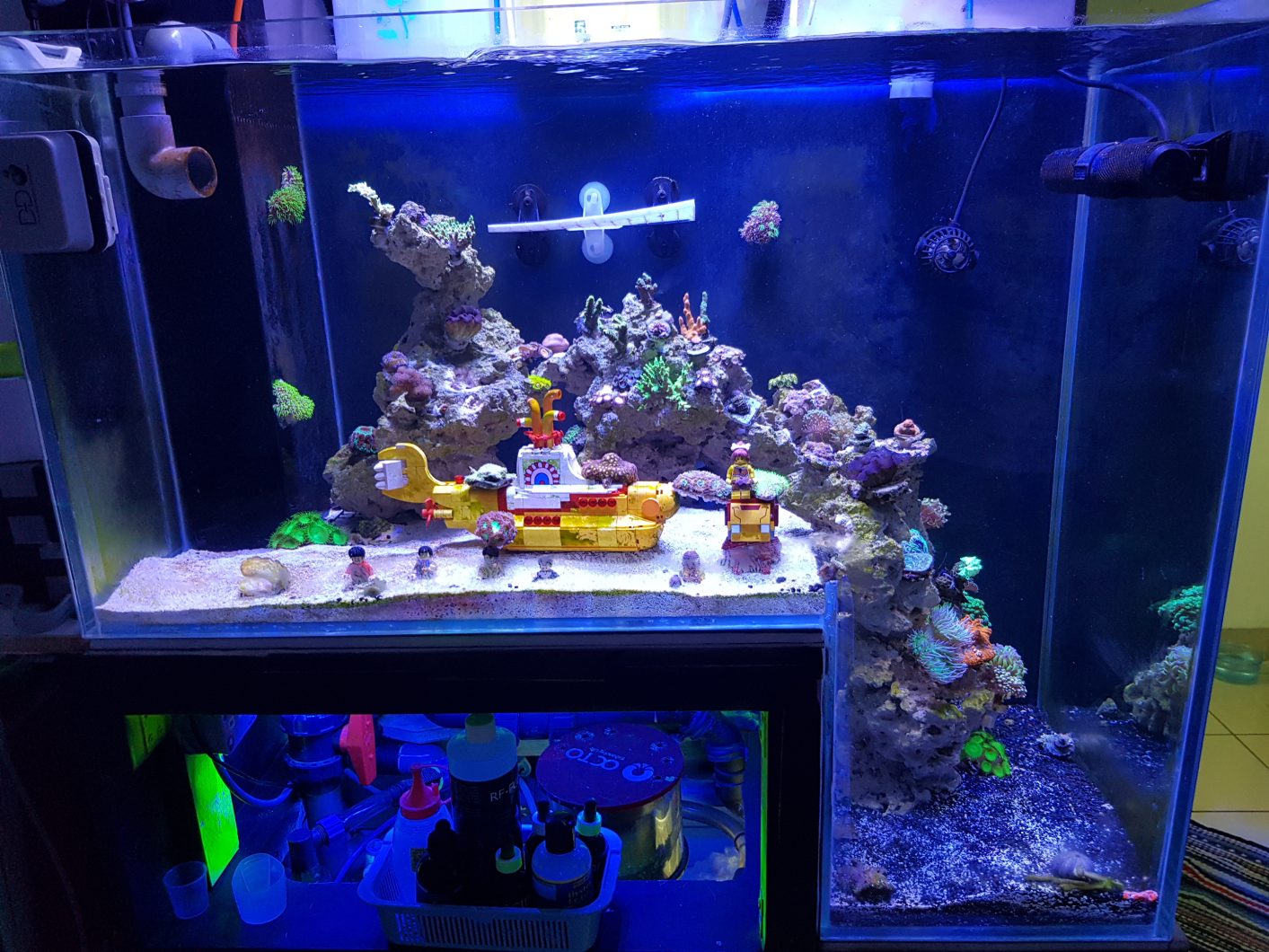 In these photos client has turned the Blue Channel for vibrancy.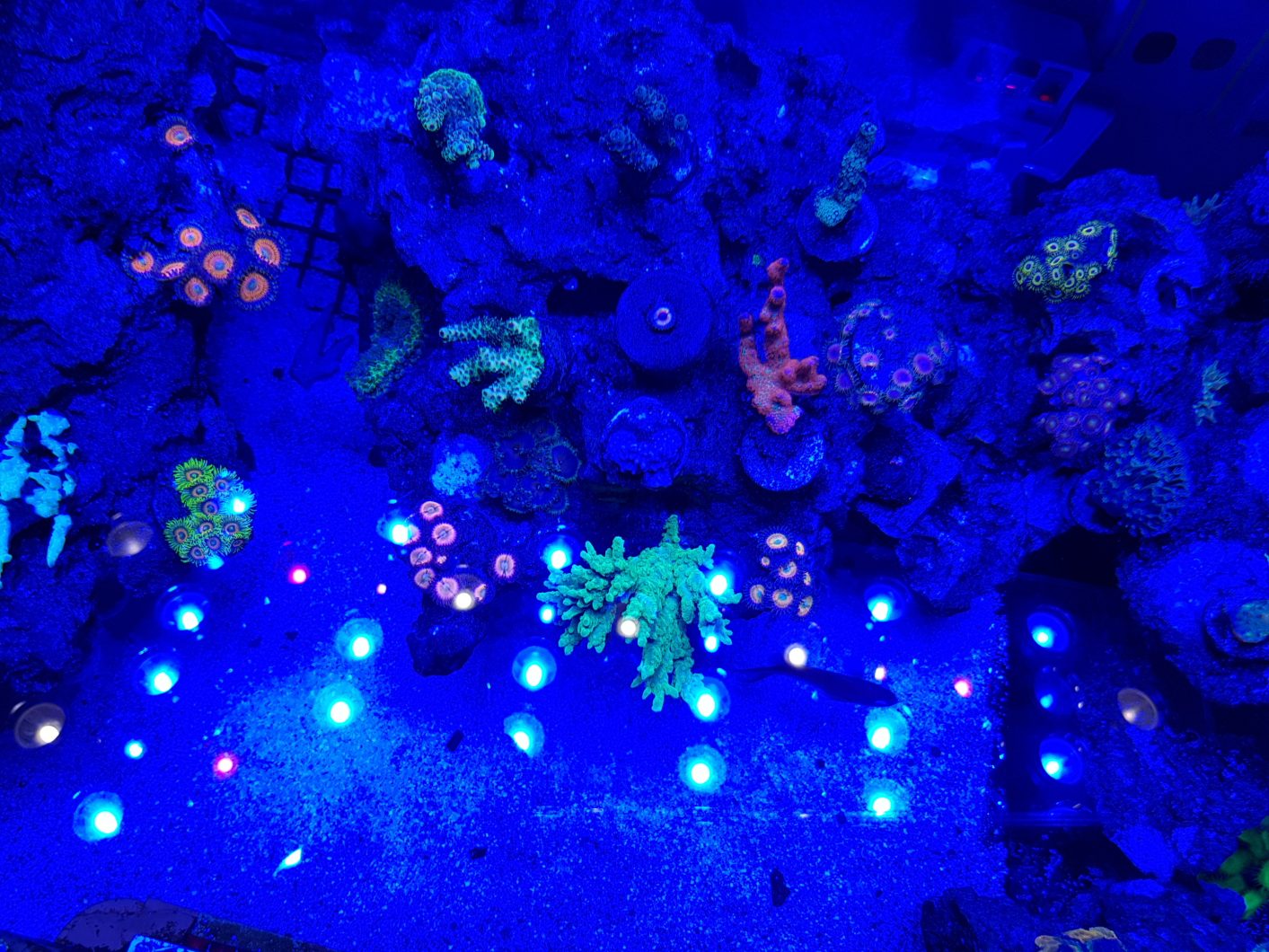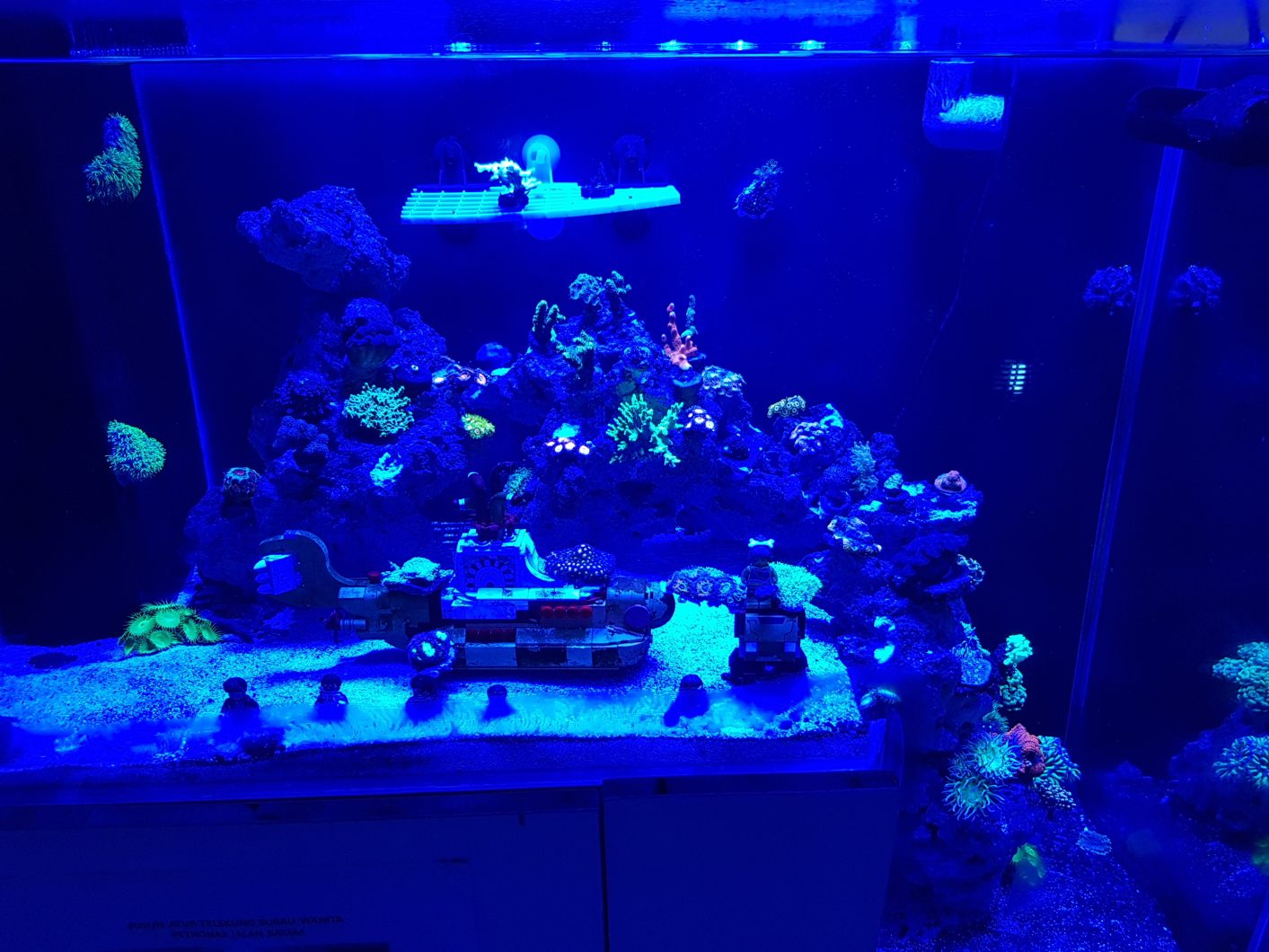 In this picture we can see the Beatles theme, corals and fish all together.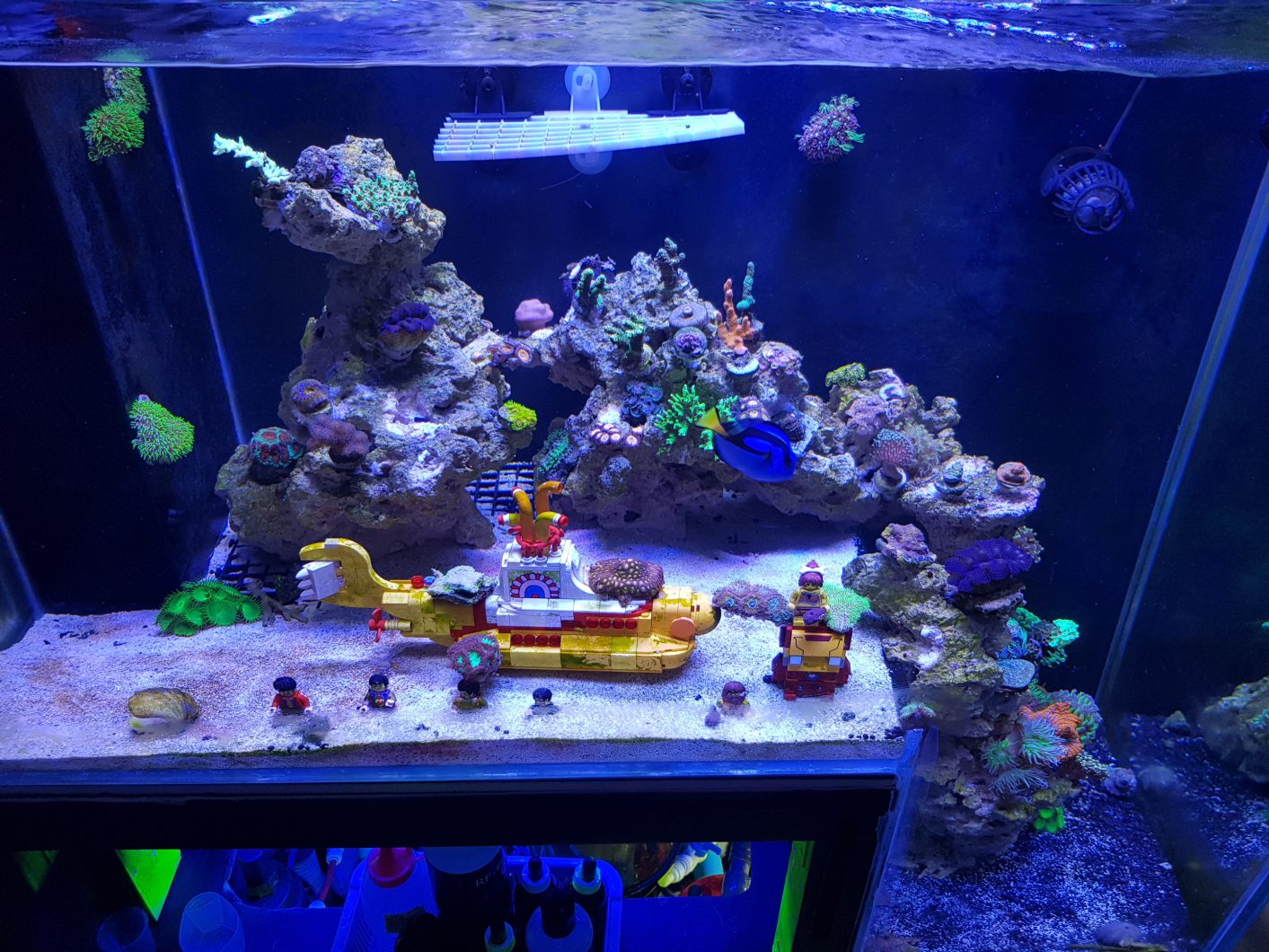 Orphek Atlantik Blue Channel photo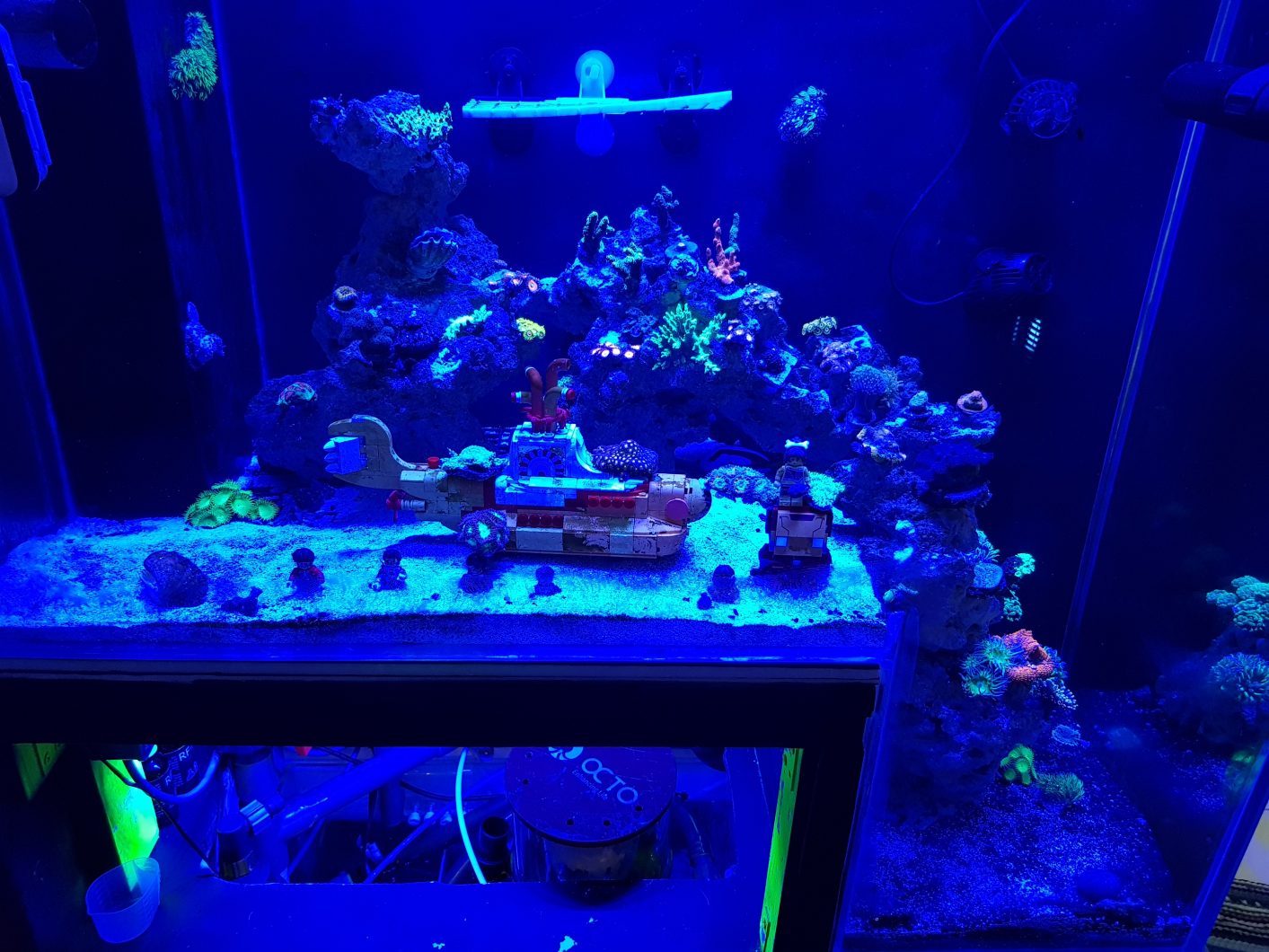 Here you can see how the orphek Atlantik unit was hanged and the distance from the water.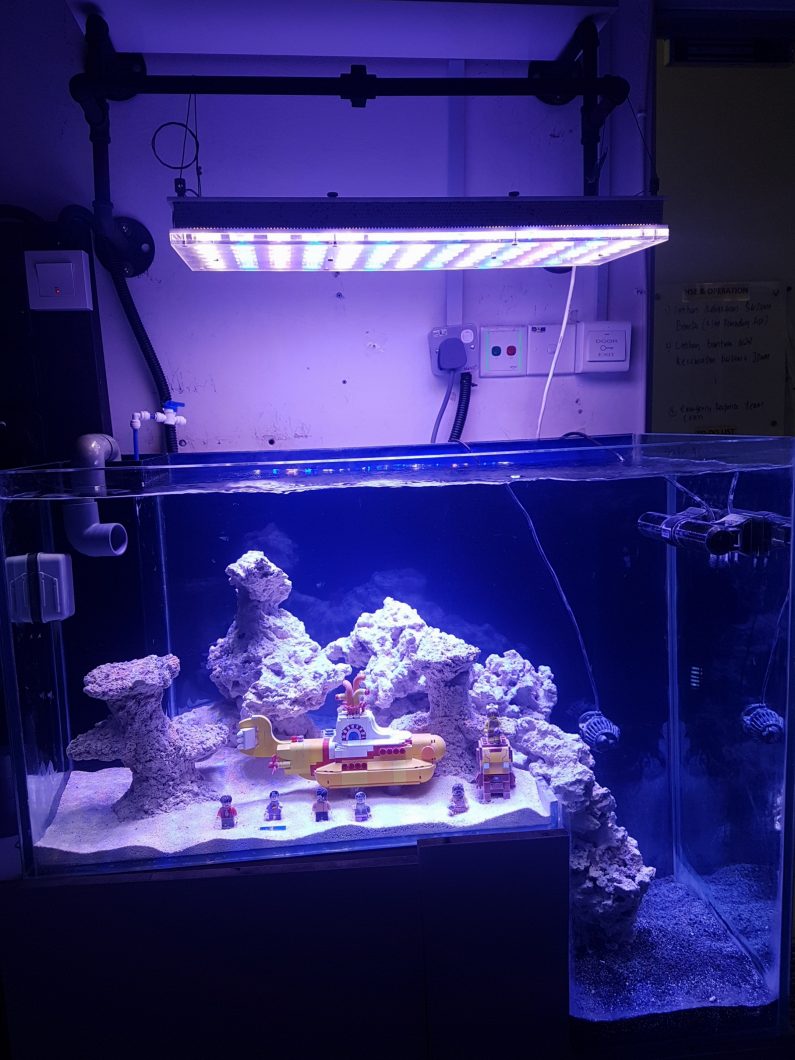 Here you will find more exciting photos of this unique aquarium!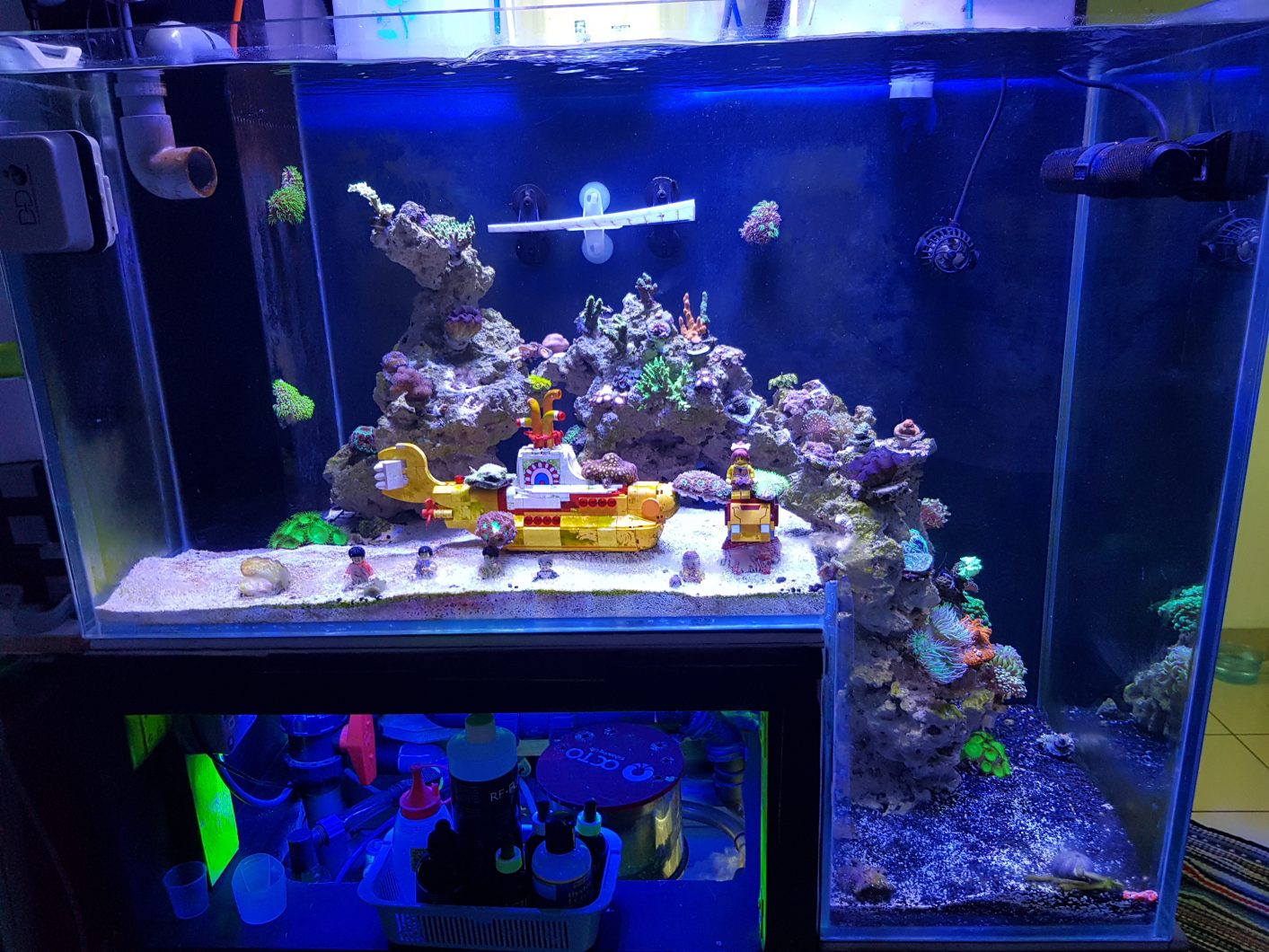 Corals looking health and beautiful under Orphek Atlantik unit.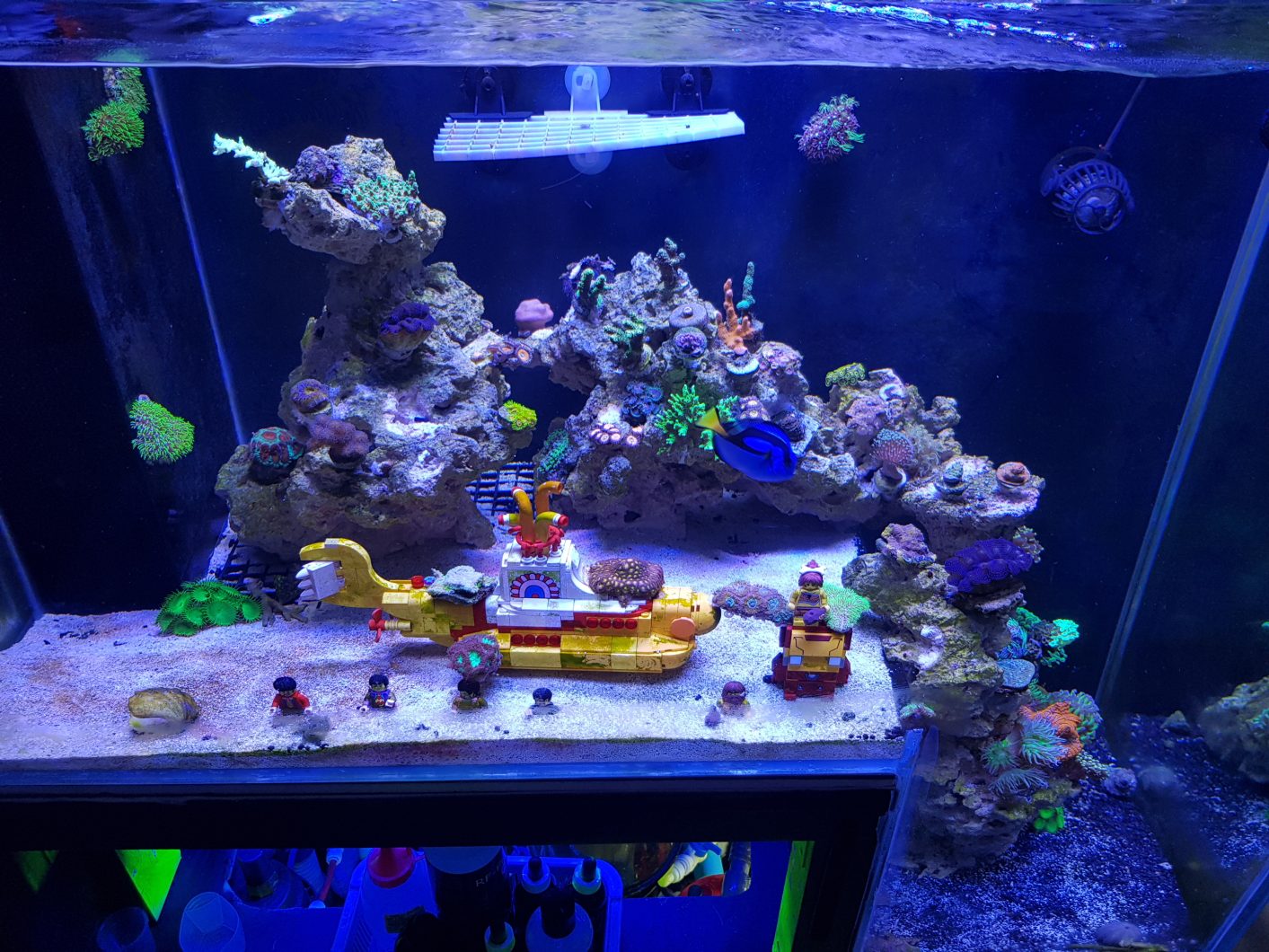 Cascade layout close ups with beautiful & harmonious coral display.
Beautiful pictures of the entire aquarium under Orphek Atlantik unit at Blue Channel.
Beatles Yellow Submarine and figures at close up! Super cool!!
We would like this opportunity to thank Akasyah for sending us photos of his tanks and corals!
---
If you are also from Asia, Europe, USA or at any country around the globe and you are also wishing to:
Improve the quality of life of your corals and marine species
Install a neat and easy to clean fixture
Own not only a conceptual design LED light solution, but a true color & growth technology
We will be very happy to find the best Orphek LED Lights for your tank.
Also if you wish to know more details about our Atlantik unit, email us to  contact@orphek.com and we will help get you started! You can also reach us by filling our form.
We would like to invite you to browse our website and participate with your Orphek experience.
Let us know about your tank and share it with many other hobbyists!
Sharing is very easy! All you have to do is to send us the basic information about your tank, usually starting from the beginning (when you started your tank), what are you running in the tank, the living creatures you have in your tank and of course pictures of the tank and of your corals. We also would like to have pictures of our lights above the tank 😉
Please send to contact@orphek.com
We really hope you will find some time to send us your info so we can publish right away!
Thank you in advance,
ORPHEK TEAM