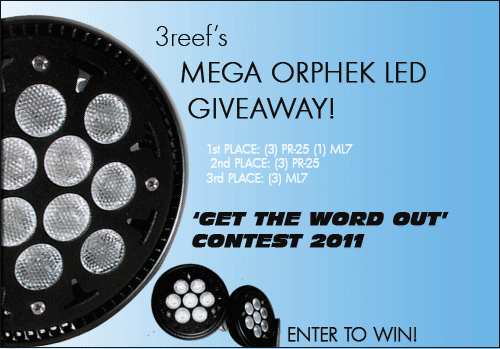 3reef is hosting an ORPHEK led light lamps giveaway in their newest contest "Get the Word Out' 2011", and this time prizes will be offered by our very own ORPHEK USA.
Don't miss this opportunity to win an ORPHEK light solution for your tank!
We are sponsoring this year with a huge giveaway of our products:
WINNERS                  PRIZES
1st place                  03 units of PR-25 & 01 unit of ML7
2nd place                  03 units of PR-25
3rd place                  03 units of ML7
More info about the prizes:
Orphek PR-25 is a dimmable using twelve of our 2nd generation Power LED emitters @ 2watts each, packing a great deal of PUR into a very efficient LED pendant.
Orphek ML7 is a dimmable PAR30 form factor bulb that screws into a normal light socket. It contains 07 diodes running at 02 watts each (four 450-470nm blue diodes, and three 380-440nm UV/violet diodes) the PR-ML7 is a great color enhancing spotlight and/or moonlight. Perfect for adding UV light for coral fluorescence.
From spectrum details, look into out website.
That means only one thing: That you are all going to be WINNERS of our fantastic Orphek Light Solutions!
Please notice that all submissions are accepted till June 6th – so don't miss it!
To enter the contest, all you have to do is simply come up with a clever idea to promote 3reef in your neighborhood.
For more information about this contest please, visit their website by clicking here on the name 3reef.