Orphek Atlantik iCon in DaniReef LAB: power and control
Danireef blog is the greatest Italian source for reefers in Europe and for our surprise and excitement has published recently a complete review of our latest launch, the Orphek Atlantik iCon, offering a lot of technical information about our product and what is really interesting is to check out the extensive PAR measurements results and the comparative tables displaying other brands.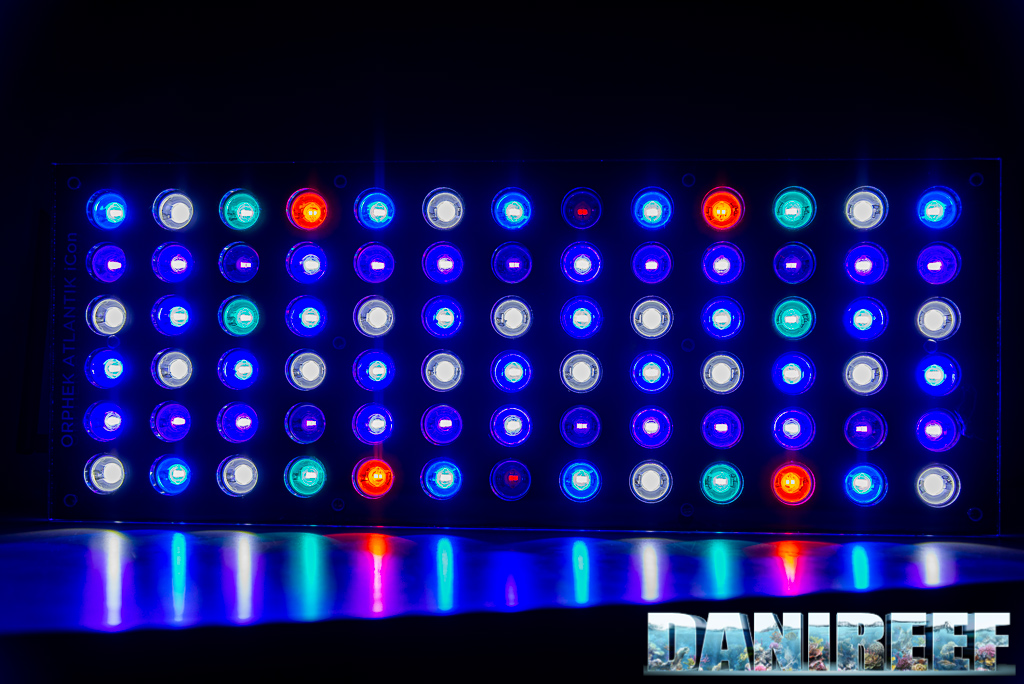 Since it is a 3 pages article filled with many detailed measurements we decided to divide into 3 parts. In this first article you will find interesting info channel by channel!
*We have also published another great review LED by LED by Dana Riddle (click HERE in case you have missed).
So with no further due…
Orphek Atlantik iCon in DaniReef LAB: power and control
Orphek updates its flagship reef aquarium LED light with lots of new features and above all, lots of power. Come and discover them in the DaniReef LAB!

There have been many choices that have guided Orphek in overturning his project. Aesthetically, the difference when turned off, is that the upper part of the LED light, the body to be clear, passes from black methacrylate to aluminum.
We honestly like it a lot more now. Less elegant perhaps, but much more solid to look at.
The second big news is the absence of the gateway, now the LED lights have an integrated bluetooth-wifi module, and, like the Radions before them, they are now very fast at hooking up the signal and reacting to commands.
Finally we move on to LEDs, like every progressive change in the Orphek brand, this time again several things have changed. In the Atlantik V4 there were 14 different types of LEDs, while now they are 10. After the incredible experience of the Blue Sky LED Bars they have in fact, also introduced a similar configuration *into channel 3 of the iCons. (*Orphek has added "into channel 3 of " for better understanding of the readers due to language translation)
The result is 230 watts of power and an incredible PAR level at both 40 and 60cm. Record-breaking!
Orphek has perhaps improved the only real Achilles heel of the previous Atlantik V4s. The channels in which the LEDs are conveyed have become 6 compared to the previous 4 and this makes a huge difference in the possibility of the various settings.
Finally, the Moonlight mode can be set with values ​​between 0.1 and 1%, a possibility of dimming that once again has never been seen.
We were very curious to subject it to the tests in our DaniReef LAB, we just have to do and see how it went!
Technical characterists of Orphek Atlantik iCon
The Orphek iCon LED light features:
Shape: rectangular
Width: 23.8 cm
Height: 5.4 cm
Consumption: 230 watts

As we have said, the Orphek iCon has 10 different types of LEDs, grouped into 6 channels. The Moonlight mode is managed by the lighting LEDs by lowering their global power.
LED configuration:
Whites from 18,000 ° K 18
Infrared LED 730 nm 2
590 nm orange LEDs 4
490nm cyan LED 6
470nm blue LED 9
450nm blue LED 13
Purple LED 430 nm 6
420 nm purple LED 7
Purple LED 415 nm 7
400 nm purple LED 6
Total LEDs: 78 dual chip 5 watts
(*the original article has a table in image format that was transformed into text form here)
Our Orphek iCon evaluation video
Construction
The construction of the Atlantik iCon light is very very good as usual. There are 4 fans of the 8 cm placed at the top to flow in cold air. The controller, as we said, is now integrated and used together with the new iCon application.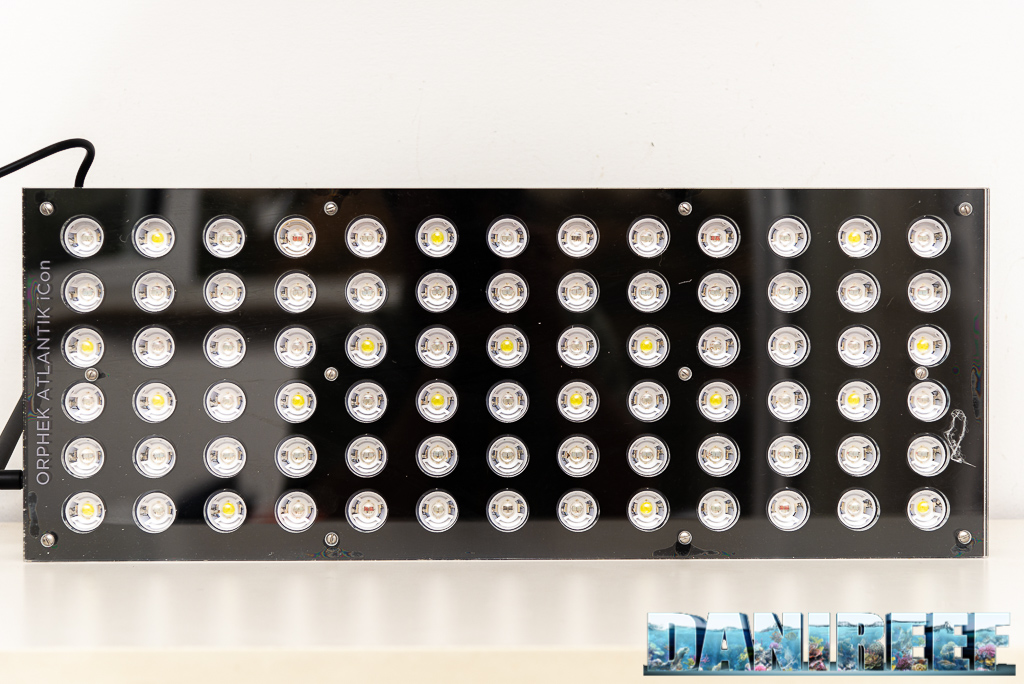 Programming through the iCon app
The configuration is extremely simple. You will be able to see that in our very complete video where, in addition to presenting the light, we also examine its programming and we will compare the PARs even with competing lights.
Inside the App (which we see here in the quick mode) we can see both the temperature of the LED light PCB (right upper corner) and the time (left upper corner), but not the power expressed by the LED light or the individual LEDs.
Channel 1: Sunrise & Sunset hue(6000K)
With full spectrum from 400 to 780 nm, this channel has been designed to return the natural color of both sunrise and sunset.
They are mainly warm colors obtained with 7 white LEDs of 18000 K, 2 infrared LEDs of 730 nm and 4 orange LEDs of 590 nm, for 6158 K.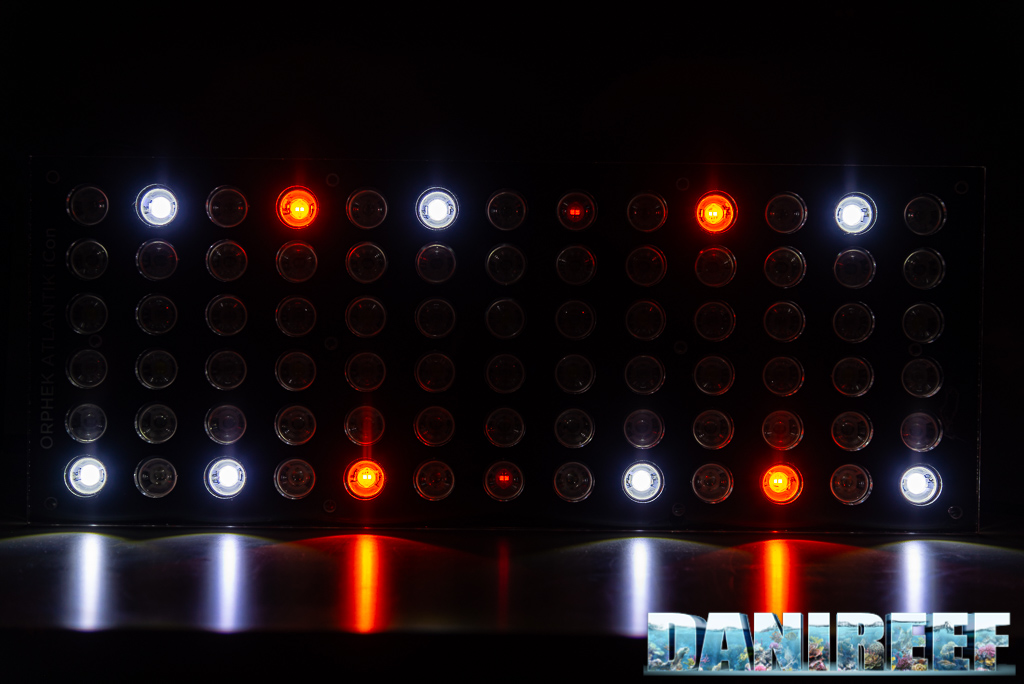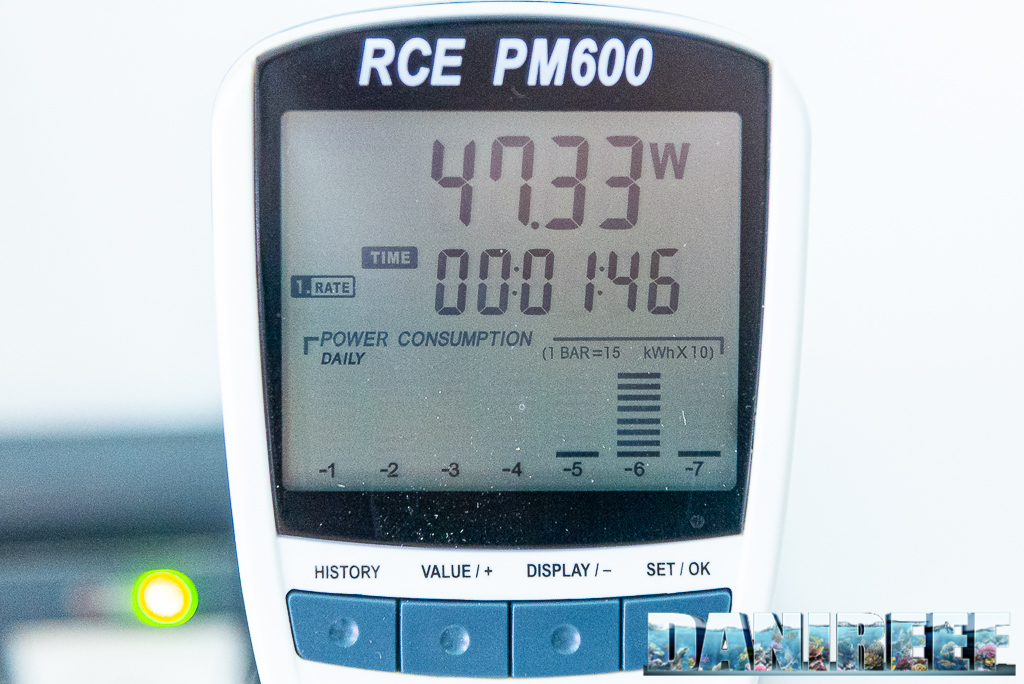 Channel 2: Solar Noon Hue (18,000K)
Full spectrum channel between 400 and 700 nm with natural color halfway between sunrise and sunset. This channel contains 11 x 18000 white LEDs and 2 x 490 nm cyan LEDs, providing 17905 K.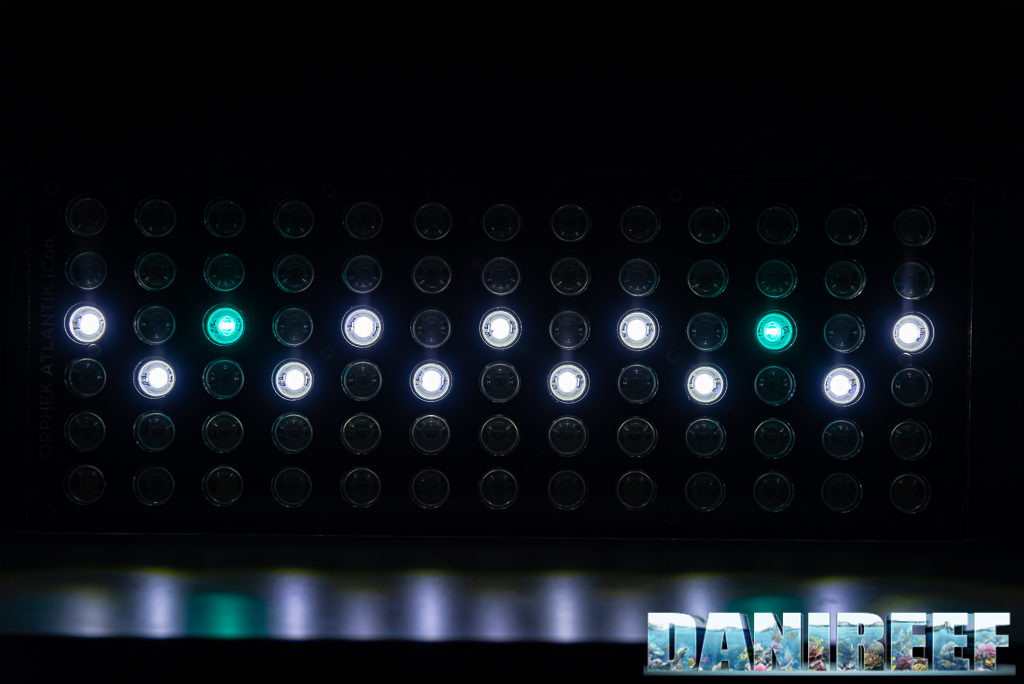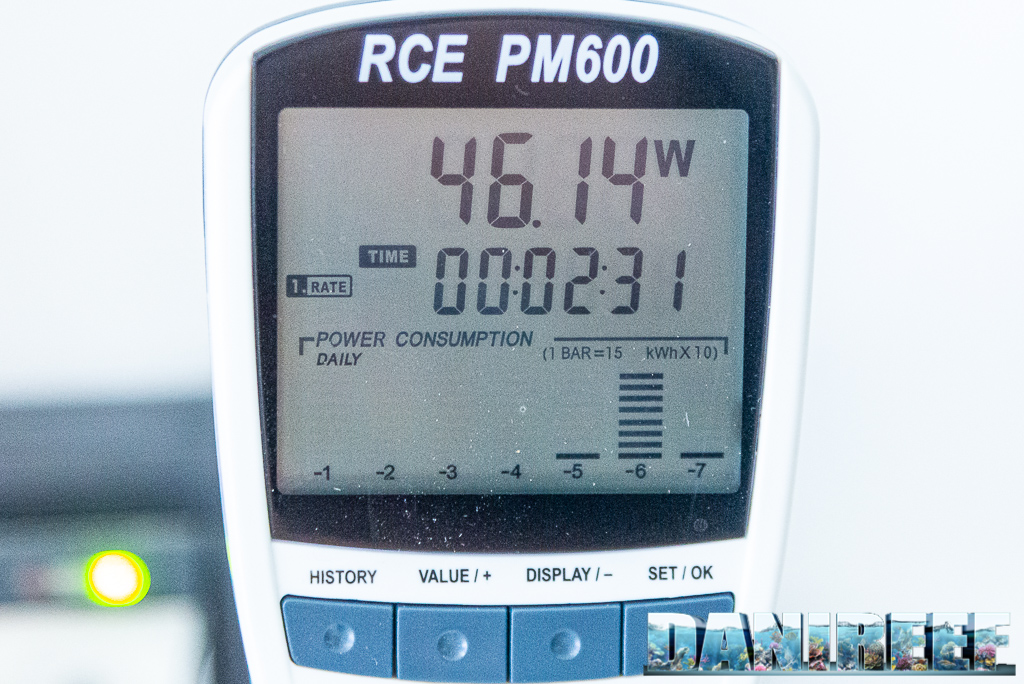 Channel 3: Cyan blue hue (490nm, 470nm) Protective symbiotic
This channel provides the natural color of sea water under very bright sunlight.
This channel contains: 4 x 490 nm LEDs and 9 x 470 nm LEDs.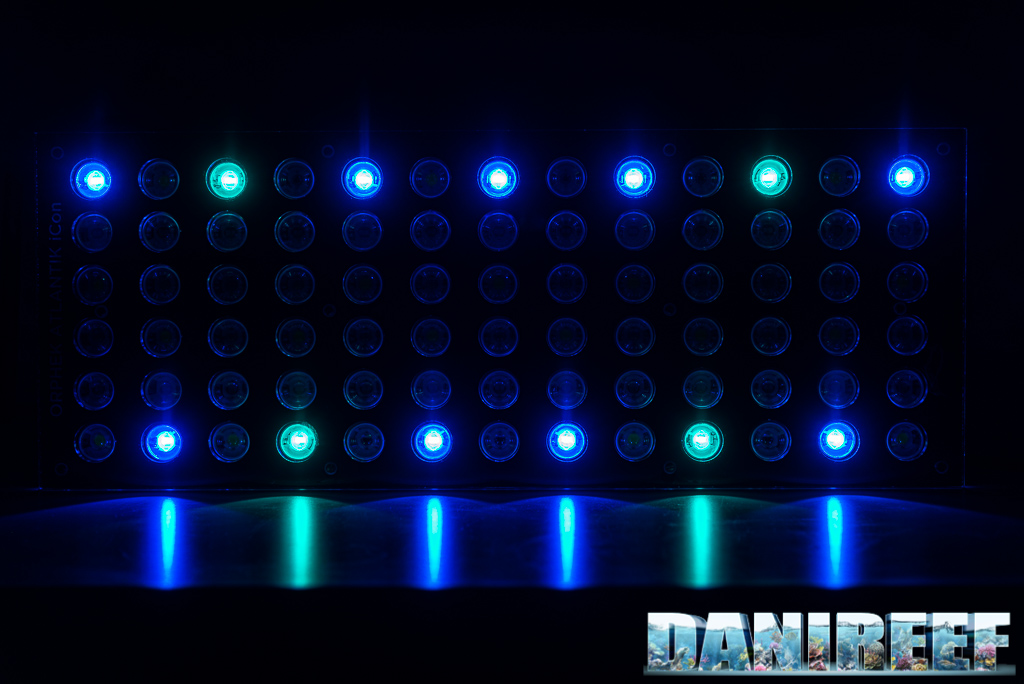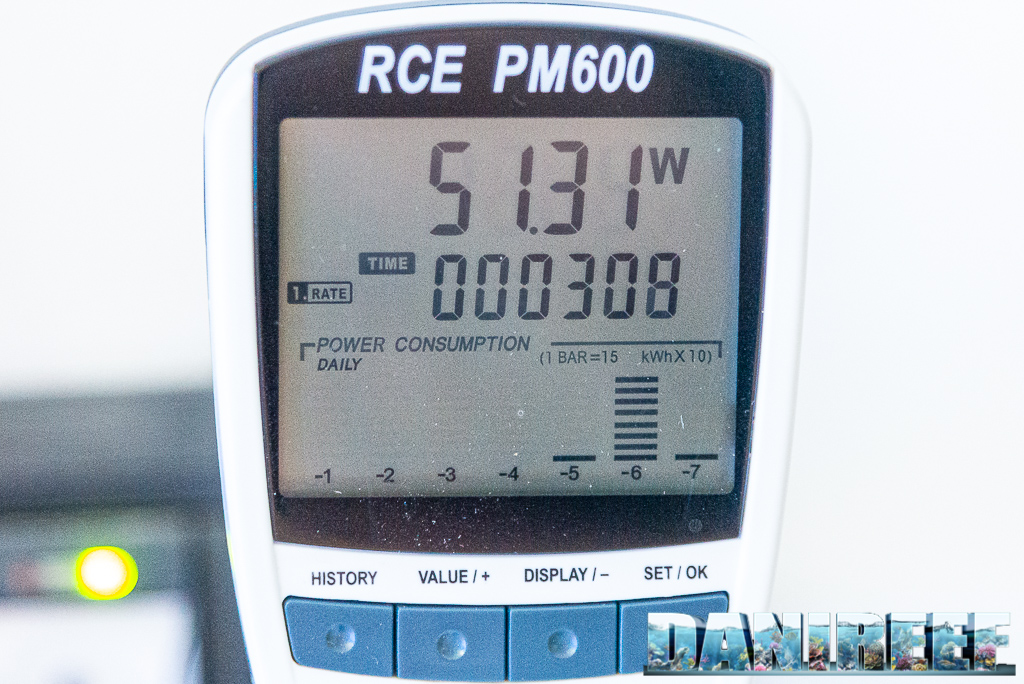 Channel 4: Blue hue (447nm) Chlorophyll c2
Natural color of deep blue, chlorophylls absorb this light and use it in photosynthesis.
This channel contains 13 450nm LEDs.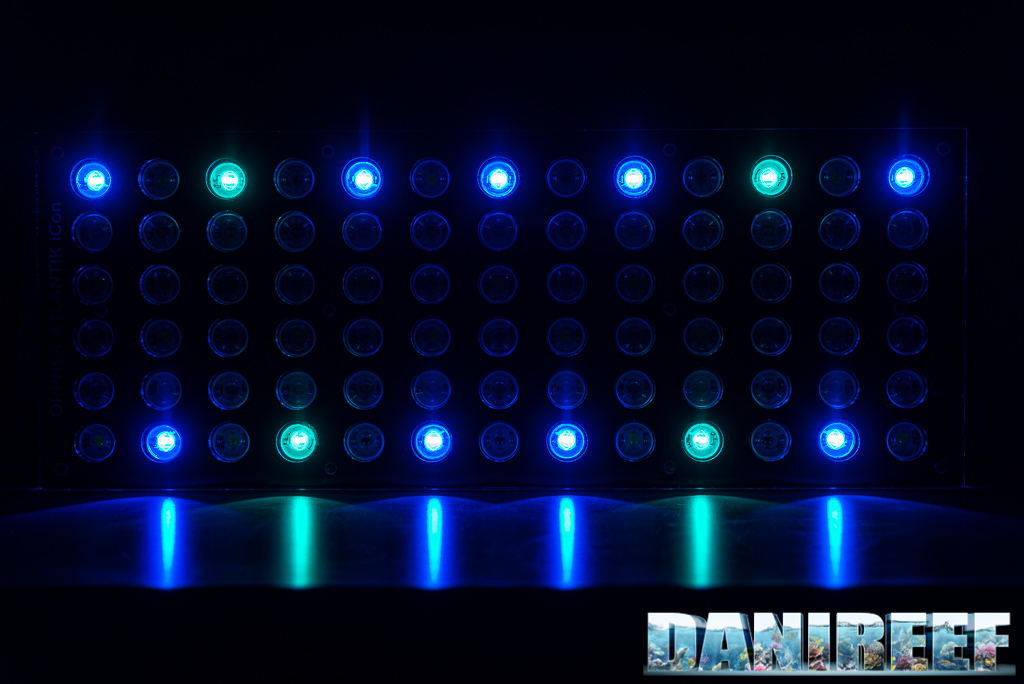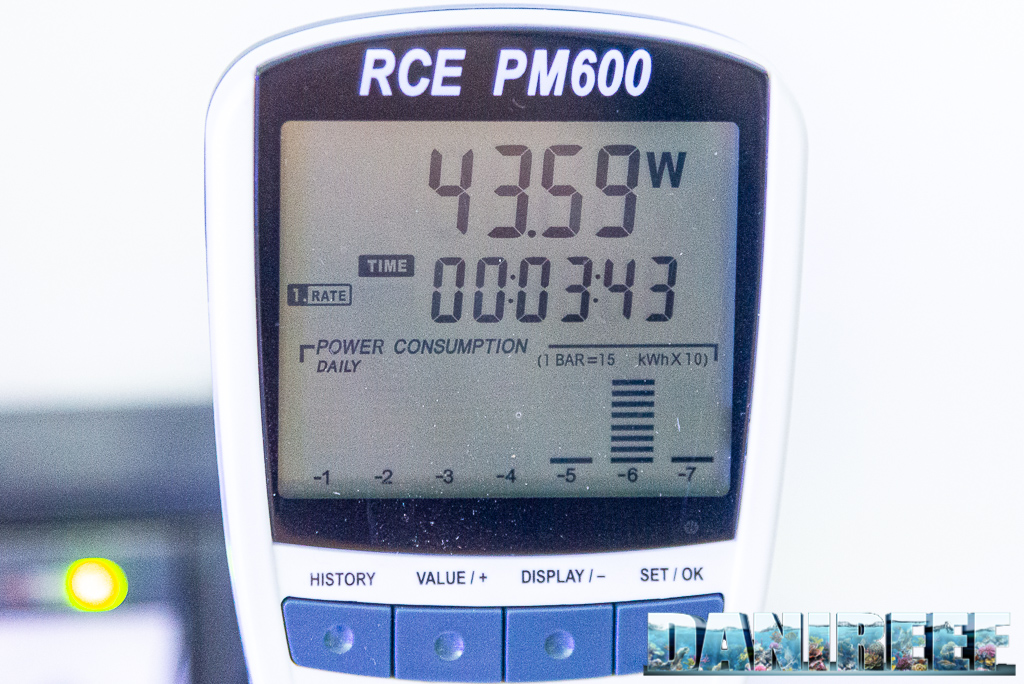 Channel 5: PViolet Hue (420-430 nm) chlorophyll a and c2
This channel contains 6 x 430nm purple LEDs and 7 x 420nm purple LEDs.
Wavelengths of 400-430 nm are very useful in photosynthesis: they can be absorbed by chlorophylls a and c2. a wide violet band of 400-430 nm proved essential for the excitation of the fluorescent proteins.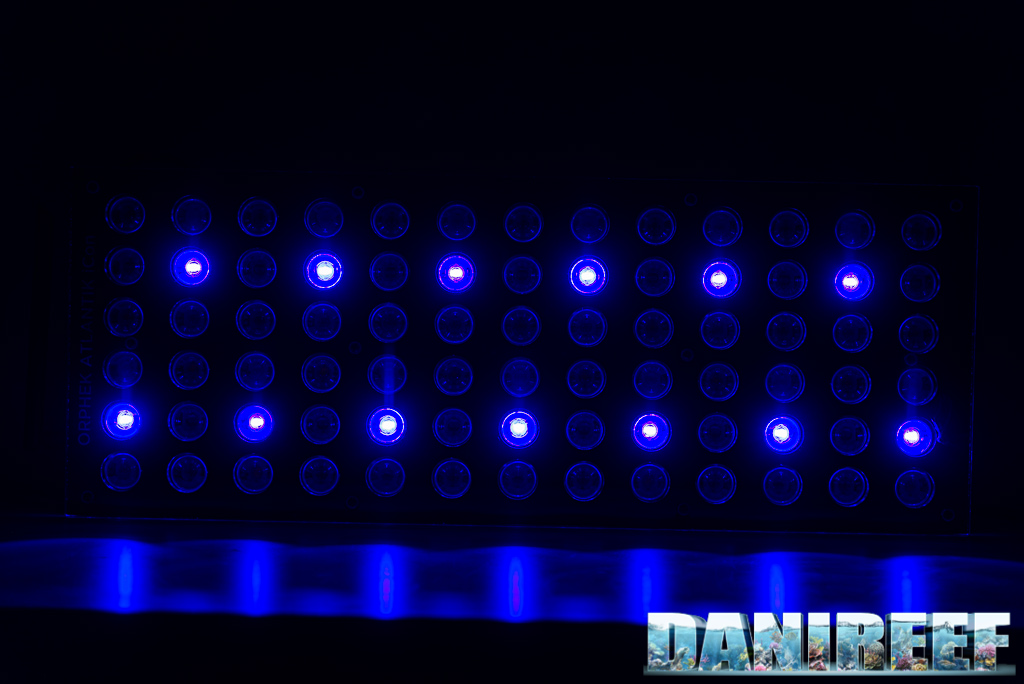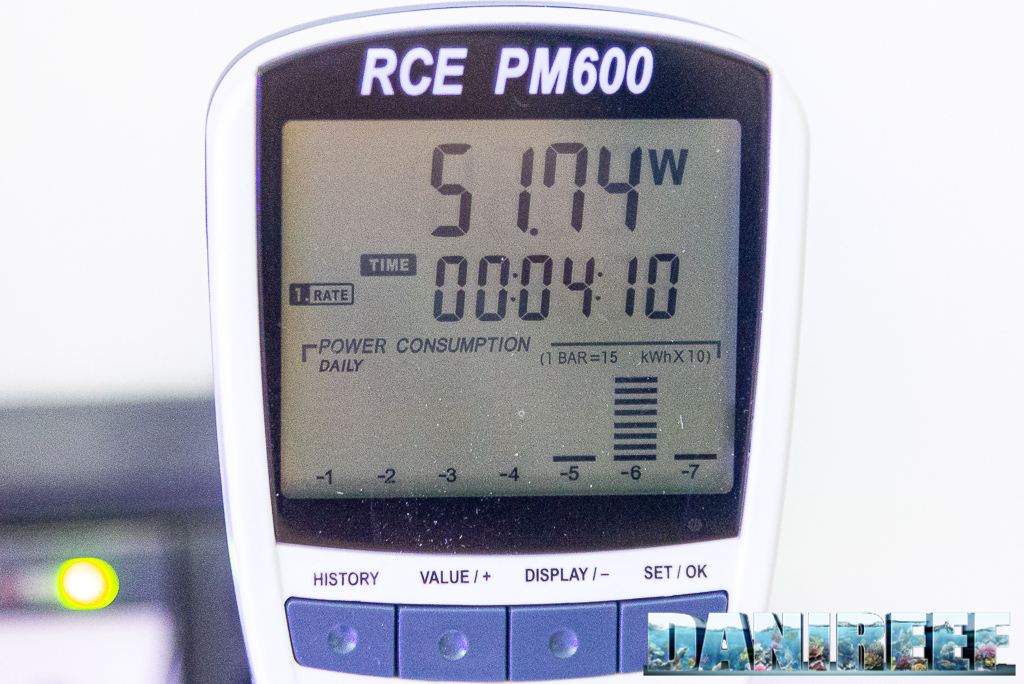 Channel 6: UV / violet hue (400-415 nm) Chlorophyll a
This channel contains 7 x 415nm UV / violet LEDs and 6 x 400nm UV / violet LEDs.
These wavelengths are useful in photosynthesis: they can be absorbed by chlorophylls a and c2.
They can also excite fluorescent proteins found in many corals.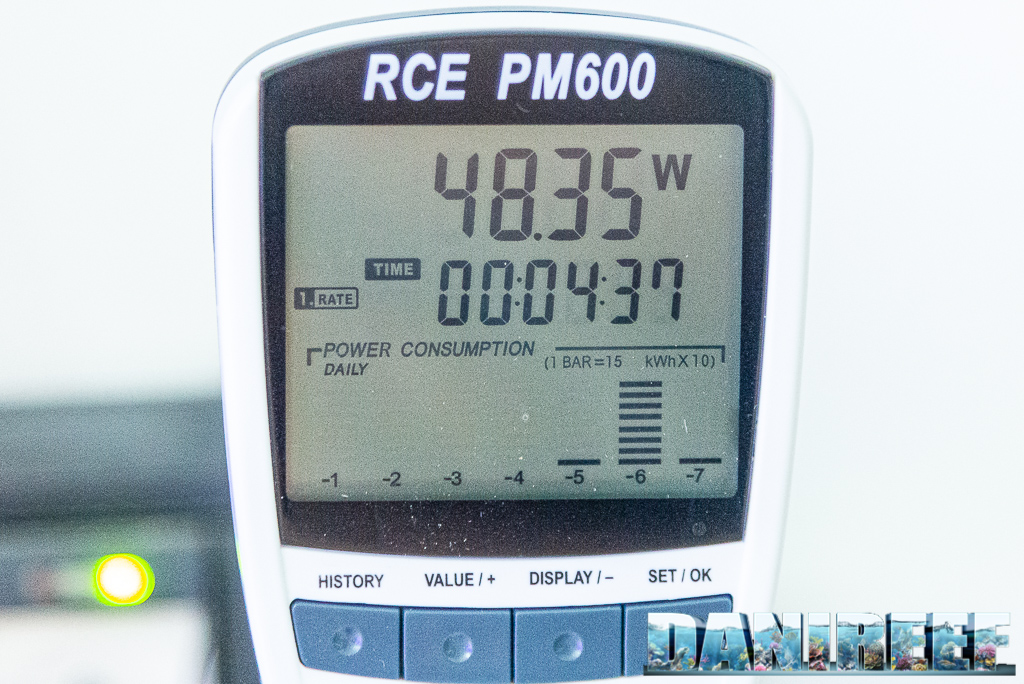 FINAL RESULTS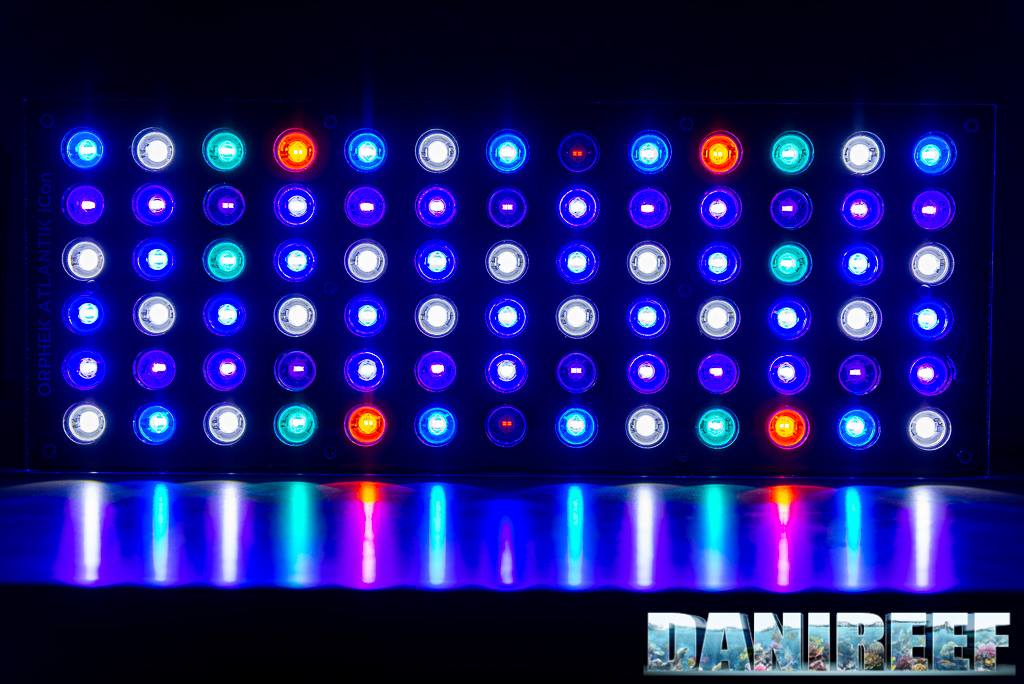 STICK AROUND because in the next post DaniReef LAB working method for PAR measurement!
In this opportunity we would like to thank Danireef blog so much for this amazing Christmas gift for all Orphek development team!