NEW TANK BUILD Installment 4 – October 6, 2015 , JAMES (Orphek sales consultant)
When we last met the Reefer 350 was filled with water and Tropic Eden Sand.  All components were installed and operating to my liking.  So far I am very impressed with the value of the Red Sea Reefer 350.
The time has come for my wife and me to make a trip to Romulus, MI to visit Dick Perrin's Tropicorium.  The Tropicorium is located just a short distance from Detroit Metro Airport.  We have never visited the Tropicorium before but we have heard plenty well about it.
When we arrived we were a little disappointed and wondered if we were at the right place as the place we were at did not depict a large operation to us.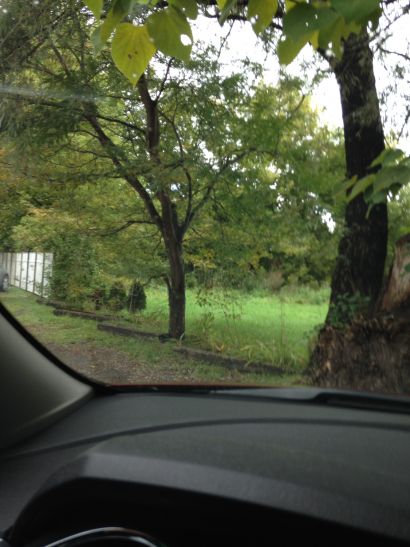 When we entered the very humid building our eyes popped out. Yes, this is a very large operation. Huge vats full of gorgeous live rock covered with coralline and coral galore.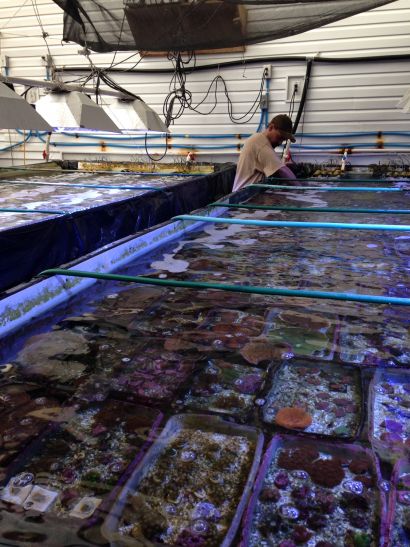 This is an operation requiring no artificial light as the buildings were originally a greenhouse. Light is controlled by fine mesh nets. Unfortunately no Acropora here. When I asked about this I was told that it is too difficult to control temperature to successful grow Acropora Coral.
I took a cardboard template with me the size of my tank which would give me a good idea of what we needed to make the tank look good. The staff at Tropicorium couldn't do enough for us, they were very customer oriented.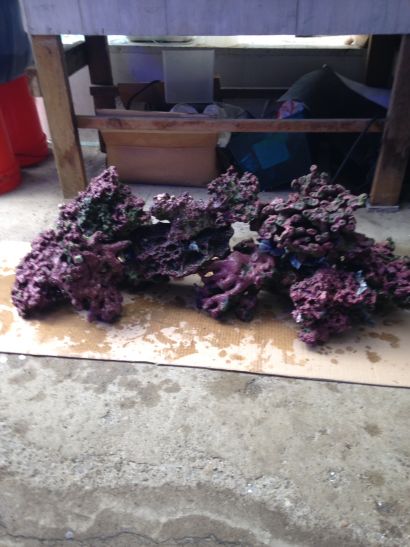 We chose the rock we wanted and the staff set this up for us.  It looked good but I doubt we will be able to create this exactly as shown.
I had mentioned to Dick Perrin's son what I was doing as far as this blog is concerned and that I would like to meet Mr. Perrin.  Shortly after Mr. Perrin came out to greet us and then we were in for a surprise.  He gave us a tour of private areas on his property.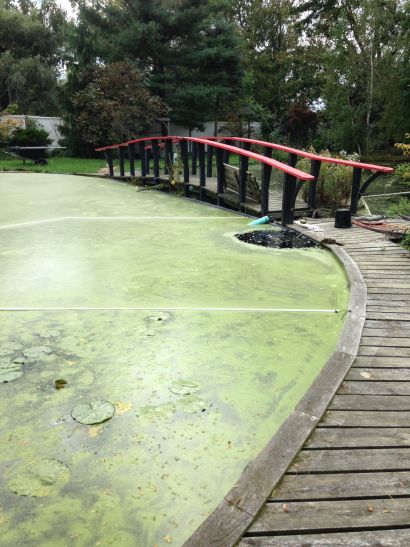 The first stop was to view his two 60 foot diameter turtle ponds that contained about 350 various species (hybrids) of Painted Turtles. This area had a nice oriental accent to it.
Here Mr. Perrin is explaining to my wife the contents of his ponds which also contained many Guppies which Mr. Perrin stated helps to keep the mosquitoes under control. I really could write a book on this visit but I would like to keep it as brief as possible but still convey the visit.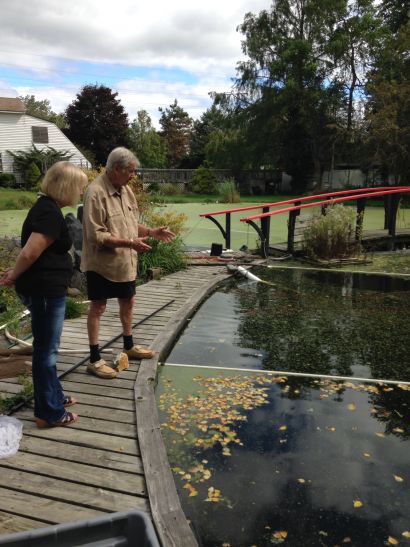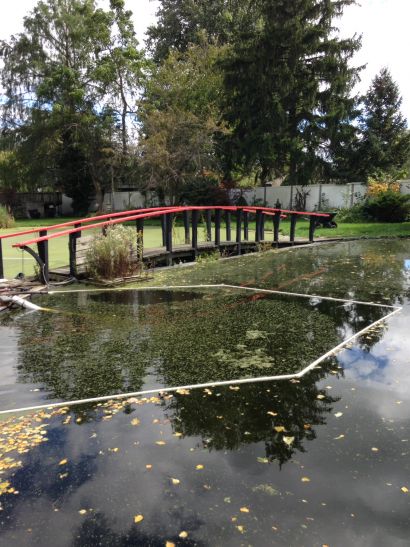 Next stop was his Alligator vat which contained two rare Alligators from the Nile River area.  Mr. Perrin's son stated how sharp their teeth were as he found out first hand.
Mr. Dick Perrin and James
Our last stop during this two hour tour was another greenhouse where Dick has perfected an Orchid growing system.  Mr. Perrin has written many articles for magazines and chatting with him was something I won't forget.  The man is very knowledgeable in everything he does.  He also stated that he was the first one to frag coral and an article on that was written for a popular magazine.
The staff helped load up our SUV and there wasn't much room for more.
My wife and I are definitely looking forward to our next trip to get a few more corals and fish.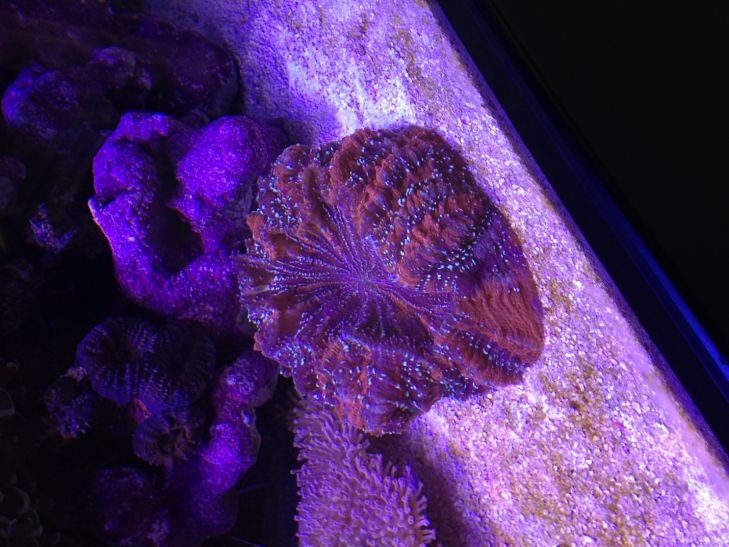 This is just one of the many corals we purchased at the Tropicorium. This Indophyllia (Button Coral) has excellent color and is about the size of a softball. I won't mention what it cost.
In the next installment we will view the almost finished tank. We have a few more corals to buy as well as fish. Where are we at now as to expenses for this project…..about 5K.