ORPHEK RELEASES THE NEW HELIX 5000 PROTEIN SKIMMER
WITH CONTROLLABLE HIGH RPM DC NEEDLE WHEEL PUMP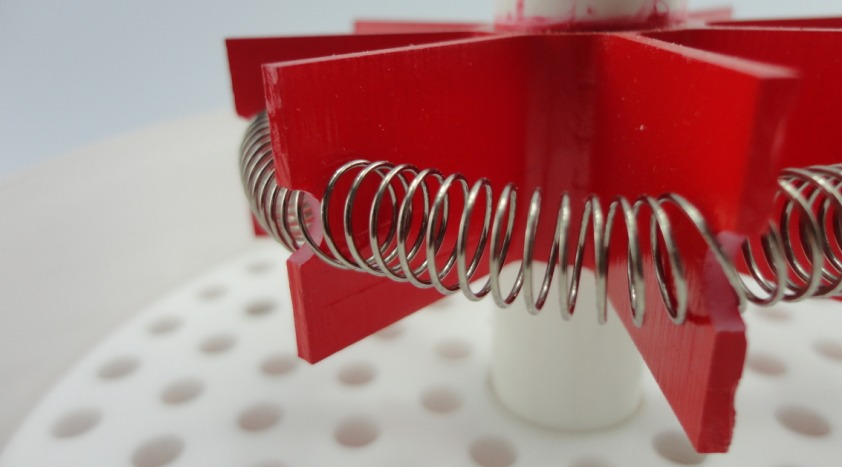 Orphek is proud to announce the release of their new Helix 5000 Protein Skimmer.  The Helix design vastly improves contact time in the reaction chamber while producing an enormous amount of very small micro bubbles.  The increased amount of micro bubbles results in more waste being collected per hour than any other conventional protein skimmer on the market.  Requiring less space in the sump, large bulky skimmers are not required.

The Helix design in combination with the high rpm DC pump moves large volumes of water in a spiral like fashion into the reaction chamber.  This creates a high speed cylindrical water motion which increases contact time. Our Dual impeller design at the bubble plate works in conjunction with the helical water flow to further reduce the bubble size in order to increase surface area. The attached Bubble Diffuser is constructed of High Grade SUS316 Stainless Steel. The cone shaped body promotes the waste laden bubbles to rise into the collection cup at a faster rate.  The white base, pump and trim dictate the same purity as the water it produces.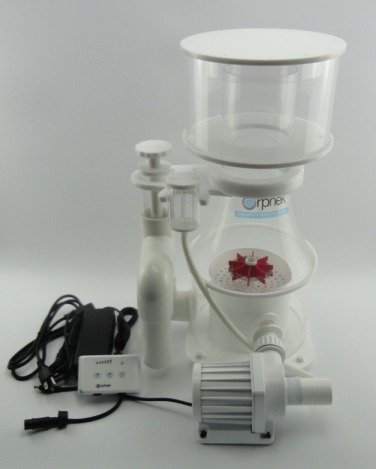 Why is our Helix skimmer better than the competition?  Because of our uniquely designed dual impeller and stainless steel spiral bubble diffuser which reduces the size of the bubbles to promote more contact area for waste to adhere to. The first impeller making contact with the water chops the bubbles up to a fine consistency.  The second impeller has our high grade stainless steel spiral bubble diffuser integrated with the impeller to further reduce bubble size and increase bubble volume. The results are more and smaller bubbles coupled with a high volume water movement into the reaction chamber.  The high speed horizontal water column increases bubble contact time in the reaction chamber which allows more waste to adhere to the bubbles.  Our bubble plate then diffuses the bubbles and reduces turbulence of the water entering the conically shaped riser tube which helps prevent premature bubble breakage of the nutrient rich bubbles entering the riser tube.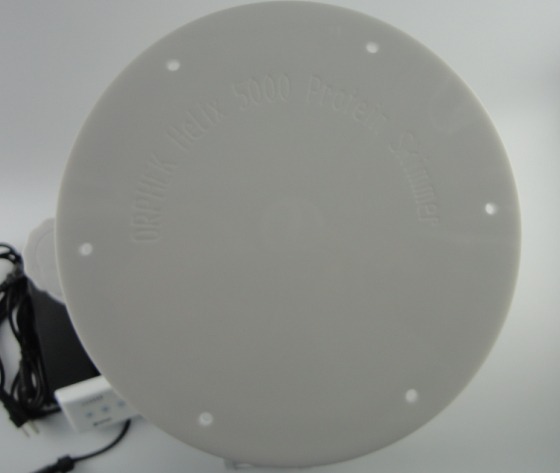 The high speed 5,000 l/h DC controllable pump with controller offers high rpm impeller speed to move more water, more quickly, and more efficiently.  There is also a feed button on the controller to prevent premature extraction of additives. With a DC pump and controller, you can now take full control of your skimmer to give you exactly the skim you're looking for.  The pump is very energy efficient, drawing only 40 watts of power at full rpm and features a long lasting durable ceramic shaft.
All components used in the Orphek Helix Protein Skimmer have been designed to work seamlessly and integrate smoothly with each other.  Our skimmer will outperform any other skimmer in its price range.  Experience the results of the Orphek Helix Protein Skimmer for yourself and the results will be a cleaner and nutrient free aquarium.  High grade PVC and acrylic used throughout.
Benefits
High speed DC controllable pump moves more water more efficiently.
Helix dual wheel design produces very small micro bubbles.
White components dictate the same purity as the water the skimmer produces.
High efficiency low energy use.
IC protection in pump shuts pump down if no water flow or blocked impeller.
Low noise level.
Moves more water than conventional skimmers.
Long contact time for more waste removal.
Controllable pump allows fine tuning of skimming produced giving you exactly the skim you are looking for.
Less heat transfer into the aquarium.
Tested for 1.6 years to ensure reliability.
Results, removes more waste than any skimmer in its class more efficiently.
Produces nutrient free water, ideal for excellent coral growth and health.
Reduces nuisance algae growth.
TECHNICAL SPECIFICATIONS
Model:  Orphek Helix 5000
Footprint:  370H x 320 x 545mm (14.43" x 12.48" x 21.25")
Pump:  DC OP-5000N
Wattage:  40 watts at full rpm (4.0 amps)
Maximum Head Pressure:  3.5 meters (11'.7")
Chamber Diameter:  220mm (8.58")
Outlet Diameter:  50mm (1.95")
Air intake Max:  2000 lph
Tank size 300-2500 L (75-640 gallons)
Energy efficient; up to 65% savings over conventional pumps.
IC electronic shut down protection against no water or blocked impeller.
Tough ceramic shaft decreases shaft wear significantly.