Frode's Reef Aquarium story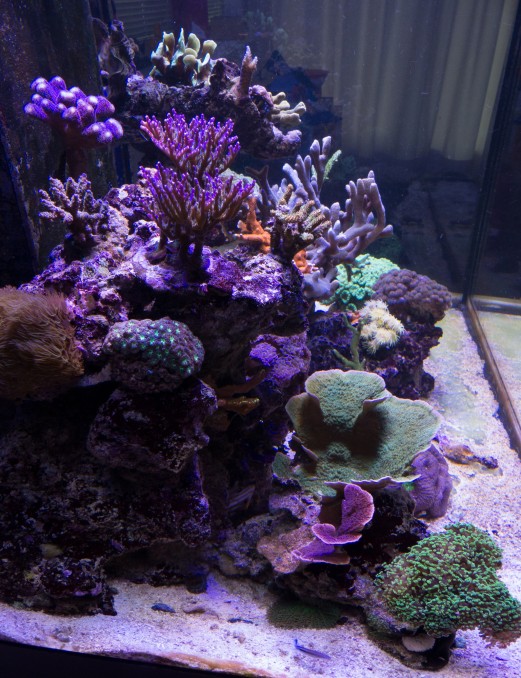 Here is my tank story.
I started this tank 3 years ago after having 7 years experience with another reef tank.
This tank is a custom made 110 x 70 x 70 cm(65wh) cm. It has an overflow with two stand pipes just next to the middle with iron free glass on three sides.
The sump is 80 x 40 x 40 cm with two chambers. One for the skimmer and one for the return pump. I use Balling method for maintaining Calcium, Alkalinity and Magnesium.
An IKS Aquastar is used for controlling temperature, pH and water level.
Skimmer is RE DoubleCone 180 with RD3 speedy pump.
Total system volume is about 500 liters.
The first two years the lighting was done by two Maxspect Razor 120. Nice lights but just a little short for this tank with mainly SPS and LPS. I used three of them a little while but as the tank has a stabilization strip in the middle, this wasn't ideal. Too much light was reflected to the ceiling.
Last summer things went wrong when I was on Holiday to the UK. A turbo snail had blocked the overflow pipe. Off course the system has an emergency overflow for this kind of situation.
This worked nicely, but somehow the water level in the sump got raised a little. This caused the skimmer to overflow. The lid of the skimmer cup started splashing and water came on my IKS dosing pump.  The dosing pump started running nonstop, dosing all Balling supplements from my 5 liter canisters. When I came home from the Holiday, salinity was 40, KH was over 20, Ca and Mg were sky high. My fish and corals didn't like this. In a period of a few weeks all fish got marine ich and most of my SPS corals died along with the fish.
After a few months things got better and I decided to restart with new lights. After seeing the Orpheks above Tanne's tank I decided to go for two Orphek Atlantik Compacts. Thinking this would be on the short side for my tank, but hoping it would be enough.
Well, since then my tank is doing better than ever. SPS and LPS corals grew like never before.
Though I would like the lights to be a little more quite, they do give beautiful light and my corals do great. (Editor's note:  All Atlantik models are now shipped with a fanless waterproof driver which eliminates any noise).
Photos of my tank are below.
Orphek  sells & ships its products worldwide Door To Door Express Delivery.
Ordering:   If you wish to place an order, or need assistance in selecting an LED system for your application, please contact us via form and a sales professional serving your area will contact you as soon as possible.
To contact an Orphek Worldwide Sales Advisor: |Click Contact Us
" ORPHEK Aquarium LED lighting | For better coral growth  & color "