Bruce new system using the Orphek Atlantiks
Bruce is a customer of ours who has just recently started his new install.  Bruce will tell you in his own words and photos about his new system using the Orphek Atlantiks.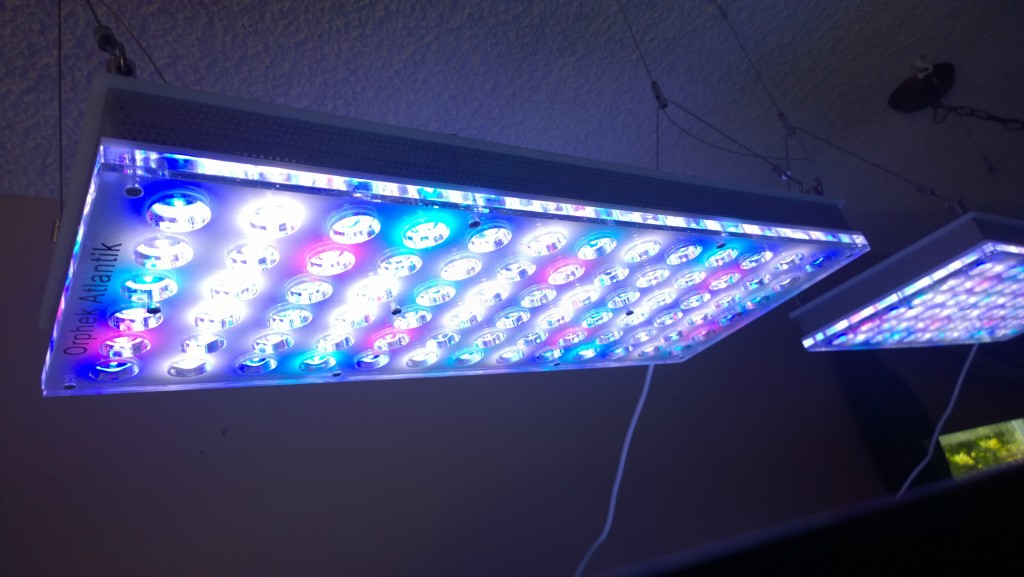 Hi James,
Below is link to some photos and videos.
When I started the setup i had everything except the stand.
While I was building the stand I decided I did not want to use the brand new 72″ metal halide fixture with T-5s and Leds for night.
I did not want the heat and the electrical cost of the halides and my chiller, I still have both on hand but will be selling them.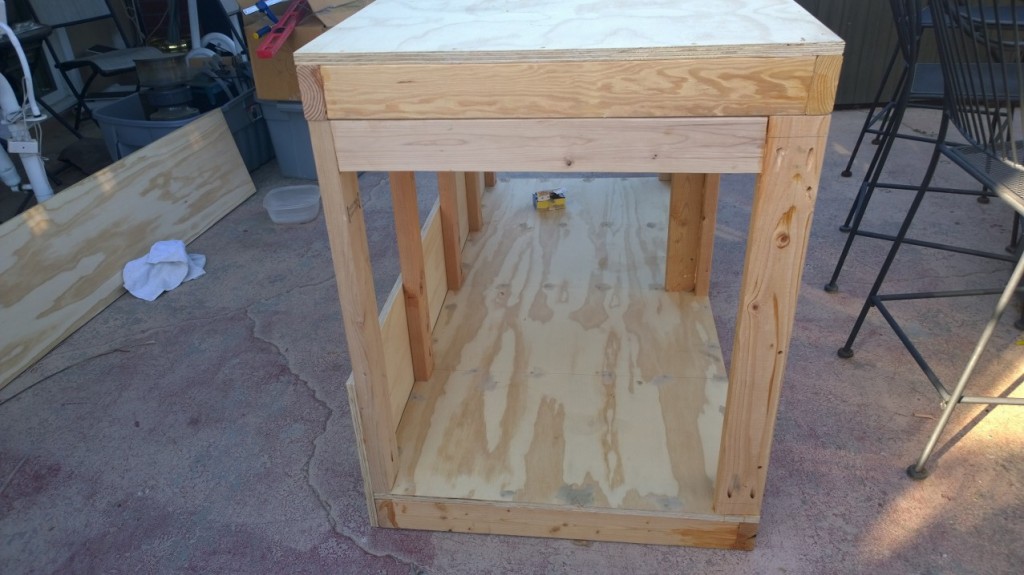 I purchased 2 of the Orphek  WiFi Atlantiks ver. 2.1b from you.
I had 2 Aqua C EV-240 skimmers with mag 18 pumps which I started with, I also tried an SCA 301 skimmer which they say is good for 180 gallons more like 75 gallon.
I would love to try one of the Orphek Helix 5000 skimmers but for now I have modified my old Euro Reef CS 8-2 and it is working well,
lots less noise than the Aqua C and a constant height in the skimmer putting about 1000 gallons of water and i figure around 2000 lh of air.
I have about 20,000 gallons per hour circulation in the display tank, total system volume 300 gallons.
I am currently running reactors for pellets, GFO and GAC, I have not set up my calcium reactor yet.
The other day I realized the tank has only been set up three months. This is the first time i have used LED lighting and it took me about a month to figure out my best settings.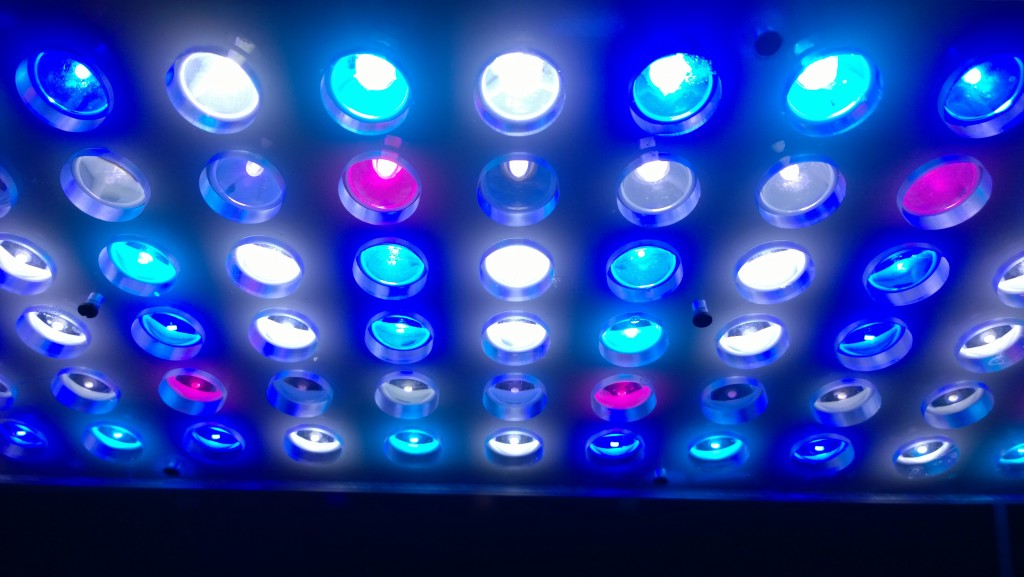 My lights are currently six inches above the tank, which means they are 32″ above the bottom glass. This is also the first time I have gone bare bottom.
I found if you are buying frags under 400W metal halides or leds just put your frags where you want them, no acclimation to the lighting.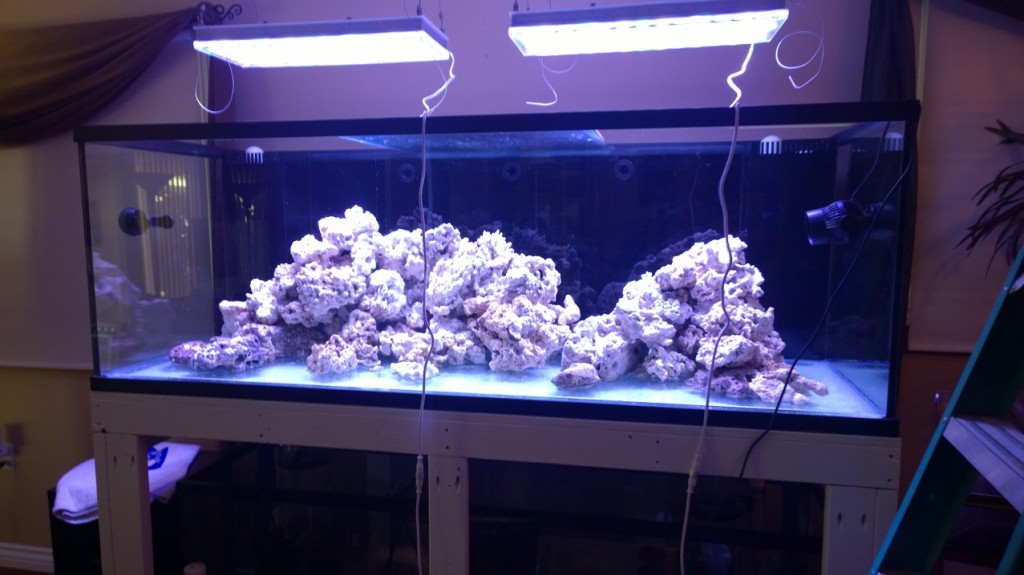 I have SPS at the top of the tank and even at the bottom but the couple of LPS I have are are toward the bottom.
I did go through the diatom bloom and the hair algae, I had a couple of coral frags die from too much too soon.
The only green besides corals is the macro algae and green coralline algae.
I have a 3 head candy cane that the heads are starting to split after a few weeks. All my green monti caps are now blue or purple.
No real water changes since setup except when a hose came off mag drive 18 pump and put about 60 gallons of water on my wood floor.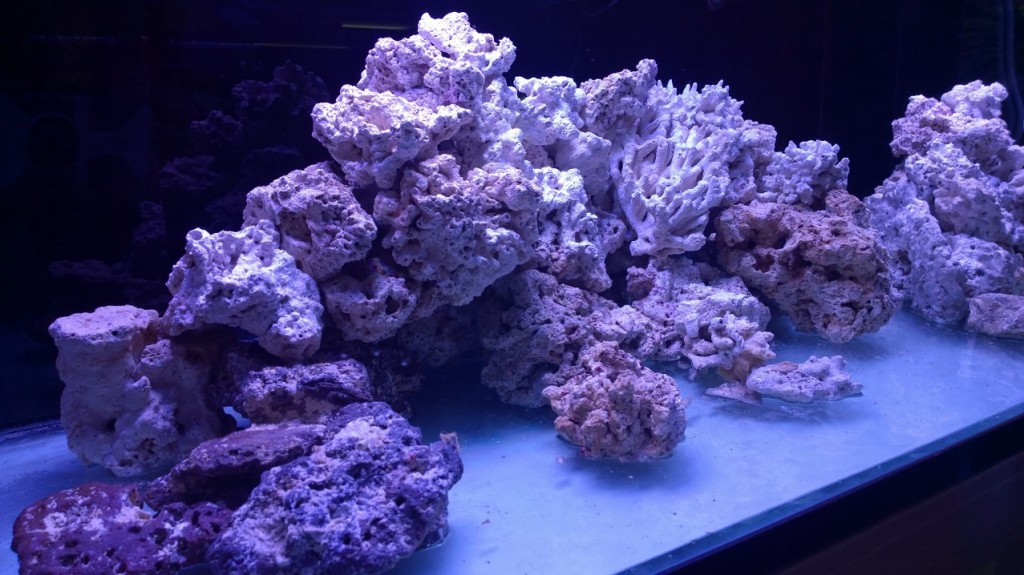 Current water parameter, Temp runs 79.4 to 80.6, SG 1.025, PH 8.2 to 8.4 Calcium 420, Alk 8.4 DKH, magnesium 1580-1640, nitrates about 2 phosphate 0 limited by small amounts of algae. Make up water is with micron argonite powder, if need more calcium then with kalk or kalk and vinegar, goes through 2-3 gallons of evaporated water a day. Thank goodness for my 300 gallon a day R/O DI system no buckets or drums lying around except one 5 gallon bucket.
People buy corals based on names and color, i have been buying based on low price and good health as I already know most SPS and even some LPS will change colors no matter what you do. I my corals change colors I do not care as long as they are blue, violet, purple, green, yellow, pink, red and even multi color, just not ugly brown.