396 gallons Aquarium Makeover In Mexico with Orphek Atlantik V4 LED lighting
We think it is important to reefers to see what others are doing in order to learn more and to be able to make comparisons.
Today we decided to gather some pictures of a client from Mexico who is doing a makeover of his tank to show to you.
Our authorized Orphek dealer in Mexico has the green light to do the reef Aquarium makeover which was originally set up on August 17, 2014.
The tank size is 2.0 x 1.0 x 0.75 meters and has a volume of 1,500 liters (396 gallons).
Sump capacity: 400 liters (105 gallons)
Total water volume: 1900 liters (501 gallons)
Filtration is performed by a nitrate plenum, which customer is going to remove afterwards.
The sump also has chaetomorpha algae and a phosguard reactor.
Present skimmer is an ASM with a Sedra pump. It will be upgraded to a large Reef Octopus Protein Skimmer.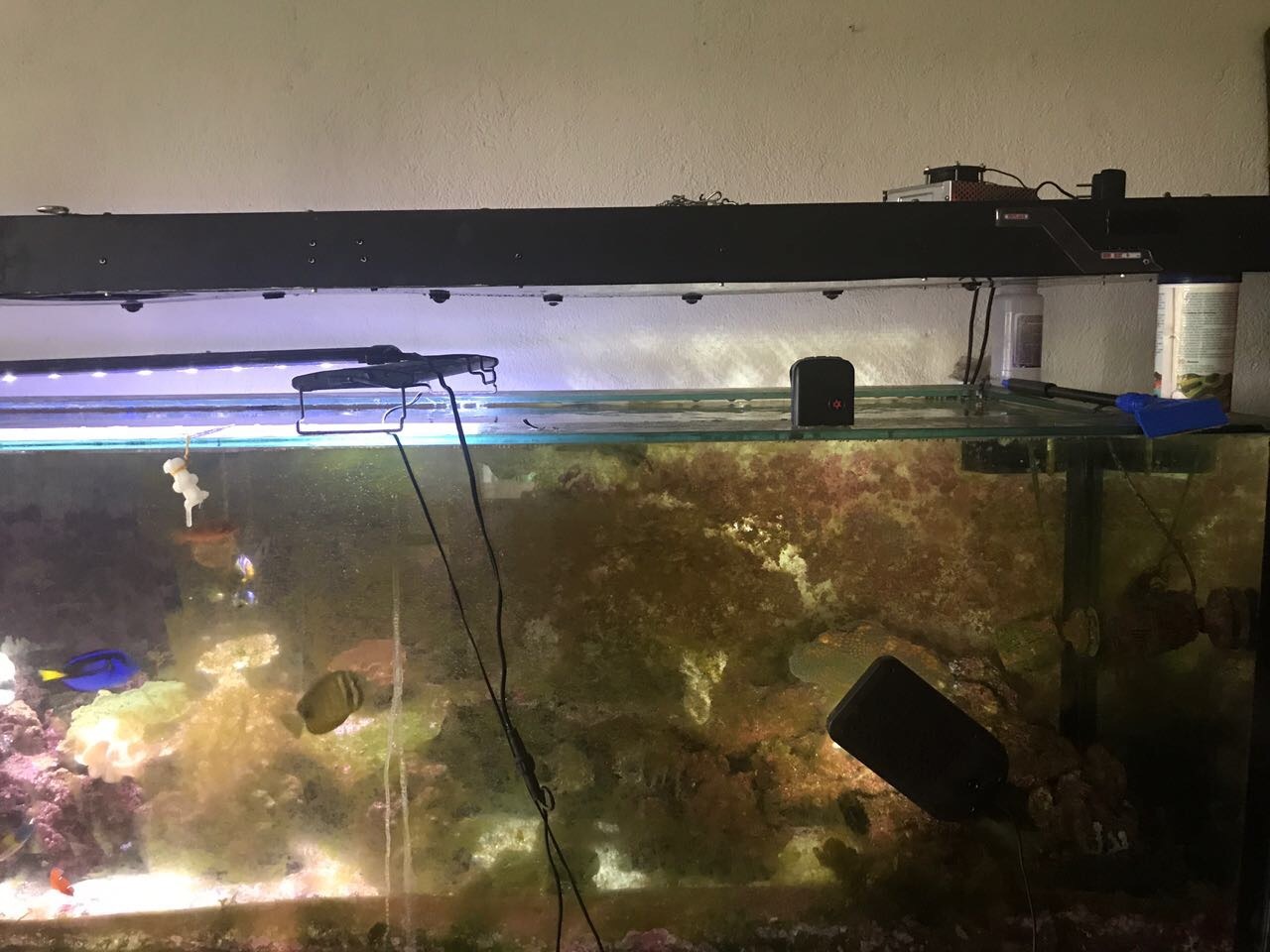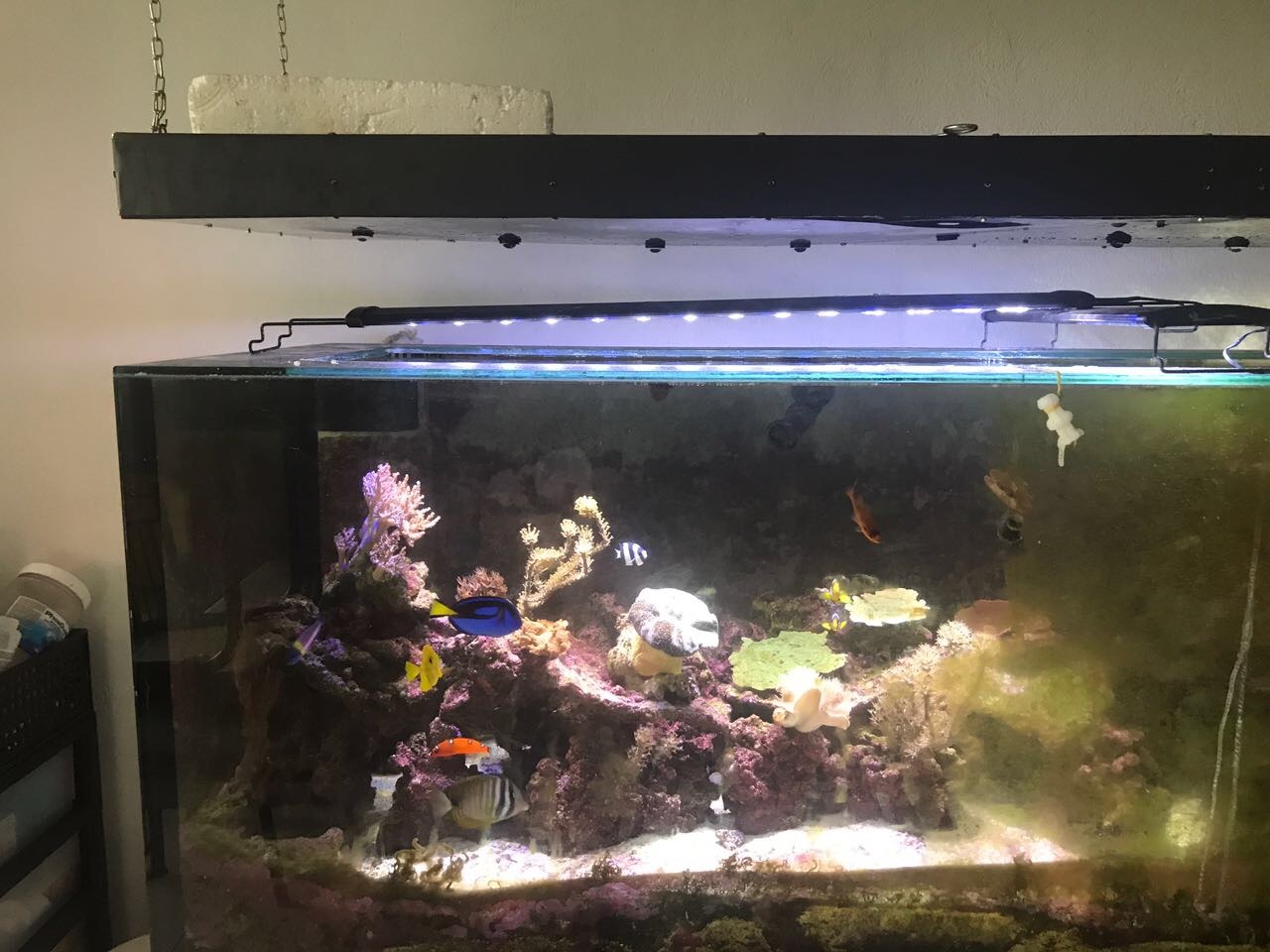 The first step in this total makeover was to upgrade the lighting to four Orphek Atlantik V4' LED Reef Lights.
You can see in the last picture the addition of the Orphek V4 lights bringing a dramatic improvement in the appearance of the tank, leaving the customer with complete control over the photoperiod and spectral appearance.
We also differ from many other companies in this market because we find also very important to keep a close relationship with our clients.  Luis and his client have promised us more photos once the upgrade is complete and we will be very excited to show you all the improvements!
Check this short video of our lights running at only 50% intensity to acclimate the coral from the previous lighting.
The lights for this project were ordered from Luis Viteri who is the owner of Big Fish Aquarium and Boutique. If you live in this area Luis will be happy to tell you more about Orphek products and what they can do for your tank makeover.
Luis's store is located at:
Blvd. Manuel Gomez Morin  3648-B Colonia Las Eras 2da Seccion 36640 Irapuato, Guanajuato. Mexico. +52 (462) 1995917
---
If you are in any country around the globe and you are also wishing to:
Improve the quality of life of your corals and marine species
Install a neat and easy to clean fixture
Own not only a conceptual design LED light solution, but a true color & growth technology
We will be very happy to find the best Orphek LED Lights for your tank.
Also if you wish to know more details about our Atlantik unit, email us to  contact@orphek.com and we will help get you started! You can also reach us by filling our form.
We would like to invite you to browse our website and participate with your Orphek experience.
Let us know about your tank and share it with many other hobbyists!
Sharing is very easy! All you have to do is to send us the basic information about your tank, usually starting from the beginning (when you started your tank), what are you running in the tank, the living creatures you have in your tank and of course pictures of the tank and of your corals. We also would like to have pictures of our lights above the tank 😉
Please send to contact@orphek.com
We really hope you will find some time to send us your info so we can publish right away!
Thank you in advance,
ORPHEK TEAM