Designed as a replacement for metal halide systems 400 watts and over, the Orphek Atlantik Pendant 300 is the LED solution For a deep coral reef aquarium .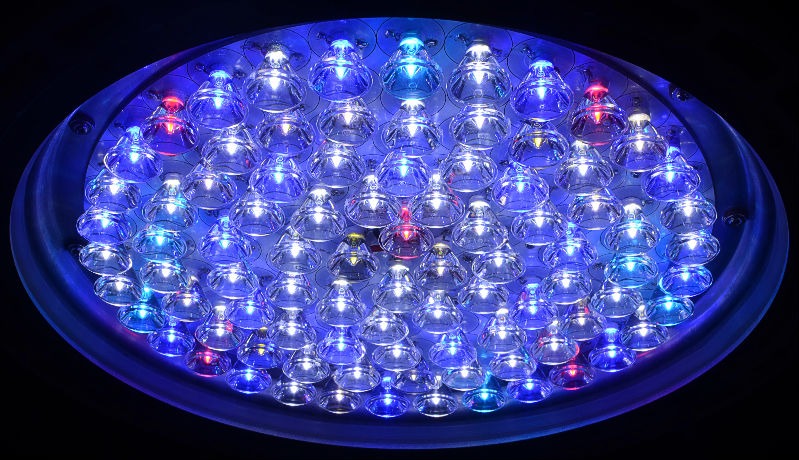 The primary design goal was for commercial installs, zoos and public aquariums. Utilizing state of the art components combined with Orphek's ability to target the exact spectrum that photosynthetic creatures require, the ATP300 delivers significant light penetration and plenty of coverage which allows for direct 1 to 1 replacement of larger, inefficient lighting systems such as 1000 watt metal halides.
Deep water systems
Whether lighting a large shark lagoon or a 4 meter deep coral reef tank the Atlantik Pendant 300 can deliver results. Its ability to penetrate and deliver sufficient light for viewing at depths over 4 meters will allow you to use it just like you would any standard metal halide system. High efficiency is evident in the excellent lumen/watt ratio.
The ability to provide life sustaining light at depths up to 4 meters means that you can now switch that coral reef system to LED and reduce the expense of high electrical usage and bulb replacements without sacrificing the look and quality of your exhibits. Back of house installs remain cooler and maintenance is reduced allowing your staff to focus more on livestock and husbandry.
Orphek ATP 300 Lighting a 7 foot deep reef tank in Germany Video
Shallow Growouts
The 250 watt Atlantik Pendant combined with Orphek's wide angle convex lens allow the ATP300 to cover larger areas with higher PAR thus reducing the number of fixtures needed to provide adequate lighting for fast growth and superb color.
The Orphek V3 spectrum delivers fast healing, quick growth and fosters ideal levels of Zooxanthellae algae, giving colors that rival and in many cases surpass metal halides. The light-weight aluminum construction enables the light to be used on any standard light mover/hanger in nearly any configuration.
Species Targeted Specific Spectrums
The Orphek team has a host of spectral options for everything from , freshwater plants to Kelp gardens to carpet anemones. Check with Orphek team for your specific needs.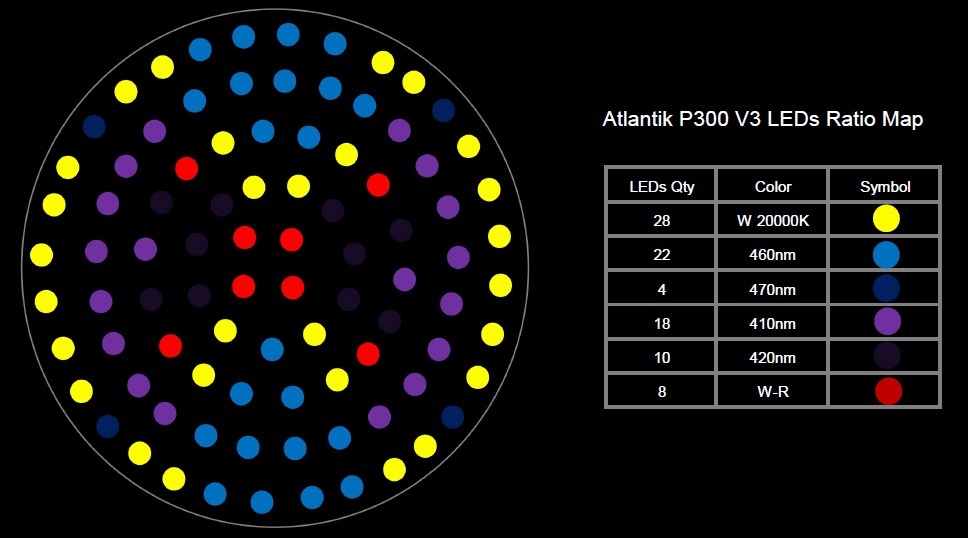 Features
PWM and 0-10v dimming (Apex Ready)
Passive cooling.
 Extruded Aluminum Heatsink quickly dissipates heat.
 Remote Meanwell driver with extension cables available.
 Integrated Hanging Loop for ease of installation.
 High Density Acrylic replaceable faceplate provides years of protection.
Options 
 Multiple lens options- 5 degree through Wide Angle Convex.
 Extension cable available in 3m lengths.
 Custom Kelvin ratios and layouts available directly through Orphek.
Technical specification:
Dimensions
Housing Diameter – 350mm (13.78 inches)
Housing Height    – 415mm (16.38 inches)

Housing weight  5.2KG

Power supply weight 1.02KG

Box wight 9kg

Box G.W 17kg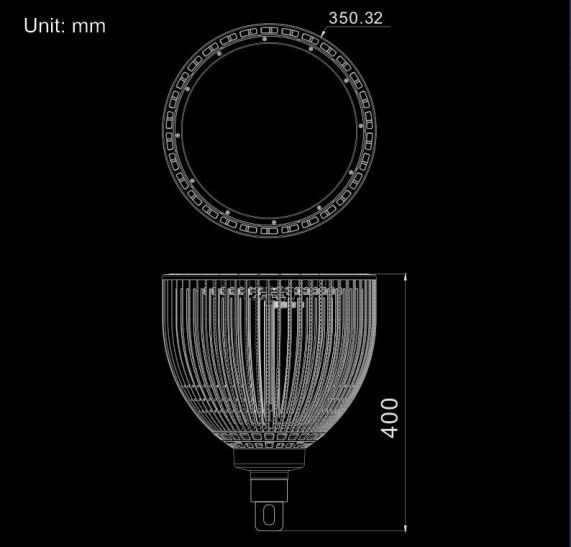 Specifications
 LEDS- 90 x 5 watt Dual Core
Electrical
Mean Well Driver Model: HLG-240H-Spec
Input Voltage: 90 ~ 305VAC   127 ~ 431VDC
Frequency: 47 ~ 63Hz
Power Consumption:  ~240-250 watts
Electrical Outlet:  Region Appropriate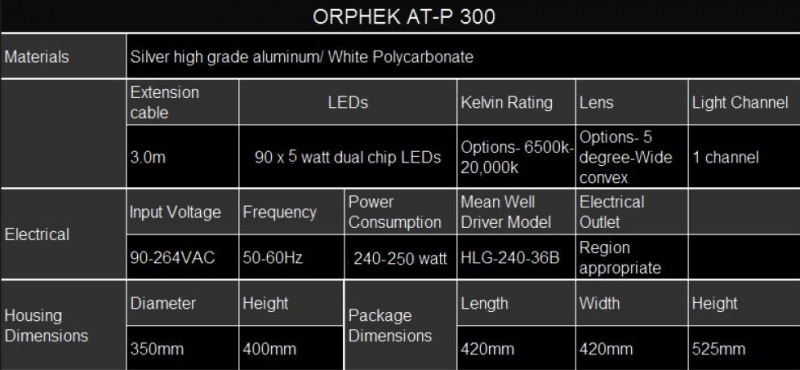 LUX and PAR test with ( 10,15,45,60 /60 Convex ) Degree Lens at  2m -6m
Orphek Atlantik P 300 Technical specification and PAR TEST
LUX and PAR test with 5 Degree Lens at  2m -6m