Why did you choose Orphek ?  and were their other brands you considered.
It was between Orphek and Radion.  I decided to go with the Atlantik units because of the shear intensity of the light.  I also liked the units are 24'' long.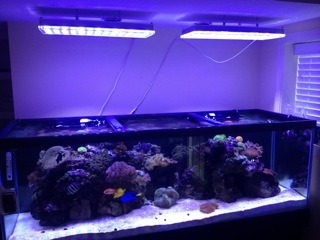 2.  What led to your decision to go with LED lighting for this project?
I was running 8, T-5 bulbs and knew that in order to get into SPS and LPS's I would need to upgrade.  I was hesitant about going with metal halides just because of the huge energy cost per month, along with the cost of replacement bulbs.  LED lights were the obvious choice. 
3.  Is the lighting controlled with an automatic timer or digital controller?
I use the digital controller (Orphek Controller)
4.  How do you feel about the quality of the Orphek LEDs?
I was very impressed when I opened the boxes.  The lights don't rattle or make any noise at all.
5.  What is your feeling on the intensity of the lighting.
I was shocked when I first turned them on.  I had watched videos of the lights, but they didn't even come close to showing how intense these things are.
6.  How deep is the aquarium?
My tank is 25" deep and I have the lights mounted 22" above the tank.
7.  Would you choose Orphek again for another project?
I would.
8.  How do you feel about the color spectrum the Orphek LEDs emit?
I can honestly say I have never seen my corals look so good.
9.  Did you feel the cost was reasonable for the performance?
The units are a little pricey, but I feel that they were completely worth it.
10.  Would you recommend Orphek to others?
For sure.
For sure.