ATLANTIK LIGHTS FRENCH CLIENT'S 76 GALLON REEF AQUARIUM
Nicolas has proudly shared with us some great photos of his 76 gallon reef aquarium lit by just one Atlantik.  With Atlantik there is no need for two or three units as required by most other brands.  Our 24" long Atlantik with its optical quality wide angle lenses provides plenty of spread and intensity for all light loving corals. :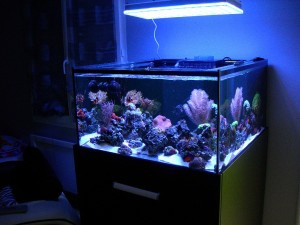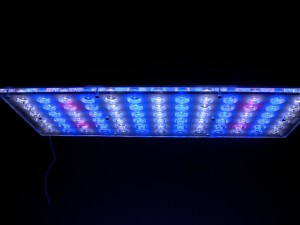 Nicolas states
Hello.
I'm really happy with the Atlantik. I already started to see the color change on some SPS as Acropora.
Simulation of sunrise and sunset is superb.
I enlightened <my photoperiod is> about 10 hours a day on my reeftank of 76 gallons.
(80x80x45 cm)
Reef tank is 5 months <old>, many corals are frags and not very visible in the pictures.
I have attached some pictures of my reef tank under the Atlantik with the message.
thank you