Another happy Orphek Atlantik owner
John shared his feelings with us on his new Atlantik LED Pendant.  John's tank is in the development stage at present and we hope John will share more pictures with us once his tank is developed.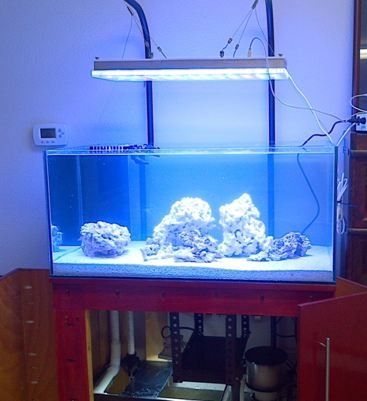 1.  What led to your decision to go with LED lighting for this project?
I transitioned from MH and T5 lighting a couple of years ago to save on electricity, heat, and light bulb costs. I built my own LED for a nano and decided that LEDs were the best option for my new tank.
2.  Why did you choose Orphek and were their other brands you considered.
The Orphek Atlantik offered me the best range of lighting for my reef tank in an attractive, clean, and well-built light. The programming capabilities appealed to me and the spread of light was perfect for my tank.
3.  Is the lighting controlled with an automatic timer or digital controller?
Digital controller
4.  How do you feel about the quality of the Orphek LEDs?
I feel the number of LEDs and spread of light is very effective and visually appealing.
5.  What is your feeling on the intensity of the lighting.
I am still playing with the intensity of light, but I am very pleased with the intensity of light and feel it is a very bright light fixture.
6.  How deep is the aquarium?
16" deep
7.  Would you choose Orphek again for another project?
Absolutely
8.  How do you feel about the color spectrum the Orphek LEDs emit?
I am very pleased by it
9.  Did you feel the cost was reasonable for the performance?
The light is a little on the expensive side, but  I guess you get what you pay for J
10.  Would you recommend Orphek to others?
Yes
Ed, another pleased Orphek PR72 customer has sent us pictures of his reef aquarium and he states.
"I got the new light, it looks wonderful I will put the pictures in this email."