Testimonial
Peter's Fish Tank – Episode 4 – Open House
  Orphek LED Review by clients
TIME TESTED ORPHEK LED PENDANTS PROVES SPECTACULAR CORAL GROWTH OVER A FOUR YEAR SPAN
"Wow the lights are so perfect and awesome.  …
I'm so happy with the result.  I will attach two pics which I took from my Samsung mobile. I'll  be in touch with you soon.  "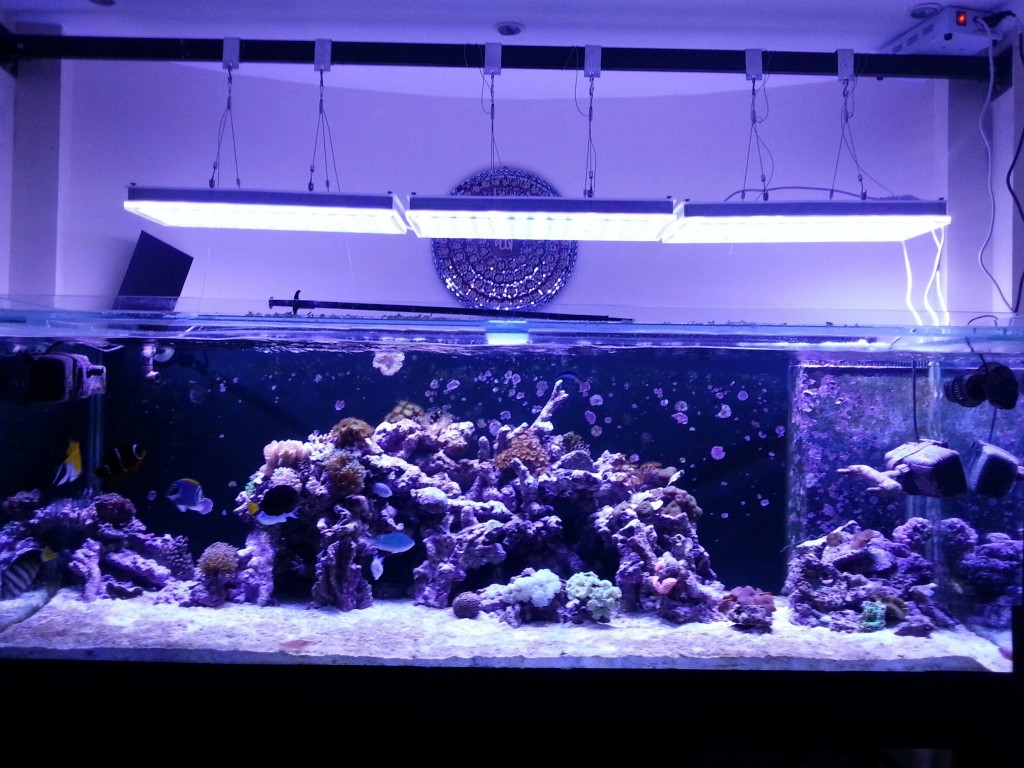 Read more:  Orphek LED Review by clients
Orphek Atlantik gets hands on treatment and review [VIDEO]
Read more: http://reefbuilders.com/2013/06/07/orphek-atlantik-review/#ixzz2VeRsOcQQ
ORPHEK LED LIGHTING GIVING LIFE TO CORALS AND CLAMS IN A SIX FOOT DEEP DISPLAY!
"It's been awhile and have finally gotten a few photos to
share with you. Here is my 200 gallon (48″x36"x27″) with 4 PR 156, the two
models on the left are the originals with no red or UV led bulbs. I run
the lights for a little less than 9 hours a day. The original canopy was
too compact for the ORPHEK LED's so I had to do a quick modification and
this is what I came up with lol. My next purchase is going to be a custom
fabricated canopy that will house everything similar to this ghetto 2×4
set up.  I am very pleased with my LED fixtures from ORPHEK and
look forward to many years of happy reef keeping thanks to ORPHEK LED's."
ORPHEK ATLANTIK LIGHTING A 48" REEF TANK IN FLORIDA
"James, as you may remember, I was looking to upgrade my lighting because of a SPS I bought last year that had completely lost color. In just the 2 weeks I've been running the acclimation program on the Atlantik, I cannot believe how much the color is returning. It's going to be a while before it gets back to the beautiful green it was but it's on the way. I do have before and after pics, although the pics don't really show how green it is.
I'm very happy with this light! Thanks again!
Jennifer"
" Also the Daisy Polyps I have are spreading out by the day. I'm not kidding. I've had these for about a year and they've grown maybe by 30%. I noted where the border was 3 days ago and has grown 1/4″…..in 3 days!
I bought a piece of SPS 2 weeks ago. When I got it from the LFS I wasn't thrilled with it because it was a boring brown color. But the owner told me it was the hardiest one he had.  It has since gotten this very pretty green color to the tips.
Oh and by the way, the diatom breakout I had went away within a few days. All clear on the algae front:)"
Thank you so much for all of your help.
Jennifer
"Pictures tell a thousand words." chingchai
http://reefcentral.com/forums/showthread.php?t=2096730&page=5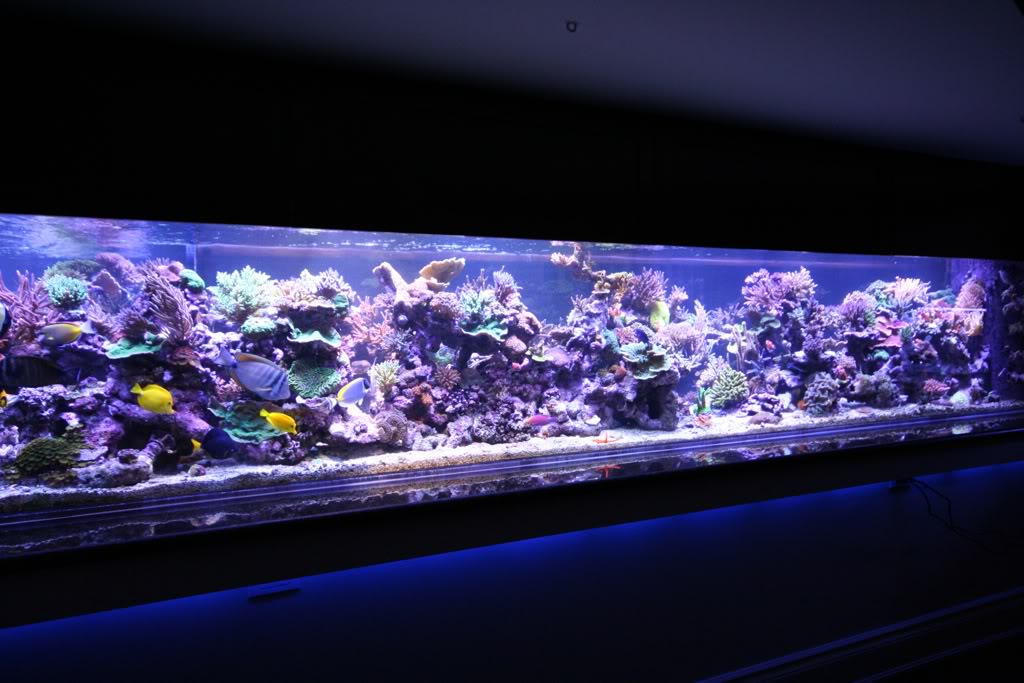 I have a 156w over my 58 gallon, and absolutely love it. Coral growth in LPS and SPS, the color is great, the timers are set an forget, and customer service was absolutely helpful after I lost the control unit if flooding over the summer. I wish I would of picked up the unit with UV's though. I think that would make a few more colors pop out. But I am so happy with the light as is that I would recommend everyone consider it for their needs.
Video Links:
Pieter six meter revisited – 2000 gallons of sps
My 220G reef tank under Orphek led lighting
Ying and Yang" shaped tanks at a Children's Hospital in upstate NY.
Orphek DONATED all of the DIF-30 units we used to light them!
The pic makes them look darker but they actually light the tanks well and they aren't even mounted at the right height yet in the pic. Those are 6′ deep tanks by the way.
Thanks again Orphek you guys are the best!"
http://www.facebook.com/photo.php?fbid=300952443290253&set=o.170548713004448&type=1&theater
Comments and Photos of Orphek client's tanks
http://orphek.com/led/2011/10/comments-and-photos-of-orphek-clients-tanks/
by Juzza34 » Sun 25 Sep, 2011 11:13 am
And IMO you couldnt have gotten better or quicker service. I will always speak highly of this company and their product. I definitly will be buying three more units from them for my new build.
I have recently had a guy from Oceanreefs in Perth come have a look/experiment and was quite taken back on the style,brightness, build etc of the lights but what got him most was we have done an experiment with some acros under these lights and the growth and colour has been exceptional….Considering i never had any under there before and am still suffering from NEW tank blues…………Orphek say these lights are replacements for 250W-400W metal halides and thats exactly what they do………."
"It took me maybe 5 minutes to figure out the timer, pretty easy the only negative is the button are very close together and small so sometimes you hit 2 button at once. No big deal really, how often do we mess around with timers, the unit is very sweet it looks sharp and well build, the fans are really quiet. I am very happy with it."
"Today is the first day the Orphek has been running. I really can't believe the size of the corals in particular the acans.
They are huge and the colour is amazing, they were never this size under the previos lighting.
This has to be the best mod so far on this tank and for lps highly recommended."
"with 4 fixtures, they equal to 480w compared to 800w of the 2 x radium. So in a long run it would save me electric and running fan from the heat. the color is very bright, but I don't get the spread like the 2 x radium. I noticed that there are spots with low light. However when I compared the PAR reading, I am getting much more from the ORPHEK LED. The color is a little more toward 10-12k, if they take out the white and add more blue bulbs, maybe 4 more. This unit would be a great 20k color. It's pretty much new, so maybe my eyes are not adjust or use to the changes. But I like it for sure. The system is long and wide, 96″ long and it's 36″ wide. for regular tank like 36″ long, 1 unit would be great for regular tank like 48″ long, 2 unit would be great and so on."
"As for my new LED's I am very happy with them so far. I can wait to see how my power bill would be this quarter?"
"Hi All,
Here's my tank under two Orphek PR156W's… i really like the colour they put out."
"at last our Orphek lights are over our 6ft tank and they look the dogies do dars"
" We are now the proud owners of 2 Orphek Lights the are destined to go over our 6ft tank but for now we are trying one out on our 165ltr cube and are well pleased with them"
"Here is mine"
"Very nice spread on these lights. My tank is 48″x48″x21″
"The corals are looking real good, polyp extension like crazy and my acans are huge!"
"30 Gallon Upgrade with Orphek PR-25UV LEDs"
"Mounted both the Orpheks must say one difference I find is the shimmer which is excellant. The UV brings out blue color more.Worth a buy anytime.Diehard Orphek Fan…."
"I now have two of these lights…. OMG is all i can say "
We've seen several local hobyists cautiously try out one Orphek unit before committing to buy more,
without exception, once the first unit is operating, they ALL quickly bought the remainder and haven't looked back.
We've had ours since Oct 2010 and loving the colours it produces, far better than what we were getting with out MH & T5 setups.
Check out this link …..!!
"I have to say that at the moment I am very happy with them. All corals are coming out better than ever, and seem to be happier."
"All;
Just thought that I would put a quick picture up of the coral which I had put in a number of months ago.
This coral was given to me as a free bee from an Aquarium store down here in Adelaide
because it was nearly bleached and all colour was lost (looked brown in the coloured parts).
Hope you guys can see a difference, look closely at it."
Color pop.
Sunday, February 12, 2012 10:51 PM
I gotta be doing something right. This came to me a couple of weeks ago. It was purple and fadedand none of that blue. It's got purple polyps and the purple/blue color is amazing. Purporites. It's already encrusting the rock that I glued it onto. This photo is untouched by photoshop. THANKS ORPHEK!!!!
January 15, 2012 5:16 AM
" Here's some preliminary photos of the lights.  Has unpacking through installation and operation.  I improvised using the hardware you sent with the lights.  It is working perfectly, and there are many other ways to do it.
David"
Sent: Thursday, August 25, 2011 4:34 AM
"2 units have arrived perfectly packed and secured.
It was immediately installed with no problems providing good coverage all around.
Attached please find my aquarium diagram. It was installed 30cm above water level.
I'd like to thank you for the best service and above all superior product.
How can I make best use of the fact that It has 16 programs on the timer?
Each unit start with the night light first and continue with the day light and goes off the opposite way.
What use can I do with other programs?
Regards,
Eyal."
August 19, 2011 12:37 AM
"I hung the new lights and purchased new corals last weekend.  The fluorescence under the blue light is incredible!
I am very happy with your products, and hope to improve my coral skills.
Gary"
Monday, February 13, 2012 7:17 AM
"I am very satisfied and we have a lot of interested customers .
The lamp are hanging on the definitely place now.
In the attachment I send you some pictures .the colors are very beautiful.
Greetings arie"
Monday, February 20, 2012
" I have had many compliments on the lights.  They not only meet the corals needs, they look fabulous.
Thank you !!!  Doreen"
Need More check here: